2 March 2022
By PDSNET
Ukraine
Obviously, the news which has gripped markets over the past month is the troubles in Central Europe. To get a better understanding of what might happen to markets going forward, it is necessary to make some assumptions about how the situation in Ukraine is likely to develop. Firstly, it seems clear to us that neither NATO nor Russia are willing to get into a direct conflict with each other. They appear to be avoiding that outcome at all costs, if only because of the potential for an escalation to nuclear war, although Putin's recent comment that he is putting his "nuclear forces" on high alert is concerning. At the same time, there seems to be little doubt that it is Russia's firm intention to annex Ukraine and make it a part of Russia as they did in 2014 with the Crimean Peninsula. They have the military strength on the ground to do it and NATO has shown no inclination to stop them, beyond offering the Ukrainian forces financial support and military hardware and applying sanctions. Recent indications are, however, that Russia may have under-estimated:
The effect of modern technologies, like the Javelin anti-tank missile which has brought into serious question the Russian strategy of spear-heading their attack with tanks.


The intense determination of the Ukrainian army and people to resist this attempt to subvert and destroy their democracy.


The situation is similar to, but not the same as that which pertained in Afghanistan, which Russia invaded and occupied from 1979 to 1989. There are two significant differences – firstly, Afghanistan was far further away from both Russia and Europe which stretched lines of communication. This made both Russian logistics and American support of the Afghani guerillas more difficult. The second difference lies in the terrain. The topography in Afghanistan is very mountainous which lent itself to guerilla warfare and made control of the rebel fighters much more difficult. That became a major problem for the Russian occupying forces and eventually contributed substantially to their decision to abandon their ambitions in that country. The topography in Ukraine is mostly flat which means that it is ideal for tanks and other military vehicles. It will be far more difficult and dangerous to conduct an effective guerilla war in Ukraine than it was in Afghanistan.
Despite this, it looks to us like the situation will probably devolve into a drawn-out guerilla war with Ukrainian fighters taking refuge in surrounding NATO countries and then making sorties into Ukraine to destroy key military targets and render the country ungovernable as far as possible. It looks likely that, when the dust settles, Russia will find itself embroiled in another very expensive and protracted war which will be made far more expensive by the heavy sanctions being implemented by NATO and other countries. In effect, Russia will be substantially isolated from the international community. This offensive has made it into a "pariah state" in much the same way as happened with South Africa during the apartheid era.
So, we see a "new normal" arising in Europe in which Russia settles into an expensive low-level war with Ukrainian guerilla fighters. In our view, markets are already discounting this to some extent. We see the recent overtures from Putin to Ukraine as probably a bluff and certainly insufficient to justify the surge in optimism which characterized the S&P500 on Thursday and Friday last week. We believe that it is relatively unlikely that the situation will develop beyond that into an all-out war between Russia and NATO because that would be in neither's interest, but we think that the Ukraine situation's influence on markets will diminish steadily over time.


America
The correction on the S&P500 index has now reached almost 12% from its record high on 3rd January 2022. We don't believe that this is quite sufficient – especially considering that this correction has been a long time coming and is overdue. We believe that, now it has broken down through support at 4300, it will probably fall further, closer to 4000 before the recovery begins. This correction began as a direct response to rising US inflation which caused investors to fear and anticipate a period of rising interest rates. That prospect has not changed and initially took the market down 10% before it rallied in a classic "dead cat bounce". As we predicted at the time, the bounce was premature, and the market fell further, breaking below the key support level at 4300 when the Ukraine crisis began to impact on the news flow. The impact of that crisis on markets is not yet over in our view. We expect it to get a little worse before it gets better. We consider the rise in the S&P over the last two trading days of last week to be an indication of the surprisingly strong underlying bullishness in the market, but once again we suggest that it may be premature – a second "dead cat bounce". Consider the chart: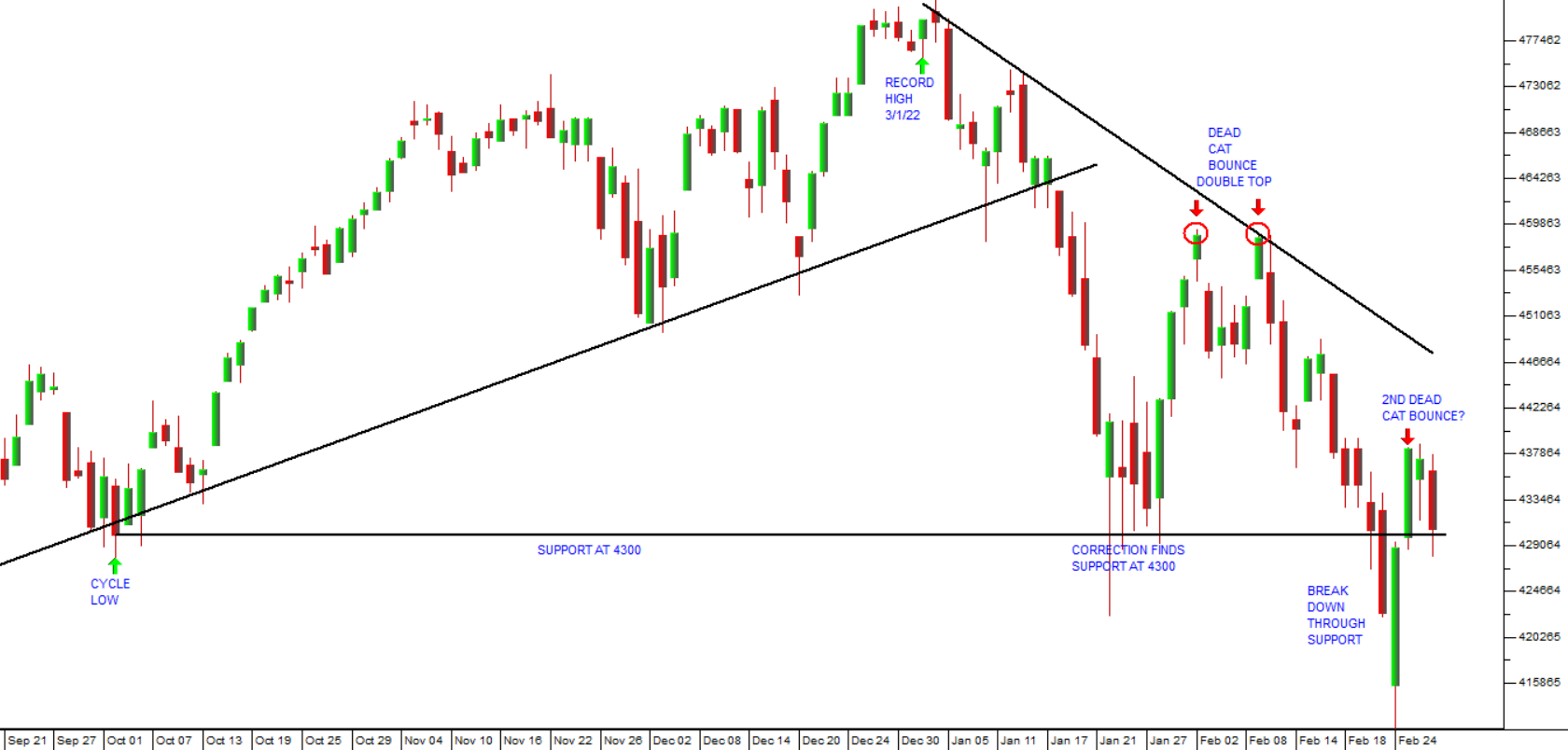 Of course, the S&P is being dominated by the tech shares and the NASDAQ which is typically far more volatile than the broader market. The NASDAQ has so far fallen by as much as 18,8% in this correction. The 26% fall in Meta (Facebook) shares in a single day reflects the company's surprise negative prediction of its results and a downgrade on its earnings. The tech-heavy NASDAQ index fell by 8% in January 2022, pulling the S&P500 down with it. Tech shares on Wall Street have been discounting an almost unsustainable amount of "blue sky" potential and are trading at very high P:E ratios – even after their fall in this correction. Longer term, we believe that much of the discounted blue sky is valid, but there can be little doubt that it had been over-discounted when the correction began.
America crossed a great milestone in the last month when its national debt exceeded $30 trillion for the first time. Clearly, this is not a debt that will ever be repaid by the normal means of reducing government expenditure or increasing taxes. Ultimately this debt will be settled through either an inflationary or a deflationary crash – most probably the latter. In our view, that crash, when it comes, will make the crash of 1929 look like a Sunday school picnic and no amount of quantitative easing (Q/E) or other monetary policy will be able to avert it. However, we still believe that it is at least a few years away. Right now, we see the S&P as being in the final stages of a major correction - which should be resolved in the next few weeks and months leading to a new record high before the end of this year.
The jump in US inflation to 7,5% in January 2022 came as a major blow to Jerome Powell (the new Governor of the US Federal Reserve Bank) and there has been speculation that it could lead to a 50-basis point rise in interest rates at the next monetary policy committee (MPC) meeting. Some analysts have even suggested a 100-basis point rise in rates. Of course, the Ukrainian crisis has probably changed that, and we now expect the monetary policy committee (MPC) to take a more dovish line. After all, they do not know what the impact of US support for Ukraine and additional military costs will be. If interest rates were to be raised by 50 or 100 basis points it would necessarily cause a downward revaluation of share prices and deepen the current major correction taking place in the S&P500 – which is in line with our expectations. But, even if rates are hiked by 50 basis points, they still remain exceptionally low and accommodative. We do not expect rates to reach a point where they begin to materially impact the profitability of S&P500 companies much before 2024 – which means that we expect the 13-year-old bull market to continue and the S&P to reach new record highs once this correction is over. Notably, Old Mutual has revised its expected gross domestic product (GDP) growth for South Africa down to 2,3% for 2022 because of the potential effect of rising international interest rates. Standard Bank also reduced its forecast of GDP growth this year to 2%.
The invasion of Ukraine will have multiple indirect impacts on the South African economy. Because Russia, now subject to heavy sanctions, competes in the international precious metals markets with South Africa, the price of those metals has risen significantly – which means that the tax bonanza recently announced in our February budget is likely to continue and even increase. At the same time, Russia is a major exporter of oil and hydrocarbons – which means that the price of oil has spiked up towards the top of its upward channel with North Sea Brent rising above $100 briefly for the first time since August 2014. This, together with a relatively small fall in the rand, has caused the price of petrol to rise by R1.46 per liter on the Highveld. It is now over R21 per liter – and that will have a negative impact on inflation. Fortunately, South Africa's inflation rate is low and well under control due to consistent monetary discipline over a long period of time. So, for us, this war is a mixed bag of positives and negatives. For example, Nepi-Rockcastle (NRP) which owns a large portfolio of retail properties in Central and Eastern Europe has fallen heavily. Our view is that the impact of the crisis on world markets will probably be fairly short-lived. We are expecting the situation in Ukraine to be substantially resolved with markets recovering before the end of this year – and, if we are right, that means that the correction which is impacting world markets will be over by then. Wars, of course, are never good news for markets, or currencies. They can cause a major destruction of assets and a debasement of currencies as the warring countries desperately try to mobilise resources. They are associated with rapidly rising inflation which has a knock-on impact on the gold price as investors seek a safe haven for their wealth.
The Budget
The budget, delivered by Finance Minister Enoch Godongwana, was mostly good news – for the first time in a decade. Tax collections in December 2021 indicate that the government's total income for the year to end February 2022 came in at about R194bn more than was budgeted in February 2021 – which will result in the budget deficit dropping to 5,7% - a substantial improvement even on what was forecast in the mid-term budget policy statement (MTBPS) in November 2021 which was 6,6%. The government decided to use 45% of this windfall to reduce debt levels and some to extend the social relief grant for another year at a cost of about R44bn. The temptation to introduce a permanent basic income grant (BIG) was avoided – for now. It is important to keep in mind that the boom in commodity prices and extra tax revenues is likely to be relatively short-lived, but may be extended if the Ukrainian crisis persists. Our expectation is that commodity prices will remain strong for the rest of this year and probably most of next year.
The Treasury is now projecting that the SA economy will grow by 2,1% this year (up from its previous forecast of 1,8%) following last year's growth of about 4,8%. The forecast for next year and the year after remain at a relatively conservative 1,6% and 1,7% mainly because of the problems expected with further load-shedding. In our opinion, these estimates are probably low, and we are expecting growth this year to be closer to 2,4% and the succeeding years to grow by over 2%. Much, of course, now depends on the unfolding of the Ukraine crisis and its impact on commodity prices. Our expectation there is that the crisis will be resolved fairly quickly without resulting in a major conflict between Russia and NATO. Projections for South African inflation over the next 3 years remain well inside the target range and below 5% - which is clearly good for the economy.
The surprise tax relief in the budget for consumers and companies will help to stimulate growth. The tax brackets were adjusted 4,5% higher to take into account "fiscal drag" and the corporate tax rate was confirmed at 27%. There was also some relief provided because for the first time in many budgets the fuel levy was not increased. At the moment, fuel taxes and levies account for more than R6 for each liter of petrol. Rising oil prices have caused petrol prices to increase with knock-on effects on food prices and inflation. With the situation in Ukraine, the price of North Sea Brent oil rose to a post-COVID-19 high of $97 per barrel. At the same time, the rand fell against the US dollar. From 2nd March 2022, the petrol price will rise by R1,46 per liter – a huge increase which will undoubtedly be inflationary.
The finance minister said that the entire social budget of about R87,6bn would be reviewed – and this includes the R44bn for the one-year extension of the social relief grant. Obviously, the social budget is an enormous part of total government expenditure, making up about 60% of the non-interest expenditure and supporting about 46% of the population. There are now five permanent different social relief programs – the old age pension, the child support grant, the foster child grant, the disability grant, and the care dependency grant. To this must now be added the temporary social relief of distress (SRD) grant of R350 a month which is now scheduled to end on 31st March 2023. Millions of people in South Africa are totally or partially dependent on this money to survive. It is also potentially a fertile ground for various types of corruption. In our opinion, it is necessary to spend the money to prevent starvation. The money is also a form of fiscal stimulation which helps to sustain the economy during its recovery from the effects of COVID-19.
One of the key aspects of the budget was Finance Minister Godongwana's continued resistance to further funding for state-owned enterprises (SOE), including Eskom. Eskom has an unsustainable debt position, much of which is government guaranteed, and the Treasury has been urged to take a large chunk of this away from Eskom and put it onto its own balance sheet. But no additional financing beyond what has already been agreed (which is R25bn guarantee facility for Eskom this year) will be made available to Eskom. The treasury is in discussions with Eskom to resolve the problem. SAA is getting R1,8bn and Denel is getting R3bn. There was no mention of any additional funds for the South African Post Office.
The Finance Minister also wants to stabilize the public sector wage bill and at least avoid any above-inflation increases. Obviously, this must be a major subject of debate at the up-coming civil service wage negotiations scheduled for the end of March 2022. The government wage bill is one of the largest costs to government and always puts the budget estimates at risk. Obviously, the civil service is a considerable source of votes for the ANC whose popularity has been steadily declining at successive polls. The government will be under pressure from the union movement to maintain and increase the wage bill beyond what Godongwana wants.
The Economy
Credit extension in December 2021 was up again for the sixth month in a row, driven mainly by corporate demand, but it remains subdued as South African consumers and businesses focus on reducing debt and expenses. The main component of consumer demand for credit is mortgage bonds on property, which comprise about 60% of household credit. This rose almost 7% in the month as consumers took advantage of relatively low interest rates to invest in property. However, with two 0,25% rate hikes already through, and as many as four more expected in 2022 alone, this area of credit extension could be curtailed. Businesses moved into positive territory and the demand for corporate credit was up by 0,6% year-on-year. This still remains very constrained as companies remain wary of persistent uncertainties like load-shedding.
South Africa's official inflation rate fell to 5,7% in January from December 2021's 5,9% but is expected to rise again in future because of further substantial increases in the fuel price this month. North Sea Brent oil reached a post-COVID-19 high of $97 per barrel and is trending steadily higher. This rise has been off-set to some extent by the strengthening trend in the rand. Obviously, a large jump in the fuel price will have a negative impact on inflation and is likely to cause further increases in interest rates. The surge in oil prices is partly due to the war in Ukraine. Ukraine also produces about a quarter of the world's grain crops – so we can expect food prices to spike upwards in due course.
The exceptional rains late last year and earlier this year may have had a negative impact on maize yields which means that we are expected to produce somewhere in the range between 12m and 14m tons – which is more than enough to meet local demand of about 5m tons for human consumption and then about 6m tons for animal feeds. The record South African crop was 16,8m tons and last year's production was 16,2m tons. Obviously, any excess above 11m tons of local consumption will be exported and generate foreign currency. A major consideration is the hundreds of thousands of subsistence farmers across South Africa who rely on growing a few acres of maize mainly to feed their families. In drought years like the 2014/15 year they suffer and have to rely on government subsidies and imports of maize meal – which will be in short supply this year because of the Ukrainian war.
ABSA Bank has joined others in increasing its forecast for gross domestic product (GDP) growth this year. They raised their forecast to 2,1% which is less than half of the 4,7% achieved in 2021 – but that growth was mainly due to the sharp recovery from COVID-19. They are also predicting that the 5,9% inflation rate recorded in December 2021 would be the peak and they expect inflation to fall to below 5% later this year. For these reasons the bank only expects two more rate hikes this year, rather than the 3 which most economists are expecting. ABSA believes that President Ramaphosa's opponents within the ANC, who represent the "Radical Economic Transformation" (RET) camp, are fighting to prevent or slow down reforms in the economy. We believe that they are doing everything they can to have Ramaphosa recalled at the ANC's elective conference in December this year. ABSA expects that the official unemployment rate will jump to 36,4% for the whole of 2022,. The high unemployment rate is putting pressure on the government resulting in the extension of COVID-19 relief packages.
The informal sector is a euphemism for tax evasion. Formal companies are registered as taxpayers with South African Revenue Services (SARS) and mostly pay VAT, PAYE and company tax. But the informal sector works with cash and is virtually unregulated. This means that it can respond more quickly and efficiently to an economic event like COVID-19. Since the relaxation of measures implemented to control the virus, the informal sector has recovered more rapidly than the formal sector and has re-employed more people. The formal sector in South Africa has been declining for some years now, even before the pandemic began. In 2017 there were almost 1 million companies registered for tax purposes and they paid about R210bn in tax. By 2020 that number had dropped to just over 700 000 who paid R125bn. Clearly, the government's goal of increasing the number of jobs in the economy is not working – mostly because they are not creating a business-friendly environment, which accounts for the high unemployment rate.
The factional battles within the ANC between supporters of Zuma and Ramaphosa were the cause of the civil unrest in July 2021 and that unrest was triggered by Zuma's arrest. And those battles continue today. This is the finding of the expert panel that President Ramaphosa set up to examine the civil unrest. In our view, this internal strife in the ANC is a major cause of instability in the country and a significant disincentive to foreign direct investment (FDI). That, in turn, results in weakness in the rand which has knock-on effects on inflation and business confidence. The ANC's elective conference in December 2022 is now a major potential cause for further loss of business confidence. All-in-all the ANC's apparently inability to sort out its internal squabbles is a major cost to the economy – and it may well result in the party losing its majority in the 2024 elections.
A permanent Basic Income Grant (BIG) has become a major political issue and president Ramaphosa has eventually decided to compromise and extend the Social Relief Grant for one year at a cost of approximately R44bn to the fiscus. Like the National Health Insurance (NHI), such social spending is essentially unaffordable for South Africa – the additional funds can be provided by the additional taxes flowing from the commodity boom, but that boom may well be relatively short-lived. Under normal circumstances, we simply do not have the tax base to pay the R50bn a year which a permanent basic income grant (BIG) would cost. This year, of course, President Ramaphosa is under pressure because there is a possibility that he may be recalled at the ANC's elective conference in December – and by extending the Social Relief Grant past that time he should gain support within the ANC. The problem is that the South African fiscus remains over-stretched with high debt levels left over from coping with COVID-19. We should really be doing everything possible to bring that debt level down. A significant portion of tax revenue is used just for interest payments on the government deficit. This crowds out other social spending. It cannot go much higher before we fall into a "debt trap".
The Rand
The chart below shows how the rand recovered consistently from the COVID-19 "risk-off" until the civil unrest in July 2021. That event unnerved overseas investors and brought South Africa's rule of law into question. In the Confidential Report published on 1st December 2021 we said:
"We do not believe that the current weakening pattern will be sustained. We are expecting the rand to resume its long-term strengthening trend in due course".
For the last 3 months (December, January, and February) the rand has been strengthening steadily against the dollar. Of course, the outbreak of hostilities in central Europe has resulted in a shift in international investor sentiment towards "risk-off" and that has hurt the rand. But the rand has held its ground surprisingly well through this crisis so far – which is an indication of the fact that it is under-valued against first world currencies and perhaps that international investors do not perceive the Ukraine crisis as being a persistent factor in world markets.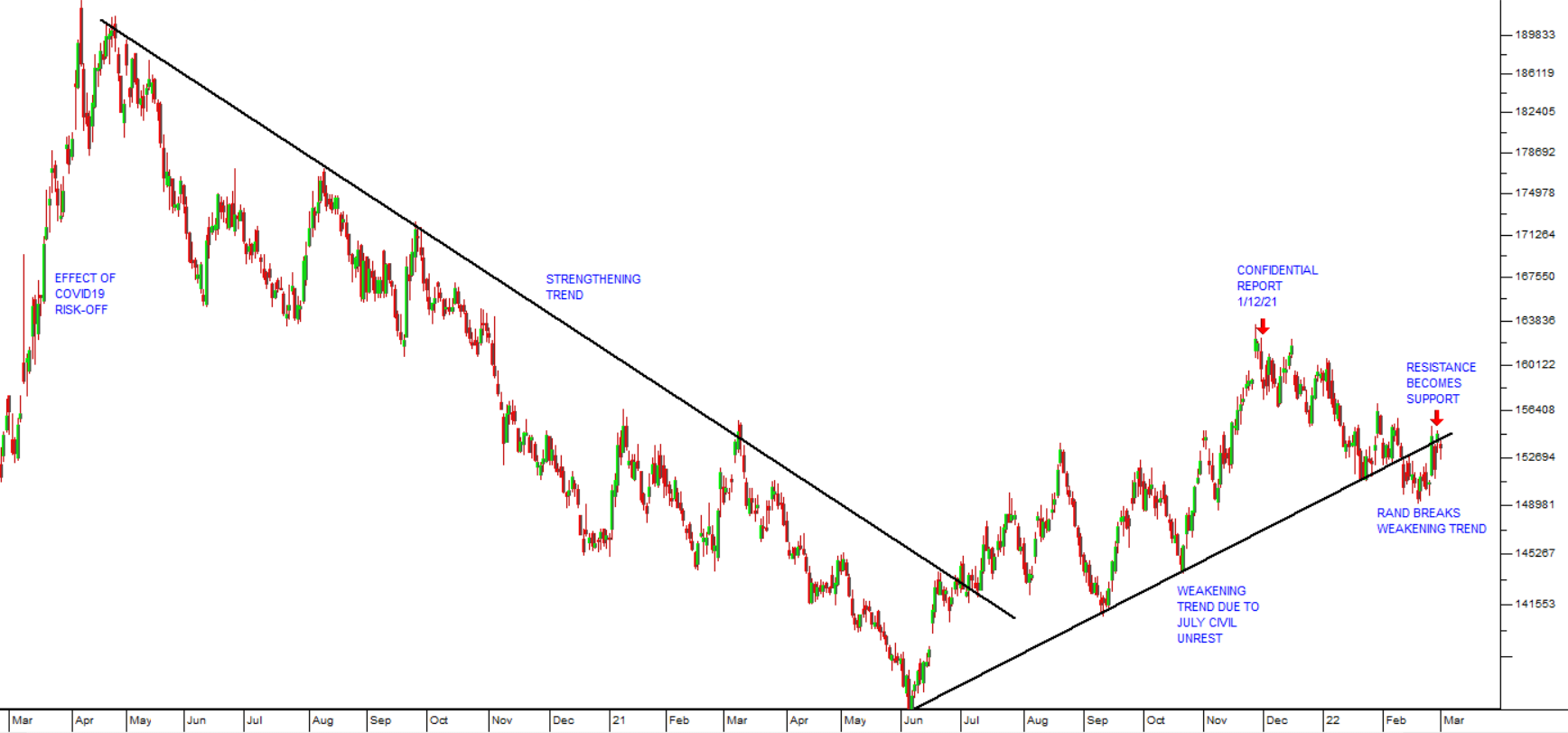 The chart shows how the rand broke through the weakening trend line which has been in place since the civil unrest last year – then resistance became support when it weakened in response to the Ukraine crisis. We believe that the rand will continue to strengthen unless there is some major new escalation of the situation in central Europe.
Eskom
Tharisa has become the latest company to take advantage of the President's relaxation of the licensing requirements for the distributed generation of electricity. The company has signed an agreement to implement a 40-megawatt solar farm. Members of the Minerals Council of SA have plans to build about 3,9 gigawatts of renewable energy and have so far increased the production of renewable energy by 146% since the relaxation of the licensing requirements. This relaxation is, in our view, the most effective implemented reform in the economy since the ANC took over in 1994.
The splitting of Eskom into three operating companies – transmission, generation and distribution will take a major step forward with the proposed new Electricity Regulation Act. This Act calls for the transmission company to create an open platform which will enable private electricity providers to compete directly with Eskom. Obviously, this is a major change for Eskom and will ultimately force that company to become more competitive or cease to exist. It is estimated that an unregulated private sector could add between 4 gigawatts and 6 gigawatts to the grid. This would clearly mean an end to the loadshedding which has been a significant drag on the economy.
The decision of the National Energy Regulator of South Africa (NERSA) to allow Eskom a price increase of 9,61% from 1st April 2022 is half of what the utility asked for, which will come as a relief to both consumers and businesses. However, the increase is almost double the current inflation rate and will have knock-on effects throughout the economy. It will push up inflationary expectations and cause interest rates to rise more quickly than they would otherwise. It also continues the general trend of Eskom pricing itself out of the energy market. This price increase comes on top of Eskom's 15% price increase in 2021. As renewables become cheaper and with the relaxation of distributed generation laws, more and more companies are installing their own photo-voltaic or wind power. Consumers are also moving away from Eskom wherever they can afford to. Eskom's market is shrinking rapidly – and that, in turn, is forcing them to charge more for their electricity.
Commodities
Because Russia is a major producer of commodities, the war in Ukraine has caused a variety of commodity prices to rise on world markets. Probably, the most significant of these is the oil price. North Sea Brent oil briefly spiked up above $100 a barrel when Russia invaded Ukraine, but has fallen back since then. Nonetheless, oil has been in a strong upward trend for almost two years. Consider the chart: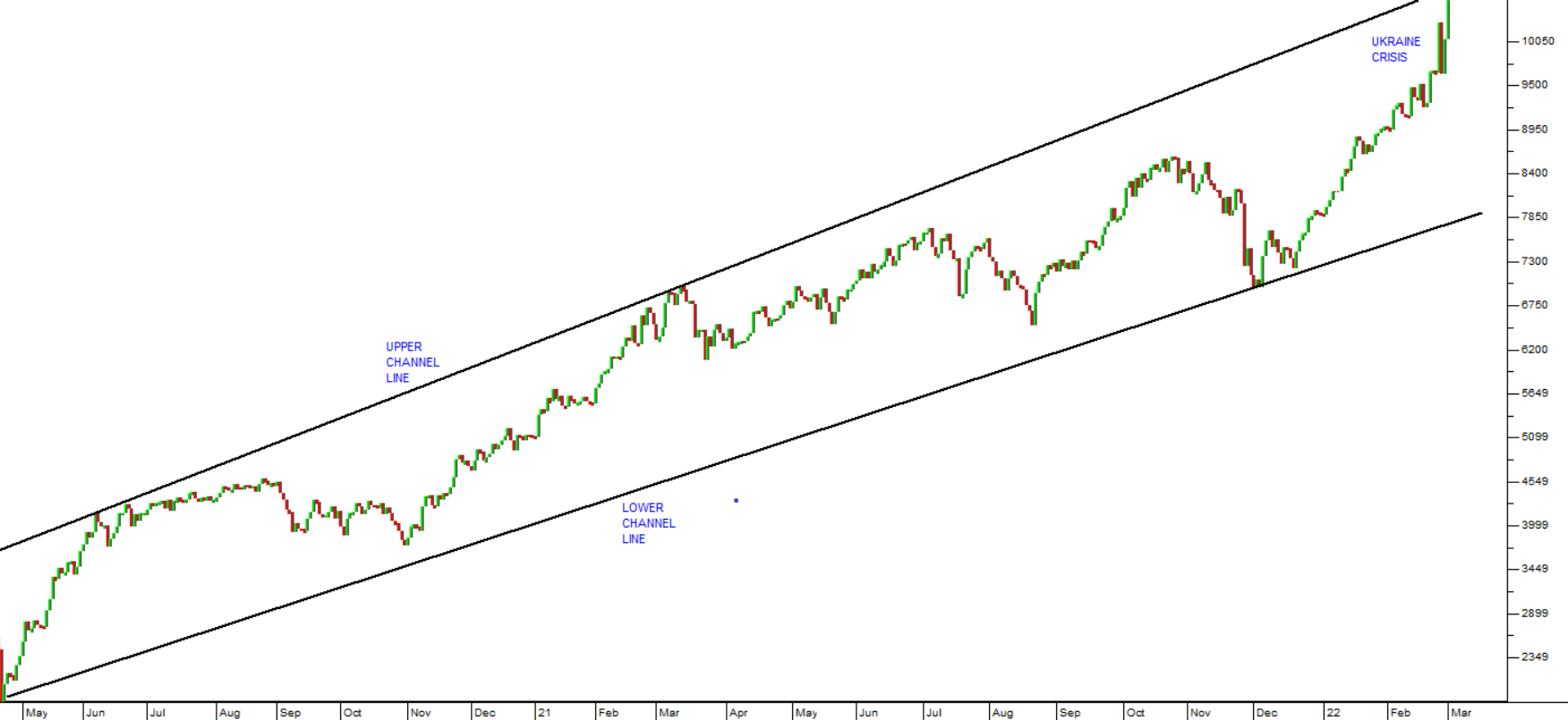 You can see here that the channel in which Brent is trading has continued with the price spiking up towards the upper channel line. Obviously, Russia is a major exporter of oil and the harsh sanctions approved by most first world countries can be expected to reduce world supply.
The gold price has also ticked up but rose less than 5% before falling back. The failure of the gold price to respond significantly to the war in Ukraine means that international investors do not see it as the start of World War III – but rather as a local skirmish, perhaps made a little more dangerous because it is taking place in central Europe and NATO could possibly become involved.
Companies
OUR MISTAKES
Two companies which we have previously recommended have fallen. They are Aveng and Prosus. They have fallen for different reasons, but in both cases, we believe that they both remain excellent investments – now made far cheaper by the drop in their prices.
Aveng is, in our opinion, the victim of a general misunderstanding in the market. In its latest results for the six months to 31st December 2021 the company was obliged to reclassify its subsidiary, Trident Steel, as a continuing operation. This is a requirement of the International Financial Reporting Standards (IFRS) which JSE-listed companies have to adhere to. Trident was previously classified as "held for sale" and as such no depreciation was charged against it and it was valued at the price which the directors believed they would get for it when they managed to sell it. Unfortunately, due mostly to the pandemic, Aveng was unable to sell Trident by 31st December 2021 – which meant that they had to allow for its accumulated depreciation since it was put up for sale. That once-off expense caused Aveng's profits to dip sharply and investors took fright – pushing the share price down about 20%. But, as the CEO of Aveng has pointed out, none of this impacts on the continuing operations of Aveng in Australia or South Africa. When Aveng was trading for around R27 per share we considered it good value because it was on a price:earnings (P:E) multiple of under 3. Now that it is trading for around R19 we consider it to be even better value. If you already have Aveng shares you should consider buying more to bring your average costs down and if you don't have them you should definitely think about buying them at these low levels.
Prosus was initially a victim of its complicated and unfair capital structure which involves the extensive use of "N shares" to ensure that a small group of shareholders retain control. This has been overshadowed by pronouncements from the Chinese government that they intend to restrict social media and gaming in that country – which will impact on Tencent, 29% of which is Prosus' most significant asset. The next negative was the correction on world markets brought about first by the potential interest rate response to persistent and high levels of inflation in America – and then by the war in Ukraine. In our view, that correction is near to its lowest point, although we are expecting one last fall which we expect to take the S&P500 index closer to 4000. In our view, Prosus is now even more under-valued than it was before. A year ago on 19th of February 2021 you would have paid R1937 a share for this company. Today it is trading for less than half of that at R962. A person buying Prosus now might not be getting it at its lowest point, but they would have the great satisfaction of knowing that there are people out there who filled their pockets with this share at R1937 – and they are doing far better than them!
NEW LISTING
Big Tree Copper is planning to list on the JSE in the first six months of this year. The company is engaged in recycling old mine dumps which gives them a low cost base and eliminates a risky underground operation. Costs are running at between $4 and $8 per ton of ore processed and the current copper price is just under $10000 per ton with international supply shortages. The company produces about 1500 tons of copper per annum, which it wants to increase to about 8000 tons with R100m raised on listing. The company has raised about $6m so far and it is debt-free. Obviously, this will be a commodity company and subject to the vagaries of the international copper market.
HUDACO
In its results for the year to 30th November 2021 Hudaco reported revenue up 16,1% and headline earnings per share (HEPS) up 56,3% (21% against 2019). Net borrowing was down R174m, for the year, to R469m after paying out a record R250m dividend - which is a massive achievement.
This group constantly makes "bolt-on" acquisitions to build and enhance its business. In fact, adding bolt-on acquisitions has become a steady source of growth for the company. The acquisition of Cadac is a typical and instructive example. Cadac is being bought for not more than R100m. Unlisted private companies which are not in the service or high-tech industries, like Cadac, are typically bought for about 3 times their average annual after-tax earnings. But once the company is added to a listed company, its earnings are immediately re-rated to that of the company's multiple – which in Hudaco's case is 9,02. So earnings that they paid R100m for will be worth about three times as much once the acquisition is through. That confers an immediate benefit on the shareholders of Hudaco of over R200m.
The benefit of making relatively small "bolt-on" acquisitions of this sort is that they do not endanger the parent company in the same way as a major acquisition would. For example, Woolworths acquired David Jones in Australia for R20bn in 2014 – which was a massive acquisition in terms of their market capitalisation at the time which was about R50bn. When David Jones performed worse than was expected, it caused the parent company's shares to fall significantly as they were forced to impair the value of the acquisition by R12bn. Hudaco has a market capitalisation of just under R5bn – so a R100m acquisition like Cadac is not going to have a material impact, even if that acquisition is a complete disaster. Consider the Hudaco chart: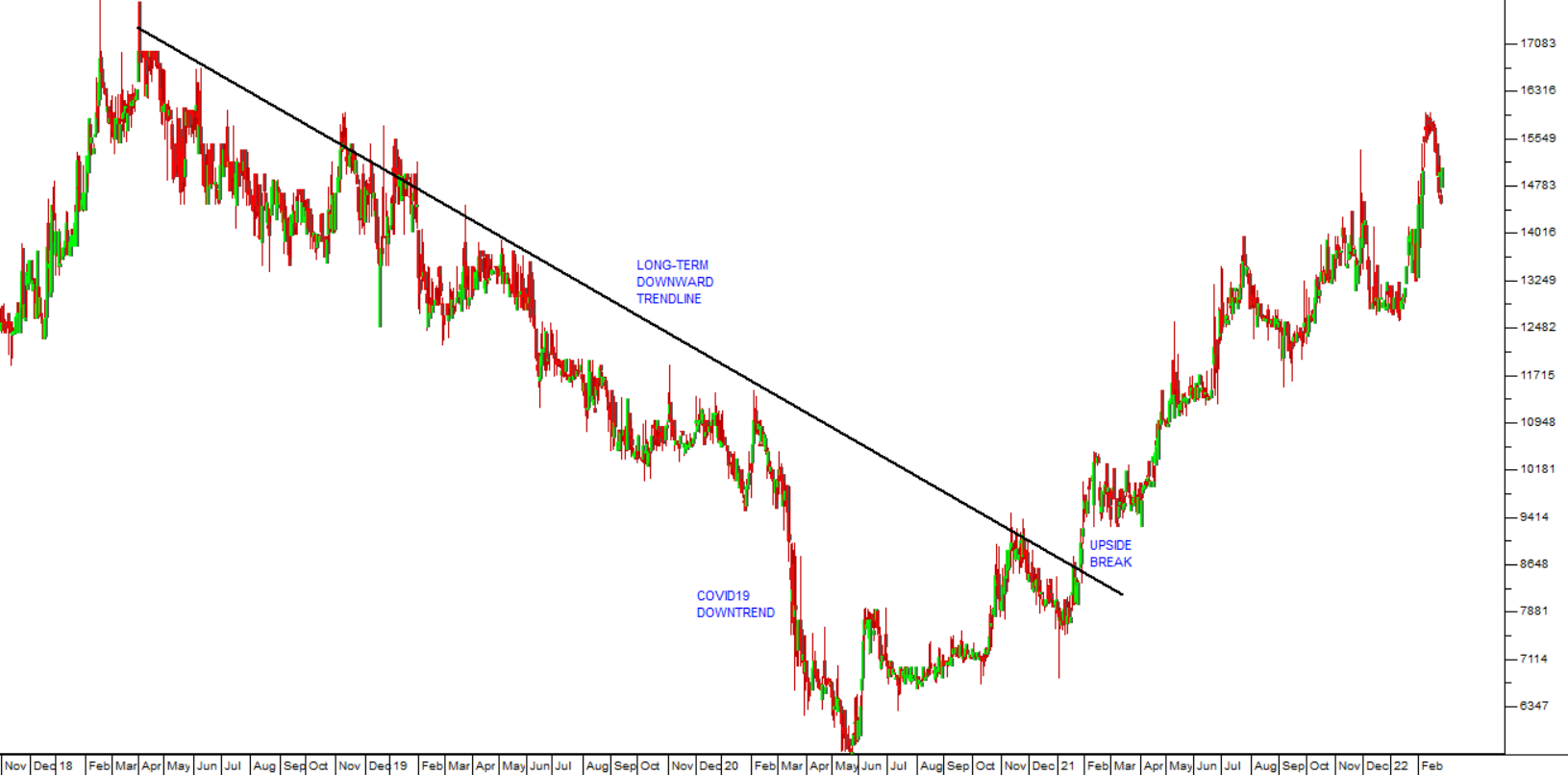 You can see here that Hudaco was in a long downward trend from April 2018 culminating in the spike down caused by COVID-19 in May 2020. We advised clients to wait for a break up through the downward trendline. That break came on 27th January 2021 at just over R90 per share. Since then, the share has moved up steadily to current levels around R148 – a gain of 64,4% over less than a year. We expect this share to continue to perform well.
RCL
RCL is a large producer of food, sugar products and chicken in South Africa which is owned 80.4% by Remgro. The company owns a number of very well-known South African brands such as 5 Star maize meal, Farmer Brown and Yum Yum peanut butter. It competes with overseas imports of sugar, chicken, and other foods. It was impacted by the listeriosis outbreak which damaged the market for processed meats and caused costs estimated at about R158m. The company has been impacted by the weak economy, low consumer spending and high unemployment. In its results for the year to 30th June 2021 the company reported revenue up 14% and headline earnings per share (HEPS) of 107,9c. Crop failures and increased demand from China have caused rising input prices for agricultural commodities such as maize, soya, sunflower wheat, and peanuts. It has mostly not been possible to pass these price increases on to consumers. The company said, "We supplied 160 GWh of our electricity needs from self-generated sources in 2021, including sugar co-generation, Waste-to-Value (W2V) and rooftop solar". In a trading statement for the six months to 31st December 2021 the company estimated that headline earnings per share (HEPS) would be between 15,6% and 27,3% higher due to an improvement in all divisions off the low base of 2020. We regard this company as a well-managed company. We suggested that investors wait for a clear upside break through the long-term downward trendline. That break came on 25th January 2021 at a price of 848c. It has since risen to 1425c – a gain of 68% in just over a year. Consider the chart: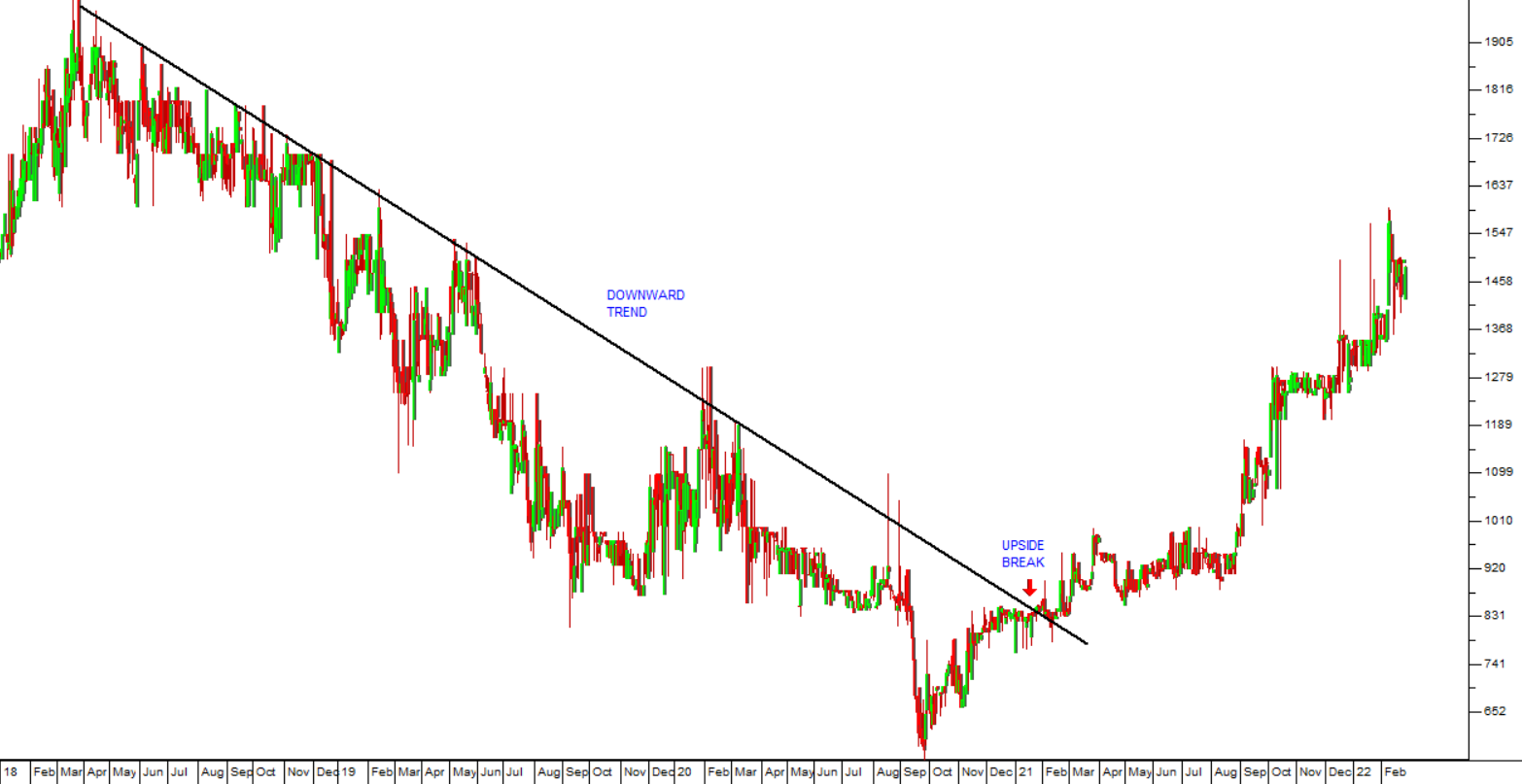 You can see here that the share had been in a long-term downward trend which was finally broken at the beginning of 2021. We still see this share as good value on a P:E of 13,87.
JUBILEE
Jubilee Metals Group (JBL) is a diversified metals recovery company which re-processes mine waste and surface materials. It is listed both on the London AIM market and on the JSE's Alt-X. It has operations in South Africa, the UK, Madagascar, and Australia - and it is involved in a joint venture in Zambia to produce lead, zinc, and vanadium. The company primarily produces platinum group metals (PGM) and chrome, and its primary asset is a 63% stake in the Tjate project, which is assessed to include the world's largest undeveloped block of platinum ore with an estimated potential of 65m ounces on the Western limb of the Bushveld Igneous Complex. Jubilee is currently spending about R154m to buy a chrome processing operation and 1,8m tons of tailings from PlatCro Minerals. In its results for the year to 30th June 2021 the company reported total revenue up 143% and headline earnings per share (HEPS) of 38,62c compared with 17,3c in the previous year. In an operations update for the six months to 31st December 2021 the company reported recommissioning the Inyoni plant which increased processing production. In January 2022 the company increased production by 66%. Technically, the share was in a strong upward trend because of rising PGM prices but has moved sideways since February 2021. On 3rd June 2021 the company announced that it had contracted to acquire additional PGM material which would enable it to process a further 16500 tons a month which would yield about 14500 ounces of PGM's per annum. It is a low-cost producer, but subject to the vagaries of the platinum and base metals markets. In our view, this share is one of the better options in the mining sector. Consider the chart: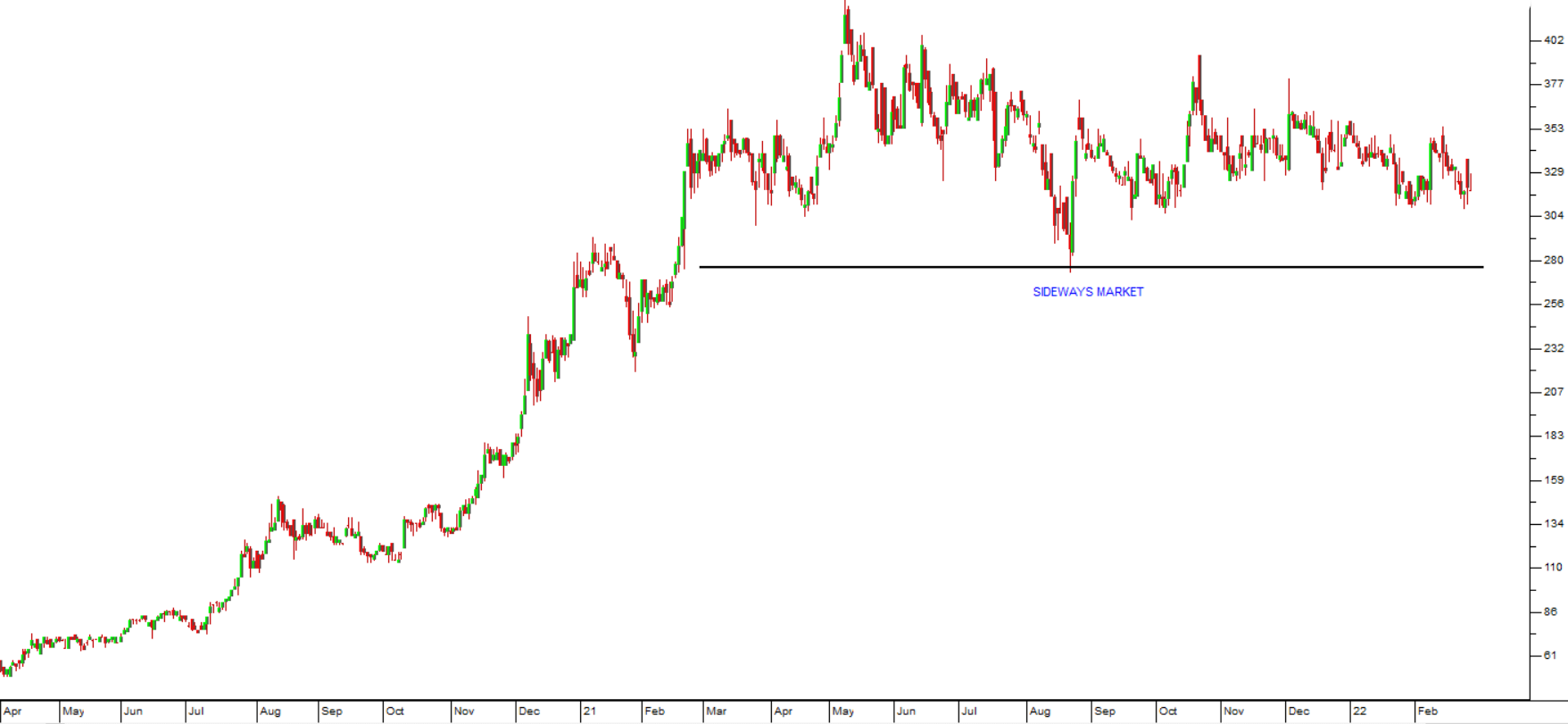 You can see here the extended sideways market in Jubilee shares since February 2021. If you believe that the commodities boom is going to continue, this share could offer significant potential for capital gain.
NEDBANK
Nedbank is the smallest of South Africa's four original banks (along with Standard, FNB, ABSA). Capitec is a special case because it is growing much faster than the older more established banks. In general, these four banks are always good value when they have a dividend yield (DY) of anything above 5%. Following the impact of COVID-19 in March 2020, all of them were at dividend yields of over 5% - especially Nedbank. In fact, Nedbank reached a DY of over 15% in March 2020. Since that time the share has been rising steadily. On 15th February 2022 Nedbank issued a trading statement saying that it expects headline earnings per share to rise by between 108% and 118% in the year to 31st December 2021. Consider the chart: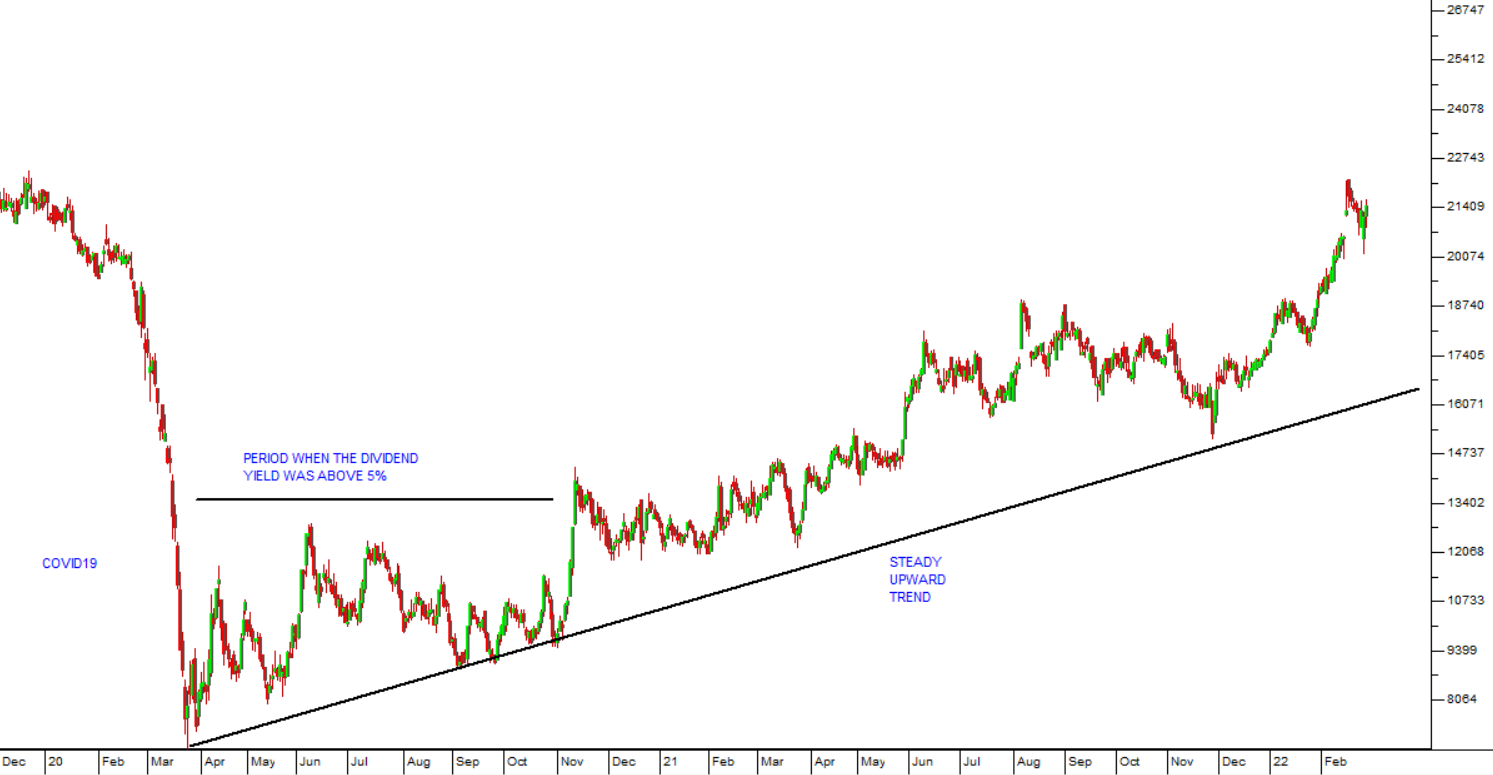 You can see that the share is in a strong bull trend. So, in future, if you see one of the 4 original South African banks on a DY above 5%, you can usually be sure that it represents good value and is worth buying.
SPAR
Spar (SPP) runs a chain of supermarkets across Southern Africa with more than 2000 stores. It also operates the Build-It chain in hardware and building materials and the Tops Liquor chain. It has operations in Southern Ireland under the name "BWG" which operates through over 1083 stores and the Spar chain of more than 200 stores in Switzerland. The company is expanding into Poland with the acquisition of 80% of Piotr i Pawel which has 77 delicatessens, for 1 euro. This operation is expected to break even in about 2 years as its outlets are converted into Spar stores. Spar has spent about 80m euros to stabilise the Polish company. As a group, Spar is a very serious competitor in the South African retail industry, making extensive use of franchising to expand its network. The development of the new Polish enterprise has been frustrated by COVID-19. It trades on a multiple of around 13,72 which should be compared with Pick 'n Pay on about 18,64 and Shoprite on 23,44. Its diversification into Ireland, Switzerland and now Poland gives it a solid rand-hedge component which does not appear to be reflected in its multiple. In a trading update for the 18 weeks to 29th January 2022 the company reported group turnover up by 5,8% with wholesales growth of 8,2% in Southern Africa. On 16th February 2022 the company announced that it was doubling its dividend cover from 1,45 to 2,9 - which would have the effect of halving its future dividends. In our view, the share is under-priced at current levels and represents something of a bargain. With its steady growth from both Ireland and Switzerland, this retailer is better positioned, in our view, than other retailers, like Shoprite, that have expanded into Africa. Consider the long-term chart: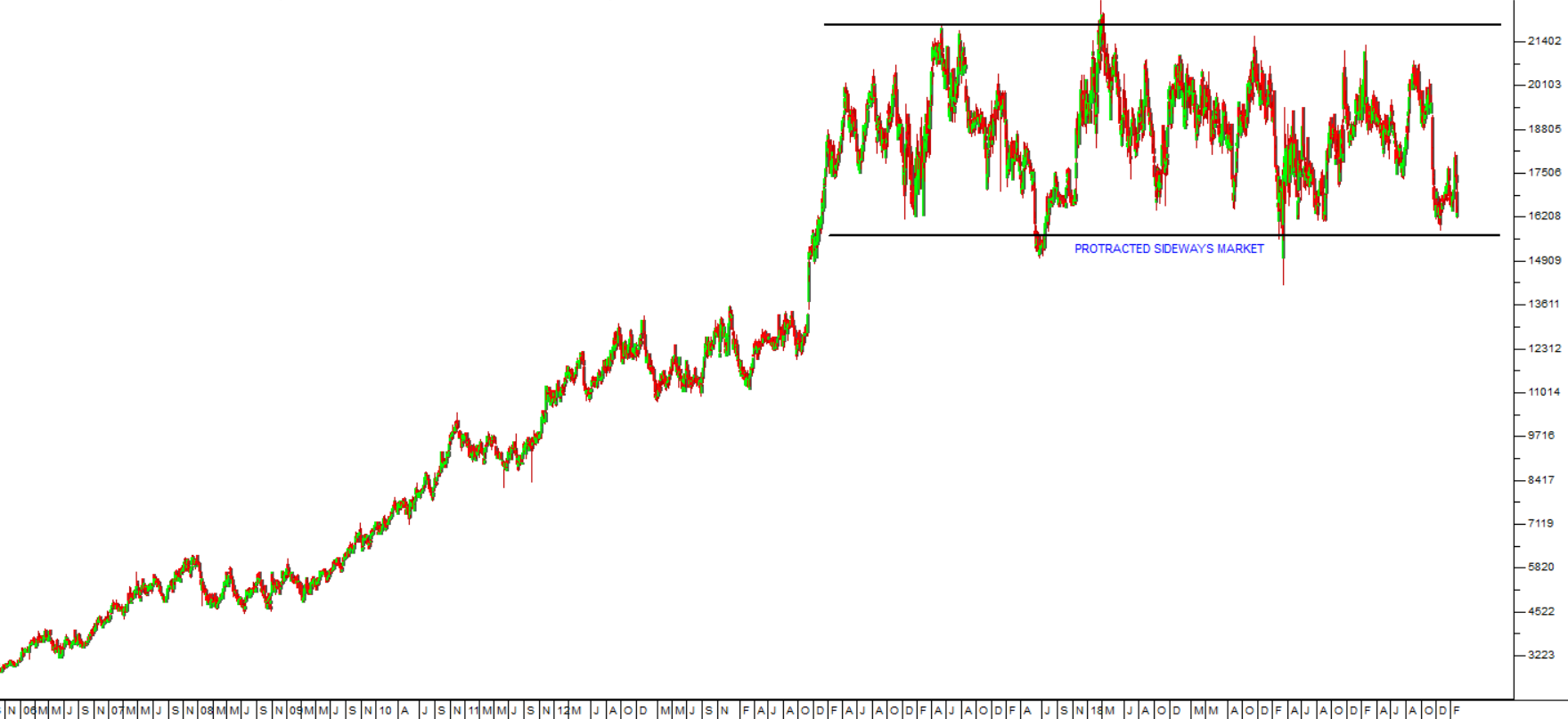 This is a chart of Spar going back to the last few months of 2005 – 16 years. As you can see for the last seven years the share has been in a protracted sideways market bounded by upper and lower limits to its share price. At the moment it is close to the lower trendline, and we think it represents good value. If a long sideways market like this is broken on the upside, the break is usually followed by a strong upward move.
GLENCORE
Glencore (GLN) describes itself is a highly diversified international commodity company dealing in more than 60 commodities in over 35 countries. It has been benefiting from the boom in commodity prices. As you can see from the chart below, the share was in a downward trend in the years 2018, 2019 and 2020, but broke up through its downward trendline on 3rd December 2020 at a price of 4719c. Since then, it has been moving up strongly and closed at 8812c on Friday last week. If the crisis in Ukraine results in significant commodity shortages, then this will be a share that benefits directly.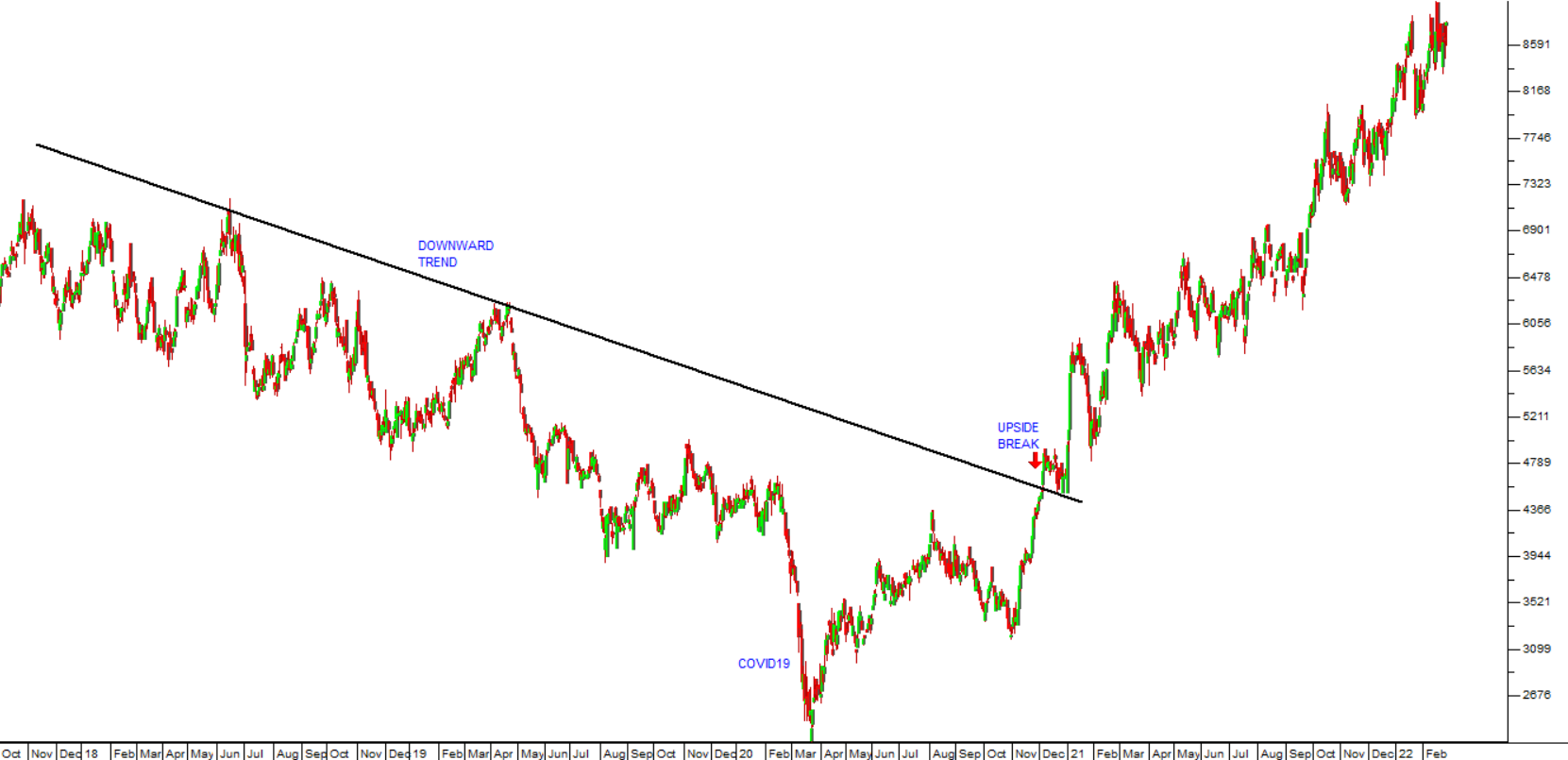 MUSTEK
Mustek (MST) is South Africa's largest assembler of personal computers under its brand name Mercer. It also imports a variety of computer products such as Samsung, Acer, and Microsoft. The company is trading at 64% of its net asset value (NAV) of 2265c per share. In a trading statement for the six months to 31st December 2021 the company estimated that HEPS would be between 12% and 22% higher. On a P:E of 3,32 and dividend yield of 4.9%, the share seems very cheap to us. Consider the chart: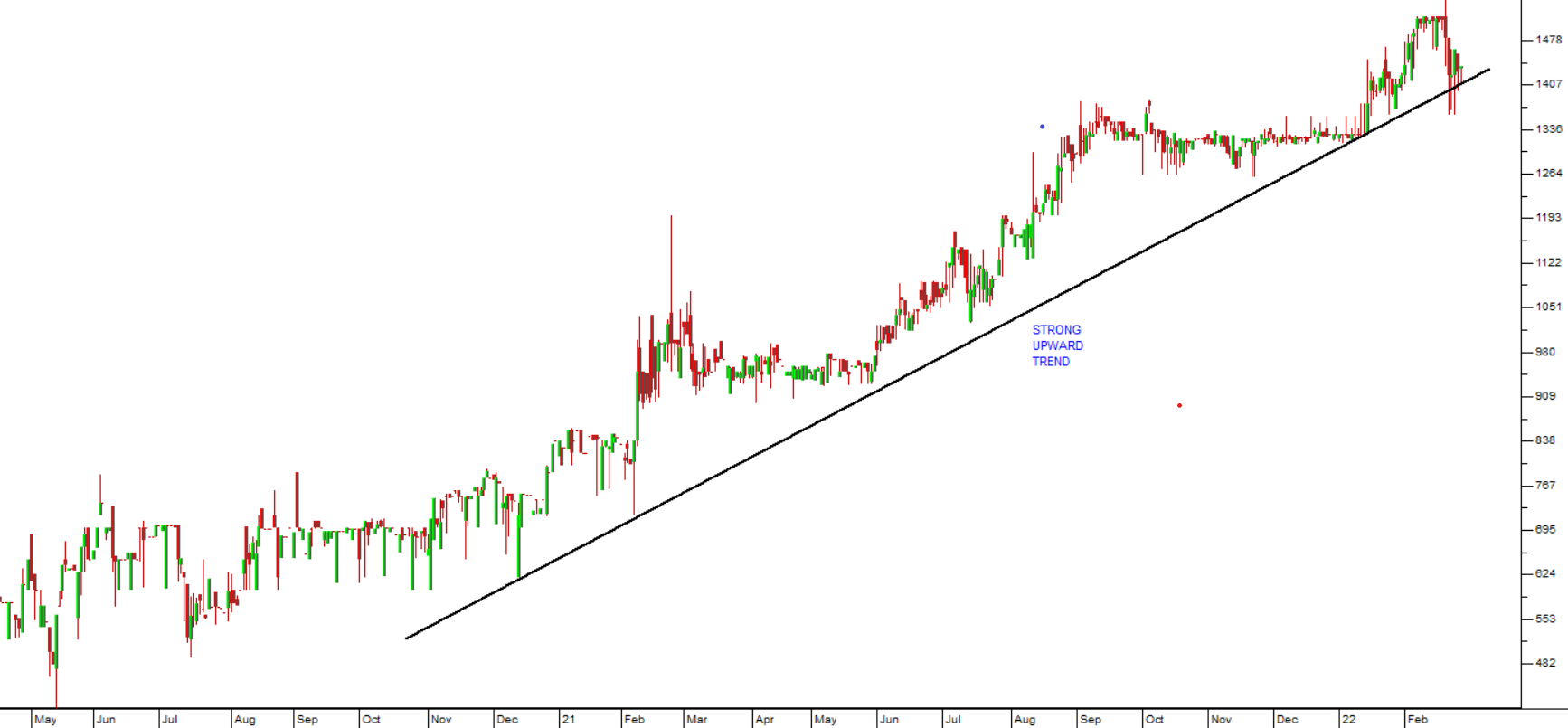 You can see that for more than a year the share has been tracking up steadily – and yet it is still on an absurdly low P:E multiple. In our view, this is a high-quality share which will benefit from the technology revolution and from any recovery in the South African economy.
DISCLAIMER
All information and data contained within the PDSnet Articles is for informational purposes only. PDSnet makes no representations as to the accuracy, completeness, suitability, or validity, of any information, and shall not be liable for any errors, omissions, or any losses, injuries, or damages arising from its display or use. Information in the PDSnet Articles are based on the author's opinion and experience and should not be considered professional financial investment advice. The ideas and strategies should never be used without first assessing your own personal and financial situation, or without consulting a financial professional. Thoughts and opinions will also change from time to time as more information is accumulated. PDSnet reserves the right to delete any comment or opinion for any reason.
Share this article: