3 March 2021
By PDSNET
America
The major change that has come about in America since the advent of the Biden administration has been a broad shift towards "risk-on". The uncertainties associated with Trump are fading. American investors have welcomed the economic logic and sanity of the new administration with a desire to generate returns which are well above those offered by US Treasury Bills. This has resulted in a flood of capital headed for those emerging economies with low inflation rates and offering high real rates of return on their government bonds – such as South Africa. We see this trend continuing, and together with a boom in commodities, becoming the basis of a strong recovery in the South African economy.
However, in the short term, the renewed anticipation of US prosperity has come with fears of a possible rise in US inflation which might cause rising interest rates. This has led to a sell-off of US Treasury bills and bonds around the world - including here in South Africa. As foreign investors withdraw from our bond market our bond yields rise and if they remove their funds from the country, the result is pressure on the rand. High tech stocks on Wall Street have also felt some pressure from profit-taking leading to the current small correction.
Overall, the S&P500 has been trending up very strongly, making a series of new record highs. This is largely in response to the hugely accommodative monetary policy in the US. In the back of your mind, you should be aware that sooner or later there is bound to be another correction of between 10% and 20%. But, in our view, when this happens, it will be a buying opportunity rather than the beginning of a new bear trend. In the meantime, the S&P has now risen well above pre-COVID-19 levels: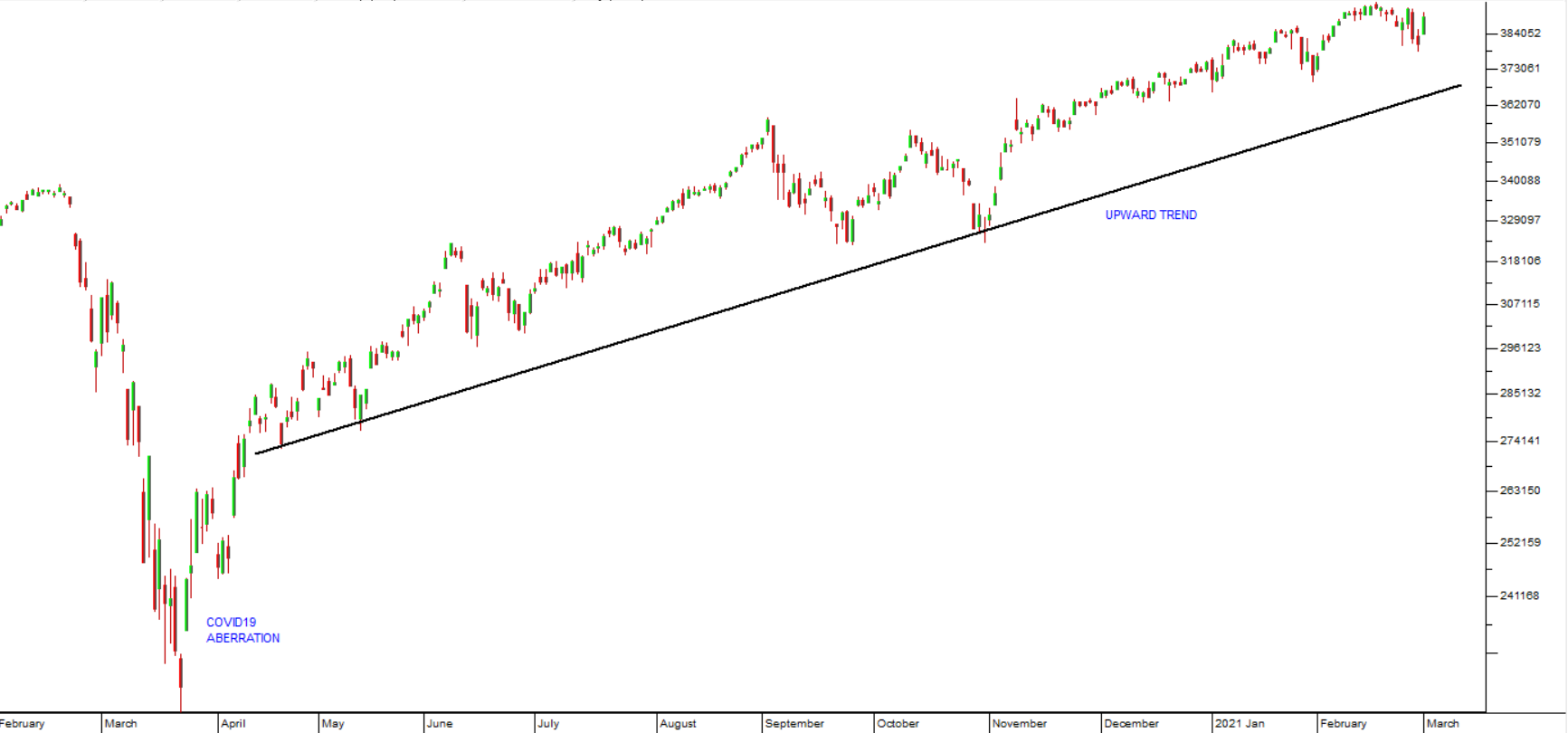 One of the features of a great bull market, like the one we have been in since March 2009, is that more and more ordinary people begin taking an interest in the share market. In today's online digital world this translates into greater and greater numbers of online traders using a variety of digital platforms to gamble on the progress of every kind of derivative instrument from currencies to options, futures, contracts for difference (CFD) and many other more exotic instruments. This feature of today's market is remarkably similar to what happened on Wall Street in the great bull market of the 1920's. Almost a hundred years later, in 2021 the number of online traders is increasing dramatically, perhaps at least partly because more people have been confined to their homes during the pandemic, but also because it has generally been profitable to be involved in a rising market like Wall Street for a long time. The current earnings multiple of the S&P500 of over 34 – is historically high and, of course, the continuous arrival of all these new online traders is pushing it further up. We all know how the great bull market of the 1920's ended – with the crash of October 1929. In the share market nothing goes up forever. Debt levels cannot rise for ever. Sooner or later the piper has to be paid…
At the same time, the US markets have been plagued by a rash of speculative bubbles such as in GameStop shares, Silver derivatives, Bitcoins, and even high-tech shares like Tesla. Some of these have relatively thinly traded markets resulting in wild price movements, mainly as a result of the actions of what has been described as "an army of retail traders". These are ordinary people responding to news and communications from Reddit – a social news organisation founded by a group of university students. Needless to say, a growing number of private investors are getting drawn into these trades. We advise investors to focus on investment and to avoid derivative instruments generally and Bitcoin in particular.
Cornering the silver market and causing a bear squeeze is not a new idea. The Hunt brothers (Lamar and Bunker), Texas oil billionaires who inherited their fortune from their father, attempted to corner the silver market in the early 1980's and ended up being reduced to mere millionaires when the Federal Reserve Bank decided to step in and normalise trading.
The US stimulus cheques paid out in January which put $600 into the pockets of every American resulted in US income levels jumping by 10% in that month. Many consumers in America spent that money quickly pushing retail spending up by 2,4% in the month. Some decided to save it so that the personal savings rate increased to 20,5% - just under $4 trillion. Despite this overt stimulation, the core and headline inflation rates remained subdued with the key measure up just 0,3% on the month and 1,5% year-on-year. Another $1,9 trillion ($1400 per person) in stimulus is making its way through Congress – so the spending will continue into the US spring and summer. All this spending has pushed up the yield on the US 10-year treasury bill to around 1,6% as fears of inflation caused some investors to dump over-priced high-tech shares. We are expecting some sort of correction in the fairly near future – which, we suggest, will offer private investors a buying opportunity.
Political
The much-publicized meeting between Malema and Zuma as well as the defense of Zuma by Magashule, has all the hallmarks of a new revolutionary movement – especially when it is seen in the light of Zuma's open and blatant defiance of the Constitutional Court. Clearly, Zuma imagines himself to be some sort of political martyr, perhaps along the lines of Mahatma Gandhi in India, opposing British colonial rule. The difference, of course, is that Gandhi had the high moral ground while Zuma definitely does not. Nonetheless, his actions are bringing South Africa to a critical point where we have to decide whether we want to live in a constitutional democracy or descend into anarchy. In our view, the Ramaphosa administration is and will ultimately win this battle which should hopefully put to bed the dissent within the ANC permanently. The attempt by the ANC's National Executive Committee (NEC) to meet with Zuma to discuss his dissent indicates some political interference in what should be an exclusively judicial matter. We do not seriously believe that this unholy triumvirate (Zuma, Magashule and Malema) has the ability to organise a revolution on the scale needed to overturn our democracy, but they evidently do have some support. If we are correct in this, then this action of Zuma's, which brings to a head years of conflict within the ruling party, can only be good for South Africa and the share market in the longer term. As always, the defining benchmark will be the strength of the rand against first world currencies.
Economy
The Goldman Sachs forecast of growth in South Africa is an optimistic 5,3% in 2021. This compares with the consensus forecast and that of the Reserve Bank both of which are close to 3,5%. Goldman Sachs base their forecast on optimism about the US economy under Biden. The US is expected to re-join many international trade agreements and be the subject of substantial stimulation some of which has already taken place. If they are right, a stronger US economy means a stronger world economy and greater demand for the commodities which South Africa exports. Goldman Sachs says that international investors are very interested in the high real rates of interest to be obtained from South African government bonds. They also say that everything in this country depends on containing the South African government wage bill and a rapid roll-out of the vaccine.
Figures from Stats SA indicate that retail sales in 2020 shrank by just under 7% as consumers and businesses elected to pay off debt and accumulate cash rather than spend during the lockdowns. No doubt some of that foregone spending will take place during 2021, but in the short term at least, the drop in retail sales is a massive negative for the economy. The JSE Food and Drug Retailers Index (J533) fell by 28% between 6th November 2019 and 15th May 2020 to reach a low of 8753. Since then, it has been recovering steadily and now sits at 10664. Consider the chart: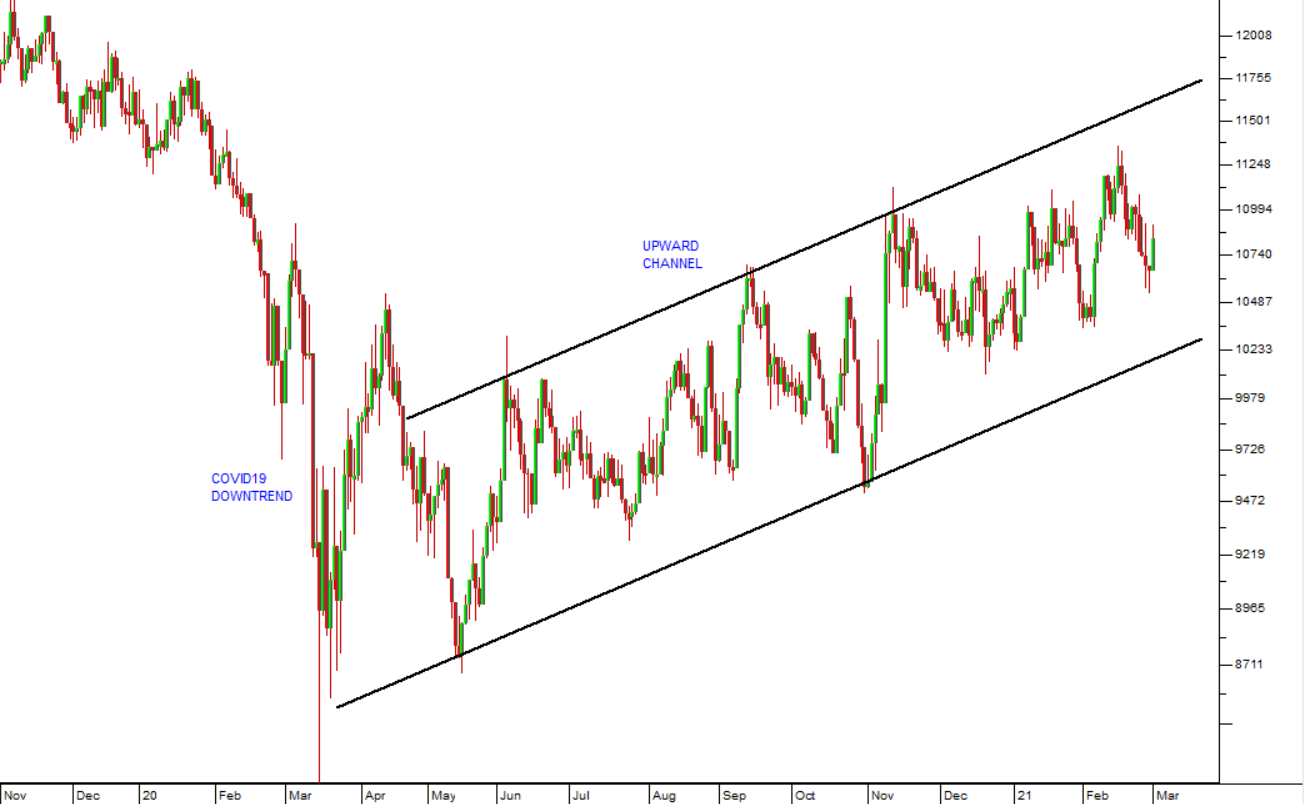 JSE Food and Drug Retailers Index (J533): November 2019-01 March 2021. Chart by ShareFriend Pro.
Indications are that there has been a significant bounce back in the unemployment level with many people getting their old jobs back. The economy has shifted focus, however, with many who lost jobs still unemployed and others taking advantage of new opportunities which have arisen as a result of the changes. In general, however, the recovery has been better and more rapid than expected.
The unemployment figures for the 2020 year published by Stats SA show that last year the economy lost 1,4m jobs and the official unemployment rate rose to 32,5%. Horrendous as they are, these figures are somewhat better than estimates that the economy would lose 2m jobs or more. The government needs to accept the fact that it cannot create sufficient jobs without bolstering the private sector. Only strong and sustained private sector growth can create enough jobs to make a serious dent in the unemployment figures. Therefore, the government's best course of action is to create an environment within which the private sector can thrive. That in turn means cutting red tape and making it much easier for people to establish and grow their businesses. Unfortunately, the government has a long tradition of not trusting private enterprise and often working actively to thwart its efforts to grow. The latest example of this is the further delay of the spectrum auctions.
BUDGET
Rising commodity prices have resulted in boosted tax collections. These have come in about R100bn higher than was expected in last year's October mini-budget. These additional funds have been sufficient to make a real dent in South Africa's national debt, and could result in a lower weekly borrowing requirement over the next six months, especially if the higher commodity prices are maintained – which seems probable. In any event, it appears that once again commodities are coming to the South African economy's rescue in these difficult times. Economic recoveries in South Africa have always been export-led.
The budget was a pleasant surprise, boosted by unexpectedly high tax collections, due partly to the commodity mining bonanza and unexpectedly high raw materials prices. Debt to GDP is now projected to rise to around 89% rather than the 95% of GDP that was previously predicted in the October budget. This is based on growth forecasts of 3,3% for this year, 2,2% for next year and 1,6% for 2023. The budget deficit is expected to fall back to around 6,5% of GDP by the 2023/24 year. A R100bn of additional taxes have been collected above what was expected in October last year, making it possible for Mboweni to surprise the market with a 1% cut in the corporate tax rate to 27%. Obviously, this reduction in corporate tax will be attacked by the civil service unions who are facing a 4-year wage freeze. In effect, the public service wage bill is being cut by over R300bn over the next 3 years – but the civil service unions are opposing.
Other significant aspects of the budget were:
The hike in the fuel levy of 27c per litre. This will obviously increase inflationary pressures going forward and it is negative for economic growth.
Changes to

exchange control

legislation that will make easier for big corporates to move money into and out of the country. These changes will see South Africa adopting a more internationally acceptable policy towards

capital flows

and should have a long-term positive impact on

foreign direct investment

(FDI). Over time this could be a major game changer. Throughout the post-apartheid era, the South African economy has been hampered by exchange controls which have made it difficult for companies to move their capital out of the country – which, in turn, has made them reluctant to bring capital into the country. The changes will bring South African laws into line with international standards and practices for capital flows. The result could be a significant increase in FDI flowing into the country.
The unexpected increase in tax collections has also impacted the yield on government bonds. It has combined with the demand by overseas investors for high real rates of return to bring down yields. Aside from a spike in March/April 2020, the yield on our government bonds has been falling steadily. This indicates that there is a significant flow of capital into the country which is helping the economy to stay afloat.
The civil service unions are engaged with the government in wage negotiations covering the next three years. These negotiations are being held at a time when the labour appeal court has judged that the government did not need to pay the final wage increases in the previous agreement. That decision is being further appealed in the Constitutional Court by the unions. In our opinion, the decision of the labour appeal court is likely to be over-turned because the government agreed to the increase in good faith. Any other judgement would bring into question all past and future contractual agreements with the government. However, if the government does end up having to pay out the R38bn increase it will add significantly to the existing indebtedness of the state and bring South Africa closer to a debt trap.
The President's employment stimulus plan created more than 430 000 jobs in the year to January 2021 and there are a further 180 000 jobs in the process of being created. Obviously, this program is good for those getting the jobs, but those jobs are paid for by the Treasury out of taxpayers' money. They are not jobs created by the growth of private enterprise. It is impossible for the government to create sufficient jobs in the economy to make a significant dent in the unemployment rate. Such government job creation projects can only ever be a temporary stopgap during exceptional times. Ultimately, the government must create an environment which is conducive to the growth of business and then the job creation will follow.
The decision by Ford Motor Company to invest R15,8bn into South Africa to tool up its plant in Silverton to produce the new Ranger pick-up has been sometime in the making, but it now seems certain – despite the bad economic situation. The confirmation of this investment is a boost for President Ramaphosa at a time when he could really use some good news. It will create opportunities for a variety of smaller companies that are involved in manufacturing various parts for Ford. All-in-all, it is expected to create about 11000 new jobs. Toyota and Nissan have also announced major investments in their local plants – which shows that the government's policy of encouraging international companies to base their production in South Africa is paying dividends.
The 14% drop in new vehicle sales in January 2021 compared to January 2020 shows, probably more clearly than other economic statistics, the true impact of COVID-19 and the various lockdowns on the economy. At the start of the 2021 year, far fewer consumers and businesses feel confident enough of the future to buy a new motor vehicle – despite the significant drop in interest rates during 2020. During a recession, consumers and businesses preferred to keep their old vehicle on the road rather than incur further debt to buy a new one. Obviously, the drop in auto sales also reflects the sharp fall-off in tourism, which has, in turn, impacted on car rental companies. In our view, the economy will gradually improve during 2021, given the low level of interest rates and the booming commodity market. Of course, vehicle exports were almost 40% higher in January 2021 compared to January 2020 – which shows how important on-going stimulation of this sector is to our economy. The shift to work-from-home is also reducing consumers' need for vehicles.
COVID-19 and the lockdowns have been impacting various industries differently. For example, the wine industry took a pounding with the three alcohol bans that we have had, but the citrus industry has had a record year in 2020 exporting about 10m cartons more of fruit than in 2019. Apparently, demand for citrus fruit has been growing around the world as a prime source of vitamin C which is efficacious in preventing COVID-19 and reducing symptoms of the virus. South Africa's exports of citrus are second only to those of Spain worldwide and the industry supports about 120 000 jobs in South Africa.
The call by Andre de Ruyter, CEO of Eskom, for distributed generation of up to 50MW to be allowed without a licence is a major step forward for the economy. At the moment, the legislation only allows companies to build generation of up to 1MW without a licence. The Minister of Energy, Gwede Mantashe, has been dragging his feet on increasing this threshold. It is estimated that if it were legal to build generation up to 50MW without a licence, about 5 gigawatts of power would be added to the grid relatively quickly. This would reduce the pressure on Eskom and stimulate economic growth and job creation – but of course, it will result in smaller revenue collections for Eskom. Before de Ruyter became CEO of Eskom, the utility was consistently opposed to further distributed generation.
The agricultural sector is a bright spot in the economy. Agricultural exports are booming because the rand has been relatively weak (which makes our exports cheaper on world markets) and because we have had a particularly good rainy season. Exports have topped R147bn which is the second highest annual export figure on record. Obviously, this is an excellent source of foreign currency and creates hundreds of thousands of jobs, but the real benefit of a good agricultural season is that millions of subsistence farmers around the country have been able to feed themselves and their families and even create a small surplus. This means that they do not require as much state aid to survive.
One of the changes brought about by the pandemic and consequent lockdowns is the shift to online retail. In 2019, it was estimated that online retail was about 1,4% of total retail spend in South Africa. In 2020 it was estimated to have jumped to 5%. This is a major change – and while some of that may be unwound as things return to normal, it is likely that online shopping will continue to grow with huge consequences for the property industry, especially those real estate investment trusts (REIT) that have invested heavily in super-malls like Accentuate's Fourways Mall. In our view, consumers will continue to shop online because it is generally cheaper and safer. Amazon has not yet entered the South African market, possibly as Bob van Dijk (CEO of Naspers) suggests because Takealot has the market sown up – but it seems inevitable that Amazon will establish a presence here sooner or later.
State-Owned Enterprises
The South African Broadcasting Corporation (SABC), like the Post Office and SAA is a state-owned enterprise (SOE) that should probably be shut down. The board of directors is trying desperately to reduce its over-burgeoning work force to make it profitable once again. In this effort they are being directly opposed by the Communications Minister, Stella Ndabeni-Abrahams who has intervened several times to prevent further job losses at SABC since 2018. Her intentions might be good, but the net result is going to be yet another state-sponsored, loss-making entity that has questionable value to the South African economy. The government has to understand that we cannot afford to continue trying to support loss-making SOE's, especially those which provide no worthwhile or necessary service to the economy. The union movement, of course, is delighted with her ill-conceived interventions.
Andre de Ruyter is making steady progress as CEO of Eskom. He confidently predicts that South Africa will have an "independent transmission systems operator" (ISMO) by next year whose job it will be to buy electricity from those who can produce it at competitive prices and then supply it to those who need it - also at competitive prices. Importantly, this organisation will be completely independent of Eskom. Obviously, this opens the way for independent power producers to compete directly with Eskom on price, and it opens the door for massive private sector investment. There are still legislative hurdles to overcome, but it does look as if we are moving in the right direction. Of course, a decision still has to be made about what proportion of Eskom's debt each of the three elements (the ISMO, generation and distribution) will have to carry.
De Ruyter has also made progress with municipalities that owe Eskom vast sums of money (a total of R36bn). Here an approach of "active partnering" is yielding results. In essence Eskom acts as an agent for the municipality, collecting revenues and maintaining the flow of electricity to paying customers. It is also involved in installing pre-paid meters at every opportunity.
The Eskom tariff hike of over 15%, which has now been approved to commence from 1st April 2021, will have a major negative impact on the economy and comes at a very bad time. It will probably negate much of the bounce back which is being substantially driven by the mining sector. The increase will push many marginal manufacturing businesses over the edge into liquidation with a resulting increase in unemployment. It will also have the effect of causing more businesses and consumers to switch to alternative sources of energy. Energy intensive users like the mines and Sasol will be worst affected. The tariff hike will also impact on inflation and probably mean that rates will not stay on hold where they are for as long and it will certainly prevent any consideration of a further reduction in rates.
The approval of Goldfields' application to build a 40MW solar farm to power its mining activities reflects a major step-change in South Africa's energy policy. This particular application had been in process for three years, awaiting approval from NERSA. Nonetheless, its approval opens the way for more approvals and a rush of new power generation from renewable sources. This will inevitably result in a reduction in the demand for Eskom's production as its monopoly is basically being broken. In time, it will also result in cheaper energy for the economy as a whole. The Goldfields project is designed to provide just one fifth of South Deep's energy requirements – which indicates the massive future scope for this type of development.
The Rand
The rand has emerged as the strongest of the emerging market currencies over the last six months. Economists have generally been surprised by its strength since April 2020 at the height of the risk-off sentiment caused by the pandemic. It has strengthened back into its pre-COVID-19 trading range and even beyond as international investors take cognisance of rising commodity prices and the relatively low local inflation rate. In our view, the rand remains fundamentally under-valued against first world currencies and we expect it continue to strengthen. This is obviously bad for rand-hedge shares and good for importers.
The carry trade is also very positive for the rand. The carry trade occurs where investors can borrow money in first world countries almost for free and then invest it into South African government bonds for real returns of about 6%. International investors are desperate to generate a real return on their funds and South Africa is one of the best options for that, mainly because of our relatively low inflation rate.
Consider the chart: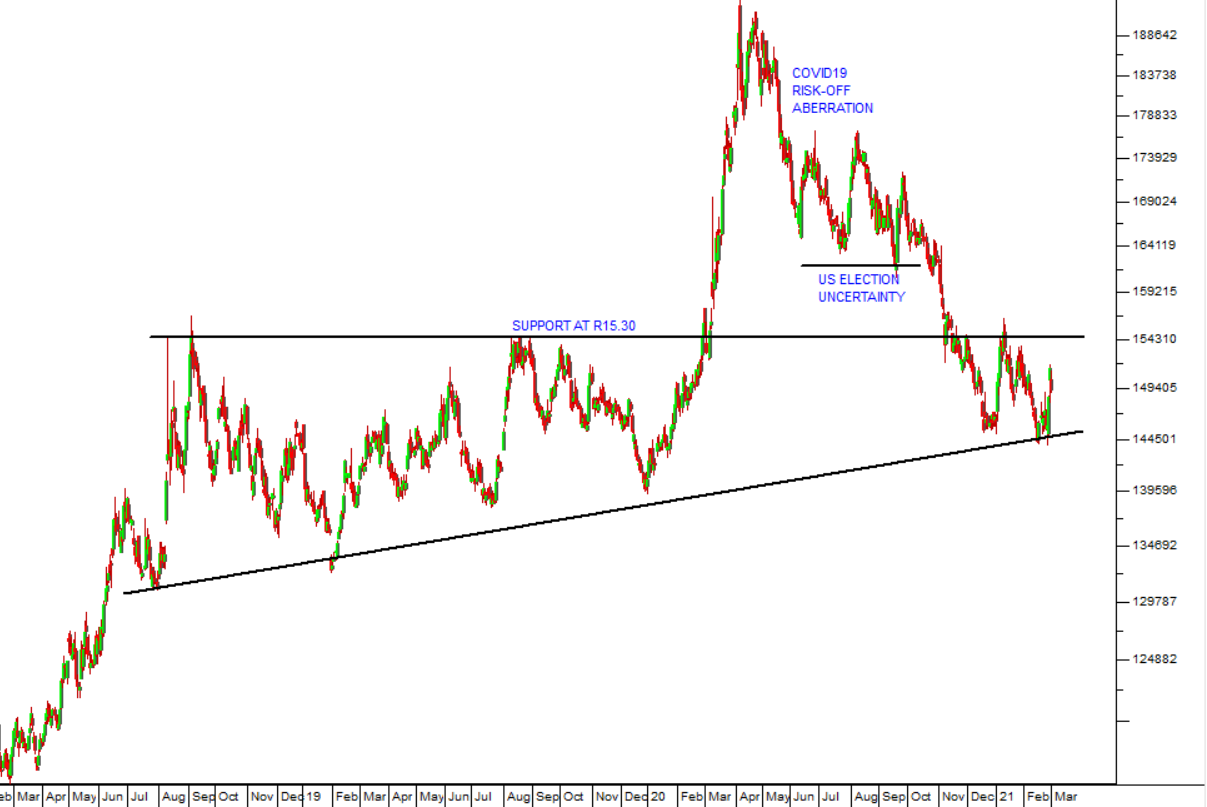 South African rand/US dollar: March 2018 - 1st March 2021. Chart by ShareFriend Pro.
Here you can see that the rand strengthened from April/May 2020 and has returned to below support at R15.30 to the US$, within the pre-COVID-19 triangle. Prescient Investment Management is of the view that further strength in the currency is imminent – possibly in anticipation of further US dollar weakness. We agree broadly with this idea.
Oil
With the advent of Joe Biden as US President (and his $1,9 trillion stimulus package) plus the rapid roll out of COVID-19 vaccinations in most first world countries, there is a growing expectation that the world economy will enter a new boom phase. This is reflected in the steadily rising price of oil. North Sea Brent oil has almost doubled in price since October last year and looks to continue upwards. Consider the chart: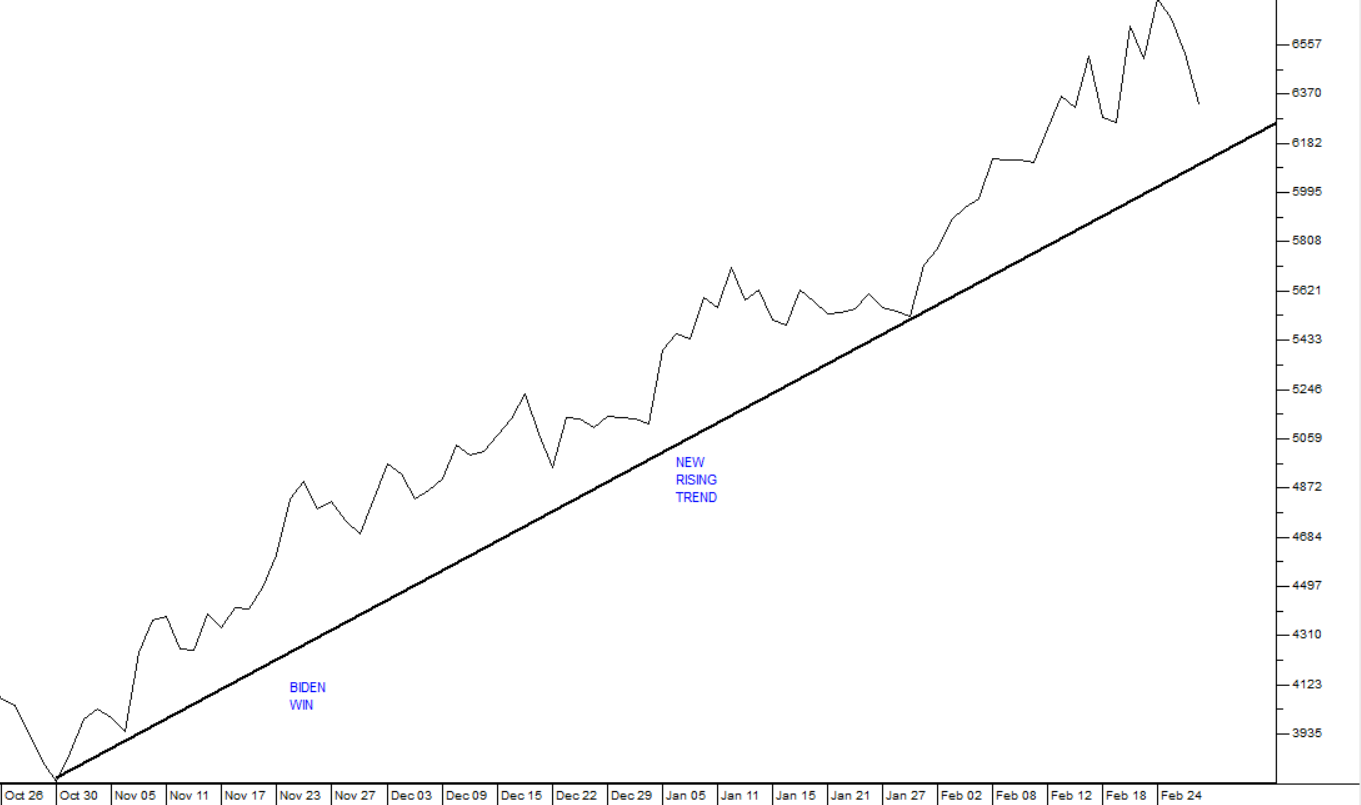 This chart shows the powerful impact of the Biden win on oil prices since November last year.
Given the massive monetary policy stimulation in first world countries, this rising oil price could be the harbinger of a new round of world inflation. This idea is in line with our long-held view that we are heading into a period of massive asset bubbles – which is already becoming visible in the series of new record highs being seen on world stock markets. The rising oil price reflects the growing demand for motor vehicles as the world economy, stimulated by quantitative easing, ultra-low interest rates and COVID-19 stimulus packages, enters a spending spree. Oil has reached as high as $67 per barrel – which is above the level where most American shale gas operations become profitable. However, we see this trend as continuing at least in the short- to medium-term. Rising world inflation will almost certainly become a major factor on world markets in the next ten years.
Companies
PRECIOUS METALS
Undoubtedly, the place to be invested right now is in precious metals. Shares like Implats, RB Plats, Northam, Angloplats and Sibanye have been outperforming almost every other investment on the JSE. Obviously, they are far more risky than financial or industrial shares because their profits are a direct function of international metals prices. They are also sometimes subject to union action and the many other exigencies of mining, but right at the moment commodity prices are racing up to new record highs and these shares are making huge profits.
ASCENDIS (ASC)
This is a company that you might want to add to your watch list – mainly because it is trading for less than a quarter of its net asset value (NAV). It specialises in manufacturing brands aimed at health in animals, plants and people. The company has recently sold off various businesses to reduce its debt to about R8bn and is in the process of converting that into equity. This will obviously involve some dilution of existing shareholders, but the company will end up virtually debt free. On 30th January 2020, the company said, "As Remedica continues to be a high performing asset that delivers considerable earnings and margin growth to the Ascendis group, the Board is not supportive of the disposal of Remedica at a price that is not reflective of its market value" – and it is evident that the new holders of Ascendis' debt see the value of Remedica – hence their interest in converting to equity. Ascendis' objective is to focus on four businesses - pharmaceuticals, medical, consumer health and animal health. On 25th January 2021, the company announced that it was now negotiating with two companies, L1 Health and Blantyre Capital to recapitalise the company rather than selling off Remedica. Those two companies have acquired 75% of Ascendis' debt (close to R8bn), making further disposals unlikely. They are looking to convert this debt into equity. On 2nd February 2021, the company gave an update on the six months to 31st December 2020 in which it said, "On a comparable basis the Group businesses that have not yet been divested reflected an aggregate growth in Revenue of between 29% and 35% reflecting an expected Revenue range of between R3 865 million and R4 063 million. On the same basis, Normalised EBITDA reflected growth of between 36% and 56%, in an expected range of R718 million and R822 million". Locally, revenue was up between 4% and 10% while internationally revenue was up between 11% and 17%. At around 60c the share is trading at less than a quarter of its net asset value (NAV). It has benefited from a strong demand for vitamins during the pandemic. We see this share as cheap at current levels but suggest waiting for a new upward trend to emerge before investigating further.
TELKOM (TKG)
Historically, Telkom (TKG) was the government-controlled provider of fixed line telephone connectivity in South Africa. With the advent of cell phones, Telkom was forced to subsidise the development of its own competition in the form of Vodacom, MTN and more recently Cell-C. Telkom is listed and owned 41% by the government and 11,9% by the Government Employees Pension Fund (GEPF) - so it could still be considered to be government-controlled. Aside from its telecom's operations, Telkom owns a property business called Gyro which was formed in April 2018 to house Telkom's masts, towers and property interests. In November 2018, Group CEO Sipho Maseko suggested that Telkom would look at separately listing Gyro, as a real estate investment trust (REIT). Gyro owns a diverse portfolio of 1330 properties and has 40 ear-marked for development. In our opinion, Telkom has been very well managed, and its downsizing should result in improved profitability going forward. We therefore regard it as a good longer-term investment and an excellent example of the benefits of partially privatising a government-managed function. In its results for the six months to 30th September 2020 the company reported headline earnings per share (HEPS) up 25,4% with mobile data revenue up 53,8%. In a market update for the 9 months to 31st December 2020 the company reported revenue up 0,9% driven by a 40,7% increase in mobile service revenue. This company is steadily switching from fixed-line (which dropped 25% in the period) to mobile. It is now trading on an earnings multiple (P:E) of 17,78. Technically, Telkom's share fell from highs of around R98 in June 2019 to levels around R15.00 in March 2020. Since then, it has been on an upward trend which has been boosted by its HEPS for the six months to September 2020 and its results in the December 2020 quarter. We see this as a good quality recovery share. Consider the chart: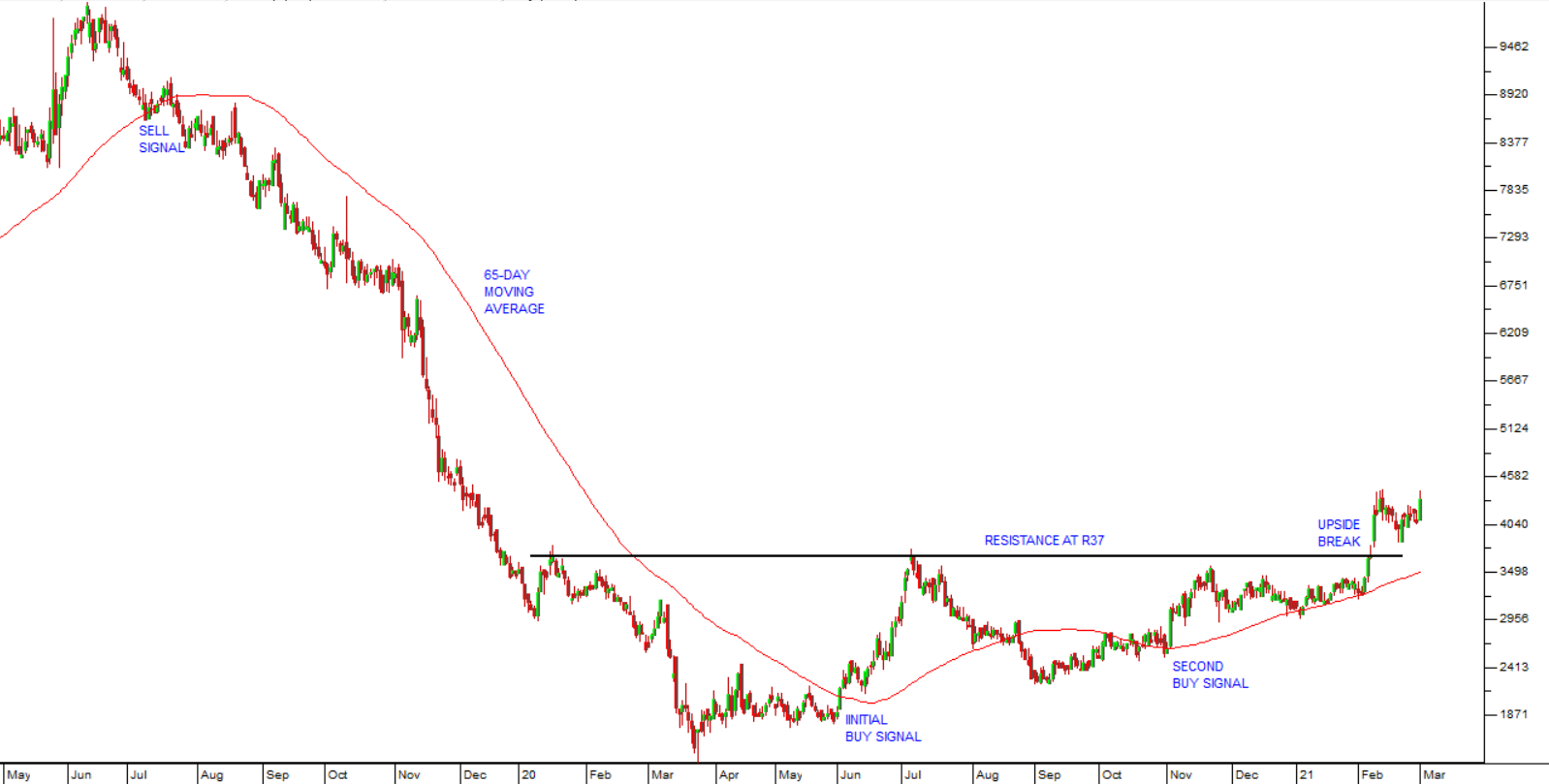 ORION MINERALS (ORN)
Some time ago (on 19th July 2020) we drew attention to the importance of the on balance volume (OBV) technique in technical analysis for giving you an early signal of insider trading and alerting you to opportunities, especially in relatively thinly traded secondary shares. Orion Minerals has been in the news recently because of its purchase of the Okiep copper resource in the Northern Cape. This transaction was heralded by two OBV buy signals given on 25th January 2021 at 38c and 2nd February 2021 at 45c. The share closed on 26h February 2021 at 69c. Consider the chart: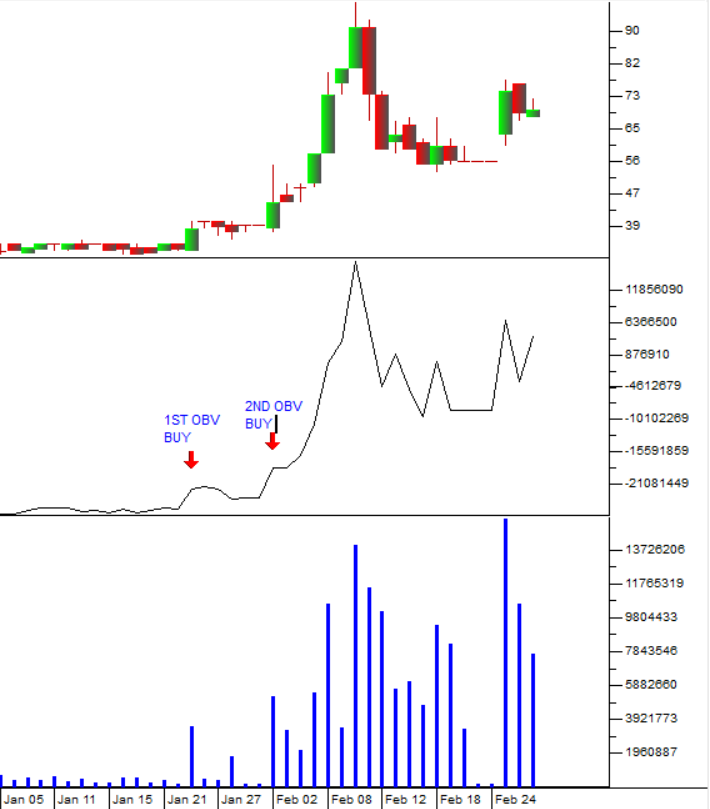 Here you can see the OBV buy signals following a surge in volumes traded on two separate days with small increases in price – followed a week later by the public announcement and the doubling of the price.
NASPERS (NPN)
This share has the problem that it is under-valued in relation to the value of the assets which it owns – most notably its 73% stake in Prosus which, in turn, owns 31% of the Chinese social media and gaming giant, Tencent. Naspers has a market capitalisation of around R1,64 trillion, while its stake in Tencent is worth just less than a staggering R3 trillion. The CEO of Naspers has been trying to close that gap by splitting off Prosus which is now separately listed in Europe and by engaging in the largest share buy-back in South African history (worth R82bn). His efforts have been in vain since the discount to underlying assets has widened. One of the main reasons for the discount is the fact that the company maintains an out-dated N-share structure where the "A" ordinary shares have 1000 times the voting power of the listed "N" shares. In our view, this situation offers private investors continuous opportunities, because it seems inevitable that over time the board of directors of Naspers will continue in unlocking value. At around R3649 per share we consider Naspers to be good value. Consider the chart: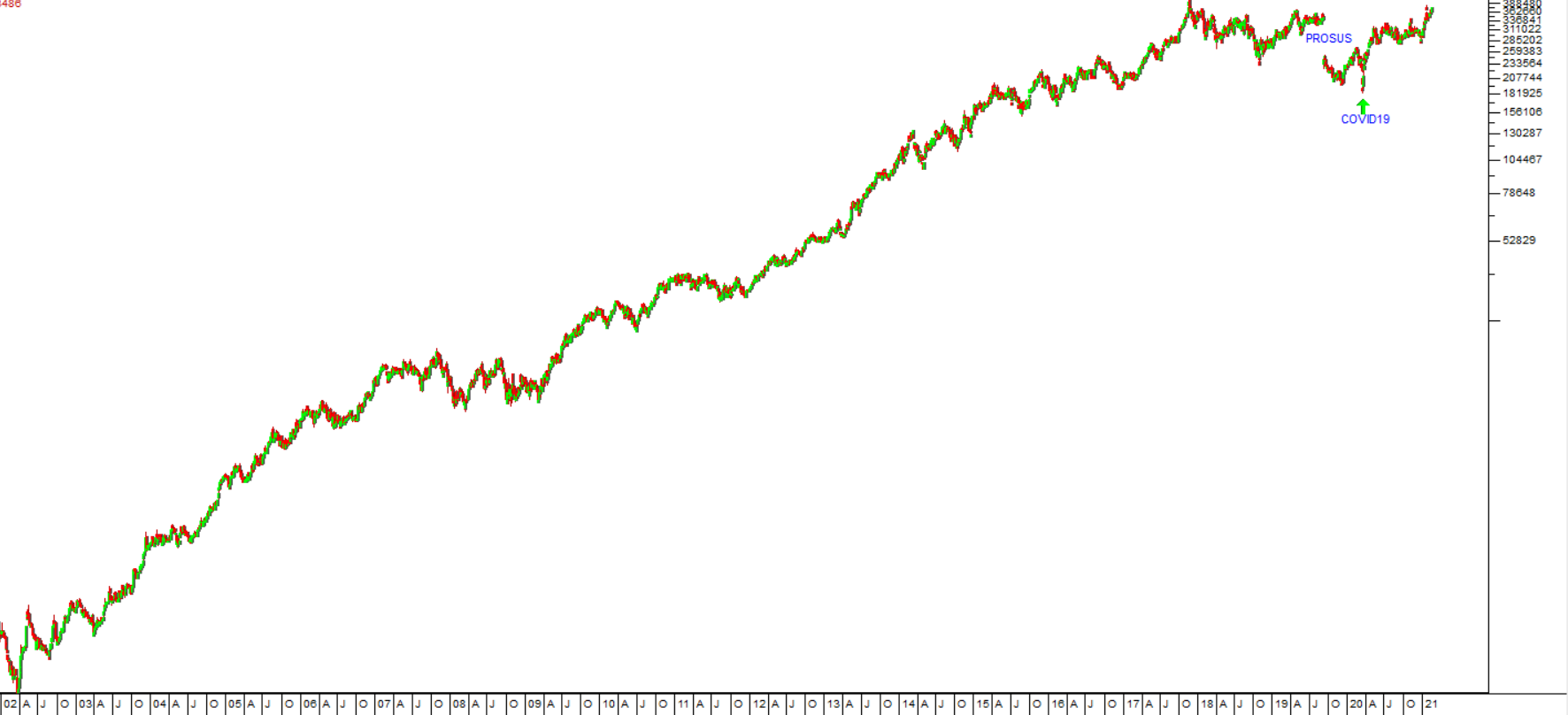 This chart goes back to April 2004 when Naspers was trading for under R30 per share. You will also notice from the Y-axis scale that it is a semi-log chart. You can see the gap in September 2019 where Prosus was separately listed on the Euronext and shortly after that the downward spike in March/April of 2020 associated with COVID-19.
ADAPT IT (ADI)
This is another secondary share that gave a strong on-balance-volume (OBV) buy signal some time ago and has raced to new highs. The signal was given on 30th September 2020 at 190c and the share has since moved up steadily to 493c.
Adapt IT (ADI) is an IT company, similar to EOH, but smaller. It has activities in the hospitality, manufacturing, energy, education and financial services sectors. It has over 10 000 clients world-wide (including in 32 African countries) and 62% of its income is annuity income while 27% of it is international.
In a trading statement for the six months to 31st December 2020 the company estimated that headline earnings per share (HEPS) would be between 24,9% and 34,9% higher than the reported figures for the comparable period.
The board believes that the company's shares are undervalued and so has engaged in a share buy-back program buying back 3m shares - which is 1,9% of the issued capital. We agree with the board that this share at current levels is under-valued and should be and is being re-rated upwards. On 28th January 2020, the company announced that it had received an offer from Huge Group to buy it out for 0,9 Huge shares for every ADI share. This values ADI at about R800m - which is significantly above its average share price. It now trades on a P:E of 6,79 - but is still below its net asset value (NAV).
Consider the chart: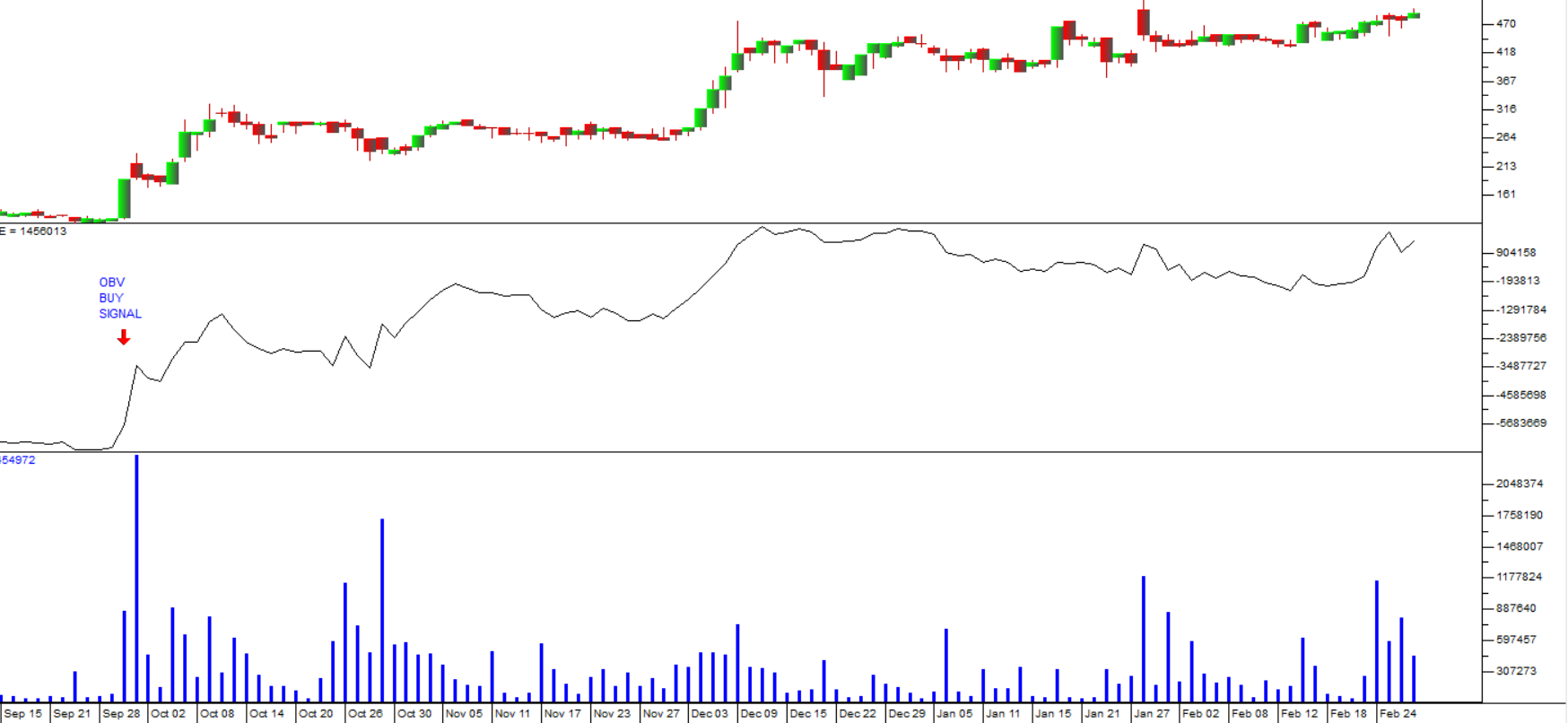 DISCLAIMER
All information and data contained within the PDSnet Articles is for informational purposes only. PDSnet makes no representations as to the accuracy, completeness, suitability, or validity, of any information, and shall not be liable for any errors, omissions, or any losses, injuries, or damages arising from its display or use. Information in the PDSnet Articles are based on the author's opinion and experience and should not be considered professional financial investment advice. The ideas and strategies should never be used without first assessing your own personal and financial situation, or without consulting a financial professional. Thoughts and opinions will also change from time to time as more information is accumulated. PDSnet reserves the right to delete any comment or opinion for any reason.
Share this article: