6 March 2019
By PDSNET
US Economy
American GDP growth in the 4th quarter of 2018 was 2,6% - slightly higher than the 2,4% consensus forecast, but noticeably lower than the third quarter's 3,4% or the 2nd quarter's 4,2%. This still gives America an average GDP growth rate of about 3,1% for 2018 – which may not sound like a lot, but given the size of their economy (more than double the second largest economy in the world) it is very significant. It is enough to drag the rest of the world economy out of recession and into growth.
Obviously, this must be seen in the context of Trump's substantial once-off tax cuts which are probably beginning to wear off now. It must also be seen in the context of the massive monetary policy stimulation of the previous ten years.
All of this is playing out in the stock market as can be seen in the chart of the S&P500 index:

S&P500 Index September 2018 to March 2019 - Chart by ShareFriend Pro (Click to enlarge image)
Here you can see that, following its record closing high of 2930 which occurred on 20th September 2018, the S&P entered a corrective phase. That correction was made worse by Trump when he effectively shut the US government down for five weeks in December. The US shut-down resulted in a "V-bottom" because as soon as investors came back from their year-end holidays they bid the market back up steadily.
Now the S&P has reached the resistance level of 2813 – a level which it had previously "bumped its head against" on 16th October and 7th November last year – and now it is bumping that level again.
The market found that resistance in an intra-day move on 25th February 2019 and since then has fallen back and then risen again on Friday last week and Monday this week, each time testing the level and failing to penetrate it.
Some investors will be fearful that this resistance (at 2813) may not be penetrated -leading to a "double top" or "triple top" and so they are waiting on the sidelines to see what will happen before committing themselves.
In our view the powerful boom in the US economy, as evidenced by the on-going GDP growth, will sooner or later overcome their fears and the market will move strongly above that resistance.
When a resistance level like this is broken, there should be a strong upward move as investor confidence in the underlying bull trend returns. Of course, if the market fails to penetrate the resistance there will be a double top or triple top and the market will fall on disappointment.
So watch the S&P500 to see what follows. We think the resistance will be broken within a week or two – and then that the S&P will go on to make a new all-time record high above 2930. The great bull trend which began in March 2009 (when the S&P bottomed at 666) will resume. If we are right, then the JSE should follow Wall Street up.
SA Economy
ESKOM
Eskom has become the most pressing problem in the South African economy. Exactly how it is handled will have an enduring impact on the economy and the stock market.
The financial disaster at Eskom has now been compounded by a supply problem leading to phase 4 load-shedding. The problem emanates from Eskom's new Medupi and Kusile power stations where much of the work was done by Hitachi – a Japanese company with close ties to the ANC. Hitachi is known to have given the ANC through Chancellor House at least US$5m in "success fees" and "dividends" during 2015 – for which it was fined by the US Securities and Exchange Commission. This was surely nothing more than a bribe to ensure that it won contracts at Medupi and Kusile. Its work there has been shoddy, subject to constant delay and breakdown and is almost certainly the cause of the current load-shedding. The choice of Hitachi at the contactor was made long before Ramaphosa became president, but he was certainly vice-president at the time. Clearly, Eskom is becoming even less reliable and more expensive leading to many companies and consumers taking the expensive decision to make alternative arrangements. This has led to demand for Eskom power stagnating which, in turn, is exacerbating its financial crisis. Now Moodys is saying that future electricity supply in South Africa is going to be problematic with no real solution until around 2025. Obviously, much depends on their investment grade rating.
In the problems at Eskom, we can see the negative side of the government's empowerment policies. Experienced engineers and administrators have been replaced with inexperienced people to conform with the requirements of BEE. There is now a situation where Eskom has an overwhelming skills shortage – despite the fact that it has far too many employees and desperately needs to down-size. By 2018, Eskom employed as many as 48500 people and it is estimated that this number is at least double what it actually needs. Some kind of retrenchment process is clearly indicated and yet President Ramaphosa, in his efforts to appease the unions prior to the elections in May, has said that there will be no retrenchments. It seems to us that until there are significant retrenchments at Eskom, the company will be unable to right-size its expense base. South Africa in general needs to move away from a racial basis for employment towards one based on experience, competence and merit.
President Ramaphosa, in his state of the nation address, said that Eskom will be split into three separate divisions as a necessary step towards rationalising its business and dealing with the huge debt load which it carries. This will mainly involve the separation of power generation from power distribution. The distribution arm will be free to contract with whoever can supply it with electricity. Already, there are two privately owned coal-fired power stations approved which are going to be built – Thabametsi in Limpopo and Khanyisa in Mpumalanga – both of which have foreign funders. At the same time, Nedbank has stated that it will no longer finance coal-fired power stations because of its environmental policy. The CEO of Eskom, Phakamani Hadebe, has already managed to cut Eskom's annual costs by R20bn. So the critical situation at Eskom has forced  Ramaphosa to take a line that will bring him into direct confrontation with the unions – something that he definitely would prefer to do after the election – so he has effectively postponed the inevitable confrontation in order to hold on to the unions [glossary_exclude]support[/glossary_exclude]. Probably he is hoping that the election, which is now set for 8th May 2019, will be over before the unions really become a problem.
A deep concern arising from the problems at Eskom is the on-going negotiations between Eskom and South 32 over the cost of electricity at the Hillside aluminum smelter in Richards Bay. The CEO of South 32, Graham Kerr, says that the negotiations will determine whether Hillside can continue or has to be shut down. Closure of this smelter would have an enormous knock-on effect on other industries in the aluminum industry. It would also negatively impact on Eskom because Hillside is a large user of electricity and thus a source of revenue for the state-owned enterprise.
BUDGET
The budget, delivered on 20th February 2019, was dominated by Eskom's needs. With government finances already stretched, the only way to bail Eskom out was to borrow further, causing the government debt to rise to just over 60% of GDP by 2022. The international standard for government debt is between 40% and 55%. Above that is considered to be risky. The government has promised to give Eskom R23bn a year for the next 10 years. Effectively, Eskom has been promised R150bn in total over the next decade. The difficulty was to finance this plus the short-fall in tax collections. And there was not much room for further tax increases. Personal tax is already at a marginal level of 45% and dividend withholding tax (DWT) is at 20%. At the same time VAT was recently raised to 15%. A problem for the treasury was that tax collections are again expected to come in below the target set in October by R15bn. SARS is recovering slowly from the damage done by Moyane, but it will take time to get back to where it was when Pravin Gordhan was running it. Most of the under-collection in this budget will be recovered by not adjusting the tax tables for inflation. This will give the government an extra R12,6bn. Overall, the budget was well-orchestrated in a very difficult situation. There was no major tax increase. VAT remained the same, as did corporate tax and personal tax levels.
It was a holding budget, designed to get the government through the next few months until after the election. Our attention should be fixed on what will happen after the election, assuming that the ANC wins around 59% as is predicted by most polls. One interesting fact was that the government wage bill shrank, as on average there were 16000 fewer people employed by the state than in 2015. This is evidence that the Ramaphosa administration is doing what it can to cut costs – without upsetting the unions before the election.
The markets reaction to the budget has been positive, with the rand tracking back to new stronger levels and the R186 long bond moving back to lower rates. The R186 spiked up to around 9% yield and then fell back towards its cycle low of 8,59%. At the same time the rand worsened to an intra-day level of R14.37 to the US$ and then began to appreciate again to reach levels around R13.80. Since then it has fallen back towards R14.20.  The trend in the long bond and the rand indicate that international investors are once again positive about the future prospects of this country. For example, it seems that there is now no expectation that Moodys will downgrade us leading to an outflow of capital. We believe that both the long bond and the rand will continue to improve steadily, especially once the election is over.
There has been some suggestion that the Treasury may have been too optimistic in the forecasts made in the February 2019 budget. This is because the Treasury's forecasts for the last four years have proved to be too optimistic. The problem appears to be mainly one of estimating tax collections. Tax collections have been declining under the SARS leadership of Tom Moyane, but may well improve now that SARS has new leadership. The Minister of Finance, Tito Mboweni suggested that our debt-to-GDP ratio would probably increase to just over 60% and, of course, the ratings agencies will be watching closely to see how that plays out after the elections. It is interesting to know that America has a debt-to-GDP ratio of 105% - considerably worse than South Africa's. This can be calculated from its current GDP (as per the website http://www.usdebtclock.org/) which shows that the current US GDP is around $20,9 trillion, while their national debt is $22,1 trillion – which means that their debt-to-GDP ratio is 105,7%.
OTHER
Consumer inflation fell to just 4% in January, following the Monetary Policy Committee's  (MPC) decision to hike rates by 0,25% in November 2018. This shows that inflation is well under control and opens the way for the MPC to consider reducing rates later this year. The economy is taking great strain with consumer spending at record low levels. Marginal businesses, like Edcon, are teetering on the edge of bankruptcy. Price inflation is generally negative as reported by various retailers such as Massmart. The petrol price has come off in response to lower oil prices and a firmer rand. Clearly, the upside risks to inflation are now minimal while the lack of economic growth is palpable.
General
The gas and gas condensate find, described as "world class" at Brulpaddoff,  Mossel Bay, is unlikely to generate any gas or oil in the next 8 years. But the sheer size of the find implies that it could be a game-changer for the South African economy with some experts estimating that it could bring South Africa about R1 trillion over the next 20 years, but more exploration needs to be done before that is confirmed. In the meantime, Total will no doubt be spending money in South Africa to continue with its exploration. Total owns 45% of the consortium which owns the find, Qatar Petroleum owns 25%, CNR owns 20% and Main Street owns the remaining 10%. Main Street is 51% held by Phuthuma Nhleko's company Arostyle Investments and the balance is held by Africa Energy, a Canadian company.
In the middle of January 2019 we ran an article under the heading "Showdown with Sibanye" in which we pointed out that what we see as the inevitable showdown with the union movement in South Africa was being fought out in a microcosm between the Association of Mining and Construction Union and Sibanye. Neal Froneman (CEO of Sibanye) and Joseph Matunjwa (President of AMCU) are going head to head in a battle that could easily turn out to be a harbinger of the wider confrontation between the government and the union movement after the elections. AMCU initiated a strike at Sibanye's gold operations in November and then expanded that through a sympathy strike to its platinum operations. By way of reply, Froneman is attempting to show that AMCU is no longer the majority union at its gold operations, a move which would make their strike there illegal. And now, in his most recent move, Froneman has initiated the retrenchment of 6670 workers and the closure of additional unprofitable gold shafts. Sibanye says that these retrenchments are unrelated to the on-going strike, now in its fourth month, and that they emanate from the unprofitability of the shafts concerned. Froneman has the distinct advantage that Sibanye is getting strong cash flows from its subsidiary, Stillwater, in America which produces palladium. The palladium price has been rising steadily and Froneman can largely ignore AMCU because of it. Clearly, Matunjwa now realizes that he probably miscalculated the situation and so he is going all-in by calling for sympathy strike action at other mines belonging to Lonmin, Harmony, Anglo-gold Ashanti and Impala platinum. Clearly, he seeks to widen the scope of the battle and hopefully repeat his successful strike action of early 2014 where he closed the platinum industry down for five months. But this time, we believe that the situation is different. We believe that Matunjwa will probably be unsuccessful in his efforts to get Froneman to back down. If we are right then he will surely suffer an irreparable loss of face and consequent loss of power within the union movement. If that happens then it clears the way for the government to face down the union movement generally after the elections and engage in cutting the civil service, privatising various state owned enterprises and significantly reducing the legal power of the union movement in South Africa.
The decision by the Companies and Intellectual Properties Commission (CIPC) to insist that the Public Investment Corporation (PIC) recover the R4,3bn from Ayo is perhaps the clearest evidence so far that the malaise of corruption and incompetence is being addressed. No longer afraid of a presidential back-lash, the CIPC is finally using the powers which it has to force compliance with the Companies Act. In the original deal, the PIC bought Ayo shares at vastly inflated prices. Ayo belongs to AEEI – another listed company – which is in turn controlled by the Surve family, or Iqbal Surve in particular. He must be furious. The price paid by the PIC was R43 per share and the share is currently traded at R17 – in an extremely thinly traded market with many days of no trade at all. The net asset value of Ayo at the time the deal was made was a measly R67m and the PIC only got 29% of that for their money. Their money, of course, is the accumulated pension contributions of hundreds of thousands of civil servants. The CIPC has taken a bold step – one that it should have taken far earlier.
The arrival of 5G in South Africa will stimulate many existing and new businesses, some of which will be disruptive. Rain and Huawei have teamed up to get 5G here by the middle of 2019. Rain is partly owned by Patrice Motsepe. 5G is expected to be able to deliver speeds of up to 1 gigabyte per second, and will certainly make wireless connections as fast as ADSL or fiber. Rain expects to have one thousand 5G sites in major South African cities within 2 years. In our opinion, one of the first impacts of 5G will be to make internet-based entertainment through streaming far more prevalent. That will probably impact on the newly-listed Multichoice as more and more people choose to access content directly for free rather than going through a paid-for network.
Commodities
In the last six months (since 20th August 2018) the JSE gold index has risen by a whopping 86%. During that time, the rand aslo appreciated from R14.62 to the US dollar to R13.84 – a move of 5,3%. The cause of the excitement is a 12,4% jump in the dollar price of gold from $1184 to $1331. The gold price is not moving because of a marked weakness in the US dollar – so it must be for some other reason. Is there a shortage of gold? Are investors hoarding gold more than usual because of some anticipated inflationary crisis? Neither of these explanations really makes sense. From a technical perspective, the dollar price of gold peaked in September 2011 and since then has fallen to a cycle low of $1050 in December 2015. That was followed by a volatile, but rising pattern which appears to have a resistance level at around $1366. Clearly, the demand for gold is also a function of the state of the world economy. It is not just a hedge against inflation, it is also universally recognized as the ultimate store of value. As the world economy recovers, so more and more people will have surplus funds – and a small percentage of those funds will always find their way into gold bullion in one form or another. Our gold shares have been through a tough period of down-sizing, closing shafts and retrenching staff. Perhaps they have now turned the corner and are beginning to appreciate again. What is clear is that any break above $1366 per ounce will be enormously bullish.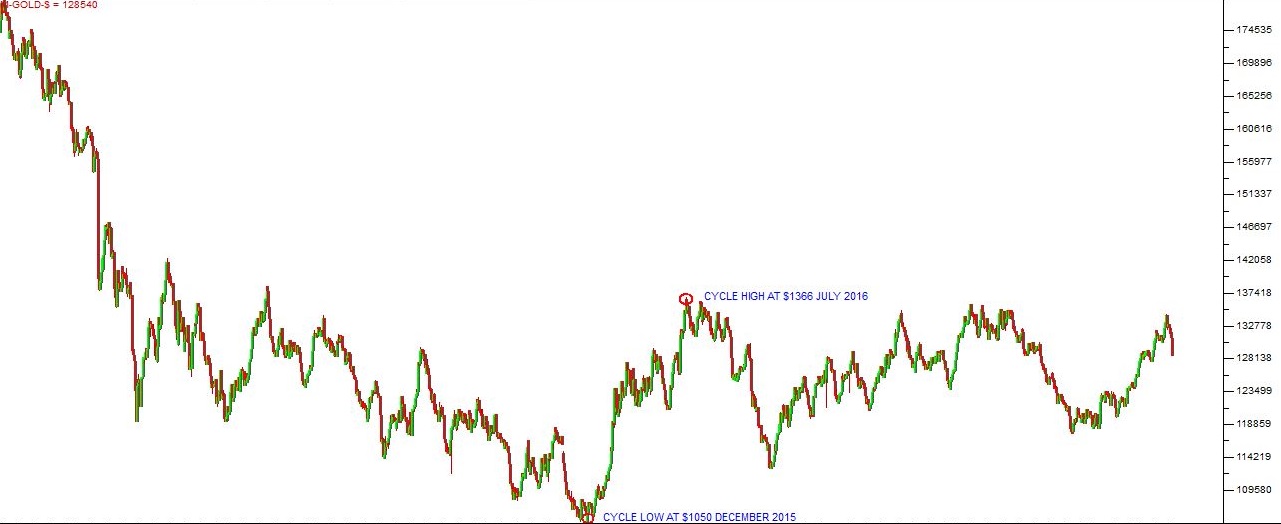 Dollar Gold of Price 2012 to 2019 - Chart by ShareFriend Pro (Click to enlarge image)
Companies
NEW LISTINGS
Multichoice (MCG) listed on Wednesday 27th February 2018 (last week) at R95.50 and was immediately in strong demand with the share rising to R111, before falling to close at R106. The company was spun out of Naspers – so the Naspers share fell by R125 per share (4%). This company is well-known to all as the provider of DSTV. It has about 7m clients in South Africa and about 6,7m in the rest of Africa. The board believes that there is a massive market of 27 million more potential subscribers in the rest of Africa. It also thinks that the threat from other online competitors is not as great as has been suggested. Netflix and other online programs like Kodi (which is free) may play a big part once 5G spreads in South Africa. In our view, it is wise to let the share settle in the market before taking any action. We need to see how the market values it.
Bushveld Minerals, a vanadium mining business, is planning to list on the JSE in the middle of 2019. The company is already listed on the AIM in London.  The primary use of vanadium is as a component of specialised steels. Bushveld is also exploring the possibility that vanadium can be used in batteries. Vanadium is currently priced at around $80 per kilogram - compared to Bushveld's  cost of production which is less than $20 per kilogram. The company currently produces around 2500 tons of vanadium resource base per annum, but has plans to double that output to 5000 tons.
Investec, together with a company called "UK Climate Investments", is investing R1bn into a new fund, Revego Africa Energy, which it intends to list on the JSE in June 2019. It plans to raise a further R1bn on listing and then invest in various renewable energy projects both in South Africa and in Africa to the North. The cost of renewable energy is coming down steadily and is already below the cost of Eskom's new coal-fired power stations (Medupi and Kusile). It would appear that this type of investment is likely to produce a solution to South Africa's power generation problems fairly soon. It is likely that the cost of renewable energy is going to fall quite dramatically over the next few years. Revego offers private investors an opportunity to invest in this new industry which looks to be offering a steady return of around 9% per annum.
CEMENT
The cement industry in South Africa is taking huge strain. The main problem is the import of cheap cement from countries like Pakistan, China and Vietnam. The Concrete Institute managed to get ITAC (International Trade Administrantion Commission) to impose tariffs of between 14,3% and 77% on Pakistani imports, but that just resulted in imports from China and more recently Vietnam. The local demand for cement is around 14 million tons per annum and imports are hovering between 1 million and 2 million tons. So the question arises, "Should South Africa put tariffs on imported cement?" Obviously, countries like Pakistan, China and Vietnam can produce cement and ship it here for less than we can produce it. And cement is a bulky, heavy product – so the shipping costs must be substantial. Obviously, these imports result in lower cement prices locally, which benefits cement consumers and helps to keep inflation under control. If the local industry is not able to compete, then should we be producing cement at all? Of course those in the cement industry point to the jobs that will be lost if they don't get tariff protection, but nobody seems to speak for the consumers who would obviously prefer to have the cheapest cement they can get.  There are similar arguments in many industries in this country – notably, the chicken industry.
ONELOGIX (OLG)
OneLogix (OLG) is a logistics company which listed on the JSE in 2004. The company has three divisions - cross-border delivery of new cars (47% of turnover), auto-logistics for commercial vehicles (46% of turnover) and freight logistics at the Durban harbour managing shipments of freight (7% of turnover). In the six months to 30th November 2018, the company reported a 26% increase in turnover in a "weak macro environment". Headline earnings per share (HEPS) were up 28% and net asset value (NAV) was up 22%. The company achieved strong organic growth in a difficult environment. The company is extending its Umlaas road logistics hub by purchasing and developing an adjoining 40-hectare property at an estimated full cost of R280m. Trading margins in the six months declined from 8,9% to 7,5% because of rising fuel prices. Net finance costs increased by 48% to R13,1m as a result of the Umlaas development. During the period the company bought back 3,5m of its own shares (1,2% of issued capital) at a cost of R12,4m. The share trades about R100 000 worth of shares every day on average on the JSE, but many days have little or no volume traded - so private investors should exercise caution when investing. In our view, this is a very profitable company that is doing exceptionally well under difficult trading conditions. The company will benefit from any improvement in the South African economy. South Africa has the intention of doubling vehicle exports by 2022 which will have a major significance for Onelogix which transports these vehicles to ports. On a P:E of 9 the share looks very reasonably priced.
RAUBEX (RBX)
Raubex (RBX) is a construction company that was started in 1974 and listed on the JSE in 2007. The company has three divisions in construction, materials and infrastructure. Recently, with the dearth of work in road-building, especially from Sanral (who have halved the value of the tenders which they issue), the company has branched out into solar and wind energy and has won contracts worth R500m in this area, doing work on the Droogfontein photovoltaic farm and the Copperton wind farm in the Northern Cape. In the six months to 31st August 2018, the company saw headline earnings per share (HEPS) fall by 72,8% off a 4% drop in turnover. The operating margin was more than cut in half from 7,9% to 3,5% - which shows how cut-throat the industry has become. In a trading statement issued on 12th February 2019, the company said that in the year to 28th February 2019, HEPS would be down by at least 20% from the previous year. The CEO, Rudolf Fourie, said that conditions in construction, and especially road construction, were very challenging. What profit they made came mainly from their materials division. However, this is a well-managed company that is managing its costs closely and which has a strong balance sheet. During the period they reduced their borrowings by 16,2%. The company has businesses in Cameroon, Namibia, Botswana and Zambia and owns Westforce Construction in Western Australia. The company has a net asset value (NAV) of R23 and is trading at R18. Raubex is one of those companies that will benefit directly from any significant improvement in the South African economy. The share is relatively highly-rated in the construction industry and commands a PE of over 14.5. In our view, this is a share to buy when things begin to improve in this country's economy.
CITY LODGE (CLH)
This is a company which is very tuned in to the political and economic developments in South Africa. Its results for the six months to 31st December 2019 were a direct reflection of the difficult conditions in the South African economy. Occupancies were down from 63% to 58% - a sure sign that businesses are cutting back on executive travel. Despite this, the company remains in good health financially and is busy building another hotel in Waterfall City (Johannesburg) with 168 rooms. This shows their optimism for the future. The CEO, Andrew Widegger, indicates that he believes that conditions will improve significantly after the election (from which he expects a positive result) as the business environment is changed to become more rational and business-friendly. We believe that this share is at or close to its lowest point in the current cycle and that it represents good value.
CAPITEC (CPI)
On 19th February 2018, we published an article on Capitec's price:earnings growth ratio (PEG) and suggested that at around R820, the share was very cheap based on its history of earnings. Since then the share has moved up to R1250 – a gain of about 50% in just over a year. This growth has come about because of the Viceroy report, which was responsible for Capitec's share price falling from around R1100 to just R705, and has been shown to be ill-founded. Now the company is riding high on more than 10m clients and its recent acquisition of Mercantile Bank for R3,5bn. In our view, Capitec remains a solid investment, even at these high levels. Of course, the banking sector is likely to be hectic this year with the advent of Tymebank at the bottom end of the market and Discovery Bank at the top end. Nonetheless, we believe that Capitec will continue to generally out-perform and take market share away from the big four banks as it expands its product offering.

Capitec (CPI) September 2018 to March 2019 - Chart by ShareFriend Pro (Click to enlarge image)
BIDCORP (BID)
The Bidcorp results for the six months ended 31st December 2018 were interesting on a number of counts. They were an excellent set of results with headline earnings per share up 9,2%, but the comment that they were battling in various first-world countries because there was a shortage of skills as those economies approached full employment gives pause for thought. First world countries must be doing very well if they are at or approaching full employment. And inflation is still very low. Bidvest notes that "food price inflation is non-existent globally" despite climate change. This means that the current growth in the world economy is nowhere near mature or anywhere close to its peak. We expect that as the world economy continues to expand, it will begin to cause inflation. Wages will be forced up as the shortage of staff causes companies to compete for available skills. At the same time food inflation and other measures of inflation must then begin to rise. Bidcorp, of course, is very well positioned to benefit from the economic boom. It is a rand-hedge and an extremely well-managed company.
PAN AFRICAN (PAN)
Pan African Resources (PAN) is a London- and JSE-listed re-treatment gold producer. It has shifted most of its operation from underground mining at the recently closed Evander mine to surface operations which are obviously much cheaper. With its Elikhulu plant it will be able to produce about 700 000 ounces of gold a year at a cost of about R326 000 per kilogram against a current gold price of close to R550 000. This means that over its life it will produce revenue of approximately R15bn of which R5,3bn will go back into the economy in the form of mine expenses, creating a highly profitable entity with minimal risks. It will also employ 350 people. In its financials for the six months to 31st December 2018, the company reported that it had converted into a low cost, long life gold producer with an all-in cost of $975 per ounce against a gold price of around $1330. In the six months to 31st December 2018 the company reported: "Group profit after tax increased by 136.8% to R137.8 million (GBP: 127.3% increase to GBP7.5 million), and group earnings per share from combined operations increased by 121.4% to 7.15 cents per share (GBP: 116.7% increase to 0.39 pence per share)". The Barbeton mine is ramping up to 100 000 ounces per annum and at the decommissioned Evander mine, the company is taking out the pillars and remaining high-grade ore. Technically, the share has fallen from a high of 444c in July 2016 to current levels around 180c, but it looks like good value with low risk.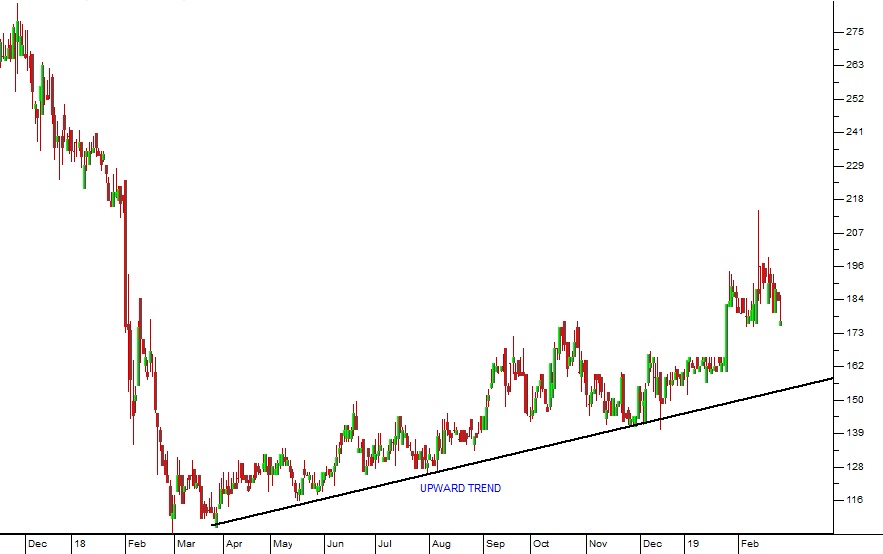 Pan African Resources (PAN) November 2017 to February 2018 - Chart by ShareFriend Pro (Click to enlarge image)
INTU (ITU)
Intu (ITU) is a UK-based real estate investment trust (REIT) which is part of the FTSE 100 index. It specialises in retail shopping centres located around London and in Spain. It owns 17 of the UK's top shopping centres and 3 in Spain (with a 4th being built) and the group employs about 120 000 people. In its results for the year to 30th June 2018, the company reported an occupancy rate of 97% and rental income up by 1,3%. They are in the process of opening the Intu Watford extension and the Lakeside Leisure extension. The company's shopping centres get about 400m visitors per annum with over half of the UK population visiting an Intu centre each year. This share has obviously taken a hit from the Brexit decision in the UK. The share price peaked at over R190 in December 2006, but fell back to levels around R19.50. It has a net asset value (NAV) of GBP3.12 which equates to around R57 - which means that it was trading for close to one third of what it is worth on paper. Then, on 5th October 2018, a consortium of 3 companies, Peel Group (where British billionaire, John Whittaker, is CEO), Olayan (Saudi) and Brookfield were rumoured to be making a bid to buy Intu - which pushed the shares up. That bid has since fallen through and the share has fallen on disappointment back to just under R20 per share. In its results for the year ended 31st December 2018, the company reported that it had concluded 248 long-term leases and that it had an occupancy rate of 97%. During the year, the value of the company's properties was reduced by 13,3% and like-for-like rental growth was 0,6%. They are also impacted by the trend towards online shopping in the UK. We remain bullish about this share which now offers very high quality assets at less than one third of their net asset value (NAV). It is a rand-hedge with no interests in South Africa and offers a very stable long-term rand-hedge investment for private investors. When and if the UK economy recovers from Brexit, this will be an excellent share to hold.
AECI (AFE)
AECI (AFE) is a leading producer of chemicals and explosives in South Africa. It supplies products for the mining industry, water treatment, animal health, food and beverages, and the industrial sector. It has businesses in Australia, North America, Europe, Asia and Africa. It employs 8000 people. It also has a property division called "Acacia". In its results for the year to 31st December 2018, the company reported that turnover was up 26,1% and headline earnings per share (HEPS) were up 9%. The strong performers were the Mining Solutions and Chemicals segments with Food & Beverage improving. The company acquired Schirm in February 2018 and Much Asphalt in April 2018 which boosted its turnover and profits. About 40% of the group's revenue is in US dollars - which gives it rand-hedge qualities. The group says that mining generally and agriculture in the Western Cape remained difficult. In South Africa, bulk explosives volumes decreased by 7%, partly because of Optimum Coal being placed in business rescue. In the rest of Africa sales were up 11%. Volumes in Asia-Pacific were up by 48%. This company has successfully diversified away from its exposure to South Africa and shown its ability to make acquisitions which boost turnover and profits. It is a company that will benefit directly from any significant improvement in the South African economy. On a P:E of almost 9,7 and a dividend yield (DY) of 4,1%, we believe that it is cheap at current levels.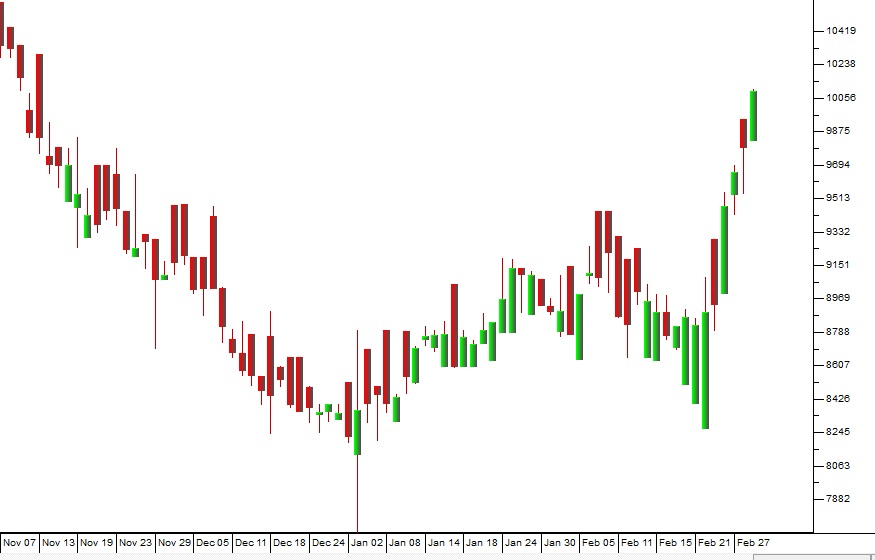 AECI (AFE) November 2018 to February 2019 - Chart by ShareFriend Pro (Click to enlarge image)
You can view a visual presentation of this report
here
. To be added to our mailing list for the next webinar,
click here
.
DISCLAIMER
All information and data contained within the PDSnet Articles is for informational purposes only. PDSnet makes no representations as to the accuracy, completeness, suitability, or validity, of any information, and shall not be liable for any errors, omissions, or any losses, injuries, or damages arising from its display or use. Information in the PDSnet Articles are based on the author's opinion and experience and should not be considered professional financial investment advice. The ideas and strategies should never be used without first assessing your own personal and financial situation, or without consulting a financial professional.  Thoughts and opinions will also change from time to time as more information is accumulated. PDSnet reserves the right to delete any comment or opinion for any reason.
Share this article: