2 June 2021
By PDSNET
America
In the previous Confidential Report on 5th May 2021, when the S&P500 index was at 4167, we suggested that it was probably due for a correction. Over the last month we have watched as a correction unfolded in that index. However, it turned out to be only a mini-correction of just 4% - and as we pointed out in our article, Correction on 17th May 2021 it is the 7th such mini-correction since the COVID-19 V-bottom. Consider the chart: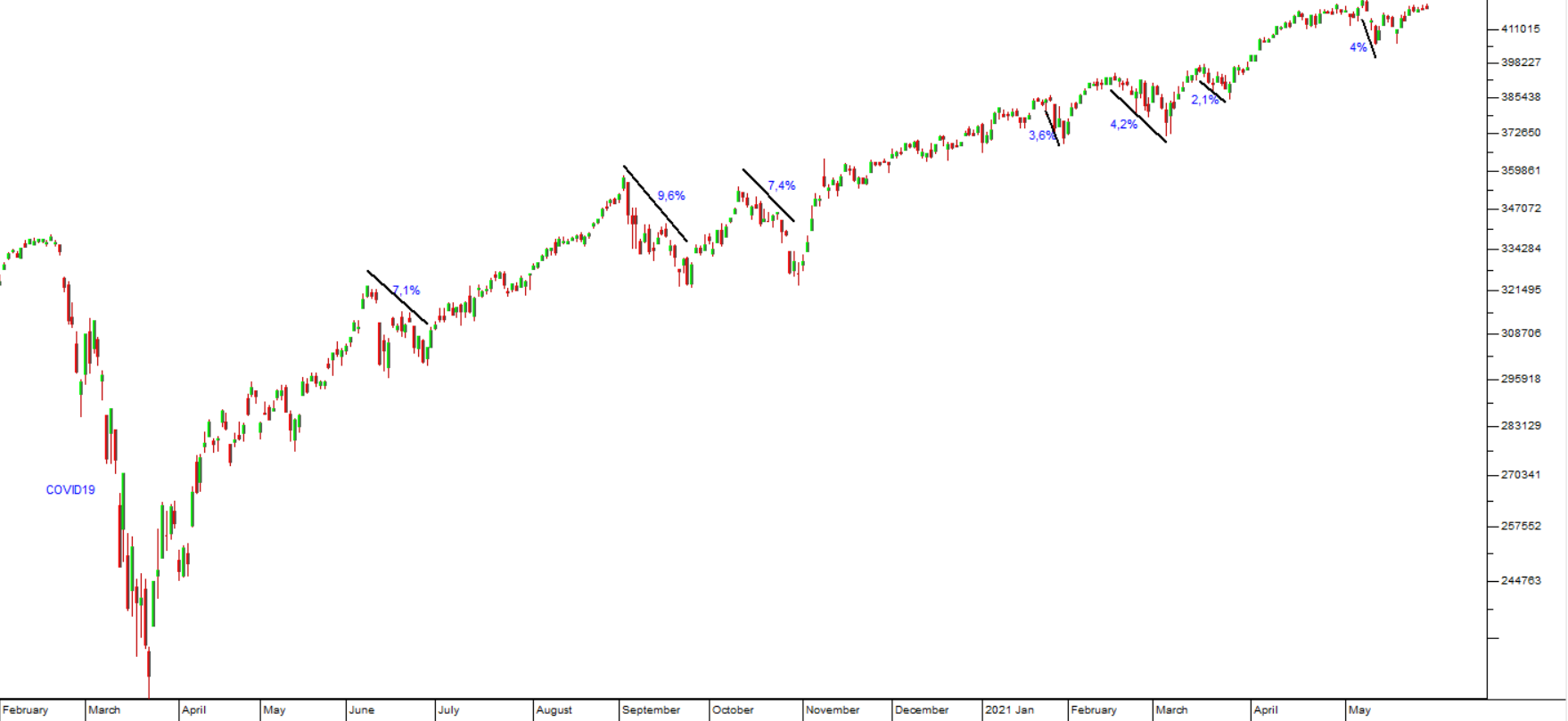 It now looks probable that the S&P will rise to further new record highs in the near future, but we still predict that there is a more major correction coming in the 10% to 20% range.
The S&P is being driven by further signs of strong recovery in the US economy. GDP in the first quarter of the year was a revised 6,4% up and average predictions for the second quarter are for growth of over 9% with some economists expecting 10% or more. At the same time, weekly jobless claims have dropped to their lowest level in 14 months. Into this environment, President Biden has proposed a new $6 trillion budget to "reimagine and reinvent" the US economy with a massive infrastructure program. Obviously this still has to get through Congress, where the democrats have a slim majority, but it shows the direction of Biden's thinking.
In May's Confidential Report, we also drew your attention to the growing apprehension about inflation levels in the US which jumped up to 4,2% in April 2021 from March's 2,6%. America is awash with cash following the $1400 cheques which Biden handed out to every citizen plus the ultra-low level of interest rates. Consumers are beginning to spend in earnest. The unemployment rate is rapidly returning to the "full employment" levels it was at prior to COVID-19.
The Federal Reserve Bank (Fed) and President Biden are still predicting that inflation will return to levels around 2% by next year and that this spike is a short-term effect of fiscal stimulus. Let us hope that they are right. Nothing upsets a bull trend like the prospect of rising interest rates. If inflation continues at these levels or, worse, accelerates, then sooner or later the Fed will be forced to consider raising interest rates again.
At the moment, investors are buying the President's prediction, but we have the feeling that inflationary pressures may be stronger and more persistent than he envisions. In any event, a substantial correction based on fears of rising inflation is likely in the next few months.
But we believe that the correction, when it comes, will be just that – a correction – and not the start of a bear trend. We think that this bull market has got some distance to run. The inflation fears, when they arrive, will eventually be drowned out by rising quarterly profits in S&P500 companies and the great bull will resume. This is a very important understanding because it means that, when the correction comes, it will signal a buying opportunity which you, as a private investor, can take advantage of.
Political
Magashule is predictably fighting back against his suspension and claimed (absurdly) that his appeal means that his status is re-instated and that, as Secretary General, he was suspending ANC president, Ramaphosa. This smacks of desperation and obviously did not stand. The removal of Magashule is a major victory for Ramaphosa in his opposition to Zuma and so-called "radical economic transformation" (RET). It will prevent Magashule from influencing the ANC's branch general meetings and the regional and provincial conferences prior to the national conference in December 2022. Apparently, only about one third of the 86-member National Executive Committee (NEC) supported Magashule, which gives Ramaphosa a clear majority, but suggests that the party may be spilt by the decision. Jesse Duarte now takes over Magashule's position as Secretary General. Our view is that the ANC will emerge from this more unified under Ramaphosa and with a stronger mandate for ridding the party of corruption and corrupt members. This, in turn, is good news for investors as a degree of sanity can be brought into major economic policy decisions.
Economy
The South African Reserve Bank adjusted its forecast for GDP growth in 2021 upwards to 4,2%, up from 3,8%, indicating that the economy is rebounding more quickly than was generally anticipated. The monetary policy committee's (MPC) decision was to keep the repo rate on hold at 3,5% where it is expected to remain for the rest of the year. The MPC statement was a little more hawkish than in March so it is evident that the next move in rates will be up. The ultra-low interest rates are putting extra money into the pockets of mortgage bond holders and others in the economy who have substantial borrowings. This has a positive impact on spending which counters the damage done to the economy during the lockdowns. Notably, GDP is only expected to grow by 2,3% next year.
Goldman Sachs is very bullish on the South African economy. They predict that GDP will grow by 4,5% in 2021 – which compares with the Reserve Bank's improved forecast of 3,8%. We have always thought that the SA economy would bounce back much more quickly than expected. Goldman Sachs is backing up its forecast by expanding its operations here in South Africa. The company also expects our inflation rate to peak at 5% and then begin to trend downwards making room for a further interest rate cut – which seems unlikely to us.
Tito Mboweni, Minister of Finance, has been able to report that the government's expenditure was R16bn less than expected in the February 2021 budget and that income was considerably better. The government's spending shortfall resulted in a deficit which was 11,2% of gross domestic product (GDP) as opposed to the 12,3% that was projected in the budget. This in turn has allowed the Reserve Bank to reduce the amount of new debt that it raises in the weekly auctions by about R900m – which allows that capital to be invested in business. The increased tax collections are largely a result of the current boom in commodity prices and are expected to continue for some time.
The rebound in truck and new motor car sales since last year is startling. Motor car sales in April 2021 were just 2,7% below the sales recorded in April 2019 – and massively up from the miserable 574 cars sold in April 2020. This shows, probably better than any other economic statistic, the V-shaped effect of the pandemic on economic activity – and the stock market. Truck sales have also rebounded to the point where sales are now constrained due to a lack of available stock. In our view, the economy is now returning to pre-COVID-19 levels of activity – with some industries performing far better than they did before COVID-19 and others far worse.
The Minister of Trade, Industry, and Competition, Ebrahim Patel, is planning significant changes to the Companies Act to force companies to disclose the wage gap between their lowest paid workers and executives. At the same time, he is planning to ensure that workers have direct representation on company boards. He talks about tackling "the gross injustice of excessive pay" for executives. Obviously, top executives in South Africa are paid an internationally competitive wage to ensure that they are not lured away to more lucrative jobs overseas. In other words, South African companies compete directly with overseas companies to attract and retain the best talent. Any reduction of executive pay will undoubtedly lead to a reduction in the quality of executives. At the same time, raising worker pay is going to make South African companies less profitable and result is likely to be less foreign direct investment (FDI). What the minister appears to have overlooked in his zealous socialism is that South Africa is in competition with the rest of the world for FDI and executives. He does not appear to be concerned with the impact that his new legislation might have and does not mention it. He has also recently said "competitiveness and industrial agility are critical to longer-run localization efforts" – which seems to directly contradict what he is trying to do with the Companies Act.
One of the major impacts of the pandemic has been the switch to illegal cigarette smoking. Prior to the ban on cigarettes, illegal cigarettes accounted for about 28% of all cigarettes sold in South Africa. Now illegal cigarettes account for nearly half of all cigarettes bought and it appears that many smokers are not going to return to buying legal cigarettes. This is because almost half of the cost of a pack of legal cigarettes is in the tax. Obviously, this shift has a major impact on tax revenue as well as prejudicing those companies that sell cigarettes legally.
The Rand
In last month's Confidential Report (May) we drew your attention to the fact that following the Biden win in America, international sentiment had shifted strongly towards "risk-on" and that the rand was in the process of breaking down through long-term resistance at R14.40 to the US$. That break has now occurred, and you will note the rally which followed immediately afterwards taking the rand back to R14.40 – which became the support level.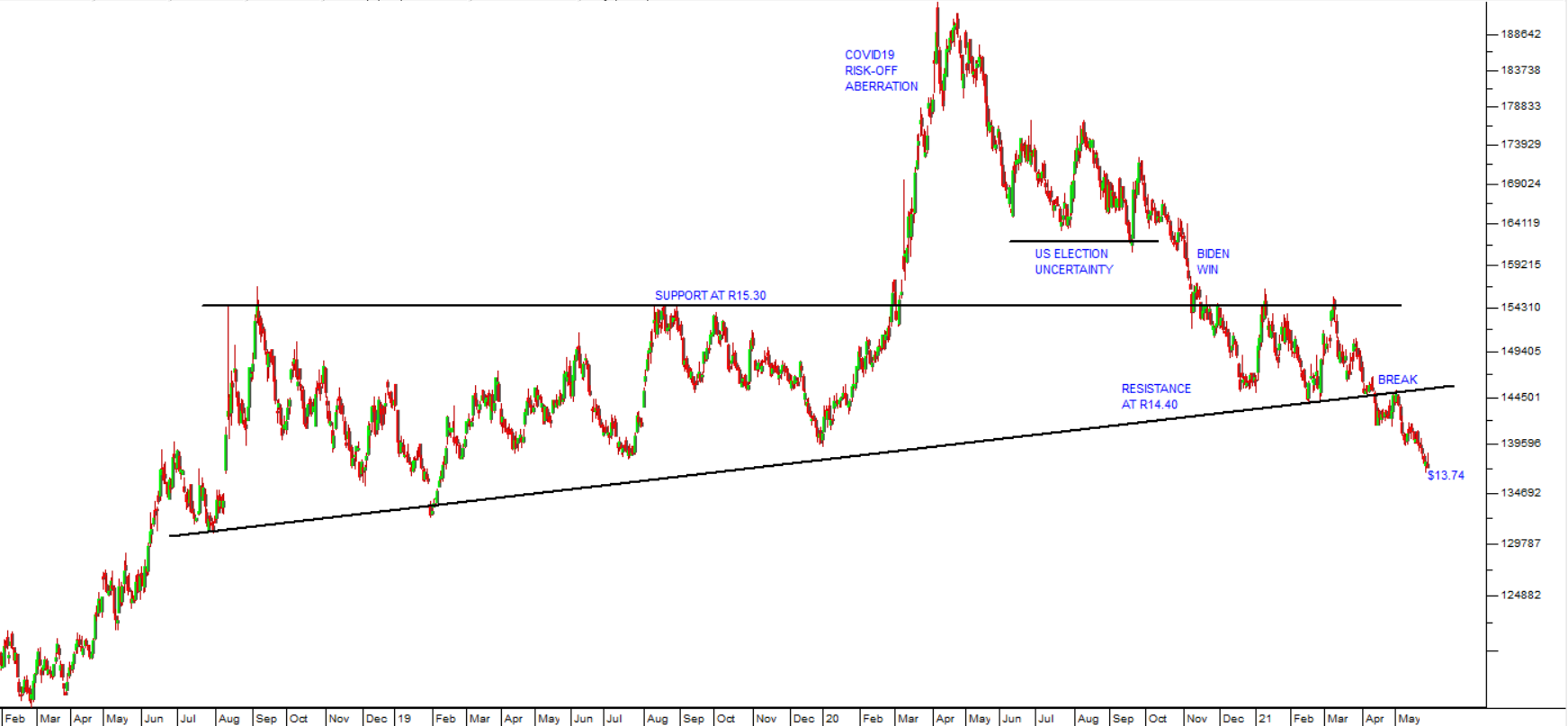 Since then, the rand has appreciated sharply and on Friday reached R13.74. The rand is the best of the emerging market currencies and has the advantage of having sufficient volumes traded to accommodate large international transactions. For this reason it is the main beneficiary when sentiment moves to risk-on. The effect of the strengthening rand is that it is bad for rand hedge shares like Prosus and those shares have been taking a pounding. In fact, we believe that it is time to consider buying more Prosus at these lower levels.
The stronger rand is also good for the economy because it reduces inflation and imbues a sense of optimism and confidence. This is bolstered by the gains which President Ramaphosa has made in his battle with the Zuma camp and against so-called "radical economic transformation" – which is a euphemism for a return to an economy and government dominated by corruption and incompetence.
We expect the rand to continue strengthening in the immediate future, although we once again remind you that it can be very volatile and is subject to the vagaries of the international investment market which is notoriously fickle.
State-Owned Enterprises
The latest derailment of a train on the line to Richards Bay is part of a pattern of poor service by Transnet which is impeding the export of minerals from South Africa. Transnet has been battling with vandalism and theft on its thousands of kilometers of railway line which constantly interrupts the passage of goods to ports. The police appear to be almost incapable of controlling the problem and it is consistently preventing mining companies from exploiting the high commodity prices which prevail at the moment. The export of commodities is the primary reason for above-budget tax collections and represents a large part of South Africa's hope of extracting itself from excessive levels of government debt. Maybe it is time to get a top executive in to manage Transnet – as has been done at Eskom.
Eskom is now involved in negotiating a wage settlement with its unions. Eskom has approximately 45000 employees who earn very high monthly salaries. At the same time, it has debt of just over R400bn which has been reduced by R83bn in its most recent financial year by government handouts and cost-cutting. It is now well accepted that the company is massively over-staffed. Costs have been cut by R13,5bn, probably mostly attributable to the efforts of CEO, Andre de Ruyter. The unions have opened by demanding an across-the-board wage increase of 15% - which Eskom has understandably rejected. Eskom wants to completely re-structure employees' conditions of service. The negotiations must be seen in the context of the wider negotiations between the government and the civil service unions and will be much influenced by the outcome there.
The Airports Company of South Africa (ACSA) saw its income fall from R3,5bn in 2019 to R685m last year and it made a loss of R1,47bn against a profit of R125m in 2019. To deal with this situation the company has cut costs, sold assets and issued a preference share. This has enabled it to cut its debt from just over R4bn to around R600m and has ensured its recovery. Even though its income is far from what it was in 2019, ACSA is moving back towards profitability and is one of the very few state-owned enterprises (SOE) that is. The processes which it has followed should be emulated by other SOE's such as Denel, the Post Office, Eskom and the SABC.
The Post Office's attempt (now supported by ICASA) to enforce the Postal Services Act by insisting that letters and packages under 1kg have be delivered through it and not by courier companies is economic insanity. A R20bn industry has grown up around delivering small parcels and correspondence because of the Post Office's complete inability to deliver mail and packages timeously and reliably. If this law is enforced, then this industry will be destroyed and everyone will be forced to use the Post Office's extremely unsatisfactory service. This is similar to the efforts that Eskom made previously to prevent companies from installing their own power generation or the efforts that the SABC is making to get Multichoice to collect its licence fees for it. These SOE's are loss making and hopelessly inefficient. They all get huge subsidies from the government to stay afloat. Now they are trying to force private enterprise to support their ineptitude. It makes absolutely no sense.
The latest state-owned enterprise (SOE) to announce financial difficulties is Petro SA. The company's board has been dissolved and without further support from the government it will be forced into business rescue or liquidation. It received R800m in support towards the end of 2020, but that is now exhausted, and the board says it is unable to pay May salaries in full. Workers have received retrenchment notices and the gas-and-liquids refinery at Mossel Bay has stopped operating. It has been suggested that Petro SA be folded into a new state-owned oil company, but nothing has been done about that yet.
General
The report in the Business Day on 3rd May 2021 that more than R100bn had been transferred to over 150 000 employees through all the empowerment schemes implemented in the private sector will get a mixed reception from investors. On the one hand, the employees who benefited have effectively been given a stake in the companies that they work for – although the evidence is that many of them sold these shares as soon as they were permitted to. On the other hand, the R100bn has effectively been paid by the shareholders who must hope that they get this value back in the form of greater productivity from those employees who benefited. Much of this shift in value has been at the insistence of the Trade, Industry and Competition minister, Ebrahim Patel who has forced companies making large deals to incorporate BEE considerations into the deal. Patel says the next step is to include worker representatives onto the boards of these companies. It seems logical that the economy would benefit from increased participation by previously disadvantaged people, but there is a cost associated with it and it may dissuade overseas investors from investing here.
It is apparent from Edward Kieswetter's report to parliament that SARS is rapidly improving its tax collections and pursuing people and companies that owe tax. Both civil and criminal actions are being undertaken and many cases have been handed over to the National Prosecuting Authority (NPA) for prosecution. SARS is also following up on the evidence which is being produced at the Zondo Commission of Inquiry, which resulted in various people being paid huge sums of money. Obviously, it is of critical importance that South Africa's tax collections improve and that the tax base be widened. That will provide the cash necessary to reduce the government's debt.
Gold Fields announcement that it will build a new solar farm to produce 40MW of power, or 20% of its power requirements, is interesting, because the CEO, Chris Griffith says that the solar farm, once completed will produce power for about 47c per KW – which compares with Eskom's price of R1.66. It will also give the mine far more resilience to meet power outages and reduce its carbon footprint by 100 000 tons of carbon per annum. This project follows other mining companies that have or are installing solar power such as Pan African Resources. Eskom has clearly priced itself right out of the market.
As winter begins, the third wave of the pandemic in South Africa has seen the 7-day average number of infections rise to around 3745. The National Institute of Communicable Diseases (NCID) is projecting a rise in infections over winter which will peak at a lower level than the second wave. That projection could be worsened by the appearance of 4 cases of the new India variant (B.1.617.2), two in Gauteng and two in Natal. The India variant is apparently more susceptible to vaccines than previous variants. Clearly, a third wave would be negative for the economy and the stock market. The possibility makes the roll out of vaccinations even more critical.


Bitcoin
In last month's Confidential Report, we drew your attention to the head-and-shoulders formation which was developing in the Bitcoin chart. We suggested that if the price fell through the "neckline", then it would drop sharply. Our advice was,
"If you have it, sell it, if you don't have it, don't buy it".
At the time Bitcoin was trading for just over $57000 and it has since fallen to $36865 – a drop of about 35%. We also pointed out that Bitcoin cannot be analyzed fundamentally, because it has no fundamentals. This means that the only way to analyze it is technically – by looking at formations like the head-and-shoulders formation and other technical indicators. Consider the chart: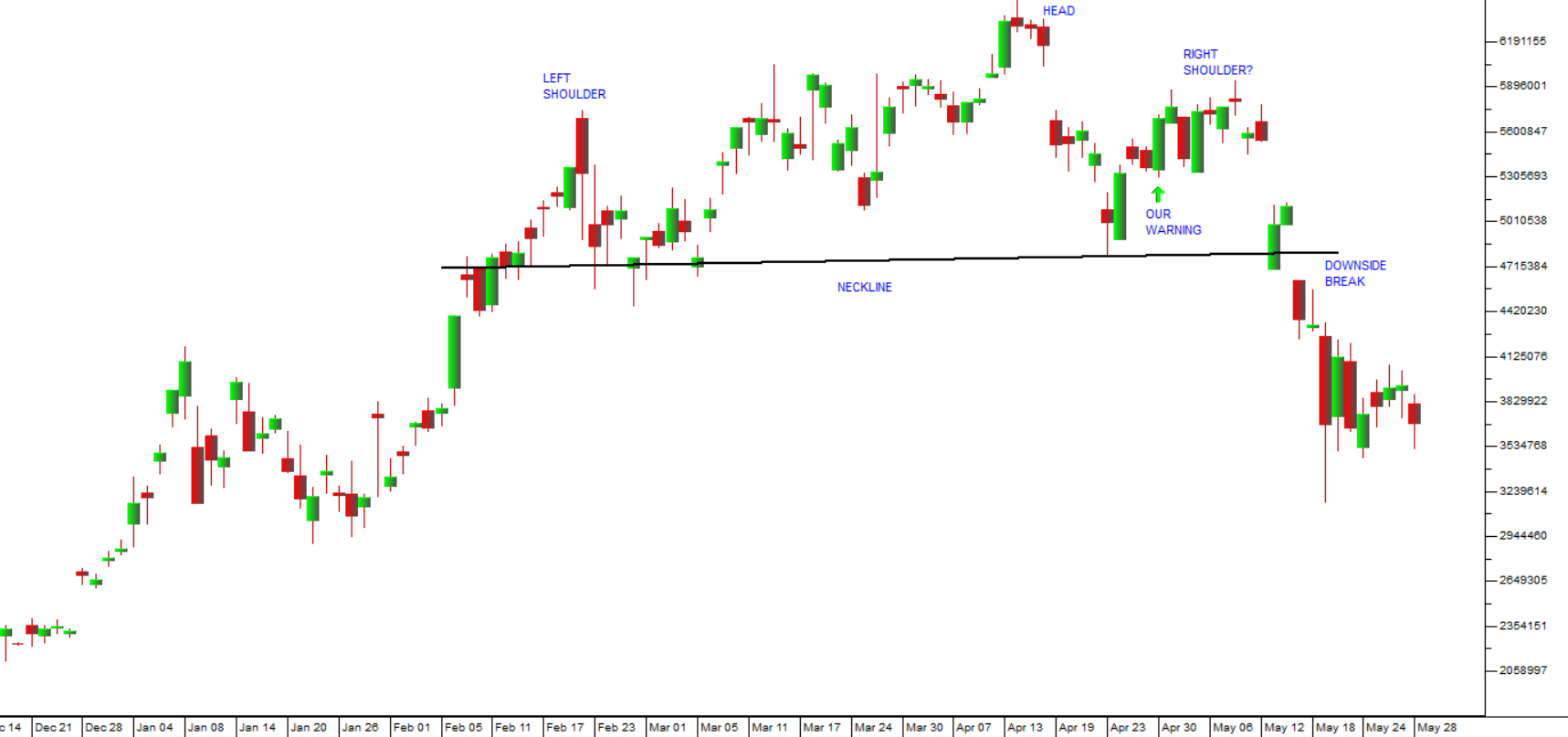 A head-and-shoulders formation comes after a strong upward trend. The left shoulder is caused by the "smart money" selling out while the demand is still strong. This selling is only sufficient to bring the market down temporarily before the underlying bullishness reasserts itself resulting in the "head". The return of bearish sentiment brings the head to an end, but there are usually a number of "stale bulls" who still believe in the upward trend and they cause the right shoulder. Once the right shoulder is complete and the neckline is broken sentiment turns sharply bearish.
The point is that Bitcoin's value is like the value of gold in that it depends almost entirely on perceptions. In other words, it has value because enough people believe it has value and for no other reason. Aside from its jewelry demand, gold has almost no industrial demand. Its value is a function of its perceived scarcity. And the demand for gold jewelry only exists because it is perceived to be scarce and hence valuable. But gold's scarcity comes about because of the rarity of the metal. All the gold that has ever been mined throughout history would not fill a cube 25 meters on a side. Gold production has more-or-less kept up with world population and economic growth which means that its value, in purchasing power terms, has remained roughly constant throughout history. One ounce of gold will buy you roughly the same number of chickens today as it would have bought you 5000 years ago in Egypt.
Bitcoin's scarcity is entirely arbitrary and man-made. There is a maximum of 21m Bitcoins, but the unchangeable nature of that number and hence its relative scarcity is seen as being dependent on the people who invented it and set it in motion. So, the difference between gold and Bitcoin is that almost everyone in the world believes in the value of gold and its scarcity, whereas only relatively few people understand and believe in the scarcity of Bitcoin.
The progress of the Bitcoin chart is a function of belief and the human emotions of fear and greed which can only be assessed and analyzed technically. There is no other way.
Companies
NEW LISTINGS:
Big Tree Copper
Big Tree Copper which has purchased the O'Kiep copper operation is now intending to list on the ZARX and raise funds to process the copper dumps on the property. To expand the existing plant and build another will cost an estimated R30m which the company hopes to raise on listing. This will be a pure copper play and dependent on the international price of copper. The idea is to build up production to around 500 tons of ore a month. The viability comes from the rising international copper price – which can be very volatile.
Thungela Resources
Thungela Resources contains Anglo American's coal assets and will be separately listed on the JSE from 7th June 2021. The CEO is July Ndlovu and the shares will be unbundled into the hands of existing Anglo American shareholders at the rate of 1 Thungela share for every 10 Anglo shares held. The separate listing is part of Anglo's policy of becoming carbon neutral by 2040. Thungela produces thermal coal and has a 23% stake in the Richards Bay Coal Terminal which entitles it to export 19,8m tons of coal per annum. The business has not made a profit since 2018 due to low coal prices. The future prospects look much better, however, with coal above $90 per ton. We are not attracted to this investment because we see coal as part of a dying industry, world-wide.
Bytes
Bytes Technology was spun out of Altron and separately listed on the London Stock Exchange (LSE) and the JSE. At listing it had a market capitalisation of about R13bn which has subsequently grown to R22,5bn. It is the largest seller of Microsoft products in the UK. The share is in a strong upward trend which we believe will continue.
TOURISM
By any measure the tourism sector took a hammering in 2020, and continues to do so. Stats SA reports that during 2020 the number of visitors to South Africa dropped by 75%. Under normal conditions the industry accounts for about 3% of gross domestic product (GDP) and is a large employer. Now the number of COVID-19 infections is rising again and there is serious apprehension about a third wave which could see more travel restrictions. Against this, the vaccine program is limping along, far more slowly than originally planned. We believe that the number of vaccinations should increase dramatically in the second half of the year. The government is now talking about vaccinating 40m people by February 2022. The CEO of Rand Merchant Bank (RMB) says that he thinks tourism will bounce back in the second half of 2022 – which we think is realistic. Certainly, tourism and hotel shares are at rock bottom and appear to have discounted all the bad news. Hotels are still running at about one fifth of their capacity and many will end up being re-purposed.
SMALL CAP
Small cap shares have been one of the most consistent performers since the COVID-19 downturn. Consider the chart of the JSE Small Cap index (J202) since January last year: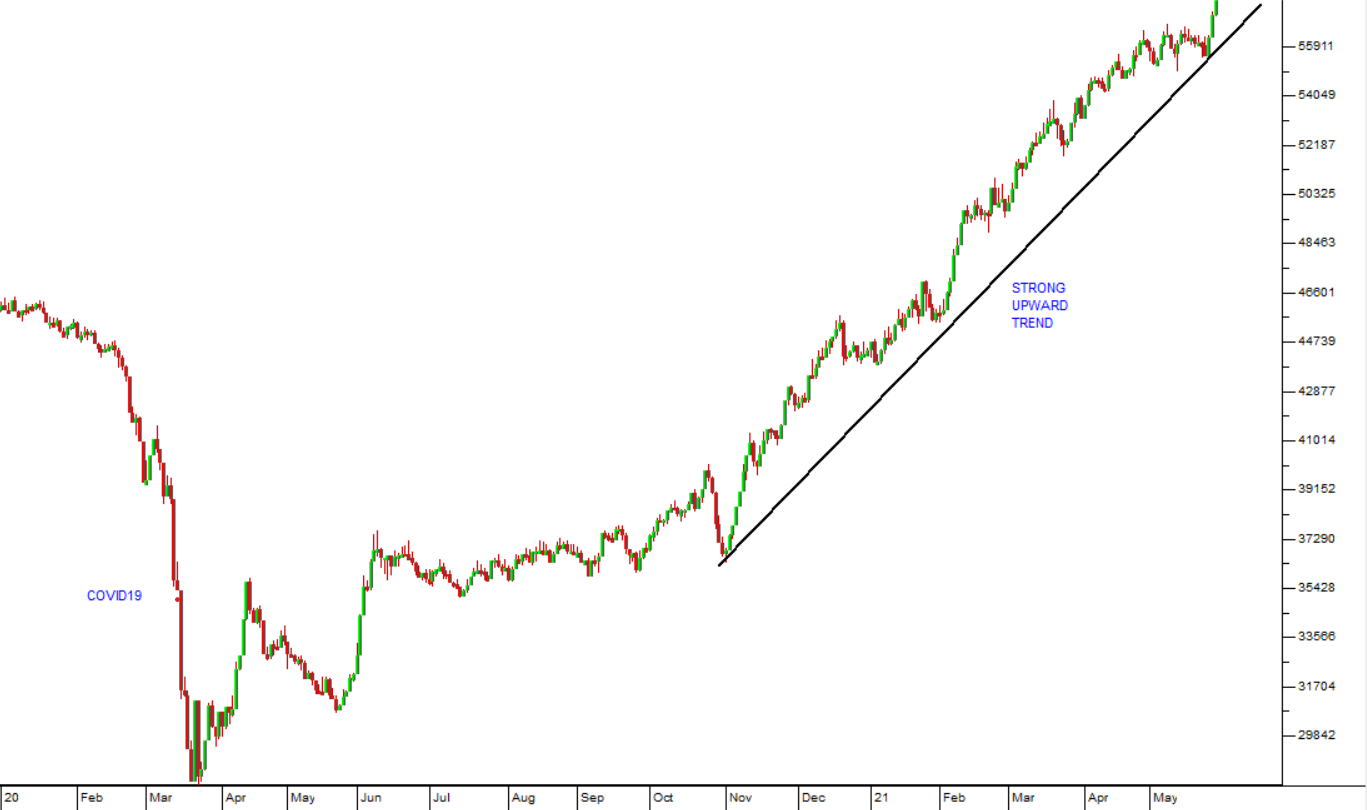 You can see here that following the COVID-19 spike down, small caps entered a period of consolidation which ended with a strong upward trend from November 2020. Many blue chips and secondary shares are fully priced while small caps still have some distance to run and offer good value. Small caps include shares such as Hudaco, Libstar, Long 4 Life and CMH.
LONG 4 LIFE
This company, managed by the legendary Brian Joffe of Bidvest fame, has an accumulation of retail assets which consistently trade at well below their net asset value (NAV). On various occasions the company has undertaken substantial share buy-backs in an effort to close the gap – but to no avail. At the moment, the company has an NAV of about 701c against a share price of 474c – a discount of over 32%. The company has engaged a third party to do a review with the focus on closing the gap – which might lead to a release of shareholder value. Technically, the share is recovering steadily from the COVID-19 sell-off and looks to be in an upward trend: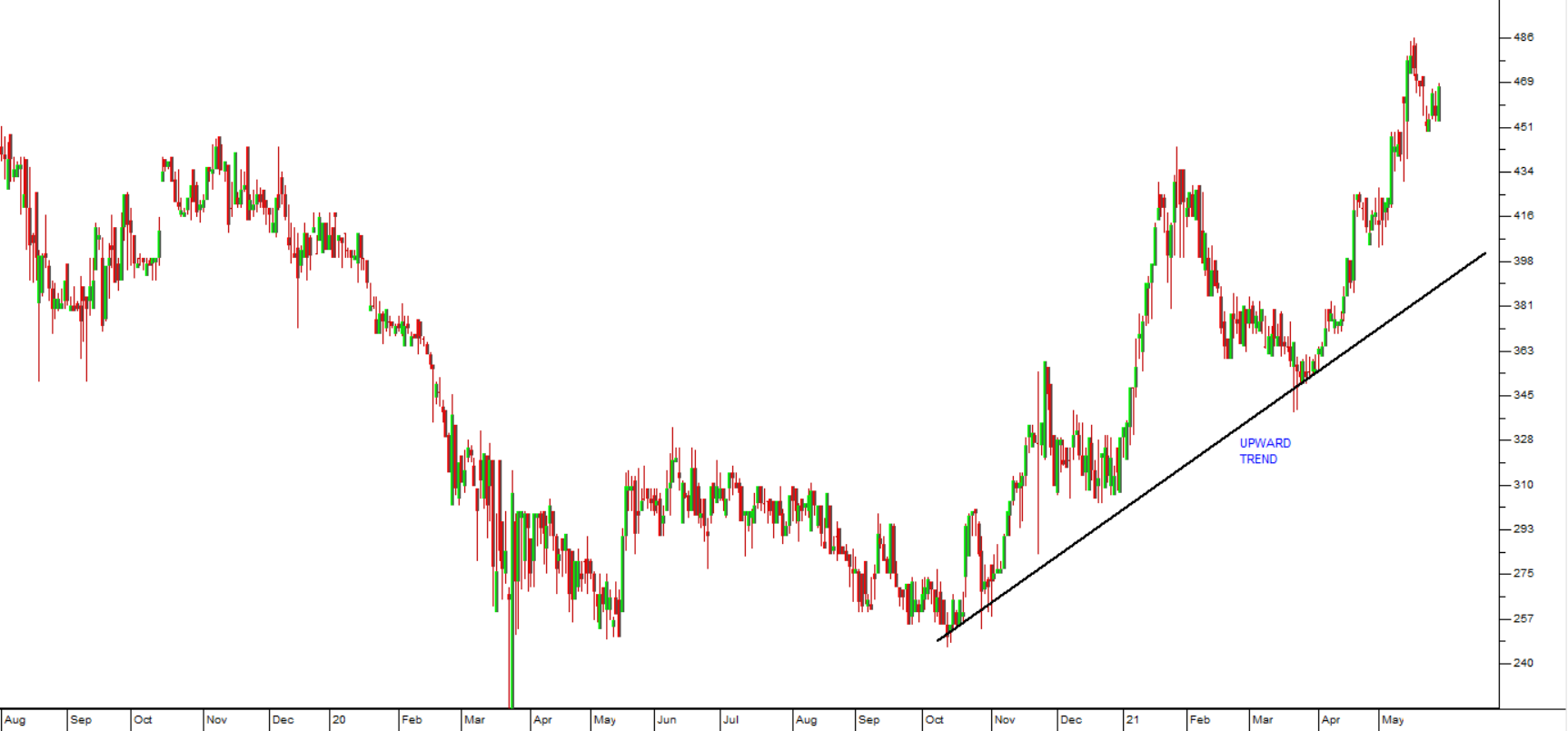 We believe that a patient investor could well see a good return on this share and certainly it is not expensive right now.
MTN
In last month's Confidential Report we suggested that the MTN share price was out-performing its rival, Vodacom. We said that we believed that MTN was a good investment. Since then, MTN has announced that it will separately list its fintech business in 2022 in an effort to unlock shareholder value. This is the latest in a series of unbundlings which have put value into the hands of shareholders in JSE listed conglomerates. The relative strength chart of MTN against Vodacom now shows that MTN is breaking up through the upper channel line that we displayed on the chart. Look at where the relative strength is now: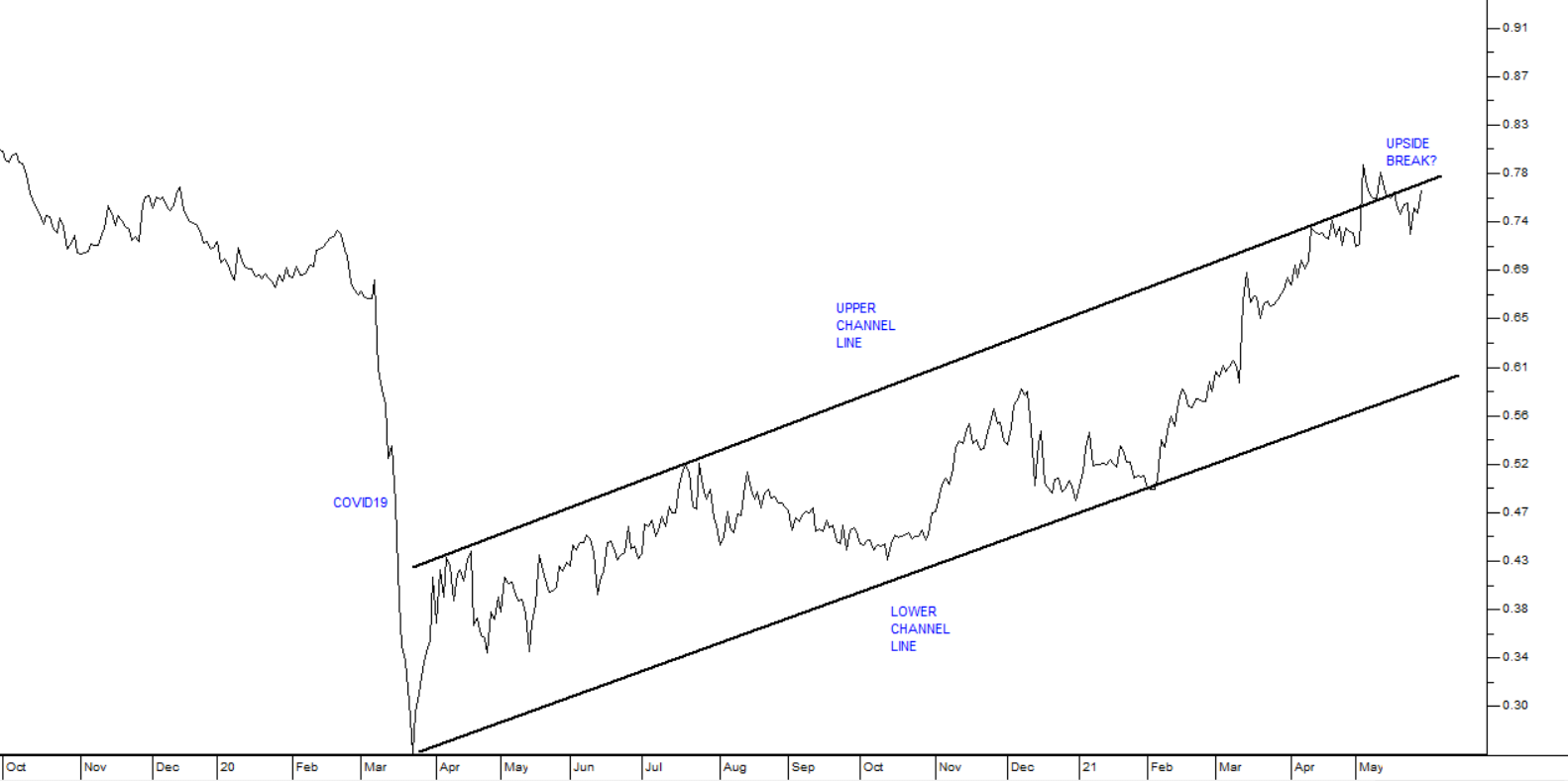 Our Confidential Report, in which we drew your attention to this opportunity, was published on Wednesday 5th May 2021 when MTN closed at a price of 8879c. It has now moved up to 10138c – a gain of 14,1% in a month.
MURRAY & ROBERTS
Murray and Roberts is winning contracts in Australia. It recently announced a R2,3bn contract from the gold mining giant, Newmont, and now it has announced that it has won a R1,1bn contract to do the engineering, procurement and construction for the Tallawara power station in New South Wales. We advised some time ago to apply a long term trendline to the share price and wait for a convincing break up. That break occurred at the beginning of January 2021 at a price of 809c. Since then, the share has moved up to 1050c – a gain of 29,8% in 5 months. Consider the chart: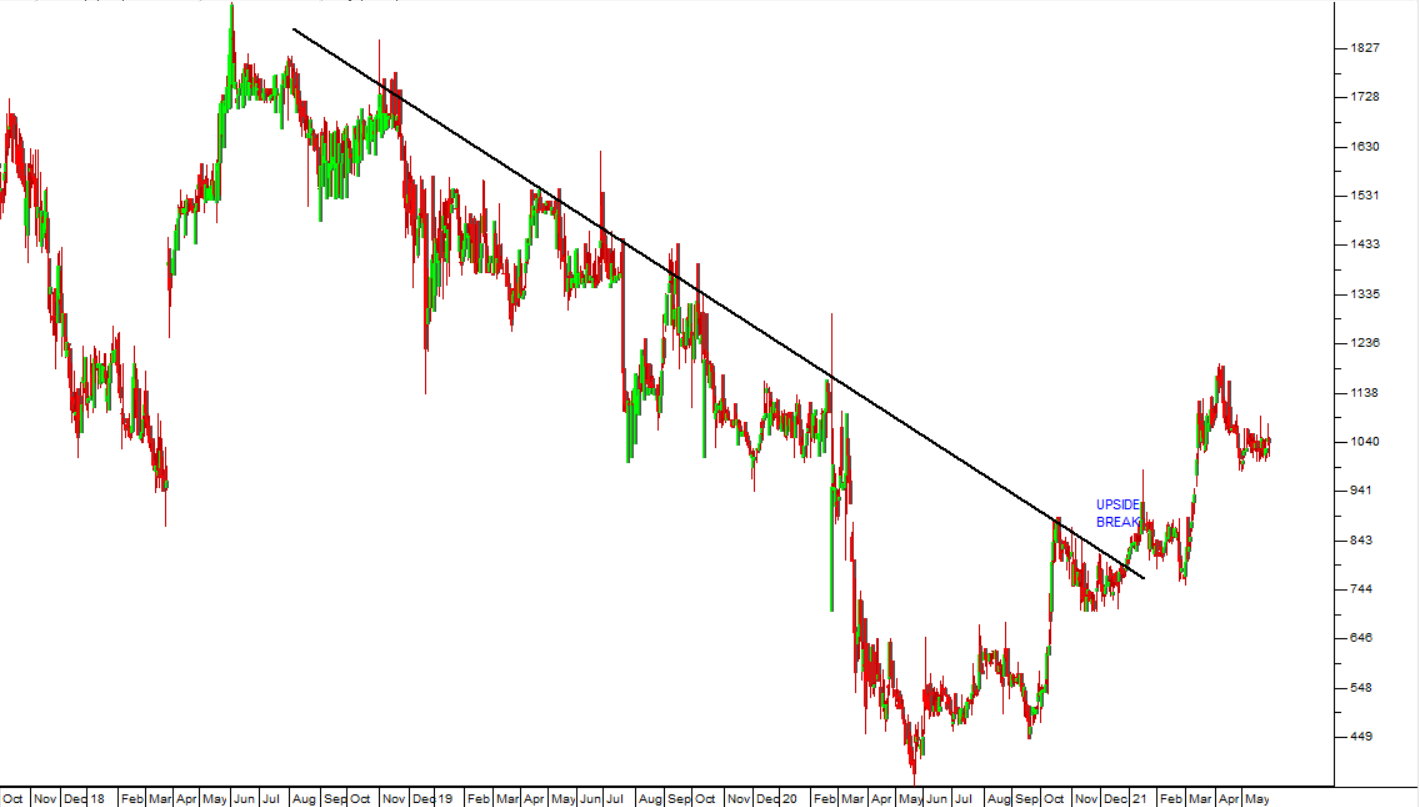 MASSMART
On 6th September 2020 we ran an article titled "Two Interesting shares", (click here to read it), in which we considered the merits of Massmart and pointed out that its new CEO, Mitchell Slape had bought 300 000 shares in his own name – a strong indication of the future prospects of the company. At the same time, we pointed out that the share had broken up through its long-term downward trendline and giving a clear buy signal. Consider what has happened to the share price since then: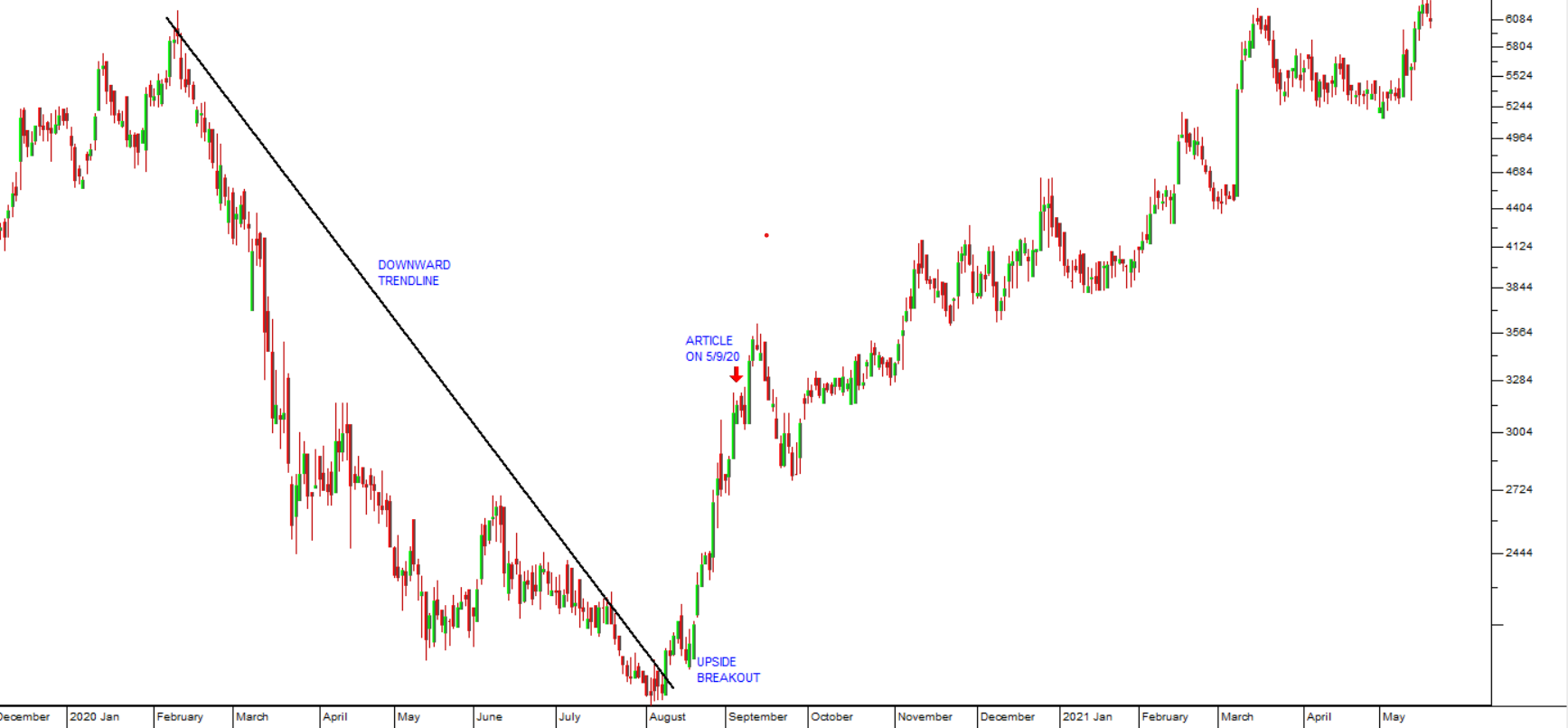 On 5th September 2020 when we ran the article, Massmart was trading for 3150c. In the 8 months since then it has risen to 6500c – a gain of 106%. Hopefully, you took advantage of our recommendation.
TIGER BRANDS
Following the head-and-shoulders formation in December 2017 and early 2018, the share began to fall as news of the listeriosis outbreak spread. The share fell from its high of R465 in January 2018 to a low of R153 in February 2020. We have long advised clients to apply a 250-day simple moving average and wait for a clear upside break. That break finally came on 28th September 2020 at R186. Since then the share has moved up to R225 and there is good evidence that it is past the worst. We see this giant food producer as benefiting directly from the steady improvement in the local economy.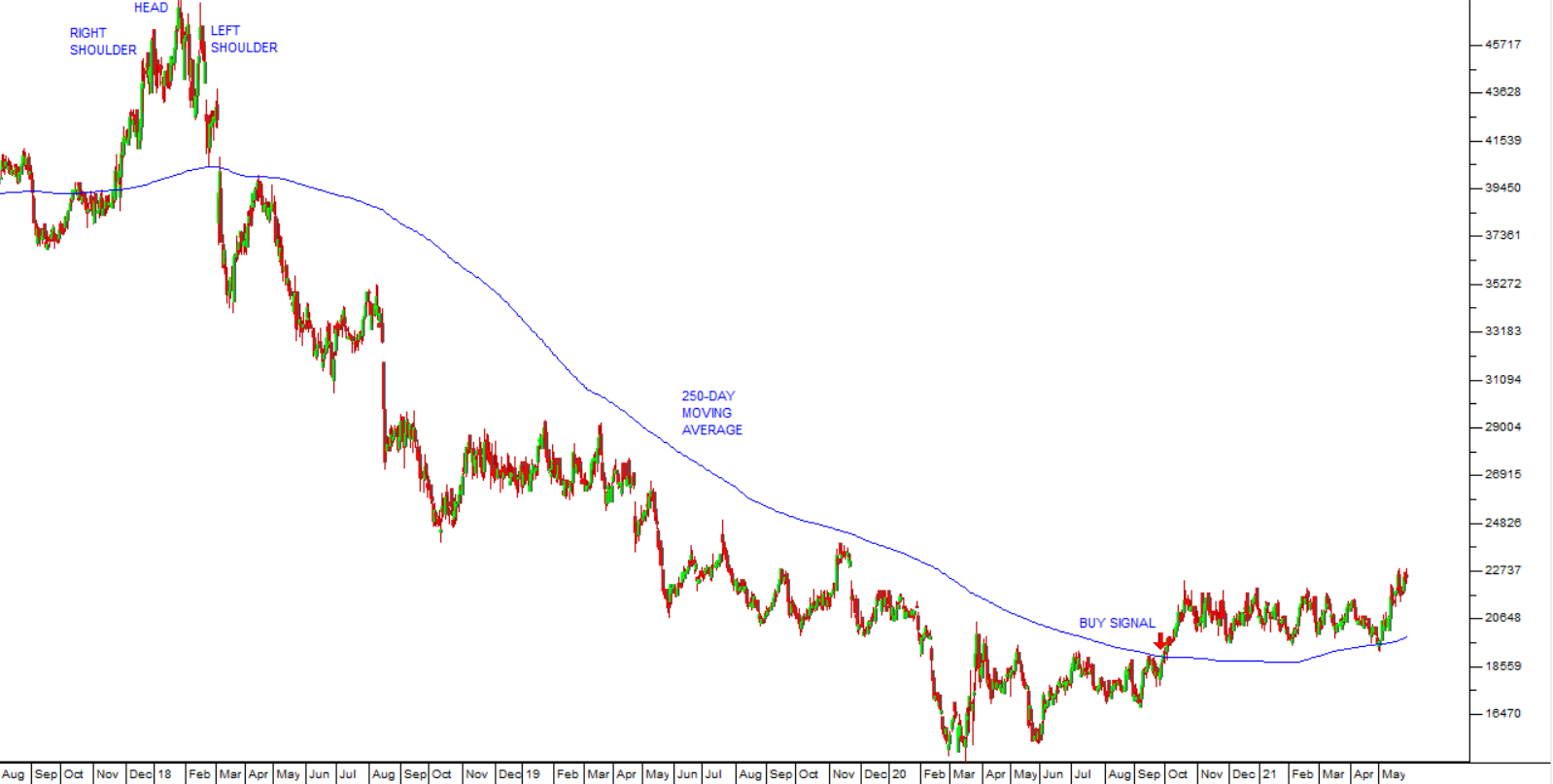 SAPPI
Sappi is a manufacturer of dissolving pulp (DP), wood pulp and biomaterials which is used for manufacturing clothing, packaging and specialist papers. The company has been struggling with low demand for its products and made a triple top in May 2017, November 2017 and September 2018. There followed a descending trend marked by a downward trendline. Some time ago we suggested waiting for an upside break before investigating further. That upside break came on 10th November 2020 at a price of 2693c. Since then, the share has moved up strongly to over 4300c. We believe it will continue to perform. Consider the chart: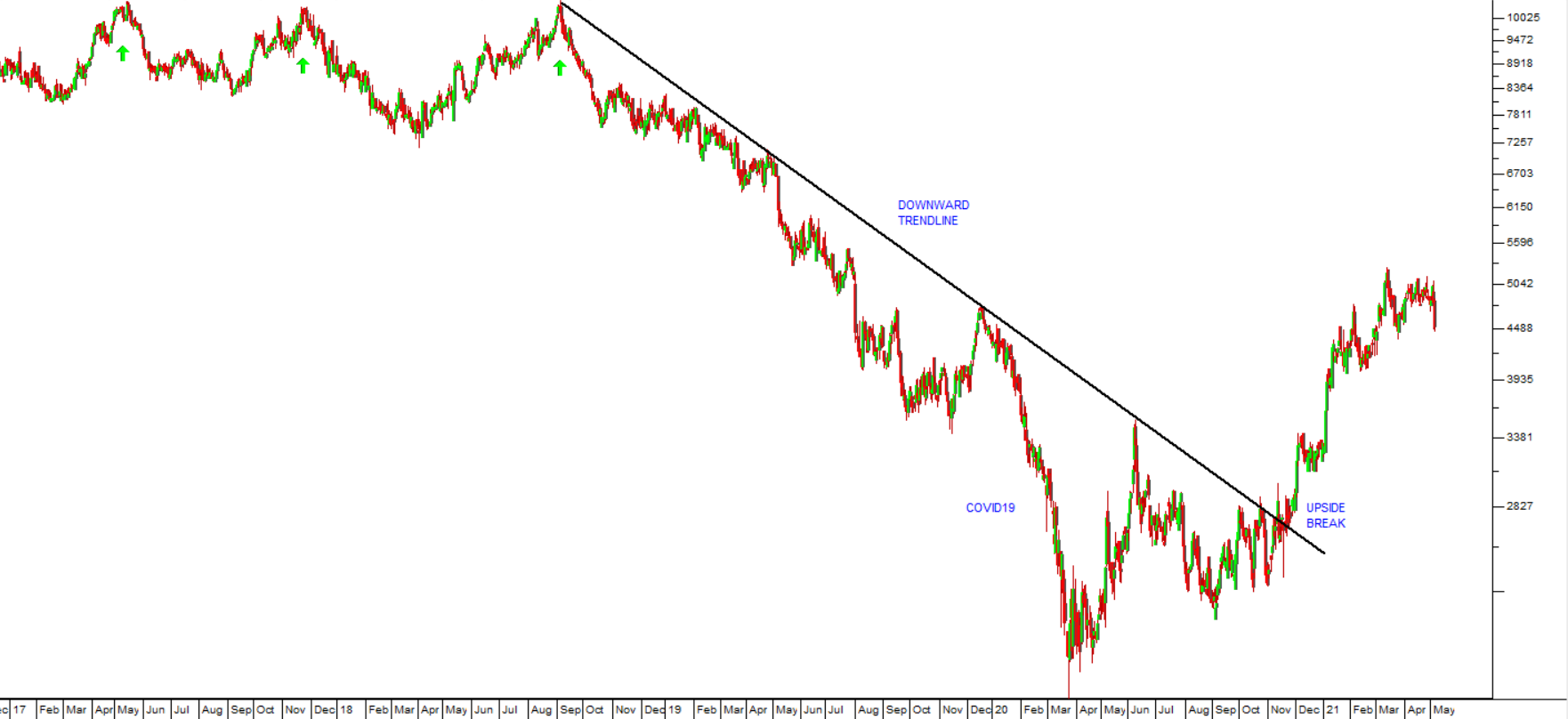 You can see the descending triple top identified by the green arrows on the chart. This is possibly one of the most bearish formations in technical analysis. Steinhoff also made a descending triple top in 2016 before it began falling. In most cases, it is a sure sign that the big, smart money is jumping ship.
RHODES FOOD GROUP
This is a food company that is directly affected by the level of consumer spending and the strength of the rand. We suggested some time ago that the best approach here was to apply a long-term downward trendline and wait for a convincing upside break. That break came on 12th May 2021 at a price of 1289c. The share has since moved up to 1395c and is still rising. Consider the chart: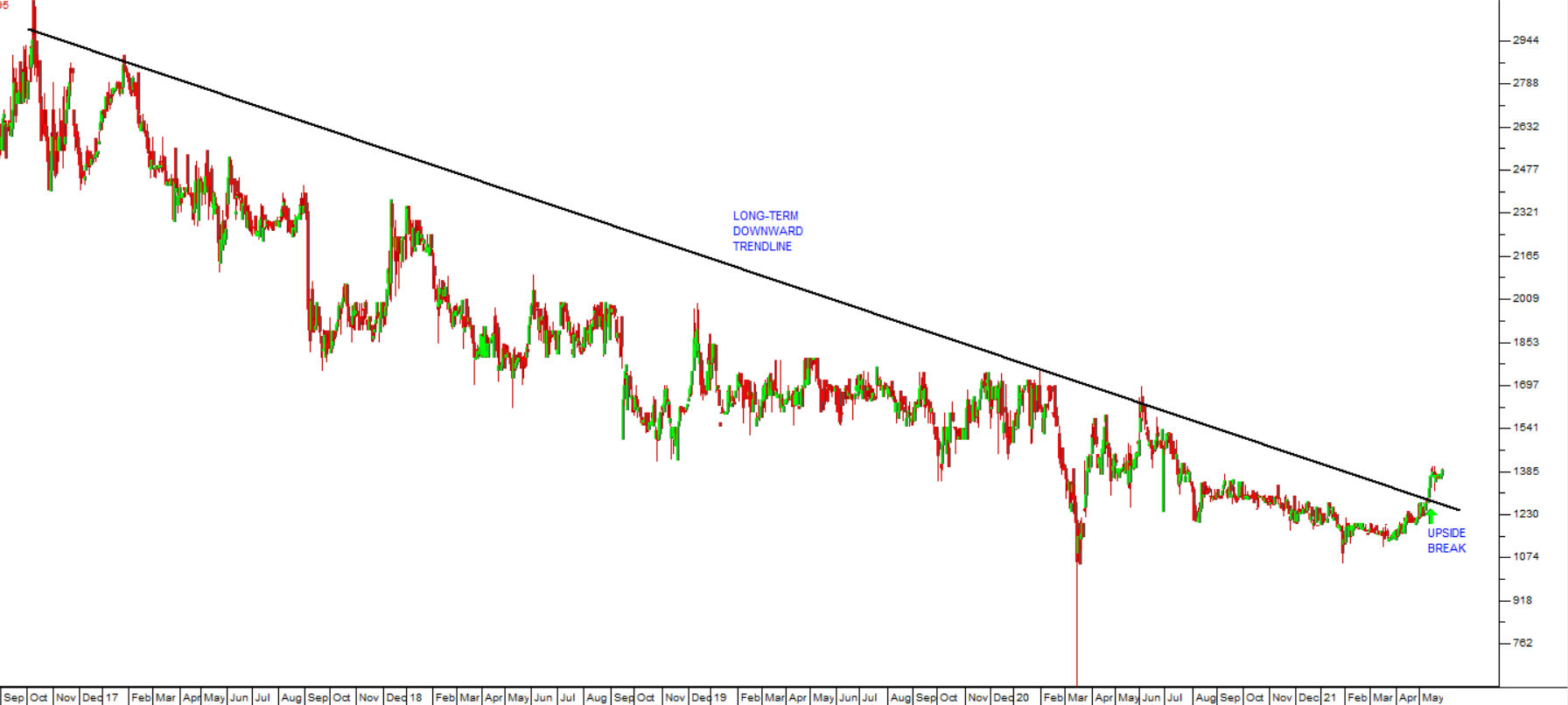 LEWIS
Lewis is a share which we have long suggested was a good inclusion in your portfolio. It is a major furniture and appliance retailer which is growing both organically and by acquisition. In its recent results for the year to 31st March 2021 the company reported headline earnings per share (HEPS) up 136%. The company has no debt on its balance sheet and is in a strong position to grow as the pandemic comes under control. On 27th May 2021 almost R1,5bn worth of shares changed hands at a higher price following the release of its results which shows strong institutional interest. The share gave a clear on-balance-volume buy signal. Consider the chart: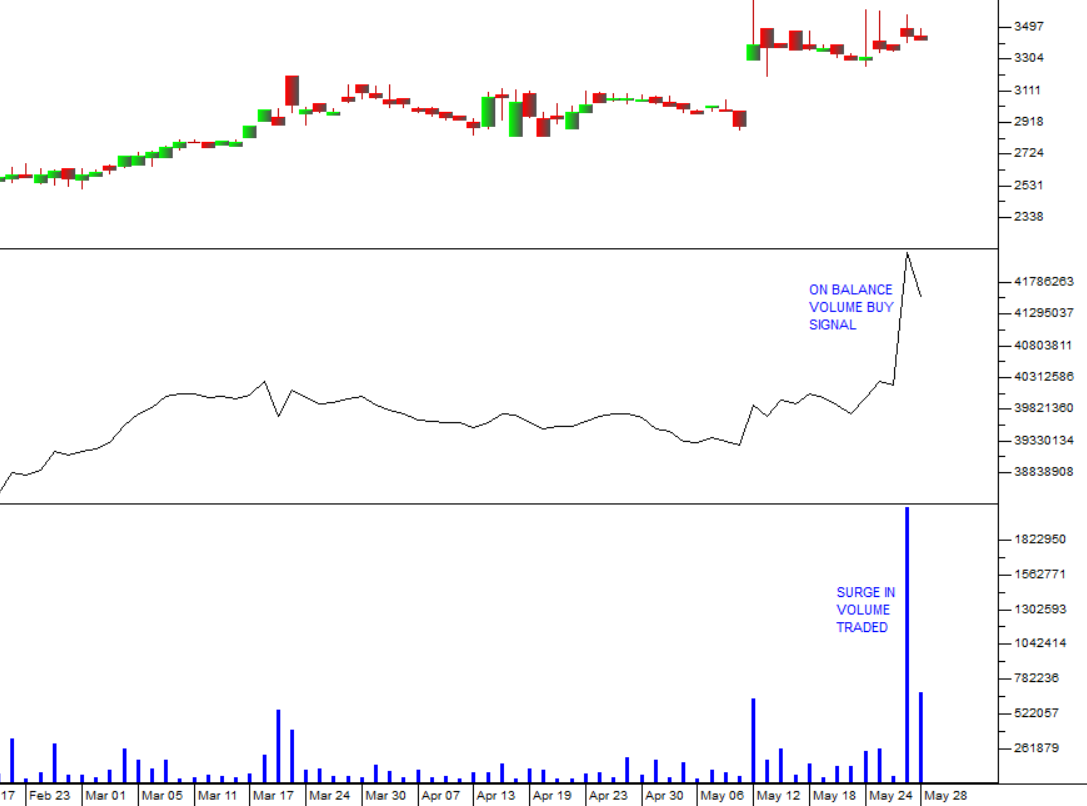 You can see here the increase in volumes accompanied by small increments in share price which gives rise to an OBV buy signal.
LIFE HC
This is the second largest health-care provider in South Africa. It share has been in a downward trend since September 2014. It recently broke up through its long-term downward trendline to give a clear buy signal. Obviously, a third wave of the pandemic, which already exists in some provinces in South Africa, will be negative, but the company says it is far better placed to deal with it now than in the second wave. Technically, the share looks like a buy.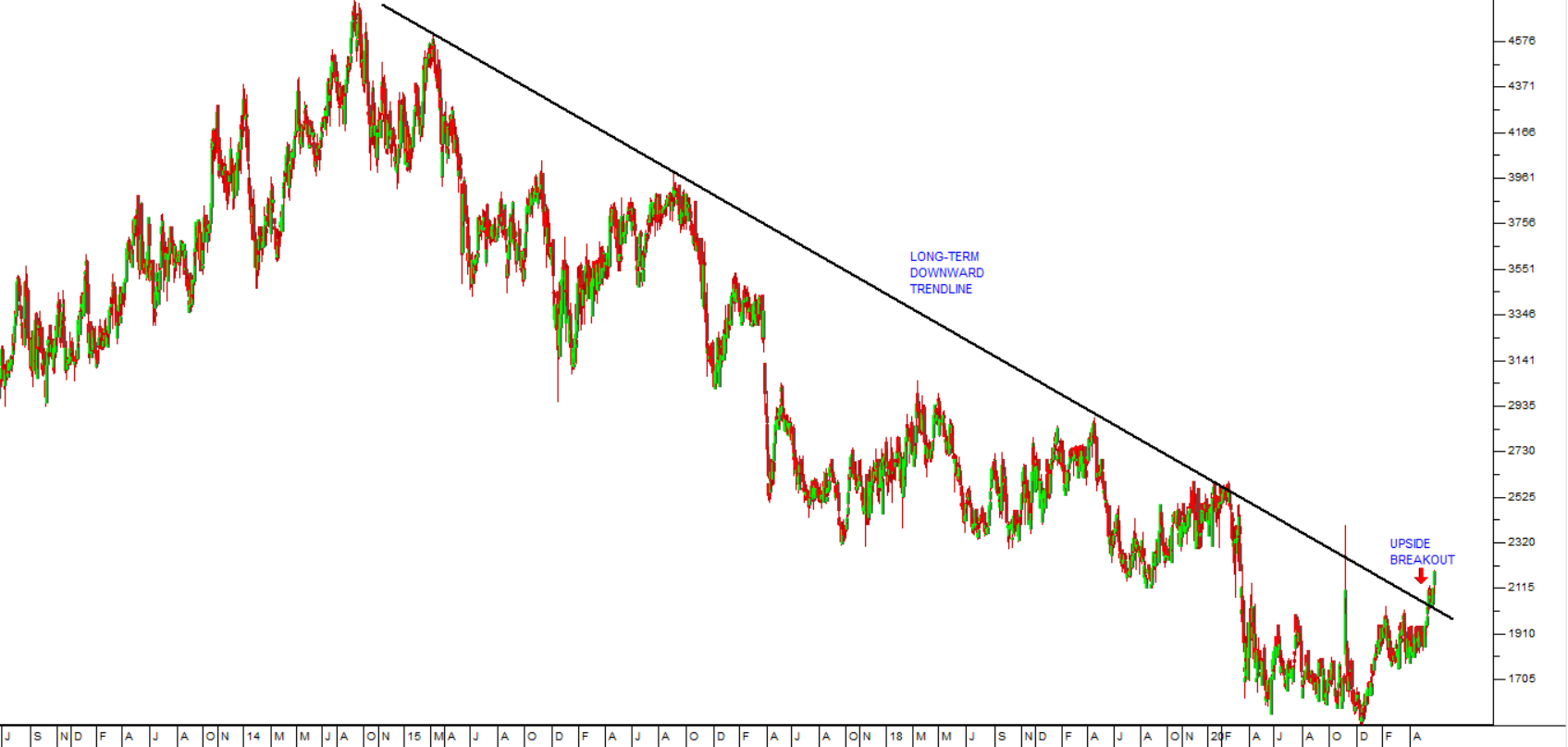 DISCLAIMER
All information and data contained within the PDSnet Articles is for informational purposes only. PDSnet makes no representations as to the accuracy, completeness, suitability, or validity, of any information, and shall not be liable for any errors, omissions, or any losses, injuries, or damages arising from its display or use. Information in the PDSnet Articles are based on the author's opinion and experience and should not be considered professional financial investment advice. The ideas and strategies should never be used without first assessing your own personal and financial situation, or without consulting a financial professional. Thoughts and opinions will also change from time to time as more information is accumulated. PDSnet reserves the right to delete any comment or opinion for any reason.
Share this article: