7 July 2021
By PDSNET
America
The US inflation rate rose to 5% in May 2021 – up from April's 4,2% and March's 2,6%. At the same time, there is evidence that employee costs (i.e. wages) are rising at the rate of 2,8% on average. Employees are also changing jobs more rapidly with the "quit rate" rising to 2,7%. This shows that employees are moving for higher salaries more frequently. Obviously, as the US economy again approaches full employment, there is bound to be upward pressure on wages. The US Federal Reserve Bank has said that the rise in inflation will be temporary and this view is also held by President Biden. Despite this position, the Fed said on 17th June 2021 that it would begin raising rates in 2023 instead of 2024 (as previously proposed) and this more hawkish stance caused the S&P500 to come off and the rand to weaken.
The June non-farm payroll figures showed that the US economy is rebounding rapidly. The economy added a massive 850 000 new jobs in June month – which compares with 559 000 in May and well above the average economist forecast, which was 720 000. Retail sales are now expected to rise by between 10,5% and 13,5% this year as Americans resume spending with a vengeance. Average hourly wages also rose by 3,7% in June month, year on year. All of these economic indicators show an economy that is growing strongly and which will increasingly show signs of rising inflation.
In our opinion, the current rise in US inflation is ominous and could presage a period of higher inflation and rising interest rates in that country. Obviously, rising interest rates are perceived as being bad for shares and would have a negative impact on the S&P500, probably taking it into a major correction. So, once again, we draw your attention to the probability of a major correction in the 10% to 20% range – and we suggest that when such a correction occurs, despite the inevitable mouthing's of the doom-sayers, it will almost certainly not presage the end of this great bull trend, but will instead offer a buying opportunity.
While on the subject of doomsayers, you may recall that on 25th January 2021 we ran an article entitled "The Elimination of the Bears" in which we drew attention to a number of prominent and widely-followed "experts" who were all saying that markets (and the S&P500 index in particular) were dangerously high and advising investors to liquidate their equity positions in anticipation of a major bear trend. You will note that these "experts" have all disappeared as the S&P continues to scale new heights and sets new records. They have been discredited by their own predictions – and they have been replaced by a new batch of bears who are now staking their reputations on dire warnings of the top of the market. The ranks of the doomsayers have, however, been severely thinned out and fewer of them are now willing to take the risk as the process of "bear elimination" continues. While you still see people willing to say publicly that the market has reached its peak and is about to tumble, you can be fairly confident that the bull market will continue. When they disappear completely, that is the time to become worried.
At the moment the fears of rising inflation are being overwhelmed by a general bullishness on the economy, which is being further fueled by the rapid roll-out of vaccinations under the Biden administration. The S&P is now trading at an average historical P:E of 46,24 with the forward P:E, based on earnings projections, of 21,7. Certainly this is on the high side, but it has not yet reached the place where company earnings have completely lost touch with their ability to produce profits. With about 25% of S&P500 companies having reported results for the first quarter of 2021, the average increase in earnings is an impressive 23,6% above estimates. Clearly, investors believe that earnings will continue to out-perform economists' estimates by a wide margin. Consider the chart of the S&P500: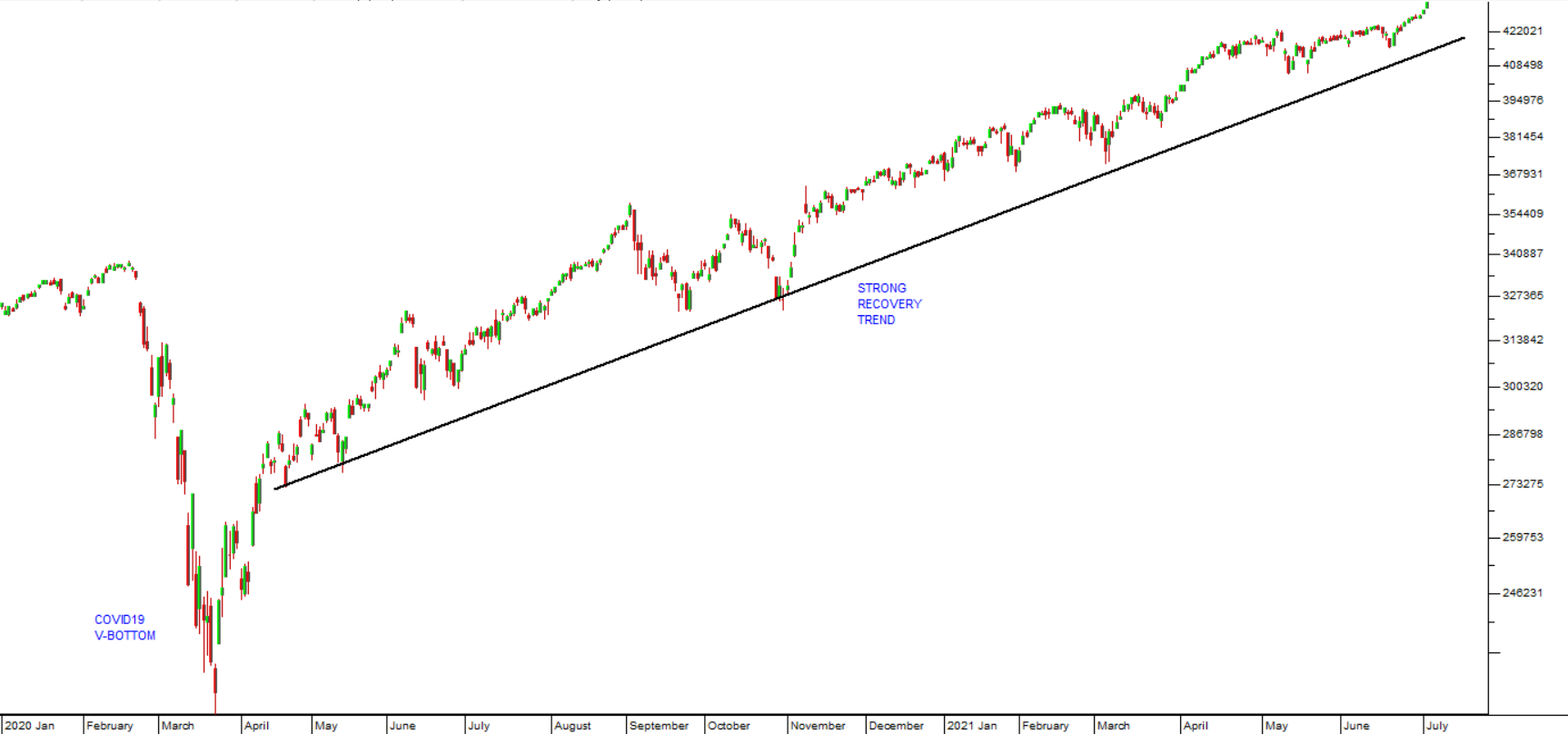 You can see here that following the V-bottom as a result of COVID-19, the market has been in a strong upward trend. Driven by massive monetary stimulation and fiscal stimulation the US economy is rebounding and is expected to continue growing at pace for at least the next 18 months. As you would expect, this growth is being reflected in the estimated sales and profits of S&P500 companies. Overall, revenue is expected to rise by 19,5% in 2021 while earnings are expected to rise by 62,8%. Obviously, that is off the low base of 2020, but it shows that the largest companies in the world are growing rapidly and have recovered strongly from the impact of the pandemic.
The rapid rise of the S&P500 to a new record high has two major implications for our economy and stock market:
Firstly, it signals a powerful return to "

risk-on

" which means that international investors will be looking to take their money out of the low-

yielding

government

bonds

of

first world

countries and place it into high-yielding

emerging market

paper. Shares on the

JSE

are also now attracting considerable overseas interest.
In addition, the rising S&P signals that the

world economy

is moving into a period of unprecedented growth (which we have long predicted). This, in turn, means that the

commodity

boom

is likely to continue and even increase - which is immensely good for our economy and will result in rising levels of employment, falling inflation and a rapid improvement of our government's

balance sheet

as tax collections exceed

budget

.
Politics
The sentencing of Jacob Zuma by the Constitutional Court is undoubtedly a turning point in the history of the "new" South Africa. It is a decision by the highest court in the land to follow the path of order and the rule of law rather than chaos and corruption. Zuma's belated application to have the Court review his sentence is likely to fall on deaf ears and is most probably only being entertained because the Court wants to be seen to be giving him every opportunity to put his position. It is clear that President Ramaphosa now feels confident enough of his support within the ANC to take on and deal with his opposition in the form of Zuma, Ace Magashule and other elements of the Zuma camp. This is good news for the South African economy, for the rand and for our share market. Blue chip shares trading on the JSE and the rand have been discounting a considerable amount of political risk, which is now starting to dissipate. Our shares are now widely perceived by international investors as being relatively cheap among emerging market equities and our currency remains the world's favourite and best-performing emerging market currency. The high real interest rates on our government bonds are attracting constant overseas investment.
Economy
The explosion of COVID-19 cases in Gauteng over the past few weeks probably means that the province is approaching the peak of the third wave. With South Africa reporting a record 26 000 cases in early July 2021, hospitals are rapidly filling up and there is the potential for them to overflow. The move to a "hard" level 4 lockdown is negative, but the measures which have been implemented are not likely to have a major impact on the broader economy. Specific sectors like the liquor industry, tourism and restaurants will bear the brunt, but the rest of the economy should continue to perform well. It seems likely that the "wave" is at or close to its peak, and hopefully no further lockdown measures will be required. The National Economic Development and Labour Council (NEDLAC) is working on a plan to provide support for those industries which are worst affected, probably in the form of further payments from the Temporary Employee/Employer Relief Fund (TERS) through the Unemployment Insurance Fund (UIF). Notably, Monte Casino has decided to close completely for the full two weeks of the level 4 restrictions.
The decision by the President to allow companies to produce power up to 100MW without a licence is momentous. It will change the South African economy dramatically over the next few years as more and more businesses seek to get away from Eskom's expensive and unreliable electricity. It is also probably the long-term death-knell for Eskom because they will now lose customers at a rapid rate. The first evidence of this is Harmony Gold Mine's decision to expand their renewable energy build to 100MW and then later to add a further 120MW which could be sold into the national grid. The decision indicates that Ramaphosa feels more secure within the ANC now that Magashule has been effectively eliminated and Zuma is facing imprisonment. For the economy it means that load-shedding will gradually cease to be a major factor and it means a massive release of capital and substantial job creation in the renewables sector. Over time, it will have an enormous impact on the country's growth potential. It has been suggested that as much as 5 gigawatts of power is available in the private sector, just waiting for approval and up to 15 gigawatts could be produced privately over the next decade. We should see a rapid deployment of capital into this area over the next 18 months. It is unfortunate that this decision could not have been taken earlier because that would have enabled us to benefit more from the commodity boom – but better late than never.
The first quarter's current account surplus of R267bn shows the impact of the recovering world economy on South Africa's commodity exports. A rising current account surplus has caused the rand to strengthen rapidly against first-world currencies this year and shows that the country is "running at a profit". The surplus was 35% greater than the R198bn surplus in the last quarter of 2020 and it is expected to continue as world economic growth accelerates. In our view, the South African economy is once again being rescued by commodities – which is nothing new and has been the pattern for many decades. In the past, all economic recoveries in this country have been export-led. Global banking group, HSBC, is predicting that the SA economy will grow at 4,9% this year and that the trade surplus will be 6,1% of GDP due to the on-going boom in commodity prices. Commodities account for 45% of SA's exports. HSBC also predicts that SA will have an inflation rate of 4,4% this year and 4,6% in 2022.
The official unemployment rate was virtually unchanged in the first quarter of 2021 – which probably means that it has reached its highest level at 32,6%. Much of that unemployment is structural in that it reflects the fact that South Africa's employment legislation is heavily skewed in favour of the employee and against the employer. This makes businesses reluctant to take on new staff because, once taken on, they can be very difficult to get rid of if they turn out to be unsuitable. It is estimated that South Africa lost about 1 million jobs during the pandemic. Obviously, it will take a few years for the economy to recover from that and some sections of the economy may never return to what they were, but the economy as a whole is recovering much more quickly than was expected. The first quarter saw GDP growth of 4,6% - considerably higher than the average forecast of economists which was 3,2%. This is a further vindication of our initial forecast last year that the recovery would be considerably faster than was generally anticipated. The main contributor was once again the mining sector which is riding a wave of rising prices due to the recovery of the world economy. It now seems possible that the South African economy will have growth of at least 5% this year unless load-shedding or the third wave of the pandemic become a major impediment.
The third wave of the pandemic has gained considerable momentum and is beginning to impact the economy as businesses and consumers prepare for further possible lockdowns. Experts are saying that this wave could easily be worse than the previous two waves – although so far the death rate has remained relatively subdued. In our view, this third wave will tend to have less impact on the economy for three reasons:
The South African population probably already has a relatively high herd immunity because of the previous two waves,
Businesses and consumers will not be taken by surprise and have had time to prepare and,
The roll-out of vaccinations is gaining momentum with increasing numbers of people being vaccinated daily.
The jump in the May consumer price index (CPI) to 5,2% from April's 4,4% is concerning. It is mostly a result of the abnormally low levels in 2020 – in other words, so-called "base effects". For this reason, it has not resulted in any change in the monetary policy committee's (MPC) position on interest rates - which is that they are unlikely to be raised this year and probably through the first half of next year. The cost of fuel is a major contributor because the petrol price is now up 42% from last May's unusually low levels. The CPI most probably reached its highest level in May 2021 and should fall from here as the "base effects" of 2020 are eliminated.
One of the most significant impacts of COVID-19 in 2020 was the sharp rise in government debt. The total government debt reached almost 79% of GDP, up from just over 63% in the previous year (but well below the 90% which was feared). This has obviously forced the government to borrow far more on capital markets which, in turn, has meant that capital has been taken away from other applications, especially business. It also means that the interest cost of carrying that debt has risen sharply – to the point where it is now the largest single expense item in the government's budget. Nearly R1 in every R5 of government revenue is now being used just to pay the interest on the debt. This leaves less for other expenses like health and education. The ratings agencies have constantly warned that this situation is unsustainable and have down-graded South Africa to several notches below investment grade. Luckily for South Africa, this rise in government debt has been accompanied by a rise in commodity prices since 2016 which has provided considerable relief as tax revenue has been boosted. These surpluses from the mining industry are expected to continue, and hopefully they will be used to bring the government debt down to more reasonable levels.
The Rand
The sudden weakening of the rand over the past month to over R14 to the US dollar has been caused by two factors:
The US Federal Reserve Bank suddenly taking a more hawkish stance on monetary policy. The Fed said that they now intend to raise rates in 2023 instead of as previously suggested in 2024. This change in stance spooked the S&P500 and resulted in a shift in investor

sentiment

towards

risk-off

. Obviously, this impacted on emerging market currencies and the rand, as the most heavily traded emerging market currency, was the worst affected. We see this as a temporary phenomenon which will probably dissipate over the next few weeks. The constant flow of strong results from S&P500 companies and the bullish news on the US economy will almost certainly result in a shift back to risk-on in the not-too-distant future.
The sentencing of ex-president Jacob Zuma to 15 months in prison, is a victory for reform in South Africa, but it clearly carries the risk that Zuma will resist arrest. That risk is impacting negatively on the rand as international investors wait to see how the situation will play out. There is some concern that Zuma will not comply with the Constitutional Court's order and that some kind of civil unrest will result. In our opinion, Zuma has lost much of the support that he once enjoyed, while Ramaphosa's support has increased. So, we do not see a significant resistance and believe that the rand's weakness will be short-lived.
Consider the chart: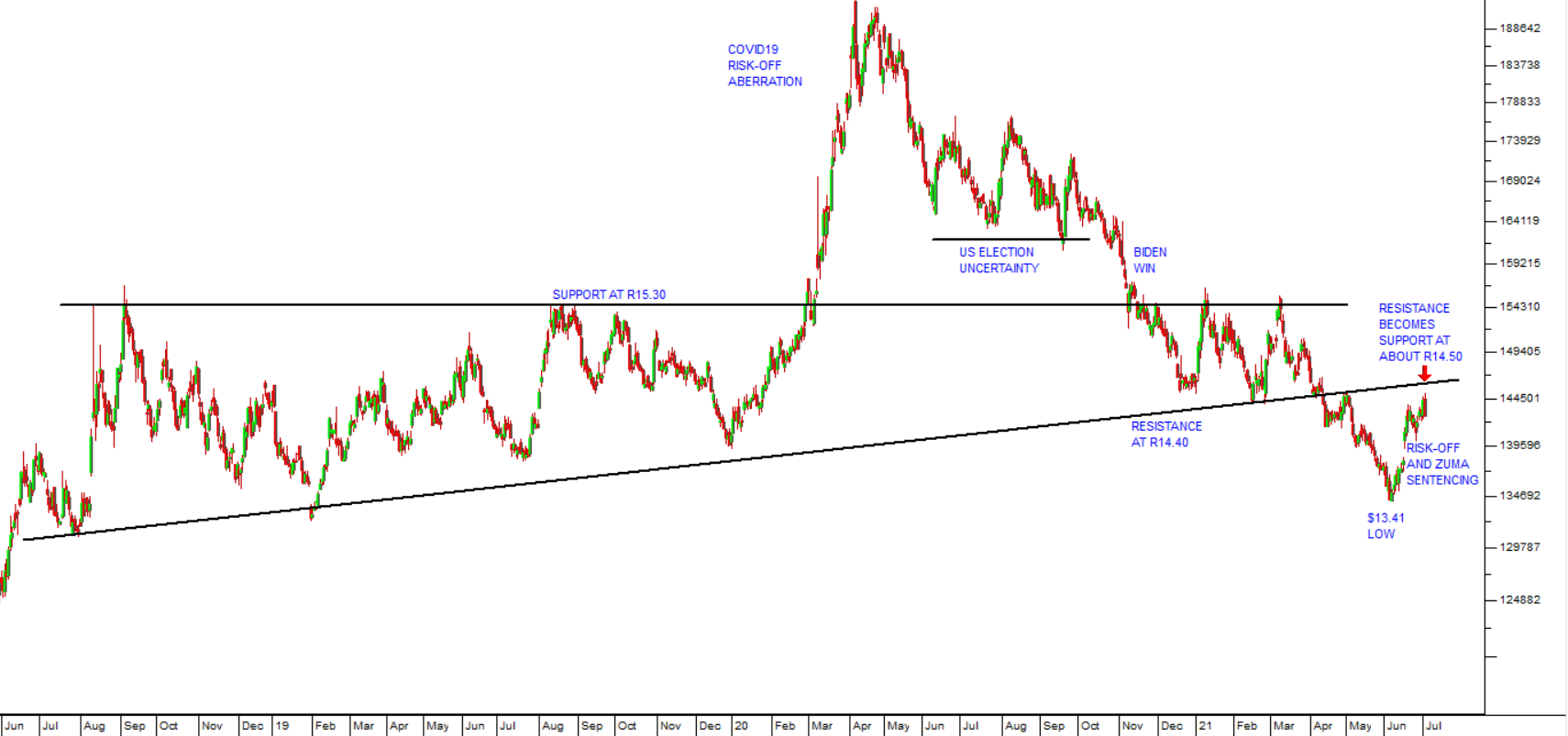 Here you can see the underlying support level for the rand (at about R15.30 to the US dollar) which was broken decisively by the shift to risk-on associated with the "black swan" event of the pandemic. Its return to below that support level was then delayed by the drama of the recent US elections. When they were over, it strengthened to the resistance level at R14.40 to the US dollar, and, when that was broken, to new low levels around R13.41. That was a month ago at the time of the last Confidential Report. Since then, the two major factors discussed above have pushed the rand down against first world currencies.
It is now hovering around R14.50 to the US dollar. So, what was previously a resistance level has become a support level. As risk-off turns to risk-on and fears that Zuma's predicament will inspire major resistance dissipate, we expect the rand to strengthen back towards that low point at R13.41 – and even beyond it.
This belief is based on the idea that South Africa is rapidly becoming the "flavour of the month" among international investors. The combination of the boom in commodity prices and the increasingly strong political position of President Ramaphosa is likely to result in a flood of new investment into the country resulting in a stronger rand.
Eskom
Of course, the big news for Eskom this month is President Ramaphosa's surprise decision to raise the licence threshold for distributed power generation to 100MW. The "benefit" is likely to be a reduced demand for Eskom's electricity. Initially this should result in less strain on the overloaded national grid and hence less load-shedding. In the longer term, as more and more businesses and consumers move away from Eskom, the company's viability will be in question. How can it survive when renewables are now estimated to result in a cost of less than 50c per kilowatt hour (KWH) whilst Eskom's cost is currently running at over R1.60 per KWH? Clearly the power generation aspect of Eskom is going to rapidly evaporate and it will be left with the sole function of managing the national grid. It will be buying power from those who produce it and delivering that power to those who want it, but it itself will no longer be a power producer.
By declaring a dispute in its negotiations with the unions, Eskom has effectively taken the initiative. It is saying that the 1,5% increase which it offered is the best that it can manage and the matter must now be referred either to the Commission for Conciliation Mediation and Arbitration (CCMA) or to the labour court for a decision. Our feeling is that unions were taken by surprise by the move and are scrambling to come up with an appropriate response. In any event is should not be difficult for Eskom to argue that it simply cannot afford the union demands of between 9,5% and 12% because it has R401bn of debt and is being sustained by government handouts. Our feeling is that the unions do not have the power or the leadership which they used to have and the time is right for the government to stand up to them.
It is notable that Eskom is trying to formulate a plan to become carbon-neutral by 2050 as a mechanism for raising international capital. To this end it is proposing that international financiers provide it with $10bn (over R140bn) to move away from coal-fired power stations and into renewables. There is considerable support for this type of finance internationally because South Africa remains one of the world's largest producers of carbon dioxide. The finance would enable Eskom to manage its huge debt pile more effectively and thus reduce the pressure on government finances. It is apparent that South Africa could easily lose its ability to export to overseas countries unless it cleans up its carbon footprint. The EU is planning to raise stiff tariffs on imports from countries with a high carbon footprint with immediate effect. The move to renewables, especially solar and wind, now seems to be both inevitable and unavoidable.
General
The experts are now advising that the elections which were slated for later this year should only be held until at least a month after the country gets to the point where 80% of people have been vaccinated. Given the relatively slow roll-out of the vaccines, this means that the date in late October 2021 is virtually impossible. The pattern of the pandemic appears to be that waves are coming at roughly six-month intervals. On this basis, the next wave may well be beginning at the end of October. Postponing the elections until 2022 now seems inevitable. We do not expect that the political ramifications of such a postponement to be significant. We believe that by then President Ramaphosa's reform process will be further advanced and his support will probably be greater next year than it is at present.
The on-going rampant vandalism and cable theft on Transnet's railway lines, which results in the derailment of 30% of their trains each week, is impacting directly on South Africa's ability to get its mineral exports to port. This became apparent in Exxaro's recent report on the six months to 30th June 2021 when it said that its export volumes were reduced by around 10% mainly because of Transnet's inability to carry its production to port. In the face of strong demand for its commodity (coal), Exxaro has been unable to take advantage of high prices. Clearly, the police in South Africa are having almost no impact on this type of crime which continues unabated. Respect for the rule of law has reached an all-time low with ex-president Zuma's flaunting of the Constitutional Court. Hopefully, now that he has been sentenced South Africa can begin to return to being a more law-abiding society.
The decision by Rio Tinto, one of the world's largest mining companies, to close Richards Bay Minerals (RBM) following the fatal shooting of its manager and further acts of violence, theft and vandalism is a massive blow to the economy of that area. RBM employed 5000 people directly in the Richards Bay area and its closure will probably impact as many as 20000 people's livelihoods. This event has added to the international perception that South Africa is slipping towards being a "failed state" where crime and violence are running rampant with the authorities seemingly helpless to intervene. Obviously, this has a direct impact on foreign direct investment (FDI) into this country. Natal is seen as being the most lawless province in the country.
The South African Reserve Bank received a rare accolade from the International Monetary Fund (IMF) when its MD said that it "has been a role model of independence, professionalism and integrity". We have long said that the current governor, Lesetja Kganyago, and the governors who served before him, by their refusal to debase the currency, have protected and preserved the economy through many crises since the ANC took power in 1994. Had they succumbed to the pressure to inflate the currency, our economy would have descended into chaos in a similar manner to that of Zimbabwe. There is no doubt that Kganyago's refusal to engage in so-called "quantitative easing" (Q/E) has resulted in the country maintaining and even reducing the inflation rate through the COVID-19 crisis. The low inflation rate has enabled interest rates to remain at the ultra-low levels which are now the primary driver of our recovery, together with the boom in commodity prices.
The prohibition by the Competition Commission of the R570m sale of Grand Parade's stake in Burger King to the Emerging Capital Partners Africa Fund (ECP) on the grounds that ECP had no previously disadvantaged people or workers among its shareholders shows the negative impact which affirmative action is still having on the economy. It is a classic case of "cutting off your nose to spite your face" because 68% of the GPI investors who would have benefited from this transaction are "historically disadvantaged". The Competition Commission has moved outside its normal role of ensuring fair competition and is getting involved in affirmative action objectives. This is having a negative impact on overseas perceptions of doing business in South Africa. Grand Parade's shares immediately fell on the news. Now it will have to look for a more politically correct buyer. Clearly, there is an economic cost to pushing affirmative action objectives of this sort because they make it less attractive to invest in South Africa – which flies in the face of President Ramaphosa's efforts to attract foreign direct investment (FDI).
Can we really begin to become optimistic about the Road Accident Fund (RAF)? The minister of transport, Fikile Mbalula, reported to parliament that the RAF had actually generated a surplus of R3,2bn in the year to 31st March 2021 compared with a loss of R5,2bn in the previous year. Mbalula says that administrative costs had been cut by R7bn and finance costs by R173m. The fund has benefited from lower interest rates in the post-COVID-19 period. The fund also reduced its liabilities from R330bn to R305bn due to an accounting change sanctioned by the accounting firm PwC. The RAF receives more than R43bn a year from the tax on petrol and diesel and has administrative costs of R17bn, R10,6bn of which is legal fees. Mbalula says that the fund has "turned the corner" - but we feel it needs to perform for a few more years before we will be convinced.
The newly-appointed Auditor General has produced a scathing report on the performance of South Africa's 257 municipalities. Only 27 (10,5%) of them managed to get clean audits and almost half of them demonstrated financial strain. The situation has deteriorated since the last audit and is leading to poor service delivery in many areas. Fruitless and wasteful expenditure reached almost R3,5bn and irregular expenditure was R26bn. Municipalities were largely ignoring the admonitions of the Auditor General and the Municipal Finance and Management Act. Only 28% of municipalities were able to submit financial statements. In addition to this, the municipalities had approximately R230bn of consumer debt on their books collectively, as much as 63% of which may be uncollectible. Clearly, the melt-down at municipal level has been one of the "new" South Africa's greatest and most pervasive failures. Municipalities in many areas have been unable to provide basic services like water and electricity to factories in their area leading to their closure or relocation. This is the case with Clover, which is moving its cheese factory to Durban (eThekwini) from Standerton (Lekwa). Neal Froneman has been very vocal on the issue of a lack of service delivery in the areas where Sibanye operates. The lack of functionality at municipal level combined with the recently announced increase in the threshold of distributed generation of electricity to 100MW is resulting in many companies deciding to make themselves independent of local municipalities of both water and electricity. This will make the municipalities even less viable, but it will have a positive impact on the economy.
Commodities
The CEO of the Minerals Council of South Africa, Roger Baxter, pointed out the differences between South Africa and Botswana as far as obtaining mineral rights is concerned. In South Africa it takes an average of 245 days to get a prospecting right and 355 days to get a mining right. This compares with Botswana where it takes 40 days to get a prospecting right and 20 days to get a mining right. At the moment, there is a backlog of 5326 mining and prospecting rights which have not yet been processed. The Minister of Mineral Resources and Energy, Gwede Mantashe, himself describes the system for obtaining these permits as "a nightmare". Clearly, South Africa cannot hope to maximise the benefit of its very considerable mineral resources until we sort out this mess. Given that tax revenue from commodities is major factor in reducing the government's debt we should be doing everything possible to encourage new mining projects. Notably, Mantashe is now in his 4th year as Minister of Mineral Resources and Energy. He has had plenty of time to fix these problems. His competence and motivation must therefore be in question.
Gold is the ultimate store of value for investors. It holds its in value in purchasing power terms against paper currencies and it forms a major part of central bank reserves worldwide. The impact of COVID-19 on gold mining was initially to reduce production as mines were closed during lockdown. Gold supply fell by 2,5% in 2020, but has since ramped up. At the same time, the massive increase in monetary policy stimulation throughout the world as a result of the pandemic means that paper currencies were and continue to be substantially debased. Central banks have once again been engaging in quantitative easing (Q/E) to stimulate economic recovery after the pandemic. Ultimately, this must be reflected in a rising gold price. The rand price of gold is also impacted by the rand which has been getting stronger since April 2020. We expect the gold price to remain strong in dollars and we expect further strength in the rand against the dollar. The upshot will probably be a relatively stable rand gold price. Of course, South Africa is no longer a major player in the gold market having produced under 100 tons last year, its lowest production since the early 1900's.
The Bank of America' forecast that the oil price will soon rise above $100 a barrel is interesting. It shows huge bullishness on world economic recovery and the demand for commodities generally. The oil price has been climbing with North Sea Brent reaching $76 after breaking above resistance at $69. Consider the chart: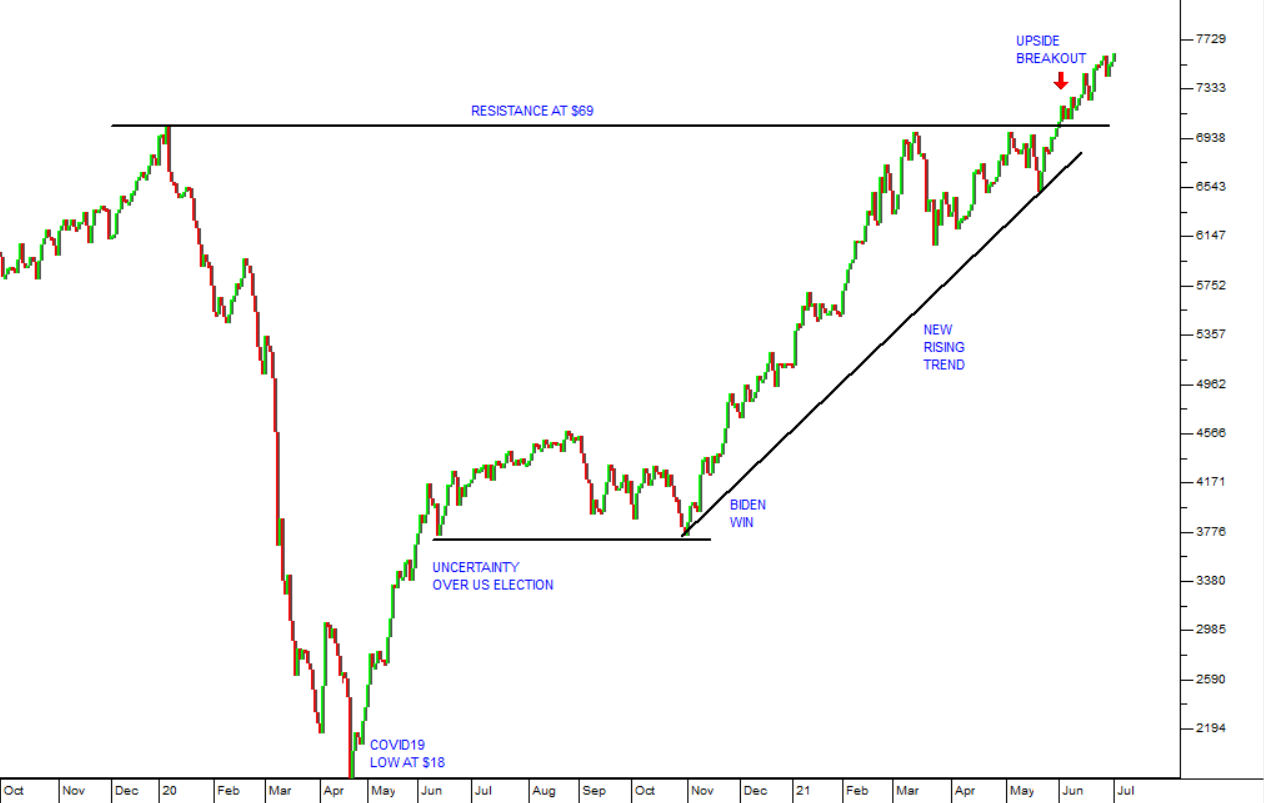 As the world economy reacts to massive post-COVID-19 stimulation, we can expect to see boom conditions prevail. This will increase the demand for motor vehicles and oil across the board. Almost every product in the world either contains oil-based components or uses an oil-fired engine to transport it to its final destination. It is clear that American consumers are beginning to spend much more heavily, working their way through their accumulated savings and now taking advantage of ultra-cheap debt. This pattern supports our long-held contention that the S&P500 index will continue to rise to new record levels and drag the other stock markets of the world up with it.
Companies
THUNGELA (TGA)
Thungela is Anglo American's coal assets which have been unbundled into the hands of Anglo shareholders and separately listed on the JSE and the LSE, because of Anglo's policy of moving away from carbon-based fossil fuels like coal. Thungela is a major thermal coal exporter in South Africa. It has over 7500 employees and exports coal to Asia, India, SEA, and East and North African countries. The company owns 50% of Phola, which operates a coal processing plant, and it has a 23,22% interest in the Richards Bay Coal Terminal (RBCT). The company has the capacity to produce over 90m tons of coal per annum. Thungela operates 7 mines in South Africa, 4 open cast and 3 underground operations. The share began trading on 7th June 2021 and immediately fell to 2190c from its 2600c pre-listing price. Since then it has moved up steadily. Consider the chart: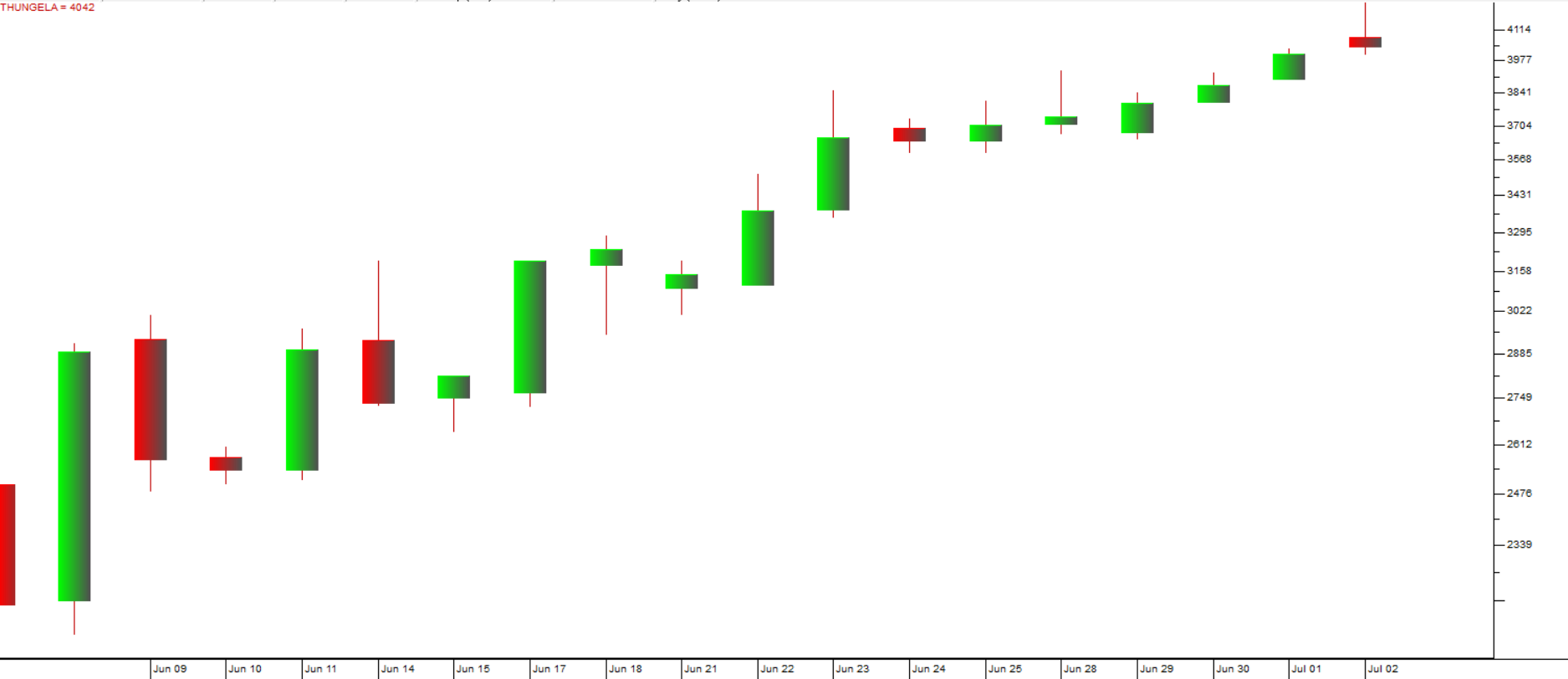 It was originally estimated to be worth a minimum of R44 but is trading for less than that. In our view, if you put aside the prejudice of owning a fossil fuel producer, this share is probably cheap and it should recover once the initial selling by Anglo shareholders who don't want to own coal assets is done.
AVENG (AEG)
This once-massive construction company has been forced to completely re-invent itself. It has sold off non-core assets, conducted a rights issue and repaid debt. Now it consists of two operations, both of which are profitable – Moolmans, a mining contractor operating in South Africa, and McConnel Dowell, a construction company operating in Australia. The share now has a net asset value of 9,45c and a share price of 4c – which potentially offers the private investor a speculative opportunity. We believe that the company will have to conduct a share consolidation at some point. In a pre-close update on the 30th of June 2021, the company said, "The Group's positive performance has continued into the second half of the financial year with improved revenue and earnings before interest and tax ("EBIT") and whilst cash flow was negative, in line with plans for the second half, it remains strongly positive for both the full year and in comparison to the prior year". Aveng appears to have returned to profitability. A risky, but potentially profitable penny stock... We see it as cheap at 4c.
ARCELORMITTAL (ACL)
ArcelorMittal (ACL) is South Africa's largest steel producing company. It has survived where companies like Highveld Steel and others have disappeared. It has had to deal with the collapse of the construction industry locally, which was a major consumer of steel, and the massive imports of cheap Chinese steel which were dumped onto our market. In a trading statement for the six months to the 30th of June 2021, the company estimated that it would make headline earnings per share (HEPS) of 176c compared with a loss of 239c in the previous period. Clearly, the share price is rising in tandem with the rising steel prices. The share reached an all-time high of R253 in June 2008 before collapsing to as little as 25c in July last year. Since then, it has staged a remarkable recovery and now trades for 526c. The share is in a strong new upward trend which looks like it may continue. It is dependent on a general recovery in the South African economy. We are positive on its prospects. Consider the chart: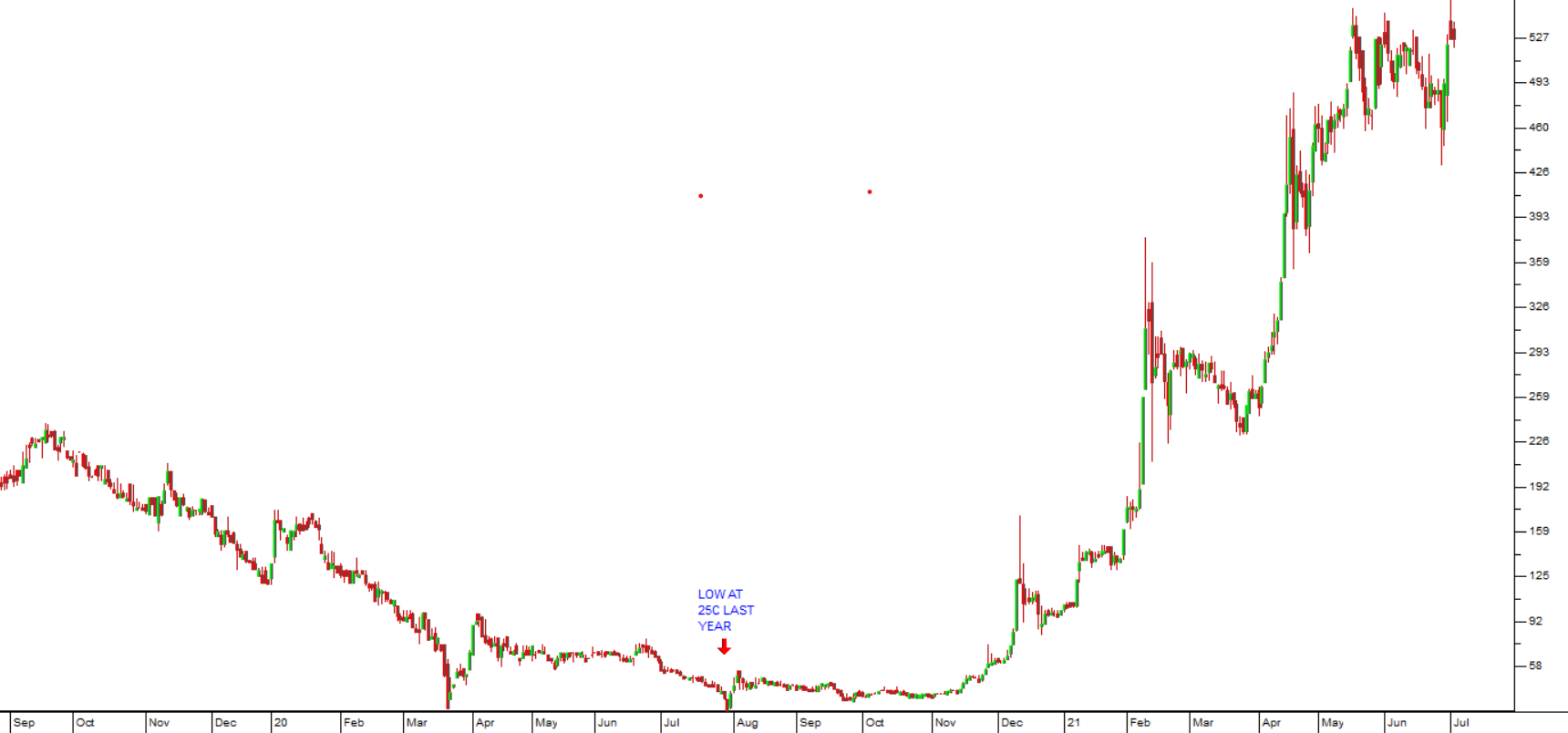 ASPEN (APN)
Aspen is a massive international pharmaceutical company. On the 2nd of November 2020, the company announced that it had been selected by Johnson & Johnson to manufacture the "investigational" COVID-19 vaccine. The vaccine will be produced at its Gqeberha (Port Elizabeth) factory into which it has invested R3bn. On a P:E of 13,5 this blue-chip, rand hedge looks cheap to us. Consider the chart: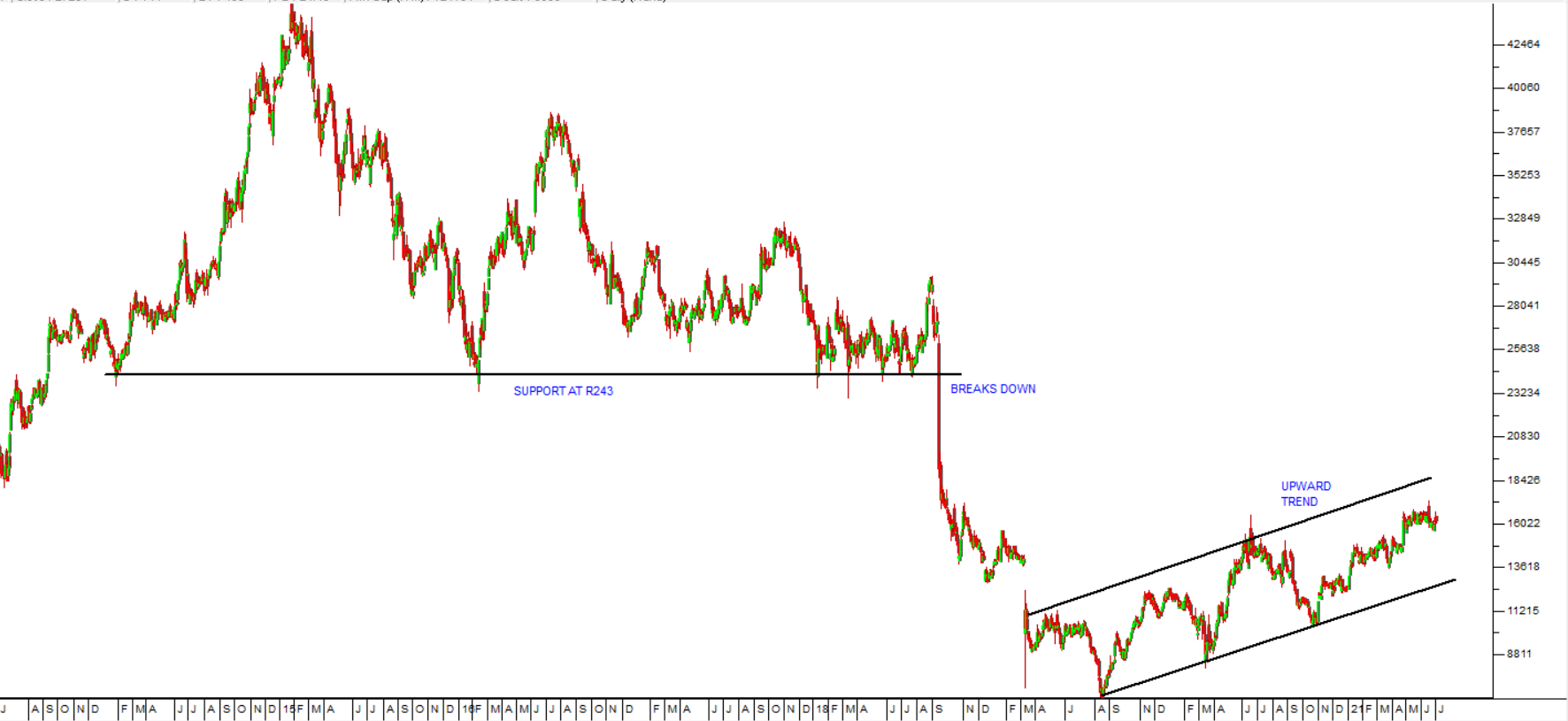 You can see here that Aspen has fallen from a high of R438 in January 2015 to a low of R68 in August 2019. Since that low, however, it has been trending up steadily. It looks to us as though it still has some distance to go.
ETION (ETO)
This is a small technology company which specialises in "original design manufacturing, safety and productivity solutions, digital network solutions and cyber-security solutions". In its results for the year to the 31st of March 2021 the company reported revenue up 20% and headline earnings per share (HEPS) of 9,32c compared with a loss of 0,87c in the previous year. These earnings put it on a P:E of 4,5 – which looks really cheap to us. The share is fairly thinly traded but has about R90 000 worth of shares changing hands each day. It reached a high point in January 2017 of 174c but fell to a low of 7c in March last year. Since then, it has been recovering steadily. Consider the chart: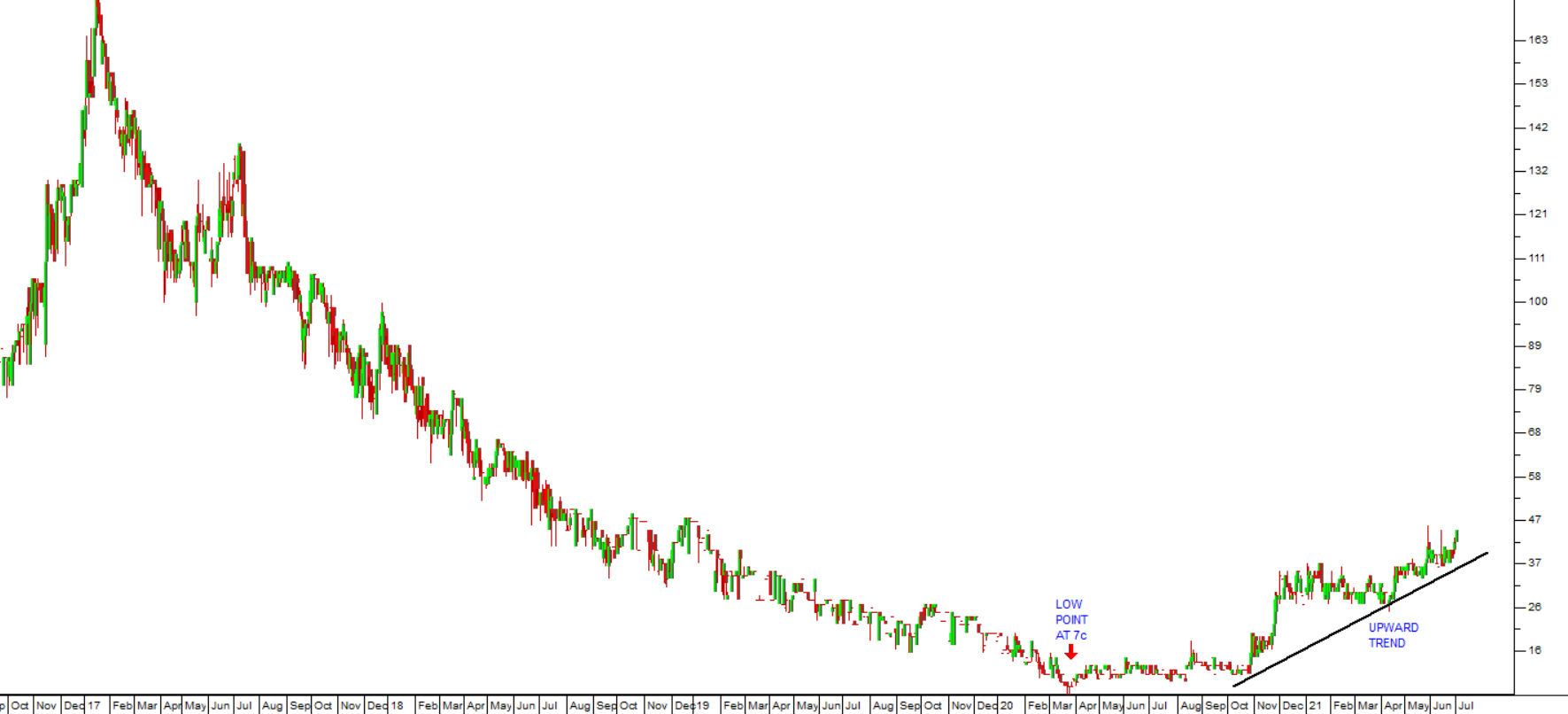 RCL (RCL)
RCL is a large producer of food, sugar products and chicken in South Africa which is owned 76,6% by Remgro. The company owns a number of very well-known South African brands such as 5 Star maize meal, Farmer Brown and Yum Yum peanut butter. The economic recession in South Africa, compounded by COVID-19 has seen the share fall from highs of R180 in March 2018 to 580c in September 2020. In its results for the six months to 31st December 2020 the company reported revenue up 10,5% and headline earnings per share (HEPS) up 12%. Consider the chart: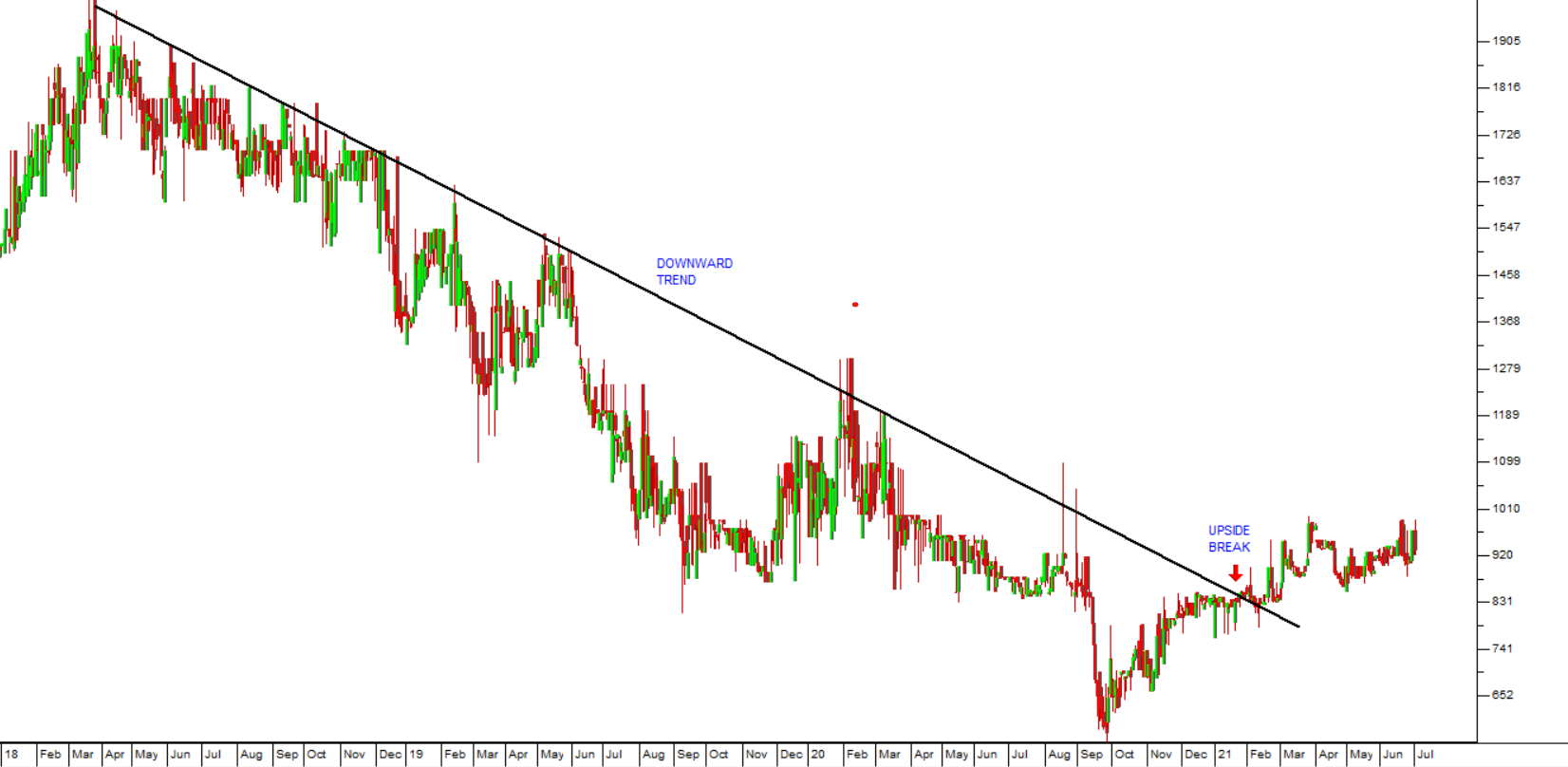 After completing an "island formation" the share has been trending up. We believe that it will continue to rise.
DISCLAIMER
All information and data contained within the PDSnet Articles is for informational purposes only. PDSnet makes no representations as to the accuracy, completeness, suitability, or validity, of any information, and shall not be liable for any errors, omissions, or any losses, injuries, or damages arising from its display or use. Information in the PDSnet Articles are based on the author's opinion and experience and should not be considered professional financial investment advice. The ideas and strategies should never be used without first assessing your own personal and financial situation, or without consulting a financial professional. Thoughts and opinions will also change from time to time as more information is accumulated. PDSnet reserves the right to delete any comment or opinion for any reason.
Share this article: