03
Jul
---
US Economy
The US economy has been expanding for 121 months – a new all-time record. This persistent growth over such a long period of time has seen the unemployment rate drop to just 3,6% – its lowest level since the 1960's. And that growth is being followed by a strong bull trend on the S&P500 which is now in its 11th year (it started in March 2009). Economists in America are asking questions:
How long can this go on?

With unemployment so low, why is inflation below 2% (it was 1,8% in May)?
Economic theory says that once the economy reaches "full employment", usually defined as somewhere when the unemployment rate drops to between 4% and 5%, then wages will begin to rise leading to inflation. But the average wage in America is remaining stubbornly low. Economists are at a loss to explain.
In our opinion there are two reasons for the persistently low inflation rate – the first is that the oil price dropped sharply in the second half of 2014 and it is still about half of what it was in 2012.
The second reason is fear. Consumers and businesses are not yet ready to really begin spending. They are still sitting on cash, not quite believing that the "Great Recession" which began in 2008 with the sub-prime crisis, is over. Ordinary people in America and elsewhere have not yet forgotten the scary days which followed the collapse of Lehman Bros. when it became necessary for the Federal Reserve Bank and other central banks to print and inject $12,5 trillion into the world economy to keep it from falling into a deflationary depression.
We have been universally bullish on the S&P500 for years. Every time it fell into a correction (like the one which recently ended) we have asserted that the bull trend was still in place and that markets would recover to make new record highs in due course. And they always have. We believe that this bull trend is only just beginning. We believe that we are on the curved part of the exponential chart where the trend ceases to move very slowly upwards and gains more and more momentum until it is going up almost vertically.
But all the economists are saying that this record boom in the American economy and record bull trend in the S&P500 cannot continue.
Of course, Donald Trump is benefiting directly from the economic boom. If it goes on for another 16 months it will probably have a significant impact on his performance in the US elections next year – even though, in our opinion, Trump has had relatively little to do with what is happening in the economy.
Consider the S&P500 chart over the past ten years: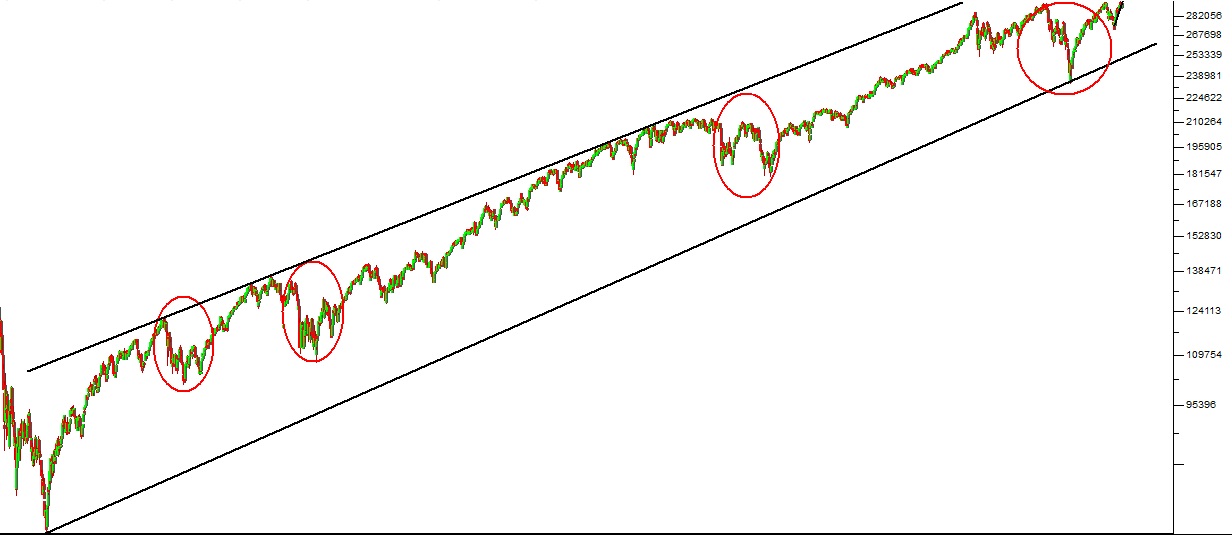 S&P500 Index Semi-Log Chart September 2008 to July 2019 – Chart by ShareFriend Pro (Click to Enlarge Image)
Here you can see the long-term channel in which the S&P has been moving, together with the four major corrections (the red circles). The record high which the S&P made ten days ago at 2954 has been shattered by last night's 1% jump (Tuesday 2-7-2019). This strongly suggests that the bull trend will continue – and it will take all the other markets of the world up with it.
Local Economy
The state of the economy of the country obviously impacts on share prices over time. In this regard, private investors need to consider five inter-linked variables – the inflation rate, the level of interest rates, the money supply, the balance of payments (BOP) and the business cycle. These five factors are alternately impacted by and impact on the strength of the rand against other currencies and especially the US dollar.
The monetary policy committee (MPC) of the South African Reserve Bank (SARB) meets every two months to adjust monetary policy, and especially the level of interest rates, to balance its two opposing objectives of price stability and economic growth. The level of interest rates is alternately increased or decreased to stimulate the economy or reduce inflation. So the MPC is always either putting its foot on the accelerator (dovish policy) or the brake (hawkish policy).
But monetary policy can generally only have a mild impact on the economy over a period of months. It cannot overcome the type of structural problems which are besetting the South African economy. Those structural problems are really three-fold:
The civil service, including the state-owned enterprises (SOE) and municipalities, is far too large, corrupt and very inefficient. This has led to a massive and growing wage bill which this country can no longer afford. It also causes endless bureaucracy which impedes business at every turn.

The labour market is too heavily balanced in favour of employees (i.e. the unions) and against employers (i.e. businesses) with the result that employers avoid employing people at all costs leading to high unemployment.
The level of government indebtedness has become unsustainable – this, of course, includes the debt of municipalities and SOEs. The high debt levels mean that there is now very limited room for programs to provide service delivery or improve infrastructure – which, in turn, is leading to virtually continuous service-delivery protests across the country.
But South Africa has not descended into a "banana republic" – mainly because the Reserve Bank has managed to maintain price stability and avoid any type of significant currency debasement. The MPC has held on to its independence and resisted the temptation to take the easy way out by printing money (euphemistically called "quantitative easing").
In fact, South Africa has managed to bring its average inflation rate down from the upper end of the target range at around 6% to the mid-point of the range at around 4,5%. Under the circumstances, this is an extraordinary achievement – and one which the ratings agencies give us full credit for. The next MPC meeting takes place between the 16th and 18th of July and we expect rates to be cut – maybe by as much as 50 basis points. This has been made more likely by the disastrous 3,2% decrease in GDP in the first quarter.
We are now at the point where reducing interest rates to stimulate growth is again possible and, indeed, desirable. We fully expect the MPC to begin gently stimulating the economy soon, especially if the rand remains stable against the US dollar and other hard currencies. This stimulation will not have an immediate impact, but it will gradually give business and the consumer more breathing space, resulting in increased spending.
Cyril Ramaphosa will have to address and deal effectively with the structural problems mentioned above. Without that, we cannot hope to extract ourselves from the current zero growth situation. And fixing those structural issues is bound to be both unpopular and politically dangerous.
The impact of load-shedding on the economy became frighteningly real with the publication of the GPD figures for the first quarter. The economy shrank by 3,2% against economists' expectation of a 1,5% decline. This single quarter wiped out all the growth from the whole of 2018 at a stroke. Obviously, everything must be done to keep the electricity flowing if we want to have any growth this year at all. The Reserve Bank has already reduced its estimate for 2019 from 1,3% to 1% and we expect it to reduce this estimate even further now. We believe that it is unlikely that the economy will grow much in 2019. Manufacturing contracted by a massive 9% in the first quarter while mining declined by 12,7% – partly because of strike action in the gold sector. The 1st quarter decline in GDP is likely to make an interest rate cut at the next MPC meeting in July.
Foreign direct investment (FDI) is probably the easiest solution to South Africa's immediate economic problems. This explains the President's preoccupation with it at the start of his presidency. It appears that his efforts have been fruitful so far. In 2018, FDI coming into this country more than doubled to about R77bn. This is still a far cry from the $100bn (R1450bn) which Ramaphosa wanted to bring in by 2023 – but it is a start. One factor which is attracting FDI is the steady rise in commodity prices since the beginning of 2016. Hopefully, with the uncertainty of the election behind us, overseas investors will once again see South Africa as an attractive investment destination. The steady decline in the yield on our long bond, the R186, indicates that foreign investors continue to view this country favourably. It also indicates that a rate cut in July is highly likely. Consider the chart: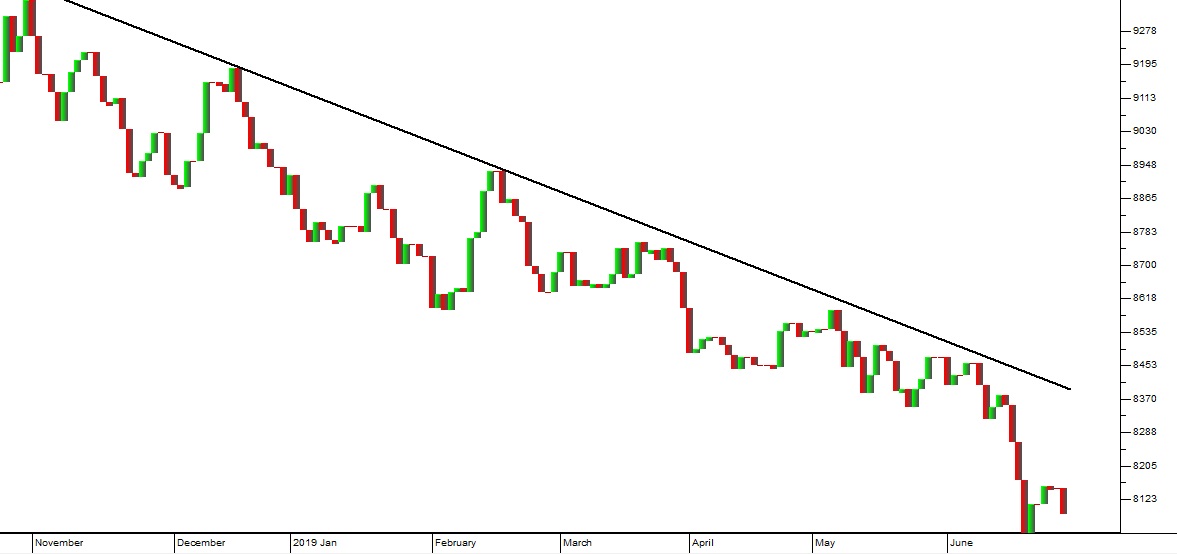 R186 Bond October 2018 to June 2019 – Chart by ShareFriend Pro (Click to Enlarge Image)
Tangible evidence of the parlous state of the economy is the rise in medical scheme lapse rates. Middle class South Africans are finding it increasingly difficult to afford medical cover. The Business Day reported that Discovery and other medical schemes were seeing a sharp fall-off in rate subscriptions. They point out that over the five years to 2018, incomes have increased by only 0,5% after inflation, while the cost of medical aid subscriptions rose by between 5,8% and 10,9%. Hikes in the petrol price, the rise in VAT, overwhelming unemployment and rising electricity costs are forcing more and more middle income families to abandon their medical scheme. Claims inflation is running at 11,3% on average in 2018 and Discovery has increased their subscriptions by 9,4% in 2019.
The decisions by the CEOs of Eskom and SAA, Phakamani Hadebe and Vuyani Jarana, to resign must be seen as a major set-back to current efforts to turn these beleaguered state owned enterprises (SOE) around. In both cases it would appear that they were not given sufficient leeway to implement effectively the changes which they saw as necessary. Hadebe proposed a zero percent salary increase in wage negotiations with Eskom which was then over-ridden by Minister Pravin Gordhan, probably because of its impact on the election. Jarana complained about excessive "red tape" and slow decision-making – which implies that he did not have the degree of control that he needed. It has become clear that for these organisations to be turned around, the CEO must be given autonomy from government interference. The funding problems of these two oganisations are a nightmare for Pravin Gordhan now that both CEOs have left. Now the banks are refusing to negotiate further loans for SAA until the R3,5bn bridging loan is repaid.
The Rand
If you had any doubts about which side the ANC secretary general, Ace Magashule, was on in the ANC, his recent remarks about the Reserve Bank and quantitative easing should have clarified it. Magashule said the Reserve Bank should explore quantitative easing as a method for South Africa to overcome the government's debt problems. The rand is still recovering from these ill-advised remarks. Clearly, he has no concerns about the future of the economy or the strength of the rand against the US dollar. Quantitative easing is simply a euphemism for printing money and it would be the quickest way for South Africa to follow in Zimababwe's footsteps and become a banana republic. Hopefully, the sane heads in the Reserve Bank will put an end to this type of damaging comment.
In his State of the Nation speech, President Ramaphosa consolidated what had been set down in the February 2019 budget. He re-affirmed the independence and mandate of the Reserve Bank to placate international investors and reverse the damage done by Magashula. He said that a large proportion of the R230bn of additional government spending promised in the budget would go to Eskom to stabilise it. He also emphasized reducing the bureaucracy and red tape surrounding business. As a result of his speech, the rand has retraced some of the ground that it lost, indicating that foreign investors believe him. All of this is good for the economy. The elephant in the room which was not addressed remains the excessive size of the civil service and the power of the unions in this country.
The rand is still trying to return within its long-term channel lines. International worries leading up to the election saw it weaken back towards R15 to the US dollar. Following the election which was conducted peacefully and did not result in any major surprises, the rand has been strengthening and is now approaching R14 to the US$. We see this improving trend continuing as the Ramaphosa reforms take hold and as he strengthens his position within the ANC.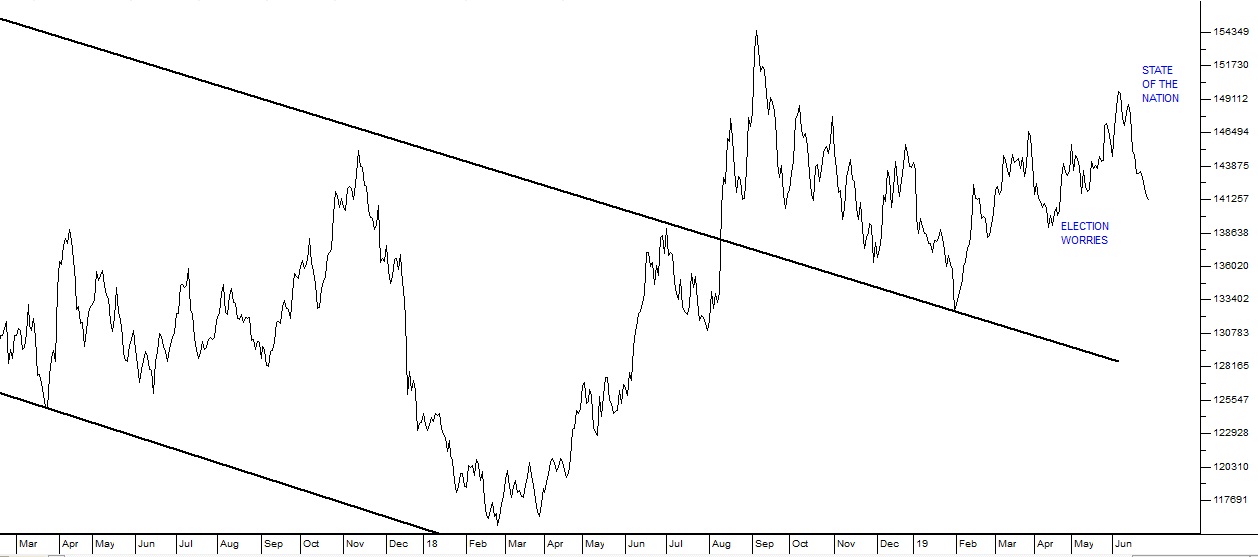 Rand Dollar February 2017 to June 2019 – Chart by ShareFriend Pro (Click to Enlarge Image)
One of the positive outcomes of the stronger rand will be reduced petrol prices, the first of which is coming through now.
General
16,8% or R54,8bn of Eskom's debt is held by the Government Employee Pension Fund (GEPF). This is more than 5 times the next largest debt holder. Now the Public Servants Association (PSA), which has 240 000 members, is urging the GEPF to get rid of its Eskom debt. This would obviously be impossible given the size of that investment, but it shows the pressure that Eskom is under. The Public Investment Corporation (PIC), which manages the GEPF's investments, is a major source of funds for Eskom and there has been a suggestion that it should sell its Naspers shares (worth about R202bn) and invest the proceeds into Eskom debt. The PSA and other unions will have three board members on the PIC board when the new board is appointed – so their influence is certain to be a factor.
The A2X exchange which is the JSE's only real competition has just taken on Nepi Rockcastle with a secondary listing. The CEO, Kevin Brady says that he has the intention of getting listings from all of the top 40 companies within the next two years. He also said that A2X intends to begin offering primary listings soon.
One of the great successes of the South African economy has been the manufacture and export of motor vehicles. In 2018, more than 620 000 vehicles were manufactured in South Africa and more than 60% of them were exported. This industry generates thousands of jobs and is an amazing example of beneficiation. The National Association of Automobile Manufacturers of SA (NAAMSA) has a goal of increasing vehicle production to 800 000 by 2023. The industry faces stiff competition from Morocco which manufactured 300 000 vehicles in 2018. It is much closer to Europe, South Africa's main export destination.
Facebook is launching a new cryptocurrency which it is calling "Libra" in 2020. The difference between this and other digital currencies is that it will be backed by actual assets like government treasury bills and cash. After a collapse in 2018, Bitcoin, the best-known cryptocurrency, has staged an impressive recovery in 2019. The South African Reserve Bank (SARB) is looking to formulate regulations to control cryptocurrencies, but Libra is likely to find support due to its backing by actual assets and well-known international companies like Facebook, Mastercard and Visa. The Libra is likely to be less volatile than other cryptocurrencies because its value will be pegged to the major first-world currencies. In South Africa the Libra will probably be subject to exchange controls. Naspers, through PayU, is a member of the Libra association.
Commodities
Gold is the ultimate hedge currency. Its purchasing power has not really changed significantly throughout the 5000 years of recorded human history. One ounce of gold would buy you roughly the same number of chickens today as it would have bought you in Egypt in 3000 BCE.
So, traditionally, gold is a hedge against the weakness of paper currencies – and indeed of all financial assets. The problem that gold has is that it does not give any kind of return. An investment in gold does not pay rent, interest or dividends and it does not add 10% to its weight every year. For that reason, the most secure financial assets, like the 10-year US treasury bill always seem preferable because at least they have a yield per annum of around 3%.
Over the past ten years, in a desperate effort to overcome the impact of the sub-prime crisis and avert the "great recession" the governments of the world, and especially the US government, have printed and injected more than $12,5 trillion into the world economy (through "quantitative easing"). That additional cash has not resulted in rising world inflation, mainly because of fear and low confidence levels. At the same time, the sharp fall in the oil price in 2014 has kept world inflation at very low levels.
But now, confidence levels are creeping up. The US economy has been generating over 200 000 new jobs every month for some time. Unemployment there is at record lows. Consumers and businesses are beginning to spend the cash that they have been hoarding. They are starting to borrow again. And the oil price has been rising steadily since the beginning of 2016. And now, suddenly, gold is coming back into fashion as an investment hedge.
The JSE gold index, which reached a low of 931 on 17th August 2018, has been climbing and has more than doubled from that low. It is up 40% so far this year. Mining analysts expect that gold mining profits will be up 35% in the current year. The dollar price of gold has broken upwards out of a long-term rising wedge formation. Consider the chart: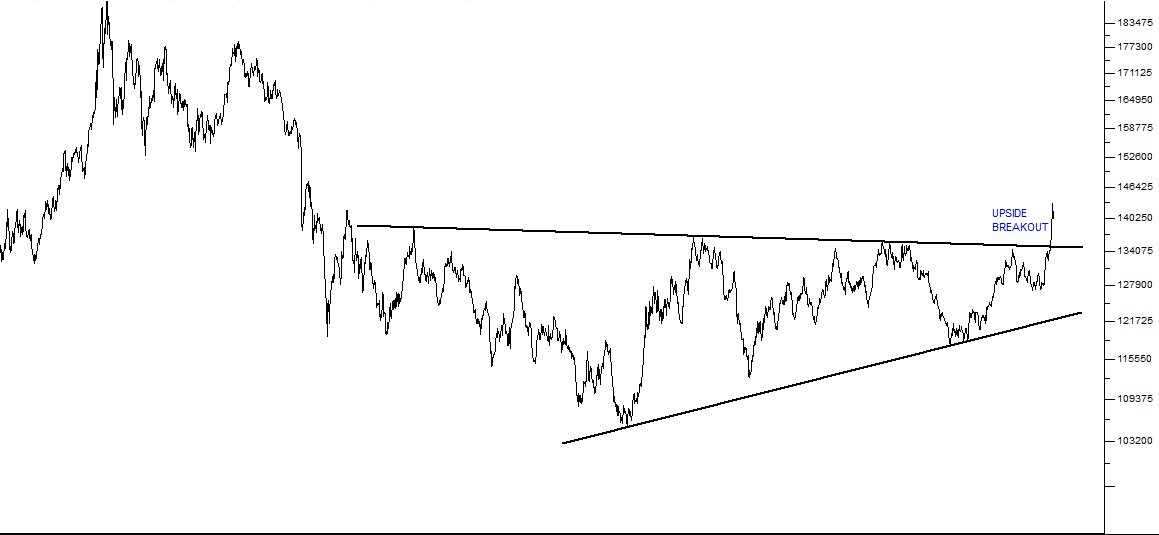 Dollar Price of Gold October 2010 to June 2019 – Chart by ShareFriend Pro (Click to Enlarge Image)
On the face of it, this looks like a consequence of Donald Trump's trade war with China and other countries, as well as the more dovish stance of the US Federal Reserve Bank's monetary policy committee (MPC). But the real underlying cause is a decade of massive monetary policy stimulation of the world economy which is finally beginning to impact consumer and business confidence and the world's average inflation rate.
To this must be added Donald Trump's recent sabre rattling in the Middle East. Wars have been associated with runaway inflation since the collapse of the German mark during World War II. For that reason, anything which looks like it could result in war tends to push gold up.
This could represent an opportunity for private investors, always keeping in mind the highly speculative nature of investments in any commodity. It could also be the beginning of a revival of the gold mining industry in South Africa. You should keep in mind that South Africa still has about 40% of the world's known underground reserves of gold – but at current prices most of it is too deep and expensive to mine economically.
It seems likely that Eskom will be dependent on coal for some time to come. But mining coal in South Africa is becoming less and less attractive to investors. Two of the major banks have already said they will not fund new coal mining projects and the others may follow. The answer to this problem lies in Botswana. Botswana has massive reserves of high-grade coal which can be easily mined and transported across the border to South Africa. Botswana is a much more friendly destination for the mining houses because it does not have the same legal structures, uncertainty and problems that South Africa has. The Botswana government is actively trying to diversify the economy away from diamonds and is promoting the development of coal mines. There is also the possibility of developing an oil-from-coal technology in the country.
The JSE Mining index has been rising strongly since the beginning of 2016, reflecting the general recovery of commodity prices. It has risen over 200% since its low point on 20th January 2016. Consider the chart: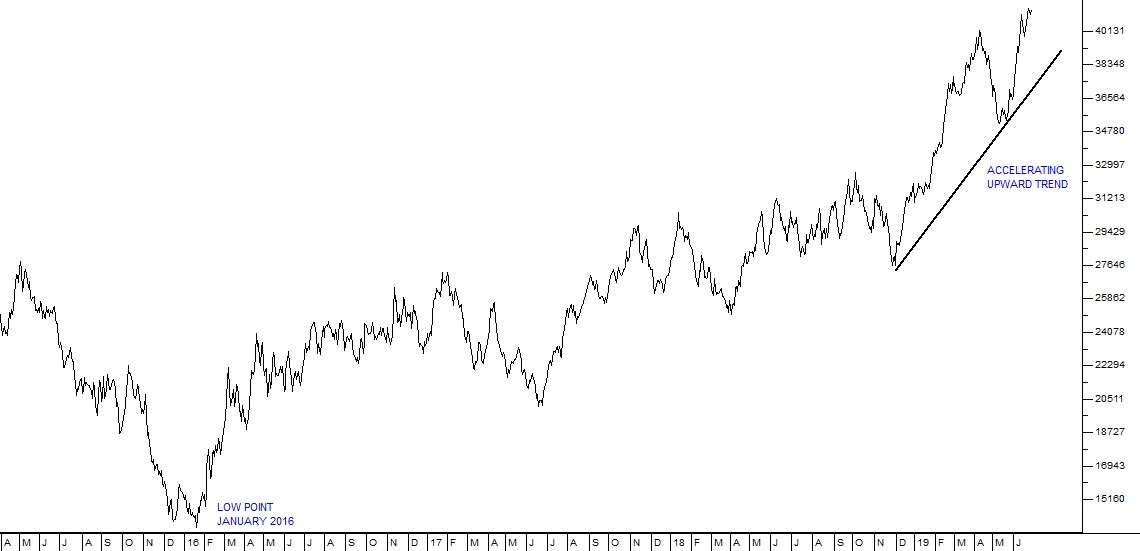 JSE Mining Index April 2015 to June 2019 – Chart by ShareFriend Pro (Click to Enlarge Image)
Recently, its growth has been fueled by a 50% rise in the iron ore price – which resulted from damage to a tailings dam in Brazil and storm damage in Australia. Anglo American's share price has been rising steadily. Of course, underlying the bull trend in commodities is a function of the strong recovery in the world economy, led by America. We see this economic boom continuing and commodity prices rising even further.
The negotiations in the platinum industry are worth watching. In the 2014 industrial action, the Association of Mining and Construction workers (AMCU), which is the most militant and dominant union in the sector, brought the industry to a standstill for five months. The union is aware of the stronger platinum group metals (PGM) prices and is aiming to push wages up significantly. At the moment the lowest paid worker is getting R10800 a month and the union wants to aim for R17000 a month. AMCU is still recovering from the brutal defeat that it took at the hands of Sibanye in the gold industry where it was forced to capitulate after a costly 4-month strike. Certainly, Sibanye will attempt to capitalise on this, but AMCU is far more powerful in the platinum industry than it is in the gold industry. We expect that AMCU will only succeed in getting an inflation-related increase.
Companies
BANKING
The banking sector is in the midst of a price war stimulated by the new entrants to the industry that are offering much cheaper banking facilities. All of the "big four" banks except ABSA have cut prices on their banking facilities and/or offered airtime and data incentives to their clients. The CEO of Nedbank, Mike Brown, recently said that his bank would spend "billions" to develop new products and protect its market share. It seems unlikely that all of the new entrants into the market will survive the cut and thrust of the banking world – so we should expect some consolidation in due course. Tymebank, owned by Patrice Mostepe's African Rainbow Capital, has claimed that it already has 500 000 new accounts. The consumer can benefit by taking advantage of lower prices. What seems to be evident is that the industry was probably over-charging clients previously, before this price war began. Obviously, what has happened is also a function of new technologies which are forcing traditional banks to move away from servicing their clients through expensive branch networks and towards developing applications that enable clients to solve most banking problems on their phone or computer.
NEPI (NRP)
Nepi is part of the infamous Resilient Group which was the main reason for the collapse of real estate investment trust (REIT) prices in January and February of 2018. Nepi itself fell from R217.50 to as low as R115.37. Today it trades for around R127.
Nepi-Rockcastle (NRP) is a R74,4bn real estate investment trust (REIT) which operates more than 50 shopping malls in 9 central and eastern European countries, mostly in Poland (26%) and Romania (39%). Its close association with the Resilient group of REITs came about following the merger with Rockcastle, but it has now decided to distance itself from Resilient by removing key directors (Spiro Noussels and Nick Matulovich).
In its results for the year to 31st December 2018, the company reported distributable earnings up 9,5% with net rental and related income up 29,6% which puts it amongst the best REITs listed on the JSE. Vacancies were just 2,8% with a collection rate of almost 100%. The total portfolio is worth 5,9bn euros – which is 20% up on the previous year.
In the 3 months to 31st March 2019, the company reported total assets of 6,6bn euros with a loan-to-value ratio of 32% and a collection rate of 99,9%. The occupancy rate was 96,3%.
Viceroy (the same organisation that attacked Steinhoff and Capitec) produced a report in which they claimed that Nepi's profits were over-stated to the tune of 325m euros. The report was immediately rubbished by the CEO, Alex Morar, and by a local analyst. Nepi has requested that dealings in its shares prior to the publication of the report be investigated. The effect was that the price of Nepi dropped by 17,8% in a single day – but then recovered most of their losses the next day to close just 6% down. Obviously, Viceroy had a short position on which they were capitalising and Morar is talking about initiating legal proceedings.
On 6th May 2019, the Financial Sector Conduct Authority (FSCA) reported that it has found no evidence of misleading reporting by Nepi and this was followed up by a statement on 13th June 2019 that the FSCA was closing its investigations into NEPI because there is no substance to the allegations. We believe that this share is currently under-priced and due for a significant upward re-rating based on its results and continued growth. What is interesting is the company's dividend yield (DY) of 5,56%. This is unprecedented for a rand hedge with such a solid balance sheet and such good growth prospects. Therefore it represents a good buy for private investors.
Consider the chart: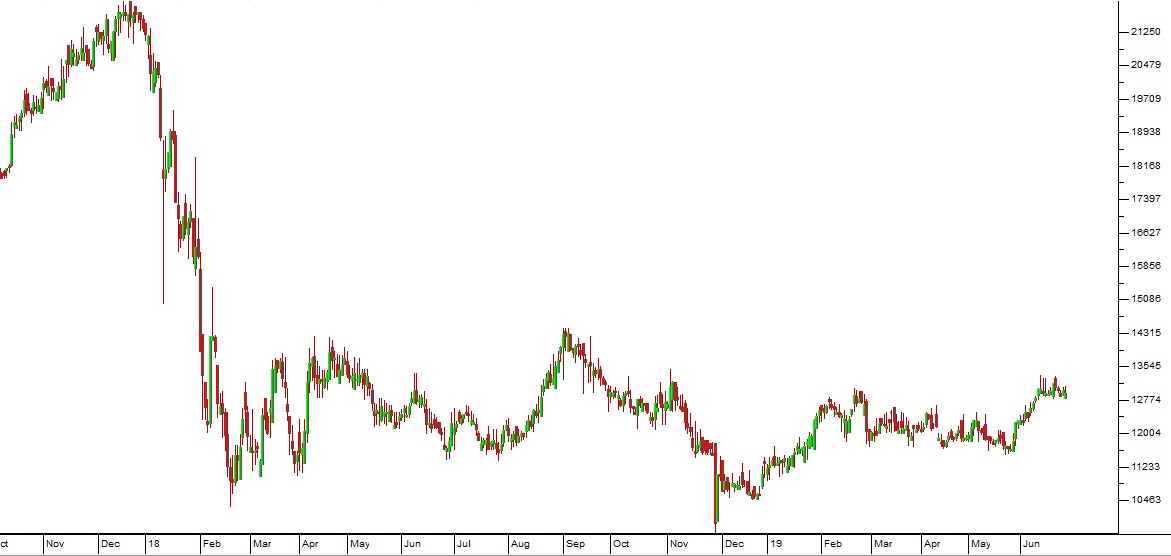 Nepi Rockcastle (NRP) October 2017 to June 2019 – Chart by ShareFriend Pro (Click to Enlarge Image)
STOR-AGE (SSS)

Stor-Age (SSS) is the JSE's only real estate investment trust (REIT) which specialises in buying and running domestic storage facilities in all major South African cities and in the UK. Its business is split about 60% in South Africa and 40% in the UK. The company owns 49 properties in South Africa worth R3,8bn and 16 in the UK worth R1,5bn. In its results for the year to 31st March 2019, the company reported its dividend up 9,05% off a gross lettable area (GLA) of 107900 square meters which was 83,5% occupied. The net operating income in the UK on a like-for-like basis was up 6,3%. The company says it had strong organic growth both in South Africa and in the UK. The company's portfolio is now valued at R6bn.
The business of Stor-Age tends to do well in recession as well as in boom periods of the economy. The average client keeps his storage unit for 2 years. The client base is widely diversified and very stable from a statistical point of view. The company's foray into the UK demonstrates its ability to find appropriate properties and add them to its portfolio. On 11th March 2019 it announced that it had acquired a property in Weybridge, Surrey in the UK for GBP 11,5m. On 12th March 2019, the company announced its intention to raise R350m through "vendor consideration placings" and issuing shares for cash.
The Stor-Age share obviously has a rand-hedge element. We believe that this is one of the better property investments available on the JSE. It offers a steady growth and minimal risk. Technically, this share appears to be in the process of becoming a "diagonal" share – which goes from the bottom left-hand corner of your screen to the top right-hand corner. Consider the chart: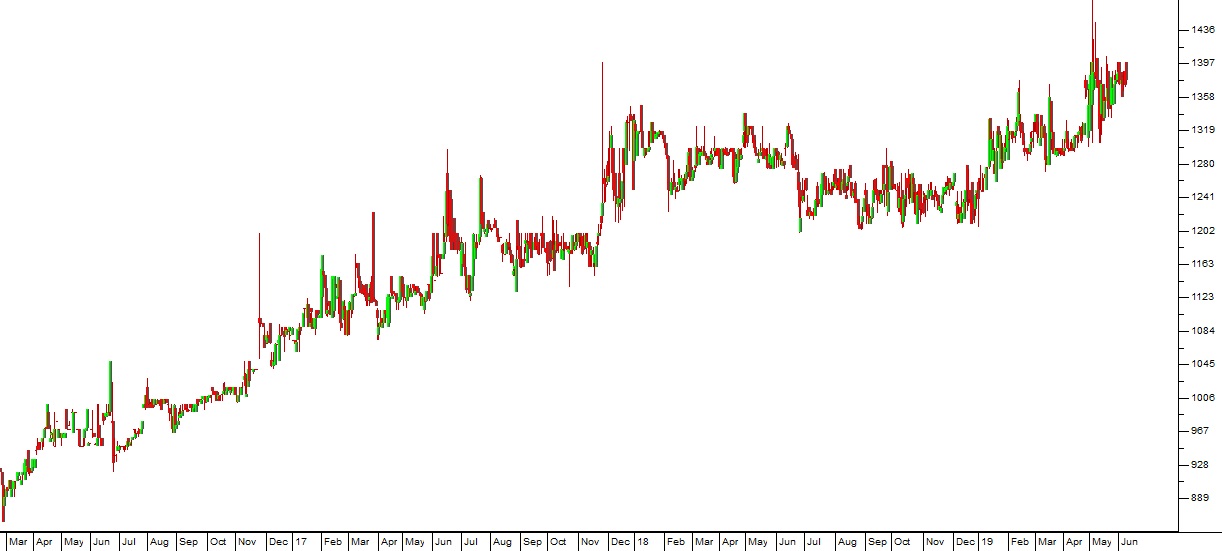 Stor-Age Property REIT (SSS) March 2016 to June 2019 – Chart by ShareFriend Pro (Click to Enlarge Image)
SASOL (SOL)

Sasol (SOL) is at an extremely interesting point for private investors. Its current price of around R350 per share is below its net asset value (NAV) of R359.60, and it is trading at its lowest level for the past five years. The low price reflects the disappointment of investors over the rising costs of completing the Lake Charles Chemical Project (LCCP). That project, once complete, will shift Sasol's focus away from the production of oil and fuel products towards chemicals. The project is about 96% complete with two of its seven production units up and running. The remaining production units are expected to be operational shortly. Technically, the share has always had good support at around R350-R360. It is now trading at the low end of that range and below its NAV – which may well indicate that it is cheap. Certainly, with the LCCP project finally under way we believe that the company's profitability will improve. It should also benefit directly from the boom in the American economy as well as the shift away from fuel production. The share looks cheap at current levels, but investors should remember that it is a commodity share and hence inherently risky. Consider the chart: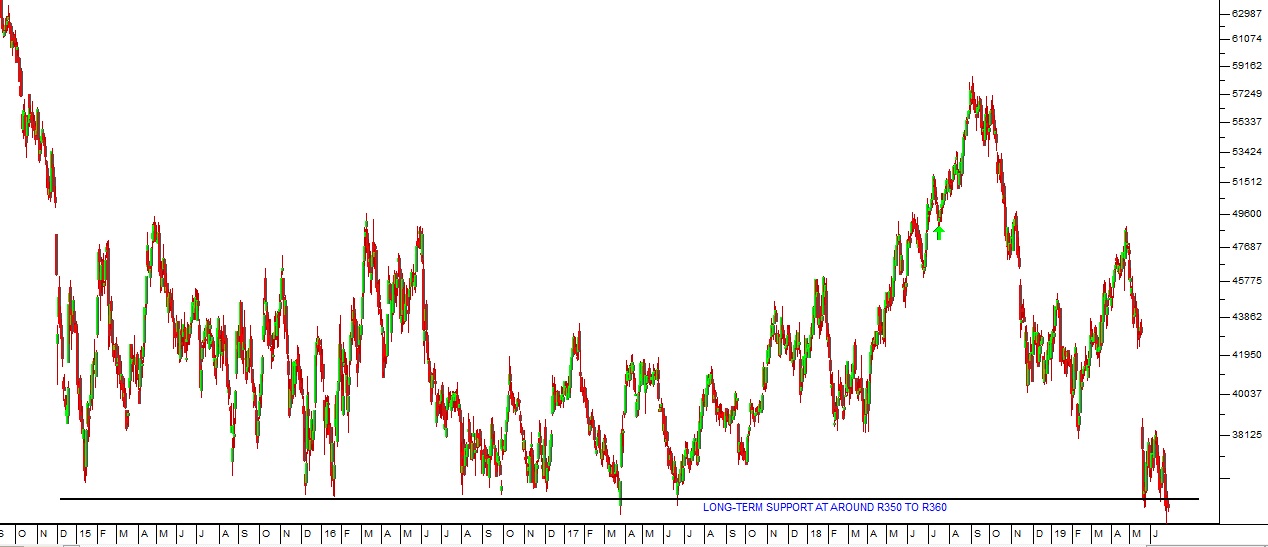 Sasol (SOL) September 2014 to June 2019 – Chart by ShareFriend Pro (Click to Enlarge Image)
MTN
We believe that MTN represents good value at current levels. It is definitely less secure than Vodacom, but it appears to have much more "blue sky" potential. It is obviously finding the markets in which it trades like Iran and Nigeria difficult, and at times costly, but these are markets with growing populations of subscribers. And MTN's ability to grow its subscriber base in a variety of African countries has been established. Vodacom, on the other hand, has most of its market inside South Africa in an environment where consumers are under pressure and there is intense competition. It is also controlled by its overseas parent, Vodafone, while MTN in independent. In the past three months the market has been recognising MTN's potential and bidding the share up steadily. It is now on a dividend yield of 3,75% – which compares with Vodacom's 5,3%. Consider the MTN chart: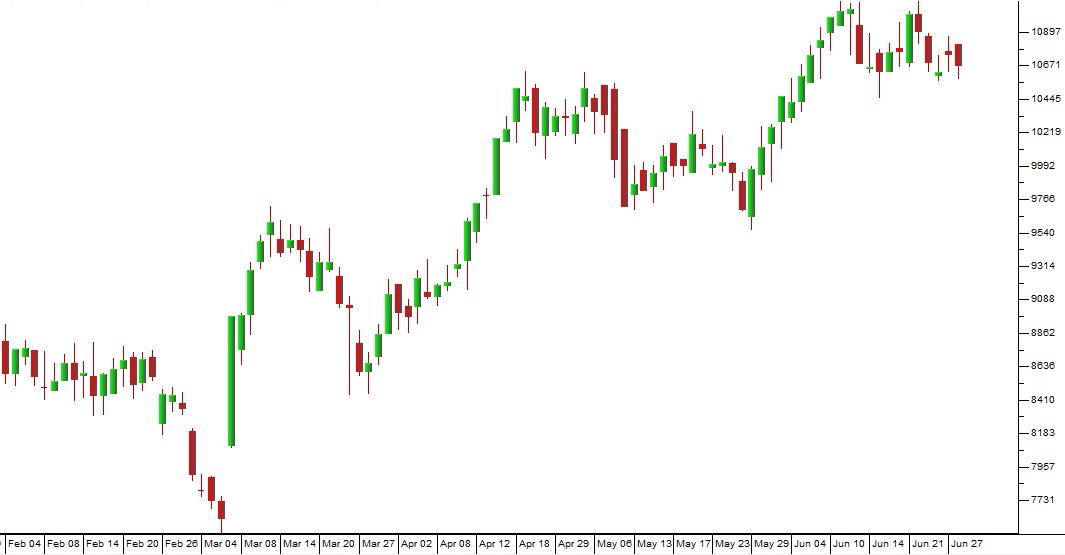 MTN (MTN) February to June 2019 – Chart by ShareFriend Pro (Click to Enlarge Image)
FIRSTRAND (FSR)

From a technical perspective, FirstRand (FSR) has been in a wedge formation since the start of 2018. A wedge formation occurs where a share oscillates in decreasing cycles between a rising and a falling trendline. FNB's wedge has seen prices as high R76,07 per share in February 2018, all the way down to R56,88 per share in June 2018, which is +/- 25% difference in price level. This has given both traders and long-term investors some good profits. Since the start of 2018 FirstRand has given 3 possible buying opportunities, with an average return of around 19%.
On the 19th of May, we had a strong upside breakout above 6950c, which could signal a new upward trend. This may mean that FirstRand is now entering a strong bull trend and will eventually break above its previous high of 7607c made in February 2018 (which is just another 10% move). Adding that to those investors who bought when the share was undervalued on one of the buys indicated in the chart above would give investors nearly 30% growth within one year.
The next week or two will be crucial for FNB investors as their eyes are fixed on the share price to see if it will remain above the upper trendline of the formation. Consider the chart: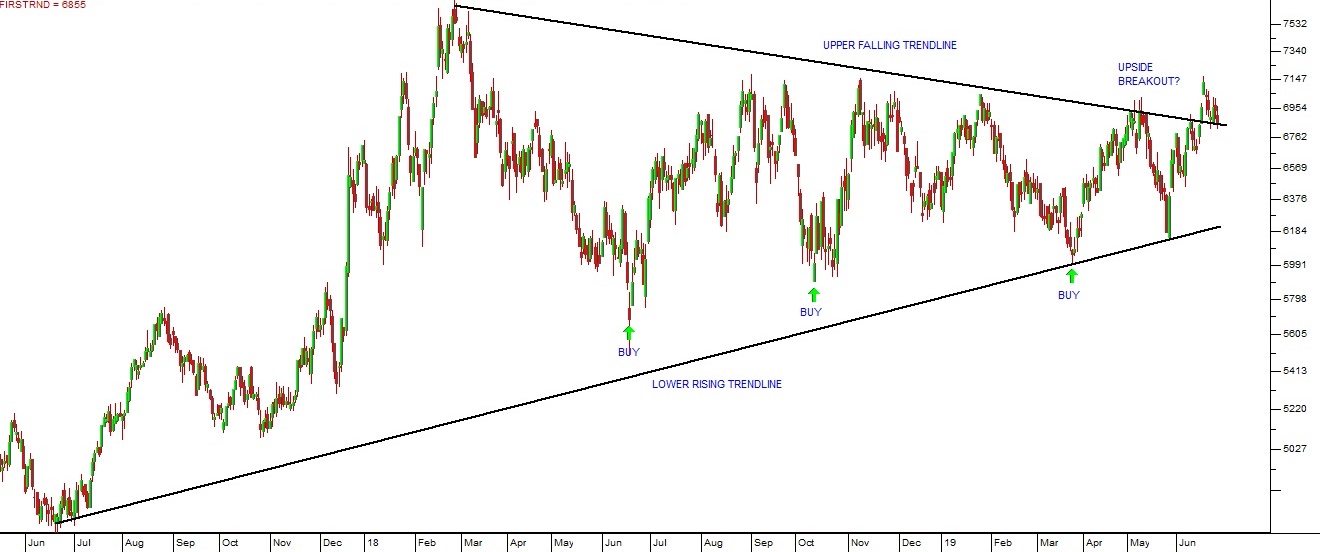 Firstrand (FSR) May 2017 to June 2019 – Chart by ShareFriend Pro (Click to Enlarge Image)
MULTICHOICE (MCG)

Multichoice (MCG) is a leading entertainment company in Africa and one of the fastest-growing pay-TV broadcast providers in the world with 13,9m subscribers in 50 countries. Its subscriber base has grown by 14% per annum compound for the past two financial years.
In its results for the year to 31st March 2019, the company reported a 12% increase (1,6m) in subscribers giving a total active subscriber base of 15,1m. Turnover was up 6% and subscription revenue was up 7%. Overall, the premium subscriber base declined by 14% but was compensated by the smaller bouquets. Core headline earnings was up 10% and the company had free cash flow of R3,3bn (almost double the previous year). The South African subscriber base increased by 8% with revenue up 3%.
The rest of Africa saw its subscriber base up by 17% partly due to the FIFA World Cup. The company has grown revenue by 16% per annum for the past ten years. Its return on assets is 28% – which makes it extremely profitable. The share was spun out of Naspers and separately listed on the JSE on 27th February 2019. So far the share has moved up well on strong volumes.
This company is probably close to an ideal company for the private investor because its income is mostly annuity income, in the form of debit orders, with a very diverse client group. It has virtually no working capital because it is essentially a service company and does not need to carry large stocks. It also does not have a large unskilled or semi-skilled workforce, although it has had union problems in the past.
In June 2019, the company announced that it was retrenching 2200 staff in response to competition from internet-based streaming services like Netflix. The potential for pay-TV in Africa appears to be substantial, but may be eroded by 5G internet access in the future and the existence of free online access through platforms such as Kodi. Icasa (Independent Communications Authority of SA), in its efforts to boost competition, is looking at changing the rules for dominance in the pay-TV market, which may impact on Multichoice. This may include changing the rules for dominance in sports coverage which has been Multichoice's strongest appeal. This would impact on Multichoice's ability to negotiate exclusive sports contracts. In our view this is a solid blue chip share which is growing rapidly.
However, we really like the way that the share has moved since it came to the JSE. Consider the chart: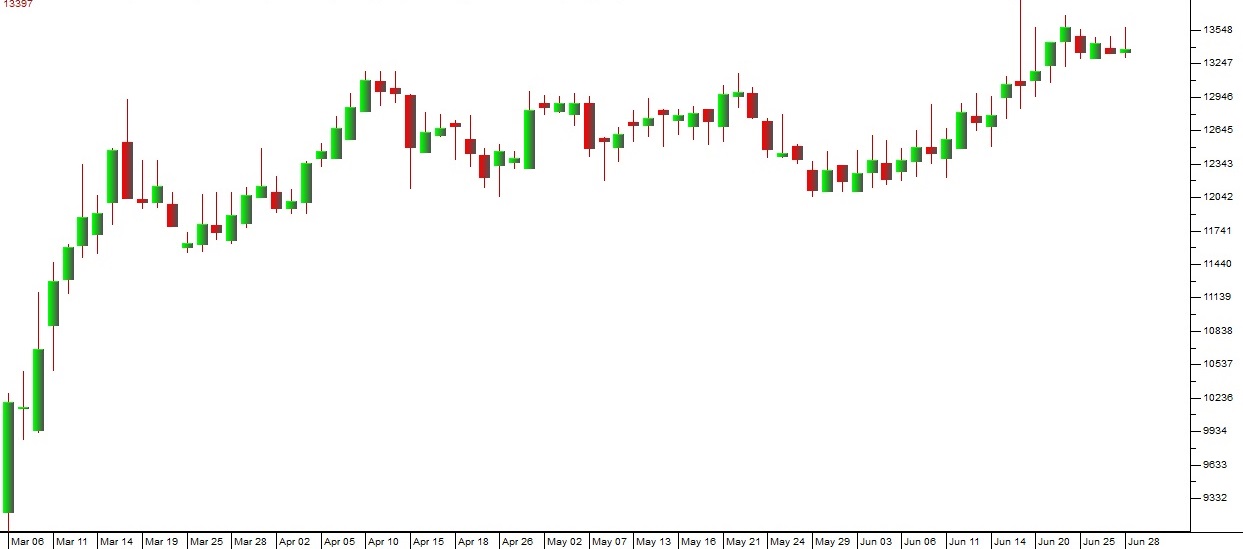 Multichoice Group (MCG) March to June 2019 – Chart by ShareFriend Pro (Click to Enlarge Image)
You can view a visual presentation of this report here.
To be added to our mailing list for the next webinar, click here
DISCLAIMER
All information and data contained within the PDSnet Articles is for informational purposes only. PDSnet makes no representations as to the accuracy, completeness, suitability, or validity, of any information, and shall not be liable for any errors, omissions, or any losses, injuries, or damages arising from its display or use. Information in the PDSnet Articles are based on the author's opinion and experience and should not be considered professional financial investment advice. The ideas and strategies should never be used without first assessing your own personal and financial situation, or without consulting a financial professional. Thoughts and opinions will also change from time to time as more information is accumulated. PDSnet reserves the right to delete any comment or opinion for any reason.
---