2 February 2022
By PDSNET
America
Internationally and in South Africa, the big story in financial markets is the shift which we predicted from "dovish" to "hawkish" among the central banks of the world. The new trend was initiated in the US Federal Reserve Bank's monetary policy committee (MPC) minutes which anticipate an end to quantitative easing (Q/E) before midyear and as many as four 0,25% interest rate hikes in 2022. In an effort to get ahead of the trend, the South African monetary policy committee wisely announced its first 0,25% rate hike in November 2021, to bring the repo rate to 3,75%. A second hike was implemented in January 2022, to bring it to 4%. The shift to a more hawkish policy has been stimulated by rising inflation rates, most notably in America where inflation reached a 32-year high of 7% in the year to December 2021. The new governor of the US Federal Reserve Bank, Jerome Powell, is said to be very concerned about the rising inflation in the US. To us it has been obvious for a long time that the rising inflation is the result of excessive Q/E, especially since the COVID-19 pandemic. This additional Q/E is estimated to be around $11 trillion in the approximately 22 months since March 2020. Notably, unemployment in America is once again below 4% and approaching the "full employment" level which results in strong upward pressure on wages.
In our Confidential Report published on 3rd November 2021 we said the following, "We have for some time now been drawing attention to the ten "mini-corrections" of less than 10% in the S&P500 which have occurred in the 20 months since the COVID-19 V-bottom in March 2020. We have suggested that these would surely be followed by a major correction of between 10% and 20%".
In the Confidential report published a month later on 1st December 2021, we said, "...we have warned on various occasions that a major correction of between 10% and 20% is overdue on the S&P. It's just that we think it is more likely to come next year rather than before Christmas".
Then in an article published on 24th January 2022, just as the current correction was beginning, we said, "…we have consistently warned of a major correction of between 10% and 20% for the past few months – and to us this looks like it may well be it. If we are right, you can expect the S&P to fall to somewhere between 4300 and 3800 – with a similar impact on the JSE".
That major correction which we warned of is now in progress. It started from the S&P500's all-time record high of 4796.56 on 3rd January 2022 and has so far taken the index down to an intra-day low of 4222.62 on the 24th of January 2022. That is a fall of 11.9%, and we believe it could easily fall further before it is done. Last Friday, on the 28th of January 2022, we saw the index jump an impressive 2,43% - which shows that there is significant bullish sentiment underlying this correction, but the important question is whether this rally is a "dead cat bounce" or whether it signals that the correction is over. Consider the chart: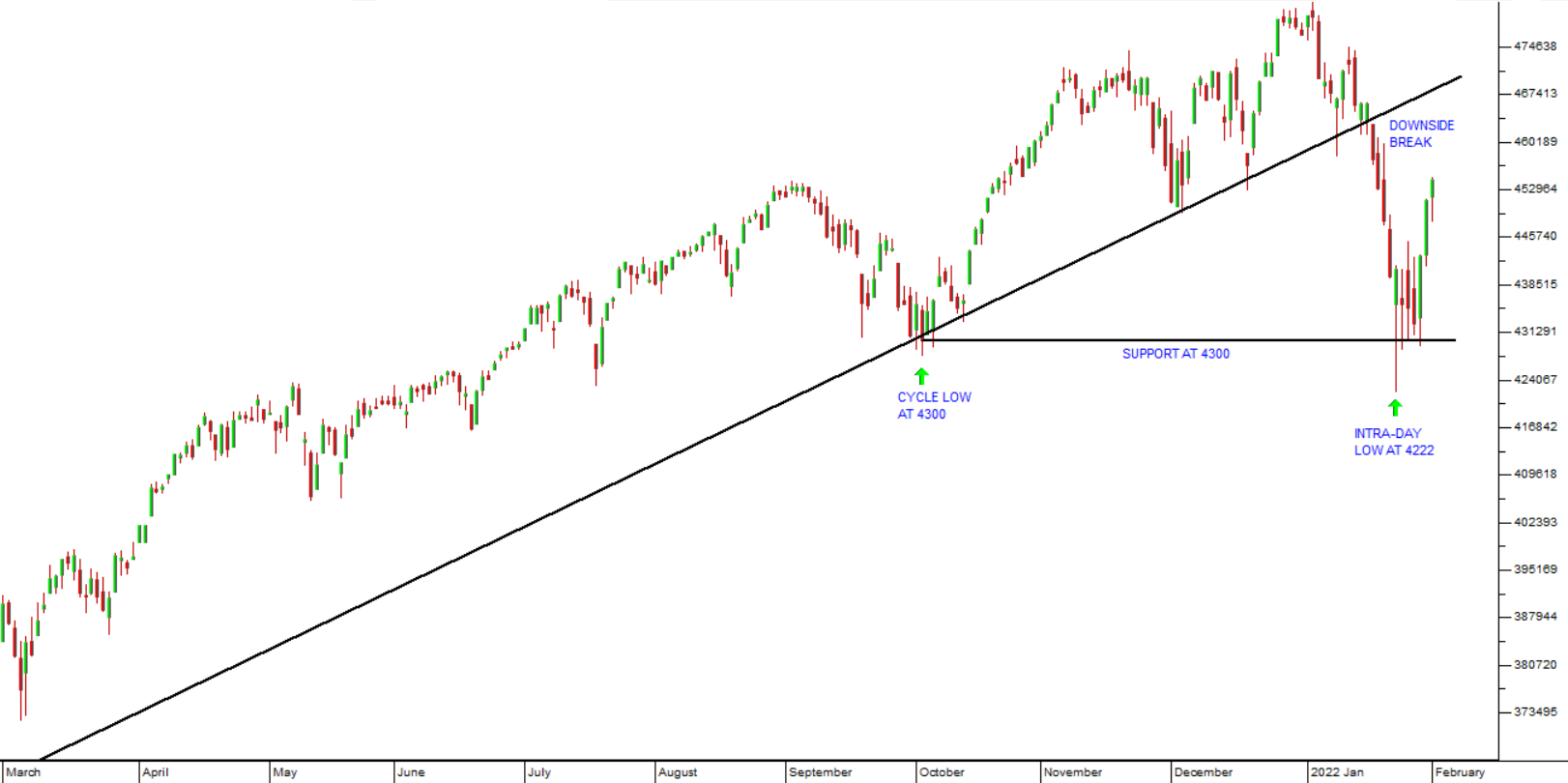 In the chart you can see the trendline, to which we have previously drawn your attention, showing the steady upward move in the S&P500 since the COVID-19 V-bottom in March 2020. During that 22-month period there were about 10 "mini-corrections" of less than 10%. This culminated in the current correction, which broke that trendline when markets resumed trading after the Martin Luther King holiday on 17th January 2022.
Now, having fallen around 10%, you can see that the S&P has encountered support at around 4300 – which is consistent with the previous cycle low on 4th October 2021. Around this level there has been considerable "backing and filling", but it is our opinion that any rally which takes place now will probably be a "dead cat bounce". Such "dead cat" rallies during a downward trend are normal. The bulls believe that the correction is over, and they are busy "buying the dip" – but experience tells us that it is more likely that the bears will regain ascendancy and the downward trend will resume. The 10% which the market has fallen so far is just not enough. It needs to fall further to be a major correction. As we said in our article on 24th January 2022, the S&P can fall to as low as 3800 before this correction is over. Just remember that, if you drop a dead cat from high enough, it will bounce – but it is still dead!
So, once again, we reiterate that we see this as a correction and not the start of a bear trend. The fear of rising interest rates in the US was always going to result in a major correction, especially when you consider that this bull trend has been in progress for a record 13 years. It is also true that eventually rising interest rates in America and elsewhere in the world will bring about a bear trend, but in our opinion that time is still at least a couple of years away.
Even if the MPC in America raises rates 4 times this year, as they are expected to do, the repo rate there will still only be 1% - which is very accommodative. We do not expect rising interest rates to begin to impact on the profits of S&P500 companies until the interest rates are at least 3% and probably it will need to be even higher. That means that corporate profits in America will continue to be strong for at least this year and next year. Thereafter, it is difficult to predict what will happen.
If we are right, then this correction represents a buying opportunity. So far, the JSE Overall index (J203) has fallen just 5,3% - and that only in the last few days. This means that local investors are not yet taking the fall in the S&P500 index very seriously. We believe that when the dead cat bounce is over, and the S&P falls again closer to the 3800 level, there could be considerable off-loading on the JSE – which will give you a good buying opportunity on many high-quality shares.
We note that our two favourite shares at the moment, Lewis (LEW) and Aveng (AEG), have both come off, but only a very little. This is also true of many other favourites like Capitec (CPI), Clicks (CLS), Prosus (PRX) and Transaction Capital (TCP). We expect them to perhaps fall a little further, if and when the correction resumes, and then to rally strongly once the correction is over.
The US economy logged a growth of 1,7% in gross domestic product (GDP) in the 4th quarter of 2021. GDP growth for the whole year came in at 5,7% - which is huge given the size of the US economy. It's also the strongest annual growth since 1984. Most of this growth came from the enormous economic stimulation, including ultra-low interest rates and massive quantitative easing (Q/E). The rapid roll-out of vaccinations since the Biden administration took over has also helped to control the virus. Growth in 2022 is expected to be around 4% - which is still very strong growth. If, as expected, the Federal Reserve Bank tightens rates by as much as 1% this year, we can expect the rate of growth to continue, but at a slower pace.
The profits of S&P500 companies are expected to grow by about 9% in 2022 – which is strong, but far less than the 45% growth of 2021. Gross domestic product (GDP) is expected to increase by about 4%. What is interesting is that 25% of the S&P500 index is contained in just six technology companies – Apple, Microsoft, Alphabet, Tesla, Amazon, and Meta Platforms. All of these companies are growing on the back of new disruptive technologies which introduce new productivity to the economy as a whole. In 2022 we expect that these companies will not dominate to the same extent and that a wider range of companies will drive growth. The profits of S&P500 companies should continue to perform well at the beginning of the cycle of Federal Reserve Bank rate increases. Only when rates get high enough to impact on their profits will the index begin to suffer – and we only expect that point to be reached late in 2023 or even in 2024.
Political
The first instalment of the Zondo Commission report has done further damage to the ANC's image, identifying a number of senior leaders as corrupt and recommending investigations by the National Prosecuting Authority (NPA). Nedbank is in the spotlight for its interest rate swaps following advice from Regiments Capital, a Gupta-linked company. Regiments arranged to extract a R50m fee from the Airports Company of South Africa (ACSA) in these contracts. Dudu Myeni, a close associate of Jacob Zuma's, was in control of SAA at the time and the report also recommends that she be investigated for corruption. No doubt, further instalments of the report will implicate other ANC-connected individuals.
The attack by Lindiwe Sisulu, as an ANC member of parliament and the executive, on the Judiciary has set the stage for the ANC's elective conference in December where they could decide to withdraw Ramaphosa as president. Sisulu views herself as a candidate president and is clearly siding with the populist faction of Jacob Zuma and Ace Magashule. Her reported meeting with the Gupta's in December 2021 clearly shows where her loyalties lie. And as Acting Judge President Zondo has pointed out, her attack on the black members of the judiciary is not supported by any evidence or even argument – so it may well turn out to be negative for her. Ramaphosa responded to her attack 10 days later by saying that the Judiciary should be protected, but not naming her. Then he was reported to have had a meeting with her in which he said that he had admonished her, and she had apologised. She, however, came out later to say that she stood by what she had said and that Ramaphosa had not reported correctly on what had happened in their meeting. In effect she accused the President of lying. Obviously, Ramaphosa cannot allow this blatant rebellion within the ANC ranks to stand and it shows that his power within the ANC is far from total. Then, at the NEC meeting last weekend, Cosatu said that the ANC was "dying" and would certainly lose the election in 2024 unless something radical was done to remedy the situation. Cosatu is clearly against Sisulu and her attack on the judiciary, however. From an investor's perspective this in-fighting within the ANC is negative because it projects a more unstable image of South African politics to overseas investors.
The President's speech at the 110th anniversary of the formation of the ANC indicates the difficult position which the ruling party finds itself in. There have so far been no convictions for state capture despite the appointment almost 3 years ago by Ramaphosa of Shamila Batohi as head of the NPA. The ANC's performance in the recent election shows the country's disappointment with the slowness of the reform process. While it seems unlikely that Ramaphosa will be displaced as president in December at the ANC's conference, it is becoming more and more probable that the ANC's share of the vote in the 2024 election could be well below 50% for the first time, forcing them to engage with other parties. Suddenly, parliament, which up until now the ANC has just used to rubber stamp its decisions, will become of vital importance. One point is clear, if Ramaphosa is withdrawn from the presidency at the ANC's December conference, it will be very bad for the JSE and the economy. But Ramaphosa has faced and managed to overcome resistance within the ANC before, and there is no reason to think that the current attacks will have a different outcome.
At the end of the ANC's National Executive Committee (NEC) meeting President Ramaphosa called for an examination of the financial feasibility of extending the R350-a-month basic income grant (BIG) which was put in place to counter the effects of COVID-19. In the October minibudget the Finance Minister, Enoch Godongwana, pointed out that South Africa was already spending about R1,1 trillion a year on the "social wage" in one form or another. Obviously, the President is facing considerable opposition and may be looking to garner some popularity within the ANC and among the electorate with this move. The real question is whether South Africa can afford to make BIG a permanent feature of the budget or not. An extension of BIG for a few more months is certainly affordable, but making it a permanent feature will create a massive and enduring fiscal problem.
The failure of the ANC to get their proposed land redistribution amendment through parliament is part of a general democratic move away from populism and towards a more sensible approach to government. Interfering with property ownership strikes at the very centre of economic management, and the proposal had scared some international investors making South Africa a less attractive investment destination. The ANC's inability to muster sufficient votes is also a clear indication that Parliament has become a more democratic decision-making entity in which the ANC will have to lobby other parties to achieve the required support for its measures – especially changes to the constitution.
Economy
The increase in the consumer price index (CPI) in December month last year to 5,9% is largely caused by rising petrol prices (which have risen 40% in the last year) and to a lesser extent by rising food prices. It brings the rate to within a whisker of the upper end of the Reserve Bank's target range of between 3% and 6% - and, of course, it fully justifies the decisions of the monetary policy committee (MPC) to raise interest rates in November 2021 by 0,25% and by another 0,25% in January 2022. It now seems likely that South Africa will get at least 3 more rate hikes of 0,25% each before the end of this year. Despite the higher inflation rate in December 2021, inflation in South Africa remains lower than in some first-world countries including the US where December 2021 inflation was at 7%. It also looks far better than many other emerging economies, for example Turkey's inflation is now at 36% per annum. From an investment point of view, rising inflation inevitably means rising interest rates and ultimately that must mean falling share prices – once rates get high enough to impact on the profits of listed companies. Our view is that it will probably take at least two years for that to happen.
It is likely that the monetary policy committee (MPC) will follow the pattern of rising interest rates expected in America this year, if only to retain the interest rate differential which our government bonds enjoy over US T-bills. If that is the case, we can expect a further 3 rate hikes in 2022 and possibly more. This will take the repo rate up to as much as 4,75% by year end and make a significant difference to households with mortgage bonds. At the moment, the yield on our 10-year bonds is just under 10% against an inflation rate which is expected to hover around 5% or 6% - giving overseas investors a real rate of return of up to 5%. This should be contrasted with the yield of 10-year US Treasury bills of 1,78% against an inflation rate of 7% giving a negative return of over 5%. This is obviously a significant motivation for investors to move at least some of their funds out of the US and into South Africa. However, during 2021 there was a significant net outflow of capital from South Africa. The positive factors are our low rate of inflation, the recent upgrade by Fitch to our rating, and the probability that our budget deficit will come in at 6% or less of GDP due to the on-going commodity boom.
The idea of a "basic income grant" (BIG) to replace the R350 a month COVID-19 grant which expires in March this year has been the subject of much debate in South Africa. A government panel has recommended that a BIG of R595 a month should be implemented on a permanent basis at the "food poverty line". It is expected that this will cost the government about R56bn a year. Of course, at the moment the tax bonanza arising from the boom in commodity prices means that the BIG would be affordable, but that boom will certainly not be permanent. Perhaps what needs to be understood is that private enterprise in South Africa is the only sector of the economy that generates a surplus and everyone else, especially government, lives off that surplus. One of the reasons put forward for BIG is that unemployment in this country, on the wide definition, is approaching half of the workforce – but the only long-term answer to that problem is to create an environment which is very business-friendly. The introduction of more socialist subsidies will have the opposite effect. Fortunately, after strong opposition from Finance Minister, Godongwana, the President's panel of economic advisors has said that the grant should be extended for a few more months but should not be made permanent.
According to the presidential climate commission, South Africa will need at least R300bn over the next 30 years to make a "just transition" from coal-fired power stations to renewables. These funds will have to come from the international community in the form of a low interest-rate loan. Overseas investors have already offered R130bn in a low-interest loan as a result of the Eskom CEO, Andre de Ruyter's efforts. He has also been successful in significantly reducing Eskom's debt. Eventually, of course, it seems inevitable that South Africa will move to renewables, if only because they rapidly becoming cheaper and easier than other sources of energy – so the question really is whether this is done slowly and laboriously or rapidly with international assistance.
The problems at South Africa's ports are a major impediment to the economy's recovery. For example, it is currently taking an average of more than 210 hours or 9 days to get cargo loaded or unloaded at Cape Town harbour - and the situation has been worsened by bad weather. Various import and export businesses are suffering accordingly, especially the Cape wine industry which is a large exporter and contributor to both gross domestic product (GDP) and employment. Apparently, there are long queues of trucks outside the port waiting to unload.
Consumer spending makes up about 65% of gross domestic product (GDP) so, when South African consumers are spending, our GDP looks good – and vice versa. Right now, hammered by the impact of the recent lockdowns, the July unrest and loadshedding, consumers are taking some strain. They are benefiting from much lower interest rates – although even that benefit is beginning to disappear. In the year ending 31st October 2021 retail sales were up by 1,8% - which is down from September's 2,1% and slightly below economists' forecasts of 1,9%. Of course, the persistently high unemployment rate is impacting consumer spending – especially after the impact of the July unrest and recent international travel restrictions. These negatives have been to some extent off-set by the boom in commodity prices.
Manufacturing production fell 8,9% year-on-year in October 2021 as a result of the civil unrest, loadshedding and strike action. Economists were expecting only a 1,6% decline so the reality is far worse than expected and will contribute to lower gross domestic product (GDP) growth in the fourth quarter. It is predicted that manufacturing fell further in November 2021. It has been suggested that retailers were unwilling to build up substantial stocks ahead of Christmas because they expected sales to be depressed. The 8-day strike in the metals and allied sector also had a negative impact on their production.
The true cost of the civil unrest in July is beginning to come to light. The unrest is thought to have cost about R50bn directly and indirectly and to have caused the loss of about 320 000 jobs, taking the unemployment rate up to a new record of 34,9%. Gross Domestic Product (GDP) shrank by 1,5% in the third quarter mostly as a direct result of the unrest. Without the unrest GDP would probably have been up by 1,1%. The cost of lost foreign direct investment (FDI) cannot really be estimated, but there can be no doubt that South Africa lost a few large international investments as a result of investors becoming fearful that the rule of law was in doubt. Many small businesses did not survive the unrest and have subsequently closed down.
Fitch, the international ratings agency, has changed South Africa's outlook from negative to stable following an improvement in the country's debt position and more rapid economic recovery. The boom in commodity prices has enabled the country to reduce its expected debt to GDP ratio to 72% from 81% and the budget deficit is now expected to come in at about 7,7% compared to 10% previously. Fitch expects the economy to have grown by 4,7% in 2021 – which is lower than the Treasury's recently adjusted estimate of just over 4.8%. Obviously, the on-going loadshedding is a major factor which could derail the recovery, but South African businesses and consumers are moving away from Eskom to avoid its high prices and unreliability.
Projections of gross domestic product (GDP) growth over this year and next are all around or below 2%. The International Monetary Fund (IMF) is expecting growth of 1,9% this year (down from its previous forecast of 2,2%) slowing to 1,4% next year. The Reserve Bank is projecting 1,7% this year increasing slightly to 1,8% next year. In our view both of these projections are on the conservative side, and we are expecting growth of 2% in 2022 with possibly as much as 2,3% in 2023. Of course, all these projections are well short of the 5% needed to absorb school-leavers coming on to the employment market in the next two years. The "structural problems" in the South African economy remain in place despite numerous calls that they be removed.
This year's rainfall has been exceptional so far and has some economic consequences. Mainly it impacts on agriculture because farmers are complaining that the excessive rain is damaging their crops and that part of the maize harvest will have to be written off. This is turn is impacting on the spot price of maize. Last year South Africa had an excellent maize crop and was in a position to export maize. This year the crop should be at least sufficient for domestic consumption, but the level of exports will be significantly less. Another effect of the high rainfall has been on Eskom's coal stocks, but it appears that Eskom has learned from its past problems with wet coal and managed the situation far better that it did previously. No power outages are expected due to wet coal.
Most South African's are unhappy about the slow pace of reform in the government since the Ramaphosa administration took power, but it has just won a $750m loan from the World Bank in recognition of the fast pace of its reform. The World Bank mentioned the lifting of the ceiling on distributed power generation to 100Mw, improvements in digitisation especially in the distribution of social grants, progress with climate change and a variety of other areas. The government was particularly recommended for its handling of the COVID-19 pandemic. The loan, which translates into about R11,4bn will not have a huge impact on South Africa's finances but it is a rare example of recognition by an international body of the performance of the Ramaphosa administration.
The decision by Adrian Gore, CEO of Discovery, to make vaccinations mandatory for his staff is salutary. At this point more than 94% of the 9919 Discovery staff have been vaccinated and only 337 (3,4%) have objected formally. Several other listed companies and Universities have followed suit and we believe that this will become the norm in large, listed companies and other organisations with substantial staff numbers. Obviously, if the government was to insist on all its employees being vaccinated it would set a great example, but unpopular moves like that may be deemed to be too authoritarian and no doubt the unions would object strongly. It is quite possible that the government may begin to issue "vaccine passports" early this year which will restrict the access of unvaccinated people from key public places. This approach is being followed or contemplated by a number of European countries already. What is clear is that life for the unvaccinated it going to become increasingly difficult.
The Rand
In the last Confidential Report, published on 1st December 2021, we said the following:
"It is important to understand that the dollar strength has impacted negatively on most first world currencies and that the shift to "risk-on" has negatively affected all the emerging currencies as well. In our opinion, the rand has held its ground remarkably well in the face of this sell-off. We do not believe that the current weakening pattern will be sustained. We are expecting the rand to resume its long-term strengthening trend in due course…"
Consider the chart: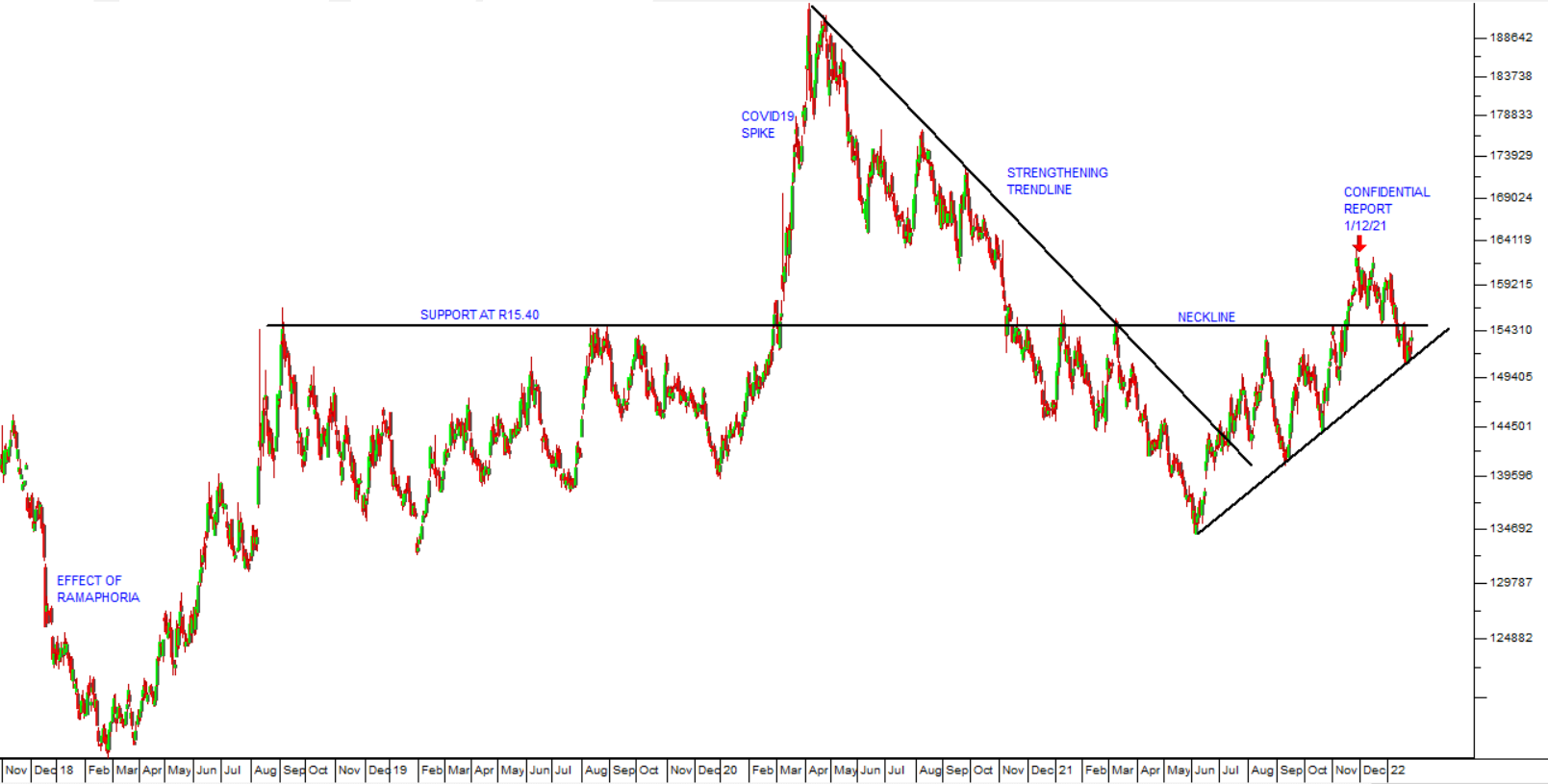 As you can see, our prediction is coming true – the rand gained ground steadily against the US dollar through December and has been strong this year. Obviously, some of that strength is attributable to the relative weakness in the US dollar. As you can see from the chart the rand is now in a strengthening trend and is hovering around that R15.40 support level which we have previously identified. We expect it to continue strengthening in the absence of any unexpected developments.
Eskom
The proposal by Eskom that it be allowed to raise electricity prices by 20,5% is obviously highly inflationary and a further blow to consumer spending in South Africa. The company says that it needs the increase to repay its high levels of debt and to maintain its service. Its opinion is that electricity prices in South Africa are low compared to other countries. It seems doubtful that Eskom will get what it is asking for, but it will certainly get an above-inflation increase. Of course, this further rise in the cost of electricity will persuade even more individuals and companies to generate their own electricity from renewables such as solar or wind. It is clear that Eskom's share of the market is declining and that it is entering a negative cycle of charging fewer and fewer clients more and more.
One of the critical decisions that Finance Minister, Enoch Godongwana, will have to make before the February 2022 budget is exactly how the Eskom debt is to be dealt with. That debt has now been reduced to R392bn from R460bn and it needs to be resolved before the company can proceed with splitting off its transmission unit into a separate legal entity. Creditors, concerned that in the process of the split their debt will end up in an organisation with less income, have banded together and appointed Rothschild to evaluate the situation. The splitting of Eskom into generation, transmission and distribution seems like the correct strategy, but obviously the question of the allocation of the debt to the three entities will have to be settled and agreed with creditors.
Eskom is now planning to lease some of the 36 000 hectares of land which it has to independent power producers (IPP). This will enable them to connect to the national grid more easily – and will obviously result in an income for Eskom. It is clearly a step in the direction of involving private enterprise in the production of power. Business Unity South Africa (BUSA) says that its members have almost 4 gigawatts of potential power projects which are waiting for bureaucratic approval. The implementation of the projects would significantly reduce the strain on the national grid while at the same time improving its carbon footprint.
The Eskom finances are showing the impact which CEO de Ruyter is having on the organisation. The company reported a profit in the first half of R9,2bn, but expects to report a loss for the whole year of about R9,1bn – which is a massive improvement on the R19bn loss made in 2020. The debt position has also improved significantly with government assistance. The Eskom debt has now fallen to R360bn from R420bn in September 2020. De Ruyter's cost cutting measures and his efforts to improve business efficiency are very evident. It is notable that the municipalities owe Eskom a collective R41bn which is proving very difficult to collect.
Commodities
OIL
As the world economy recovers from COVID-19 and benefits from the enormous stimulatory packages put in place by central banks, the demand for oil is rising and so is the price. The impact of electric vehicles on oil is still relatively insignificant. The rising price of oil is impacting inflation rates around the world – and that, in turn, is causing central banks to become more "hawkish" and begin a cycle of rising interest rates. Consider the chart: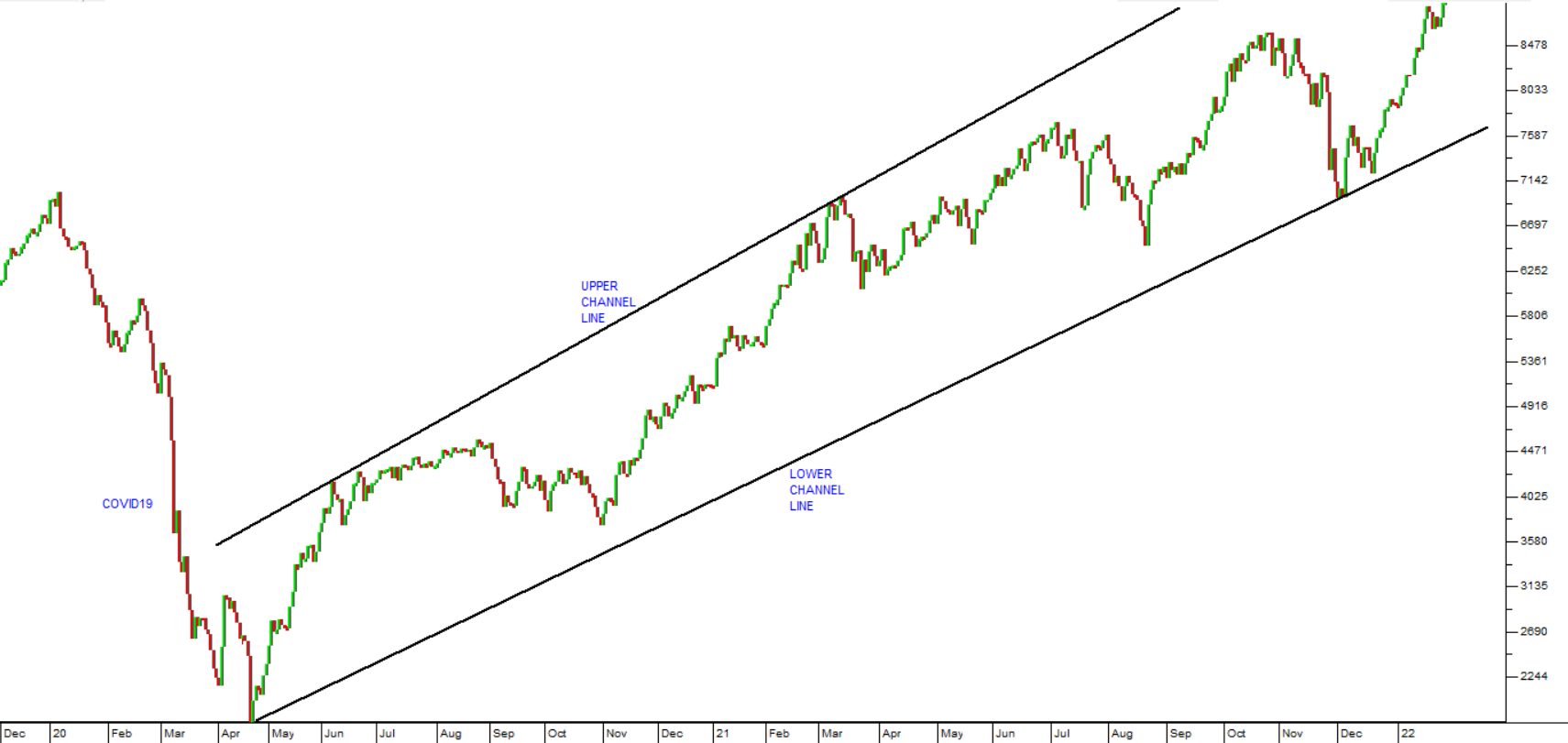 Following the downward spike caused by COVID-19, the North Sea brent oil price has been recovering from a low of around $24 to its current level of just under $90. Technically, it has been moving inside a rising channel bounded by upper and lower channel lines. We expect this trajectory to continue for some time and to continue pushing up inflation rates.
GOLD
Since January 2016, when commodity prices turned upwards, the US dollar price rose to just over $2000 per ounce. Since then, it has been tracking down to levels around $1750. Now it appears that, with rising world inflation, it is moving up again. Consider the chart: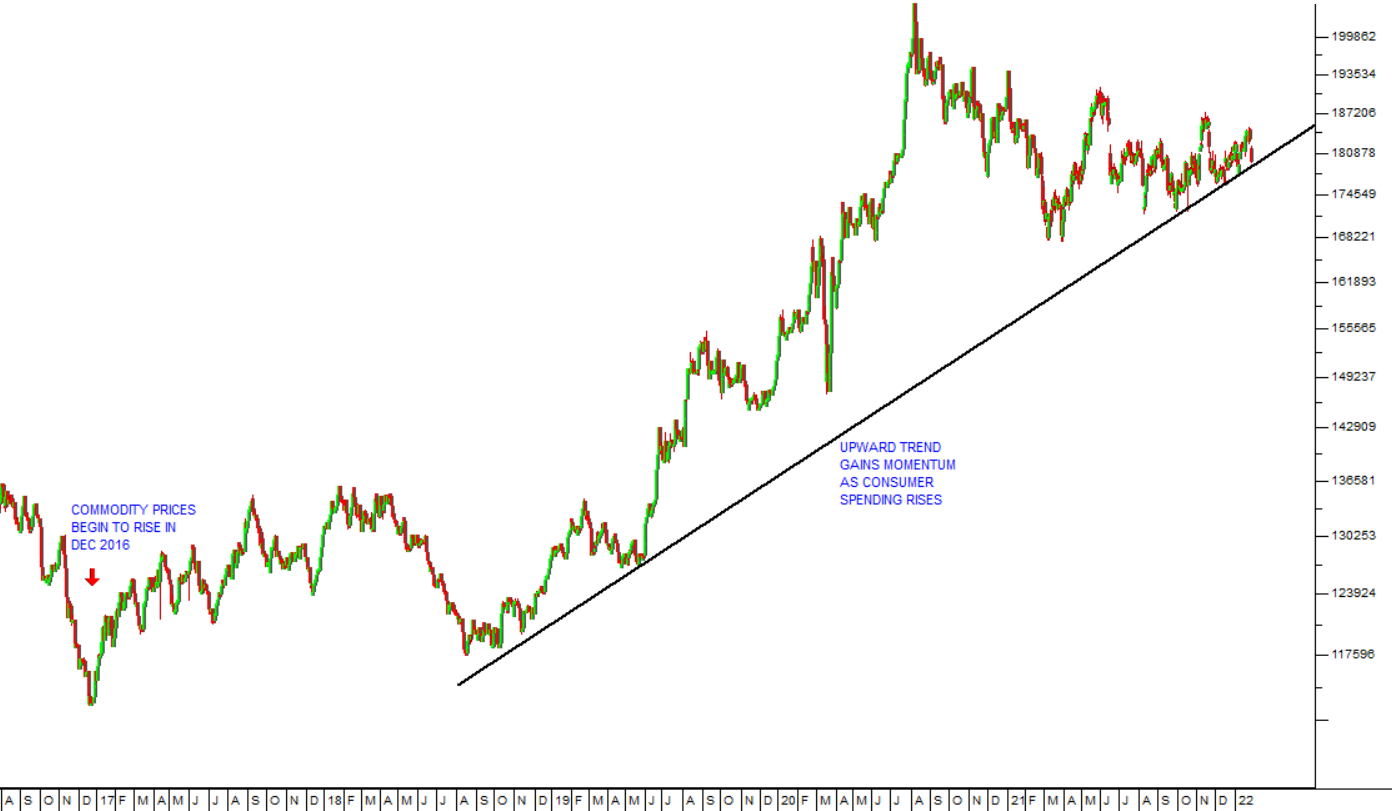 Gold is the ultimate store of value and safe haven asset. In times of high inflation or political disturbance investors move into gold to protect their wealth, despite the fact that it has a zero return. For this reason, rising inflation is traditionally accompanied by a rising gold price. Our advice to South African investors has always been to keep roughly 10% of their assets in Krugerrands, mainly because of the relative political uncertainty in this country. A Krugerrand is easily transportable and can be sold anywhere in the world for its value at the current gold price. The only problem with it is that it does not give any kind of return – it is simply a store of value. The build-up of military hardware and personnel around Ukraine in recent weeks may result in a rise in the gold price, if no resolution with Russia can be reached.
Companies
PROPERTY
We see the Property Index (J253) as continuing to recover in 2022. Consider the chart: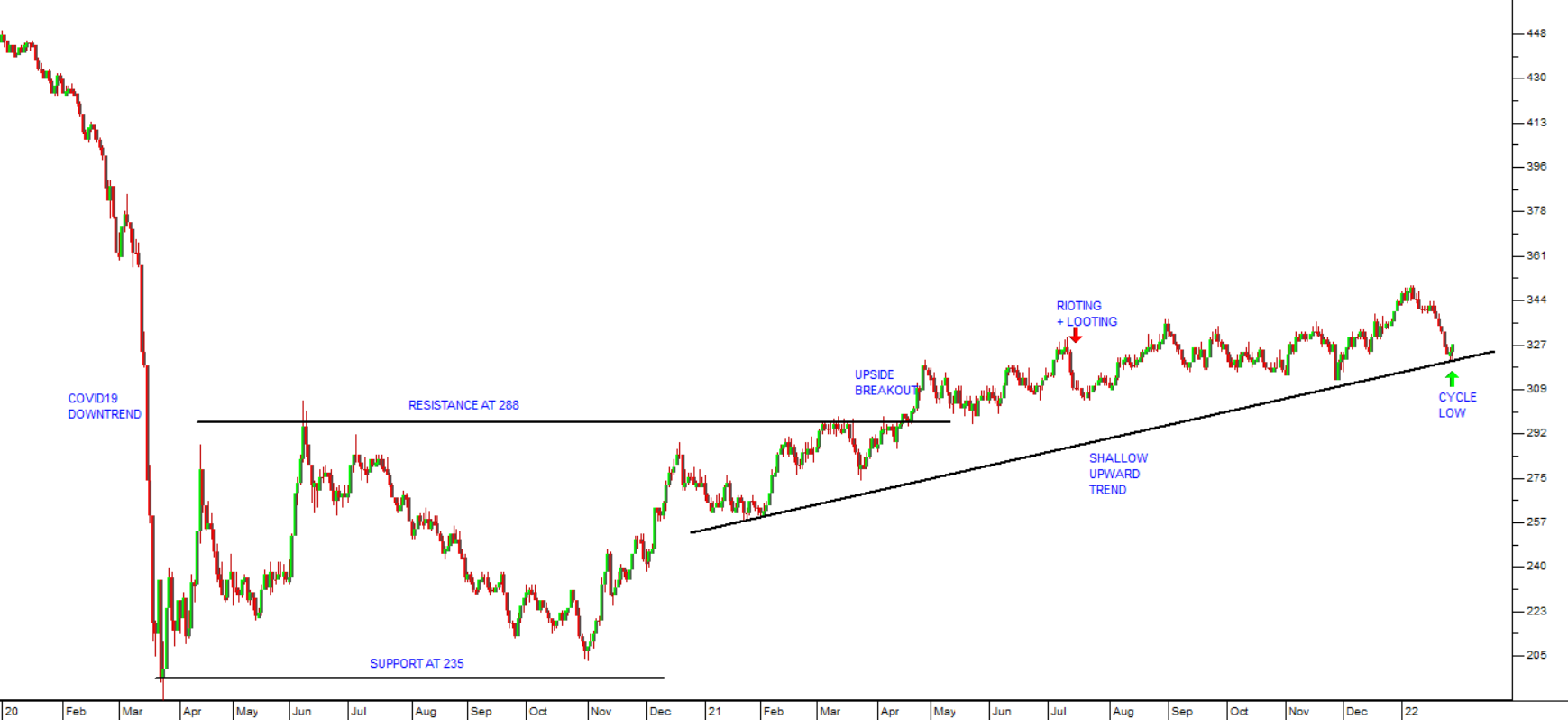 As you can see here, after recovering from the July 2021 civil unrest, the property index has continued its gradual upward trend. The long-term impact of COVID-19 is re-shaping the industry away from offices towards warehousing that can be used in online shopping.
Property companies have been steadily reducing their debt and should continue to resume dividend payments later this year. At the start of 2020, the property index fell 56,25% by 23rd March before beginning to recover. 2021 was better, with the index gaining 28% during the year. This year, we expect property to do better with improved rental collections and increased valuations, especially in certain sectors – like self-storage and warehousing. Office space is expected to recover somewhat, although a percentage of workers will continue to work from home. Many small businesses will come to the end of their existing leases in 2022 and choose not to have an office going forward, but there are certainly opportunities in the property sector.
ARCMITTAL
In July 2020 you could have bought Arcelor Mittal shares for just 25c. The company came to within a whisker of going under. Since then, the share has climbed to over 1000c – a gain of 4000% in under 18 months! Consider the chart: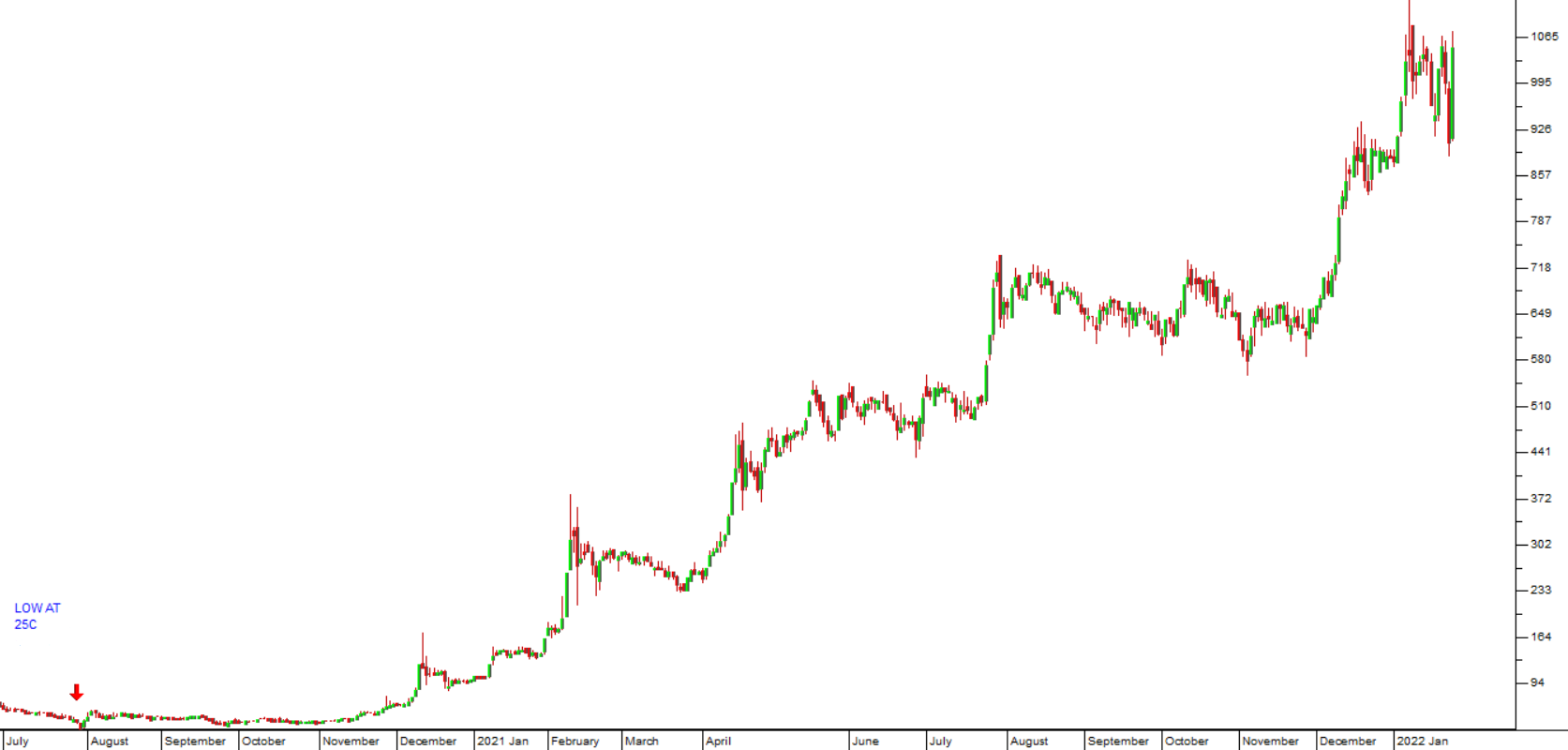 Arcelor-Mitall (ACL): July 2020 - January 2022. Chart by ShareFriend Pro.
Such growth is rare on the JSE, and it is perhaps worth considering how you might have managed to get at least some of that gain.
In the ten years up to 2020, the company made headline losses every year except for 2018 – so the steady decline in its share price was well justified. But by 31st December 2020 it managed to reduce its headline loss from the 2019 figure of R3,265bn by more than R1bn – which translated into 190c per share. And now in a trading statement for the year ended 31st December 2021 the company is projecting headline earnings per share (HEPS) of between 600c and 630c. That is a massive turnaround. Suddenly, it is on a forward P:E of about 3,71 (R10 share price/R6 HEPS) – which still looks amazingly cheap.
Of course, we should not forget that Arcmittal is a steel company and subject to all the vagaries of the steel market and the dumping of cheap steel on the South African market. But those negatives look to be more than discounted into its current price.
SHOPRITE
On Thursday last week, Shoprite issued an operational update for the six months ending on 2nd January 2022. In that update it disclosed that merchandise sales had increased by 10% and that the group added a net 57 new stores to its supermarket business. Clearly, this is a retail company which is growing steadily despite all the problems of doing business in South Africa and the rest of Africa. In a word, it is a solid blue-chip share. Consider the chart: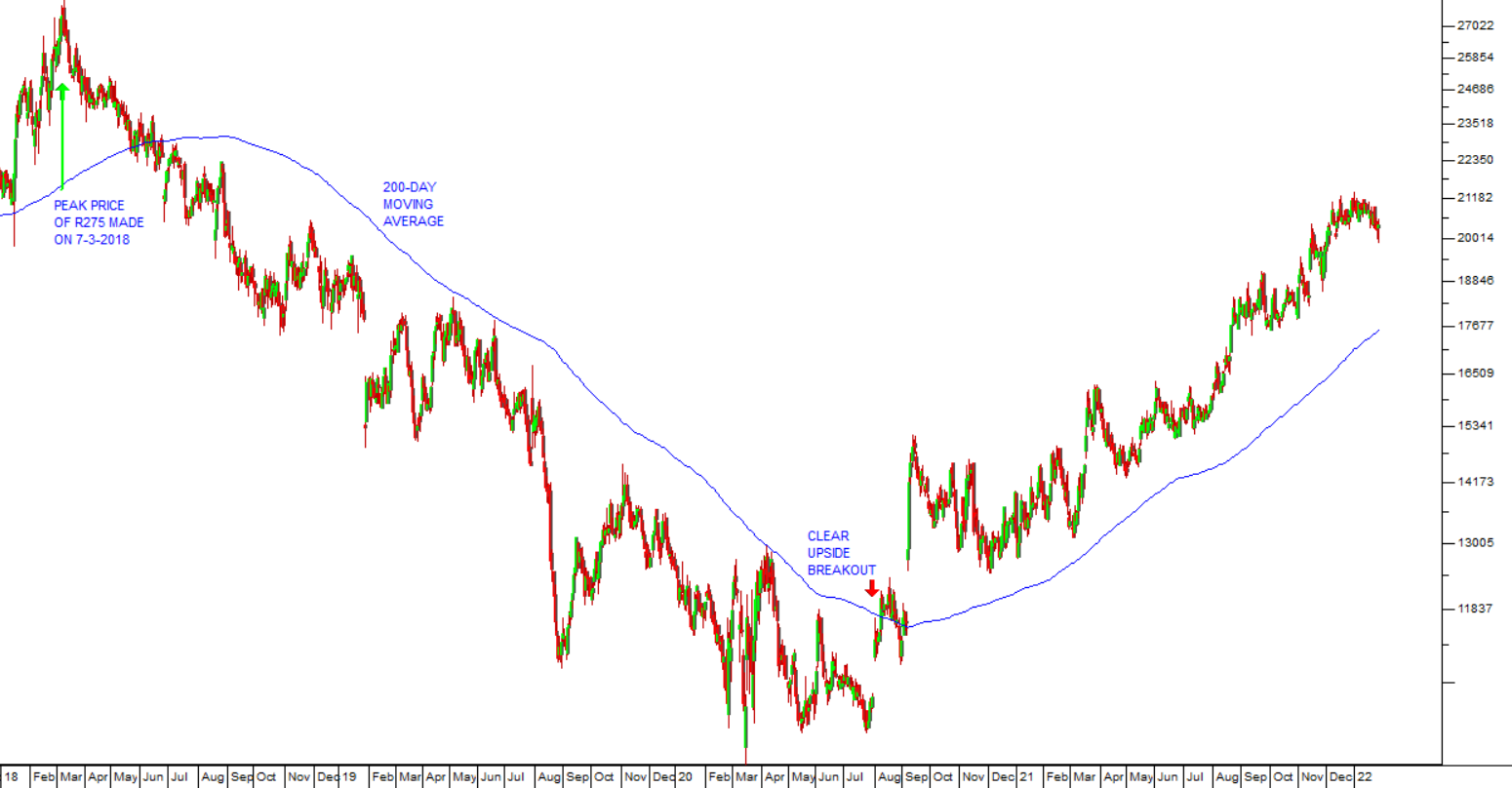 You can see here that the share reached a peak of R275 in March 2018 and then began a long downward trend which ended in July 2020 following the advent of COVID-19. By that time, it was trading for around R100 and was on a price:earnings ratio (P:E) of 13,5. As it was falling, we advised that you should apply a 200-day simple moving average and wait for the share to break up. That upside break came on 8th September 2020 when the share was trading for R129. Since then, the share has been rising steadily and is now trading for R208.13 and on a P:E of over 20. We believe that it will continue to perform.
LEWIS
In a trading update for the 9 months to 31st December 2021, Lewis reported merchandise sales up by 12,7% with cash sales up by 9,4% and credit sales up by 16%. The company reported "robust" Black Friday sales with December 2021 sales up 20,7% compared with December 2019. Given the pressures on the consumer resulting from higher petrol prices, the civil unrest in July 2021 and the loss of jobs during COVID-19, this is an exceptional performance. And, of course, Lewis has the distinction of being almost the only major listed retailer in South Africa that has no debt. Consider the chart:
We first recommended this share on 2nd September 2020 when it was trading for 1668c. Today it is trading for 5100c and still rising. Technically it has a strong upward trend line, and it is on an absurdly low price earnings ratio (P:E) of 7,18 and a dividend yield (DY) of 6,12. We believe that as the fund managers realise how cheap it is they will begin buying it and push the price up.
AVENG
Aveng published a voluntary trading update on 20th January 2022 in which it disclosed that its Australian subsidiary, McConnell Dowell, had won orders for an additional A$1,1bn which increased its work in hand to R29,1bn. Moolmans, a mining engineering company in South Africa, was benefiting from the continuing boom in commodities and Trident Steel, which is held for sale, had performed in line with budget. The company's stronger balance sheet and improving prospects are making its current price:earnings (P:E) ratio of 2,65 look very cheap. The JSE's average P:E is 12,47 and the construction and materials index (JS5011) has an average P:E of 20,28. You should also bear in mind that about two-thirds of Aveng's business is in Australia, New Zealand and South East Asia – making it substantially a rand hedge. Following the 500-for-1 consolidation on 8th December 2021, most of the penny stock speculators have by now sold out of the share and its performance is beginning to normalize. Consider the chart: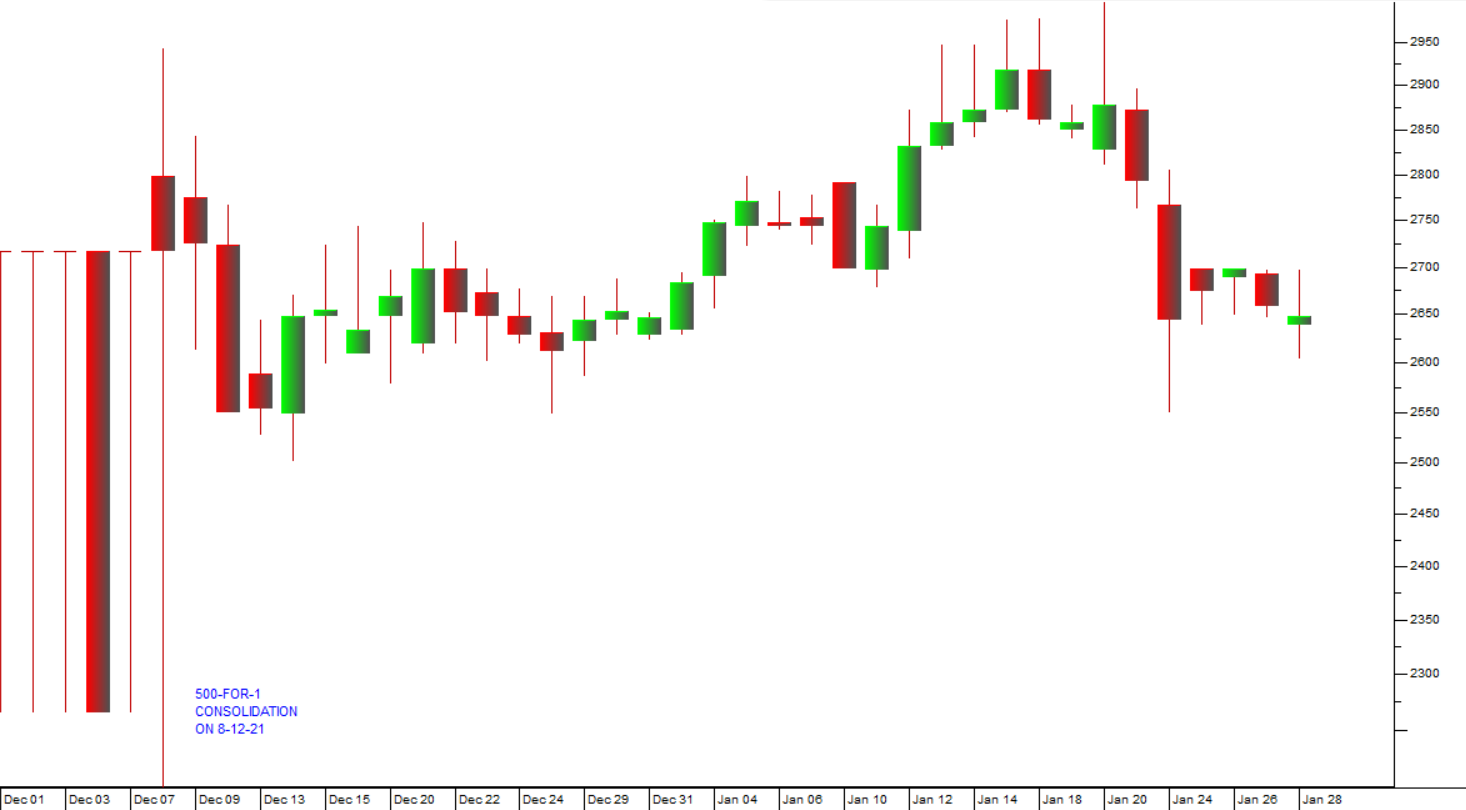 Since the 500-for-1 consolidation, the share has been moving sideways. The downward move over the last 10 trading days is probably due to the correction taking place on Wall Street. We expect the share to recover strongly once that correction is over. We regard this share at the current price as being very good value.
MR PRICE
In a trading update for the 13 weeks to 1st January 2022, Mr Price announced that it had grown retail sales and other income by 19,2%. Given the depressed state of consumer spending, this performance is remarkable, especially when you consider that the company began the period with 41 stores closed due to the looting and civil unrest in July 2021. Consider the chart: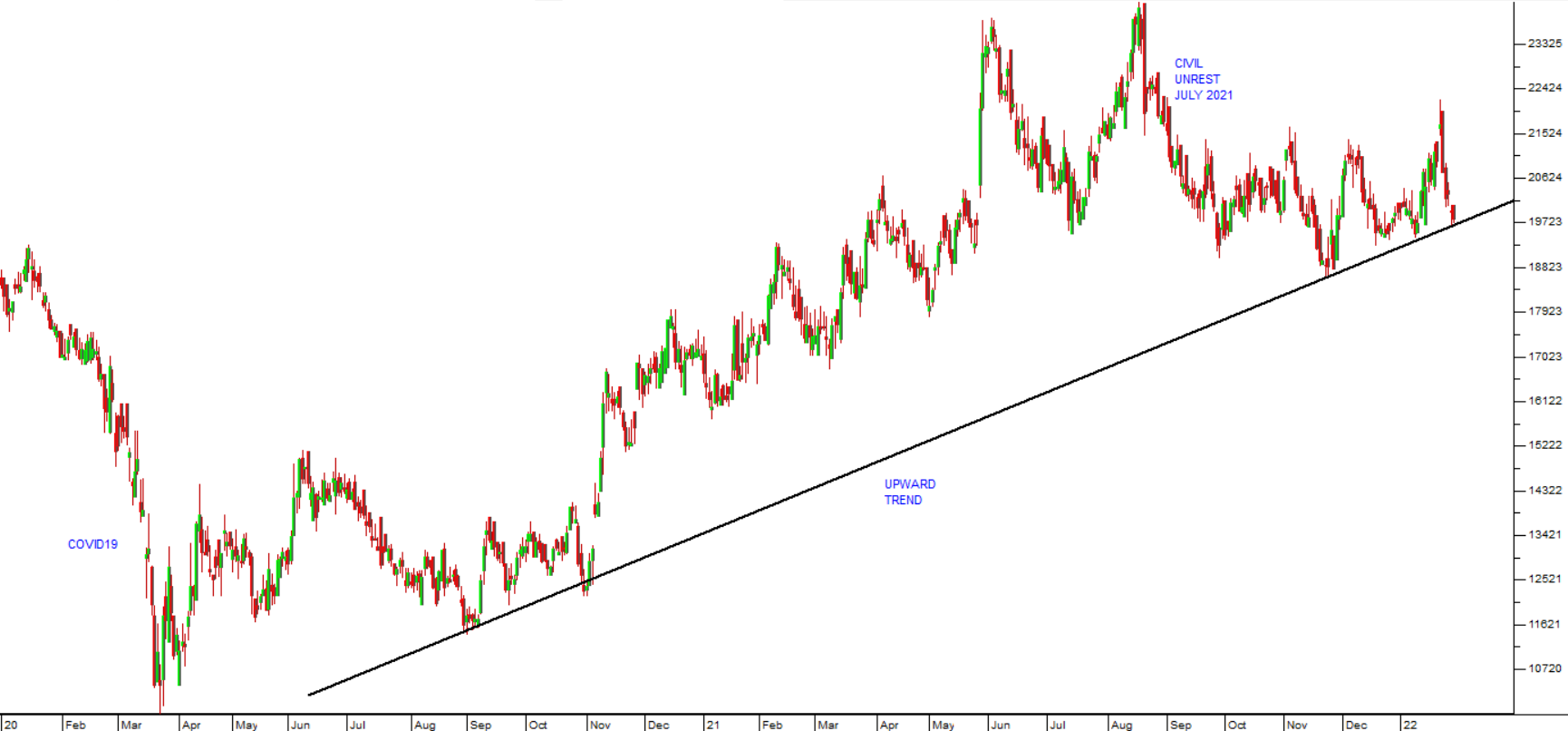 You can see here the impact of the pandemic in March 2020 followed by a steady upward trend in the share from about November 2020. That upward trend was derailed by the civil unrest and looting in July 2021, but since then the share has been trending up again. It is currently trading at a price:earnings ratio (P:E) of 16,78 which looks cheap to us. We do not think that the fund managers will leave this blue-chip share at this P:E for long – so it represents a buying opportunity.
DISCLAIMER
All information and data contained within the PDSnet Articles is for informational purposes only. PDSnet makes no representations as to the accuracy, completeness, suitability, or validity, of any information, and shall not be liable for any errors, omissions, or any losses, injuries, or damages arising from its display or use. Information in the PDSnet Articles are based on the author's opinion and experience and should not be considered professional financial investment advice. The ideas and strategies should never be used without first assessing your own personal and financial situation, or without consulting a financial professional. Thoughts and opinions will also change from time to time as more information is accumulated. PDSnet reserves the right to delete any comment or opinion for any reason.
Share this article: