1 December 2021
By PDSNET
America
The US economy is still booming. Weekly jobless claims, for the week ended 20 November 2021, fell 71 000, while consumer spending jumped 1,3% in October month alone. Third quarter gross domestic product (GDP) came in at 2,1% - hammered by supply constraints, but above analysts' expectations. Unemployment has fallen to 4,6% and is rapidly approaching the economic definition of "full employment". American consumers are spending with abandon, despite and perhaps because of rising inflation. Fourth quarter growth is now expected to come in even stronger. JP Morgan is expecting 7% growth and Morgan Stanley 8,7% - so it looks like the year is going to end with a bang. The supply crisis is apparently dissipating rapidly, even the Atlanta Federal Reserve Bank is now expecting growth of 8,6% in the quarter.
Of course, this surge in economic growth is entirely predictable. Prior to COVID-19, the US was just about to begin normalising its economy after years of ultra-low interest rates and unprecedented quantitative easing (Q/E). Once the pandemic struck, however, all thoughts of normalising went out the window and instead the Federal Reserve Bank (the Fed) began a new schedule of zero interest rates combined with even more Q/E. In fact, over the 18 months since the pandemic began, the Bank has printed and injected more than $11 trillion into the US economy. It is not surprising then that consumers are spending, and it is not surprising that inflation is moving up steadily.
Everyone knows, that before interest rates can begin to rise back to more normal levels in the US, the program of Q/E must be terminated. So, the Fed has announced that it is commencing "tapering" or reducing the level of quantitative easing (Q/E) at the rate of $15bn a month from its current level of $120bn a month. That implies that Q/E will cease by June next year. Once that is done, a program of interest rate hikes could begin. The announcement of tapering was expected and had no significant impact on the share market. In general, for the stock market to take fright, interest rates must rise sufficiently to begin impacting corporate profits – and we are a long way from that.
The level of inflation in the US has remained stubbornly high for the past six months, despite the widely publicised belief that it would come down as "base effects" from the 2020 year subsided. One major factor in inflation has been the continued rise in the oil price. That has combined with rising food prices to keep US inflation above 5%. So, once Q/E is finished next year, we are expecting rates to begin rising in the US – perhaps from as early as the second half of 2022. If we are right, then the S&P500 will probably come under pressure as investors discount a new rising rate cycle.
The re-appointment of Jerome Powell, by Biden, as Governor of the Fed had an immediate impact on the S&P500 index. This is because Powell is thought to be more "hawkish" and likely to accelerate tapering and bring the inevitable rise in interest rates going forward. The unemployment rate in America has improved to as little as 4,6% in October 2021 from its worst level of over 14% at the height of the pandemic in 2020. Economists generally regard 4% or just below that level as being full employment in the US. Inflation has been moving up steadily and the bond market is pricing in the first rise in interest rates in America in July 2022 – once the quantitative easing program has ceased.
Fears about a 4th wave of the pandemic sent markets into a tailspin over the Thanksgiving weekend with the S&P500 falling 2,3% in a half a trading day. Germany recorded its highest ever number of new COVID-19 cases last Friday at 65584. On that same Friday (26th November 2021) the JSE Overall index fell 2,7% and the FTSE100 index fell 3,7%. Given the level of vaccinations worldwide and the probability that the effects of the new Omicron variant will at least be mitigated by the vaccination and existing immunities, we believe that this sharp move in world markets is almost certainly an over-reaction and therefore potentially a buying opportunity. Consider the chart: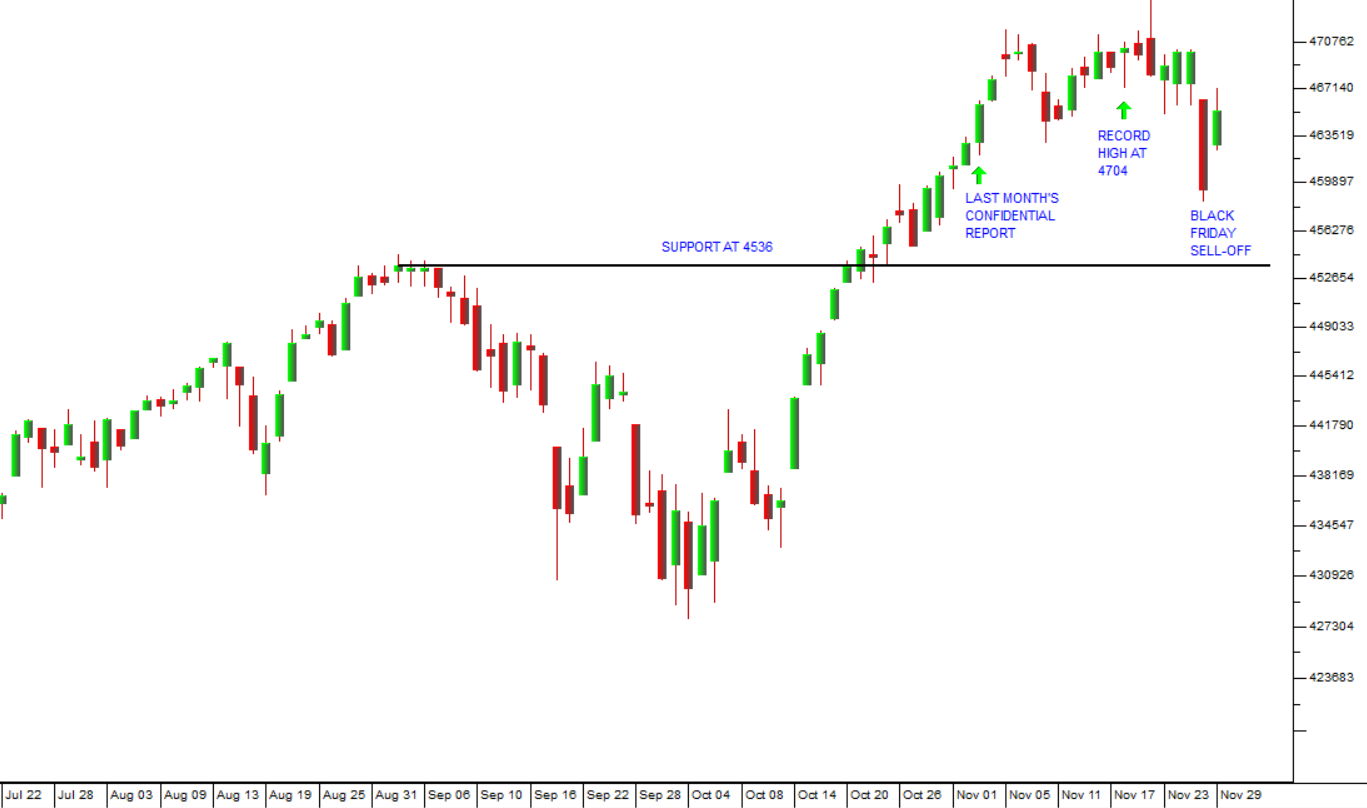 You can see here that at the time of the last Confidential Report (3-11-21) the S&P had broken to new record highs and was rising rapidly. There followed a period of sideways movement until the Thanksgiving holiday. We fully expected the index to continue to make further new record highs in the run up to Christmas, but then the Omicron variant sent investors running for the exits. In our view, this is probably a short-term phenomenon and, as more information emerges about this variant, markets will relax, and the upward trend will resume.
However, we have warned on various occasions that a major correction of between 10% and 20% is overdue on the S&P. It's just that we think it is more likely to come some time next year, rather than before Christmas.
Political
The fall-out from the elections continues with the ANC losing control over key metros and having to accept a role as the opposition party in many cases. It has lost the three metros in Gauteng and came very close to losing eThekwini (Durban). The sharp reduction in voter turnout is a strong indication that many South Africans have given up hope in the reform process and in the democratic system generally. The in-fighting within the ANC has cost them dearly and is a stark warning that the national elections, due in just under three years, could easily see the ANC removed from power. The surprising political vulnerability of the ANC has definitely reduced South Africa's political stability as an investment destination and that is part of the reason for the rand's recent weakness. Overseas investors are now by far from sure of the outcome of the next election and are factoring that into their long-term investment decisions.
The election result is also an indication that South Africa has matured past the stage of blindly re-electing the country's original revolutionary party. The ANC's achievement of overturning apartheid has been largely relegated to history by an electorate who mostly have no direct and personal experience of what it was like to live under apartheid. This has opened the door for new parties like Action SA to form and gain a material share of the vote. The management of individual municipalities is probably the ANC's worst failure and voters have exercised their power to change the political nature of those in charge. Of course, this does not necessarily mean an end to indolence, corruption and incompetence but it will certainly make the new councillors feel far less secure.
Economy
The mid-term budget policy statement (MTBPS) was comfortingly conservative with Minister Godongwana adopting a very sensible approach which helped to calm markets and showed that he was not going to do anything radical or populist. The commodity windfall provided an additional R120bn in tax revenue, most of which is to be used to pay down government debt. Progress in the reduction of the government's debt is being closely watched by the ratings agencies and international investors. It has become the critical measure of South Africa's reform process.
The economy has recovered more quickly than was expected from the pandemic and GDP growth in the 2021 year is now estimated to be 5,1% rather than the 3,3% suggested in the February budget. The estimates in the MTBPS for GDP growth in 2022 and 2023 are conservative in our view but assume continued loadshedding. Godongwana's refusal to budget for any further bailouts to go to the state-owned enterprises (SOE) is probably optimistic. No doubt he will have to adjust that, especially in the case of Eskom. So, the MTBPS was probably about the best that we could expect in a difficult economic environment. In the MTBPS, Godongwana has also shown that he is able to cope with the enormous pressure from the unions to increase government spending, especially following the ANC's devastating performance in the elections.
We consider the MTBPS expectations for further windfall taxes arising from the commodity boom in 2022 and 2023 to be conservative. We expect the commodity boom to continue for some time still and possibly even accelerate. Commodity prices obviously depend on the continued recovery of the world economy and especially the US economy. Demand for commodities is derived from the demand for products, particularly in first world countries. China has become the workshop of the world exporting products to all countries. South Africa is a supplier of some of the raw materials needed to make those products. Critically, the government needs to stop obstructing the mining industry with bureaucratic and idealistic impediments so that it can maximise the benefits from high commodity prices. The mining industry has projects to invest about R60bn to produce 3,9 gigawatts of renewable energy which are currently being obstructed by bureaucratic requirements.
Probably the most important discussion which emerged from the mid-term budget policy statement (MTBPS) was the issue of state-owned enterprises (SOE). The Minister pointed out that the government has spent R290bn since 2013 supporting SOE's. This was money that could have been spent on providing housing or basic services like water, electricity, and waste removal to destitute communities. The deputy Finance Minister took this a little further when he suggested that there needed to be a debate over which SOE's were "no longer strategically relevant" and how private enterprise could take over some of the functions currently performed by SOE's. Of course, private enterprise has been filling in where government services have failed since the ANC took power. This can be seen in the education sector where companies like Curro have filled the enormous gap left by the collapse of government schools. We have also seen it in the security industry due to the decline in effective policing and in the health sector where government hospitals are a shadow of what they once were. The question which the government now appears to be willing to debate is the extent to which private enterprise should take over various SOE functions – in other words they are talking about the political hot potato of "privatisation".
The producer price index (PPI) jumped to 8,1% in October 2021 – up from September's 7,8% and is a direct reflection of the increase in fuel prices. Energy prices have been rising throughout the world, but the sharp weakening of the rand over the past month has pushed the petrol price to new record levels. We expect this to work rapidly through to the consumer price index (CPI). The renewed loadshedding has also been a factor in accelerating factory costs and reducing the efficiency of production. Rising food, beverage and tobacco prices were also contributors to the PPI showing that inflationary pressures are broadening through the economy.
The monetary policy committee (MPC) raised the repo rate by 25 basis points this month – a move which was not unexpected. Obviously, the recent weakness in the rand and rising inflationary pressures motivated them to stay ahead of inflationary expectations, despite the poor state of the economy and the recently returned impact of loadshedding. The Reserve Bank's stance remains highly accommodative and interest rates remain very low, but the cycle has turned, and we can expect more rate hikes in 2022. Over time, the cumulative impact of these rate hikes will slow the economy down and, hopefully, keep inflation under control. The relative stability of the rand is the one factor which has kept the South African economy afloat through the Zuma years and state capture. But the rising oil price, combined with the falling rand means that fuel prices and the producer price inflation rate (PPI) are rising inexorably. This rise in the PPI has yet to feed through to the consumer price index (CPI) which was steady at 5% in October 2021, but it will in time. The decision to raise rates is also in line with a generally more hawkish stance by central banks around the world. The South African Reserve Bank expects the economy to grow by only 1,8% in 2022 and 2023 – which we think is probably conservative.
Of course, a major risk to the economy's recovery is the sudden spike in COVID-19 cases in the past few weeks. The advent of a virulent 4th wave of the virus will obviously have negative economic consequences. Further measures including lockdowns now become a distinct possibility. In our view, the 4th wave which now appears to have started will not be as severe as previous waves because a significant proportion of the population has either been vaccinated or has developed immunity due having already had corona in one of the previous waves. There is a possibility that the new strain (named Omicron) is not vulnerable to existing vaccinations, but we think that is unlikely.
Eskom
The other major factor (aside from the commodity boom) in the economy is the management of our electricity supply system. To us it looks like Eskom is slowly dying. Its ancient power stations are being sustained on a wing and a prayer. We expect power outages will continue and get worse. The deadly cocktail of incompetence, indolence and corruption which was set in motion during the Zuma era will require decades to fix, not to mention hundreds of billions of rands, which the organisation just does not have. Sensible businesses are rapidly taking advantage of the recent dispensation to implement plans to produce their own power. They are strongly motivated to escape Eskom's increasingly expensive and unreliably supply.
The deal which President Ramaphosa has made with UK, France, US, and Germany for R131bn in "concessional financing" is a huge step forward for the provision of renewable power in South Africa. The money is to be used for closing some of Eskom's old coal-fired power stations, building renewable energy and improvements to the electricity distribution system. It is being made available at very low interest rates to help the country to move away from coal and towards renewables far more rapidly than would otherwise have been possible. Also, from a purely financial viewpoint it is a massive injection of capital into South Africa at much lower rates than our current debt – so there is a huge saving on interest. RMB is of the opinion that the deal could be leveraged to bring in a further R390bn in private and foreign investment.
The burst of loadshedding before and after the election is clearly having a negative impact on the country's productivity. The ABSA purchasing managers index (PMI) for October month came in at 53,6 – down from last month's 54,7. This was also partly due to the impact of the 8-day metal workers' strike. Manufacturing is a key component of gross domestic product (GDP) and a major employer in the economy. Obviously, the return to stage 2 loadshedding after the election was a blow and will have a negative impact on production and exports. It is also impacting new vehicle sales which were just 6% better in October than October 2020's COVID-19-depressed sales.
It is becoming clear that the unions and other organisations want de Ruyter to resign and be the "fall-guy" for recent load-shedding. His response has been to explain the parlous state which Eskom finds itself in – especially the lack of funds and skills to undertake planned maintenance which has left the grid short of power and subject to unplanned outages. The fleet of coal-fired power stations is old and has skipped maintenance which should have been done years ago, making it unreliable. Many skilled engineers have left the company to find employment elsewhere leaving Eskom desperately short of skills. Obviously getting rid of de Ruyter is not going to resolve these problems.
The government is apparently still looking for a "strategic partner" for Eskom that will help to shoulder its enormous debt and possibly inject some skills. Clearly, this is a very hard sell. Eskom is making losses every year and has debt of over R400bn. Its technology is hopelessly out of date, and it is losing customers every day to renewables and other alternative energy sources. Like SAA, the case for a prospective investor is far from attractive. Eskom is also burdened with a massive unionised and apparently inefficient workforce that will have to be substantially reduced if it is to become profitable.
The Rand
Over the past month the rand has been surprisingly weak against the US dollar – perhaps because of renewed dollar strength and probably partly as a result of the ANC's performance in the recent election. It is now apparent that the rand has broken down out of its head-and-shoulders formation and looks to be heading weaker. Consider the chart: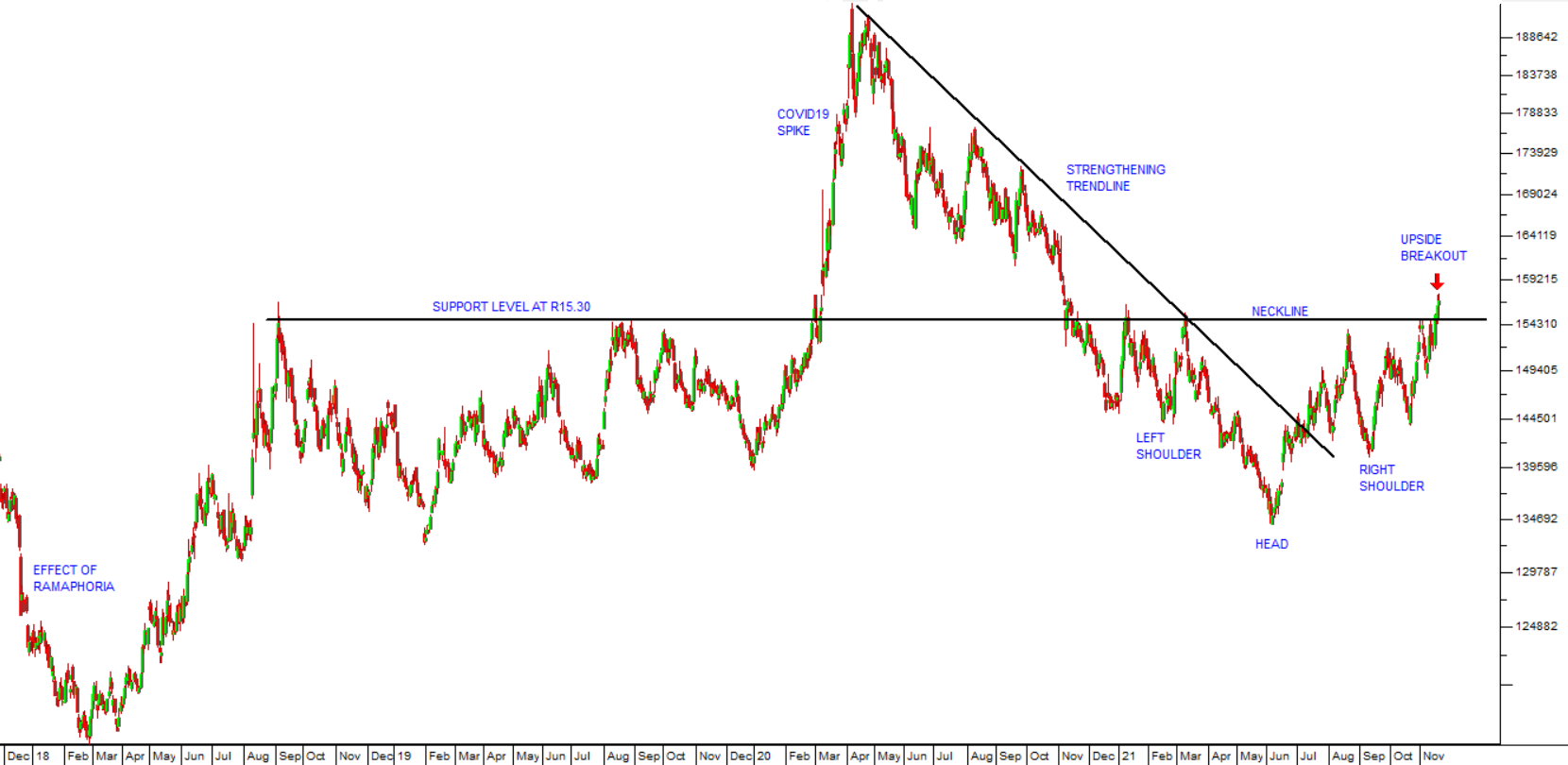 Beginning on the left-hand side of this chart, you can see the strength in the rand following Ramaphosa's appointment as President in early 2018. This was followed by a period of weakness when the rand depreciated rapidly against the dollar before encountering support at around R15.30 to the US dollar. The spike up to almost R19 to the dollar was associated with the general shift to "risk-on" which accompanied the emergence of the pandemic in early 2020. This peaked in April 2020 and the rand again began to appreciate steadily, reaching a high point of R13.43 to the dollar in June 2021. Since then, there has been a period of weakness and the rand has now broken down through a "head-and-shoulders" formation which indicates that it will weaken further from current levels.
In our view, the rand is and remains under-priced against hard currencies and the US dollar in particular. But sentiment in the US is running high as the economy roars ahead in a massive bull trend. This is causing the dollar to strengthen against the euro, the British pound and the Japanese yen – and the rand. There has also been a sharp shift to "risk-on" due to the new variant of the virus (Omicron) and the massive increase in recorded cases in Europe. On Black Friday (26th November 2021) investors responded sharply to these fears and bid the rand down to R16.24 to the dollar.
It is important to understand that the dollar strength has impacted negatively on most first world currencies and that the shift to "risk-on" has negatively affected all the emerging market currencies as well. In our opinion, the rand has held its ground remarkably well in the face of this sell-off. We do not believe that the current weakening pattern will be sustained. We are expecting the rand to resume its long-term strengthening trend in due course – but, for now, the rand is clearly in a weakening phase.
General
The offer by Heineken to buy 100% of Distell for R40,1bn is a massive vote of confidence in South Africa's long-term future. It will result in a huge injection of capital into the country and Remgro as owner of 31,7% of Distell will get a large chunk of cash. Remgro is an investment holding company, and like most investment holding companies trades at a discount to its net asset value. This deal will help to unlock some of that value. Distell shareholders were clearly expecting a higher price and the share dropped almost 10% when the deal was announced. But the deal was 53% above a 90-day volume weighted average price for the share. Obviously, Heineken will use Distell to gain a strong presence in Africa and it will exploit its brands like Savannah internationally. The transaction is a boost for President Ramaphosa's investment drive.
Recent statistics show that just under 40% of South Africa's roughly 40 million credit active consumers have an impaired credit record. An impaired credit record occurs when the debtor it at least 3 months behind on at least one debt. Impaired indebtedness is thus significantly below the record 45% in June 2015 and the 43% at the end of 2019 just before impact of the pandemic. So, one of the major impacts of the pandemic has been to substantially reduce consumer indebtedness. Now that the various indulgences and compensation schemes associated with COVID-19 are coming to an end many consumers could find it difficult to make debt payments. Black Friday can also be a major factor in credit extension. The more expensive unsecured debt accounts for a substantial proportion of total debt.
The death of the South African Post Office now seems inevitable, as was the death of SAA. The debt-laden parastatal is asking Treasury for an R8bn bailout, but the mid-term budget policy statement (MTBPS) made no mention of any such funding and our new Finance Minister talked about "tough love" in his approach to further bailouts for state owned enterprises (SOE). The Post Office's income has dropped from 3,4bn in 2015 to current levels around R1,5bn – mainly because its service has become virtually unusable. The public have moved to other private postal services like Post Net. We do not think the Post Office will survive in the long term – and no one, except those who work there, will be sorry to see it go or miss it.
Our Minister of Trade and Industry, Ebrahim Patel, appears to be a dangerous kind of extremist who has no real interest in the country's economic growth but adheres fiercely and passionately to a set of social reform policies which, if implemented could cause long-term damage and a loss of jobs. One such policy which he has decided to champion is described by the latest government "buzz-word", localisation. The idea is to force consumers, businesses and government to purchase locally produced goods, even if they are more expensive than their imported competitors. The inevitable result of this will be to increase costs. The first example is the recent requirement that government departments buy only locally produced cement, but Patel clearly has other products in mind. Of course, local cement producers, like PPC, are delighted because they will no longer have to compete with cheaper cement imported from Pakistan, but government departments and hence the taxpayer are being forced to pay a higher price for all construction. The basic point is that if we cannot produce a high bulk, low value product like cement cheaper than the Pakistanis can produce it and ship it here, then we shouldn't be in the cement business. If we want to compete internationally, we must concentrate on improving productivity – not trying to ban competition.
One element of the budget was the R11bn support for the South African Special Risks Insurance Association (SASRIA), the government's civil unrest insurance company. Obviously, this injection was necessary to ensure continued support of SASRIA. It is the only insurance company in South Africa offering cover for civil unrest risks. SASRIA says it has so far settled more than 10 000 claims worth more than R11,5bn. This shows that it has played a vital part in the economy's recovery from the July civil unrest. SASRIA offers cover for rioting and civil unrest up to a maximum of R500m. Obviously, SASRIA will now have to increase its premiums going forward. Civil unrest has become a way of life in South Africa with an average of one protest action a day, mainly coming from informal settlements, where there is an almost complete lack of service delivery. In the past, these protests have been sporadic, disorganised and relatively benign, but what happened in July 2021 was a serious danger to our way of life in South Africa. Hopefully the authorities have taken steps to ensure that we do not face that type of widescale looting and destruction again. In the meantime, thousands of companies have been compensated or even saved by their SASRIA insurance policy.
It is amazing to us that there are about 1300 government buildings around the country that are illegally occupied. This demonstrates the inability of this government to manage and control its resources. Removing the squatters is clearly now a massive problem fraught with legal problems and politically frightening. Indeed, the problem of illegal occupation of land throughout South Africa has become a massive problem with informal settlements springing up everywhere. In Cape Town alone there are 50 new illegal settlements that have formed since the start of the pandemic.
Companies
RENERGEN (REN)
At the beginning of October 2021, Renergen shares were changing hands at the rate of about 125000 shares per day on average. Then volumes began to increase dramatically together with a gradual increase in the share's price. This is a classical sign of insider trading. The "smart money" knows something important and sets about mopping up all the "loosely held" shares in the market – causing the share price to rise in small increments but on massive increases in volume. Consider the chart: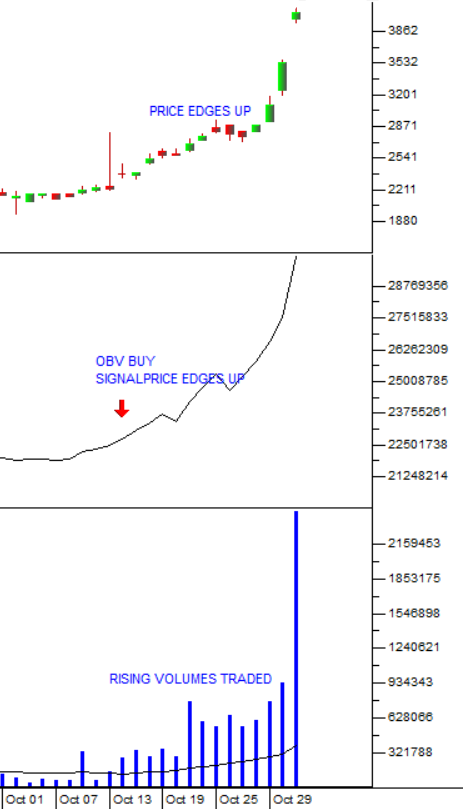 In this chart the top graph is a candlestick of the daily prices from the beginning of October 2021. The middle chart is an On Balance Volume (OBV) chart which shows the accumulation of the share by insiders. The bottom chart is a volume histogram with a 30-day moving average superimposed.
You can see here how "volume leads price" as the insiders buy up shares before the public announcement – which only came on 4th November 2021. Following the OBV buy signal given on 14th October at 2390c, the share has spiked up to 4076c – a gain of over 70% in just 13 trading days.
PURPLE CAPITAL (PPE)
Purple Group (PPE) is a trading platform and asset management company that is aimed mainly at the private investor and offers the cheapest dealing costs in shares on the JSE. The company has three divisions: (1) Easy Equities which enables investors to buy very small quantities of shares with very low dealing costs. For example, buying R100 worth of a share costs the investors just 64c. 95% of accounts opened are first-time investors and the company has 150 000 active investors. Easy Equities has now teamed up with Capitec and is opening as many as 60 000 new accounts a month. (2) Emperor Asset Management which manages funds on behalf of clients and (3) GT247, a derivatives trading platform. In its results for the year to 31st August 2021 the company reported revenue up by 26% and attributable profit up 207%. Much of this was due to Easy Equities which increased the number of funded retail accounts by 183% to 737969. These results represent a significant turnaround which was heralded by an upside break out of an extended sideways market on 29th May 2020 at 43c and then a sharp on-balance-volume (OBV) buy signal in August 2020 at 66c. The share has since moved up to 224c on rising volumes. It is well traded with an average of around R3,4m worth of shares changing hands daily. Consider the chart: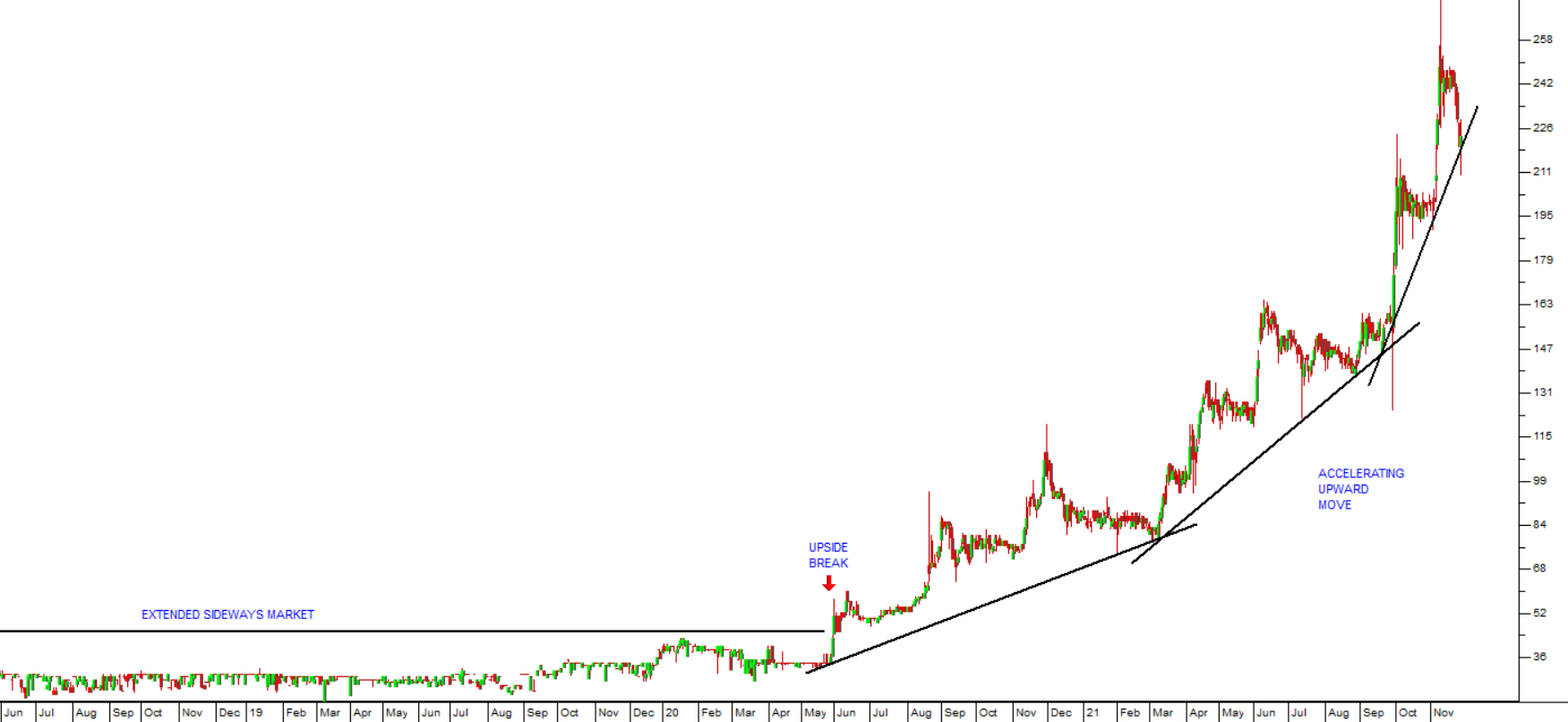 HARMONY (HAR)
Harmony (HAR) is probably South Africa's most marginal gold mine with an all-in sustaining cost of production of $1691 against a gold price of about $1800 per ounce. This gives it a narrow profit margin of just $109. A margin like that can easily turn into a loss if the gold price moves down. A gold mine like this is known as "marginal" and small movements in the rand price of gold can have a radically impact the mine's profitability, pushing it from profit to loss and back to profit very quickly. The result tends to be a volatile share price and a lot of uncertainty which investors generally do not like. The company has recently purchased Mponeng gold mine for R4,2bn. Mponeng is the world's deepest mine and has all the problems of ultra-deep level mining. The company is building a 30mw solar park in the Free State and has plans to build a further 80mw of green power. Technically, the share peaked at R124.95 on 5th August 2020, and then entered a correction reaching a low point of 5160c in August 2021 and then began a downward trend. We advised investors to wait for a convincing upside break through its long-term downward trendline. That break came on 12th October 2021 at 5458c. Since then the share has moved up to 6454c – a gain of 18,2% in just over a month.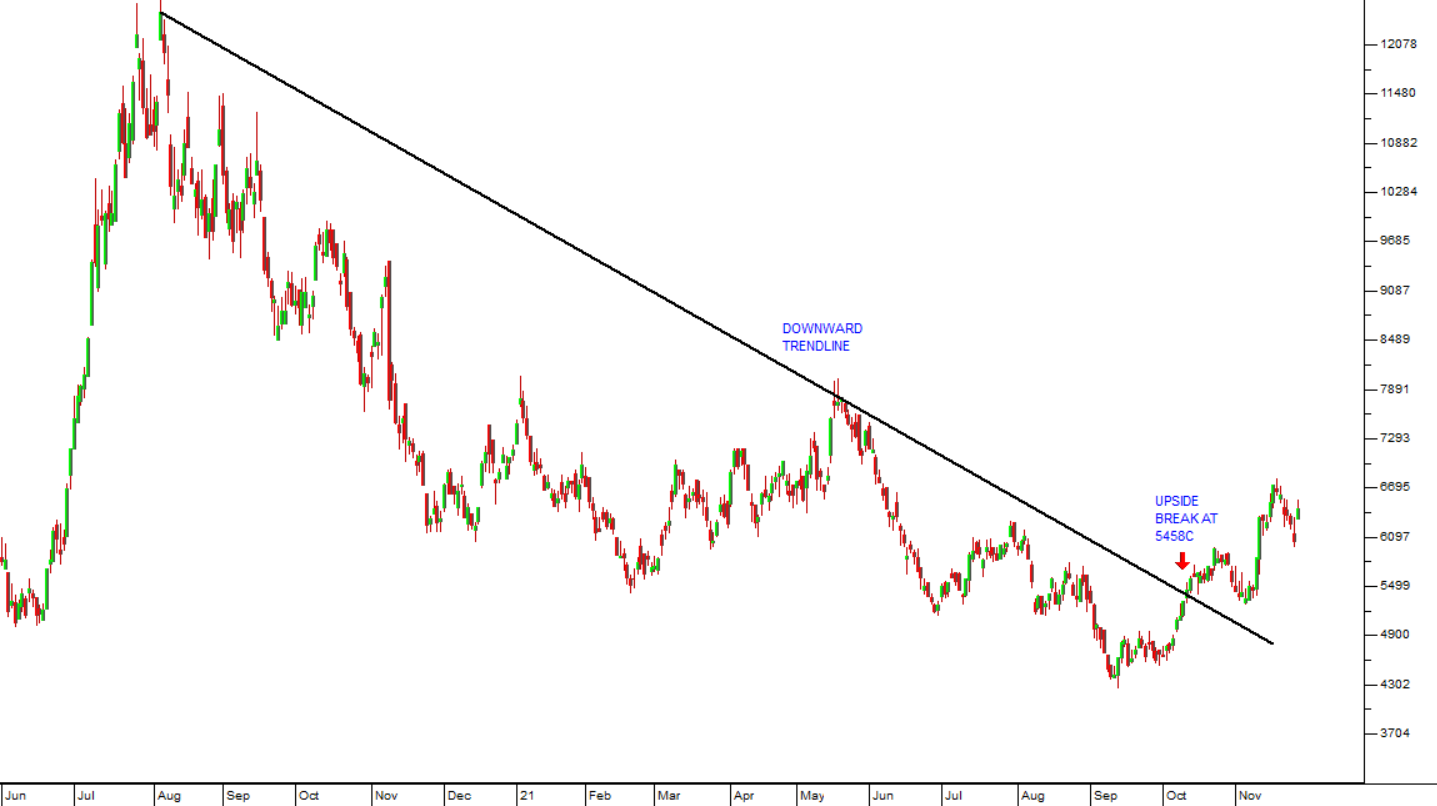 SHOPRITE (SHP)
Shoprite (SHP) is the largest grocery retailer and consumer goods company in Africa. The share price was hammered down from a high of R275 in March 2018 to levels around R100 in July 2020. We recommended waiting for a clear upside break through the 200-day moving average. That break came on 11th August 2020 at a price of 12029c. Since then, the share has moved up to 18865c – a gain of 56,8% in 15 months. The company bought 56 Cambridge and Rhino food stores from Massmart. In an operational update for the 3 months to 30th September 2021 the company reported sales up by 9,3% and South African sales up by 11,6%. We continue to believe that Shoprite is cheap at current levels. Consider the chart: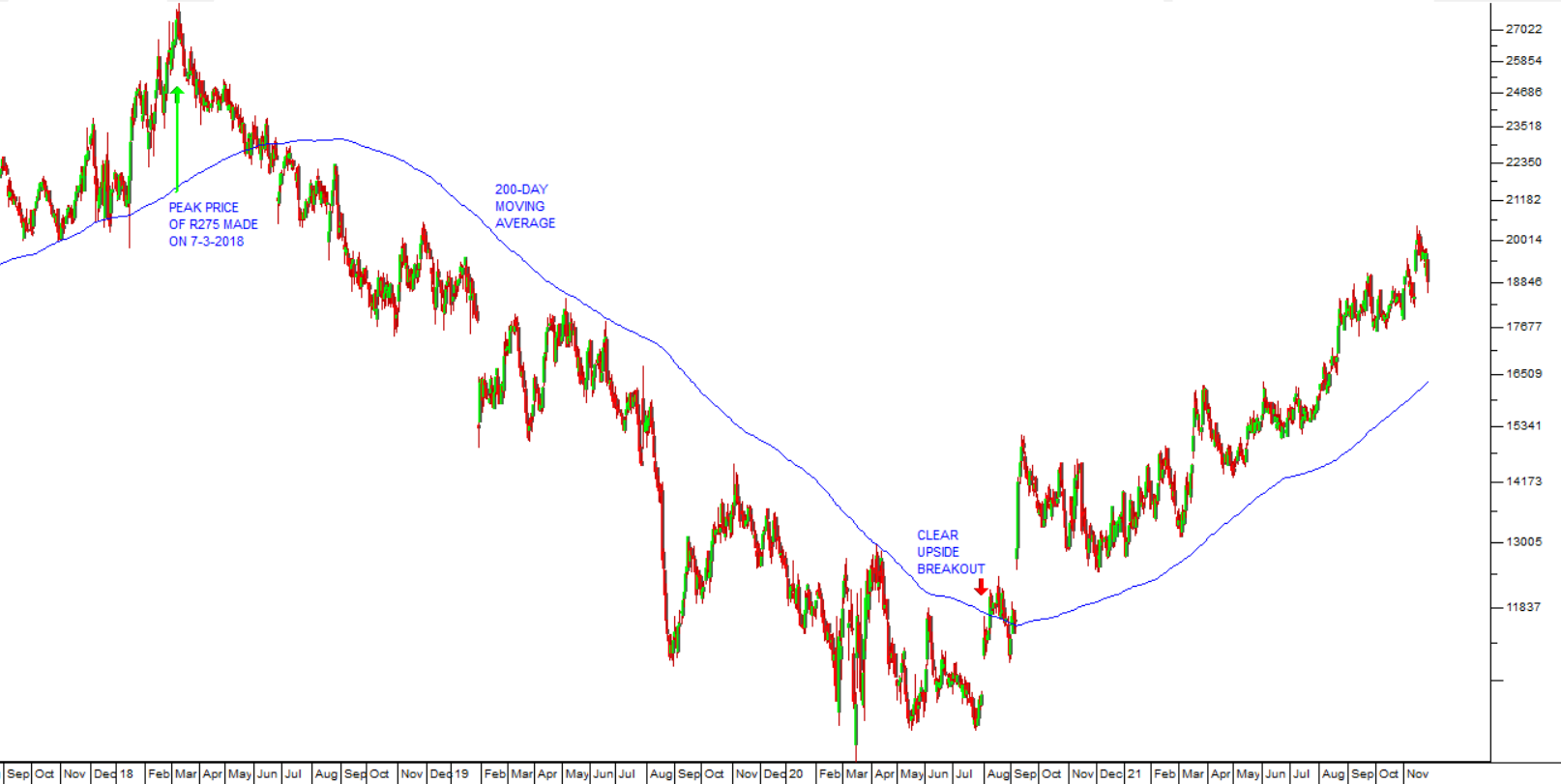 STORAGE (SSS)
Storage (SSS) is the JSE's only real estate investment trust (REIT) which specialises in buying and running domestic storage facilities in all major South African cities and in the UK. Its business is split about 60% in South Africa and 40% in the UK. It expects its UK business to exceed the South African business in due course. In its results for the six months to 30th September 2021 the company reported like-for-like rental income up 11,6% in South African and 23,8% in the UK. Occupancy in South Africa was 86,8% and in the UK 94,1%. The company's loan-to-value (LTV) was 25%. Headline earnings per share (HEPS) increased by 21,8% and the company's tangible net asset value (NAV) rose by 8,2% to 1309,72c. We believe that this is one of the better property investments available on the JSE. It offers a steady growth and minimal risk. The company has been exceptionally well-positioned to survive COVID-19 with a strong balance sheet and a business which tends to benefit from people down-sizing their homes. Technically the share has been rising steadily over the past year. We expect this to continue. Consider the chart: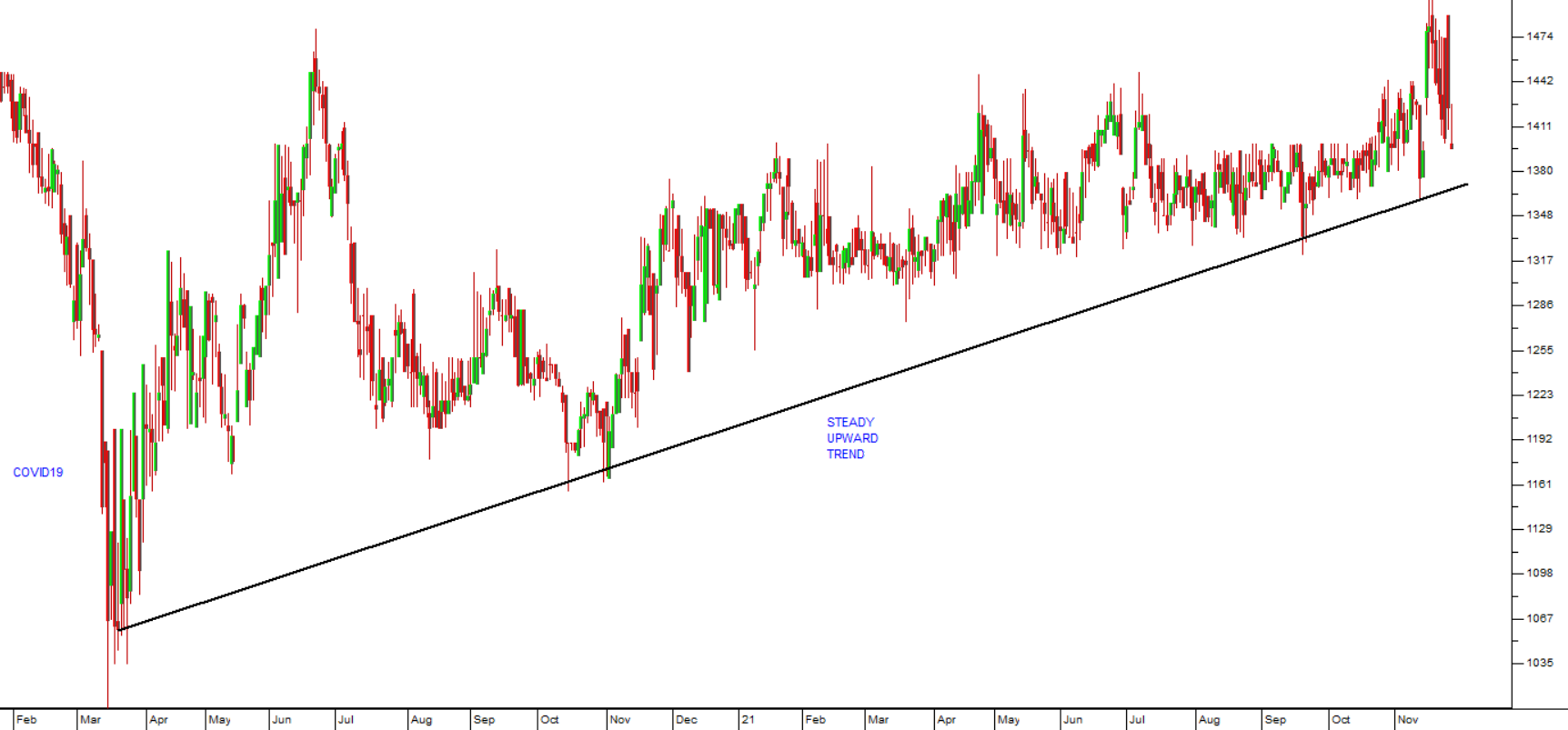 OMNIA (OMN)
Omnia (OMN) is a diversified chemicals company supplying products to the agricultural, chemicals and mining industries in South Africa and 48 other countries. The Agricultural division is the leader in fertilizers in Southern Africa. It supplies granular, liquid and speciality fertilizers in Southern Africa, Eastern Africa, Australia, New Zealand and Brazil. The mining division is the leading supplier of explosives in South Africa, Mali, Swaziland, Sierra Leone, Malawi, Senegal, Zambia, Zimbabwe, Botswana, Mozambique and the DRC. The chemicals division is a manufacturer and distributor of speciality, functional and effect chemicals and polymers operating throughout the African continent. The company gets most of its sales from agriculture for fertilizers and the mining industry for explosives. In its results for the six months to 30th September 2021 the company reported revenue from continuing operations up 30,2% and headline earnings per share (HEPS) of 286c compared with 125c in the previous period. Omnia has been in a long downward trend. We advised clients to wait for a clear break up through the 200-day moving average. That finally happened in September 2020 when the share was 2747c. Since then, the share has been rising steadily and now trades for 6276c – a gain of 128% in just over a year. We think Omnia will continue to perform. Consider the chart: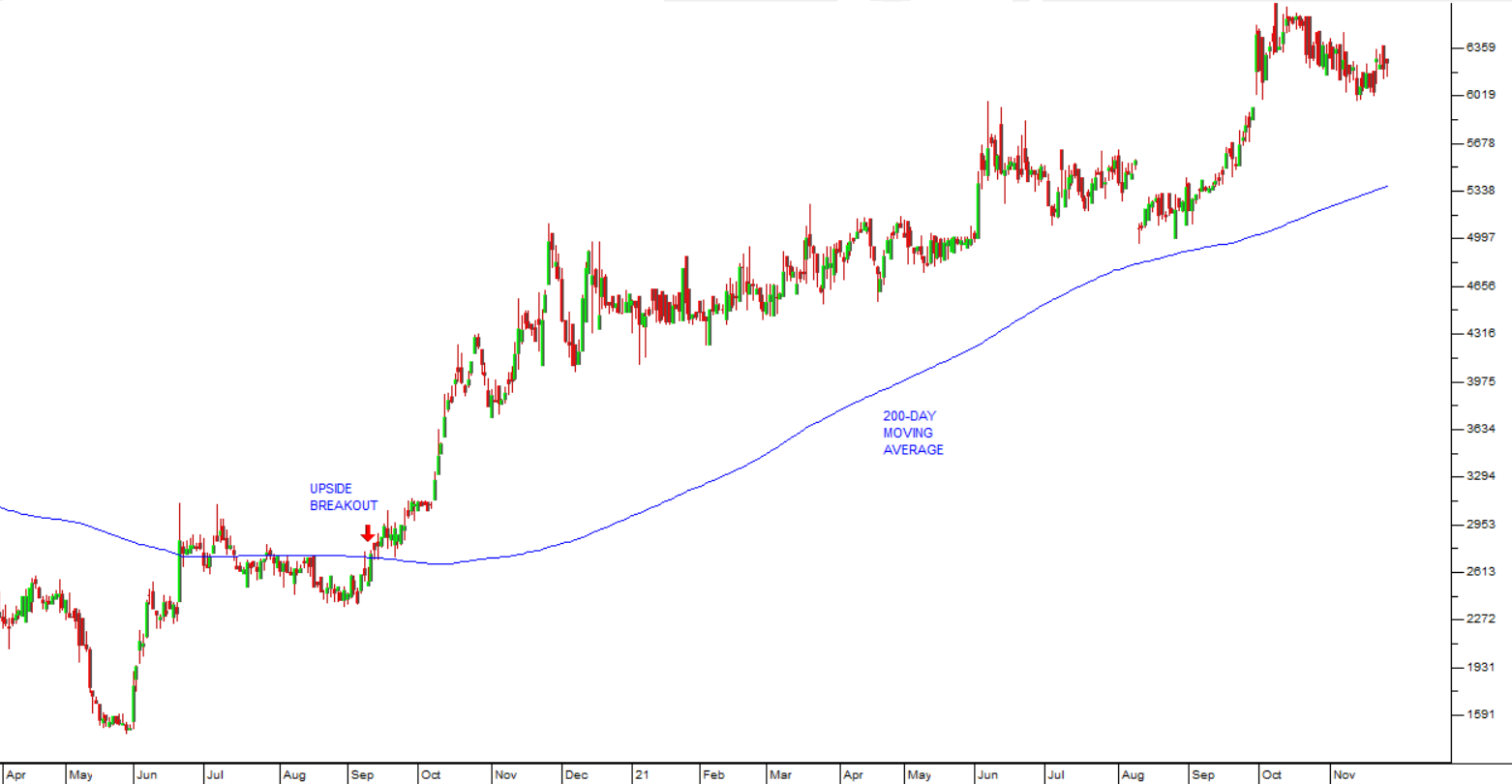 PPC (PPC)
PPC is a leading manufacturer and supplier of cement, aggregates, ready-mix, lime, limestone and fly-ash in Africa. It has 11 cement factories in South Africa, Botswana, the DRC, Zimbabwe, Rwanda and Ethiopia with a total production capacity of 11,5 million tons. It produces aggregates at its Mooiplaas quarry in Gauteng which is the largest aggregates producer in South Africa. It has 26 batching plants for ready-mix in South Africa and Mozambique. In an announcement on 1st April 2021 the company said it had managed to negotiate a restructuring of its debt in the DRC which removes any obligation which the group had to this debt. The company is also benefiting from the government's new "localisation" policy in terms of which government operations have to buy locally produced cement. In its results for the six months to 30th September 2021 the company reported revenue up 20% and headline earnings per share (HEPS) of 55c compared with 30c in the previous period. Notably, the share also gave an on-balance-volume (OBV) buy signal on 9th December 2020 at 144c. Technically, the share has been on a downward trend since its high of R52 on 9-7-2007, reaching a low of 45c on 4th November 2020. We advised waiting for a clear upside breakout through its downward trendline - which occurred on 2nd December 2020 at 87c. Since then, the share has appreciated to 480c - a gain of over 450% in under 1 year. Consider the chart: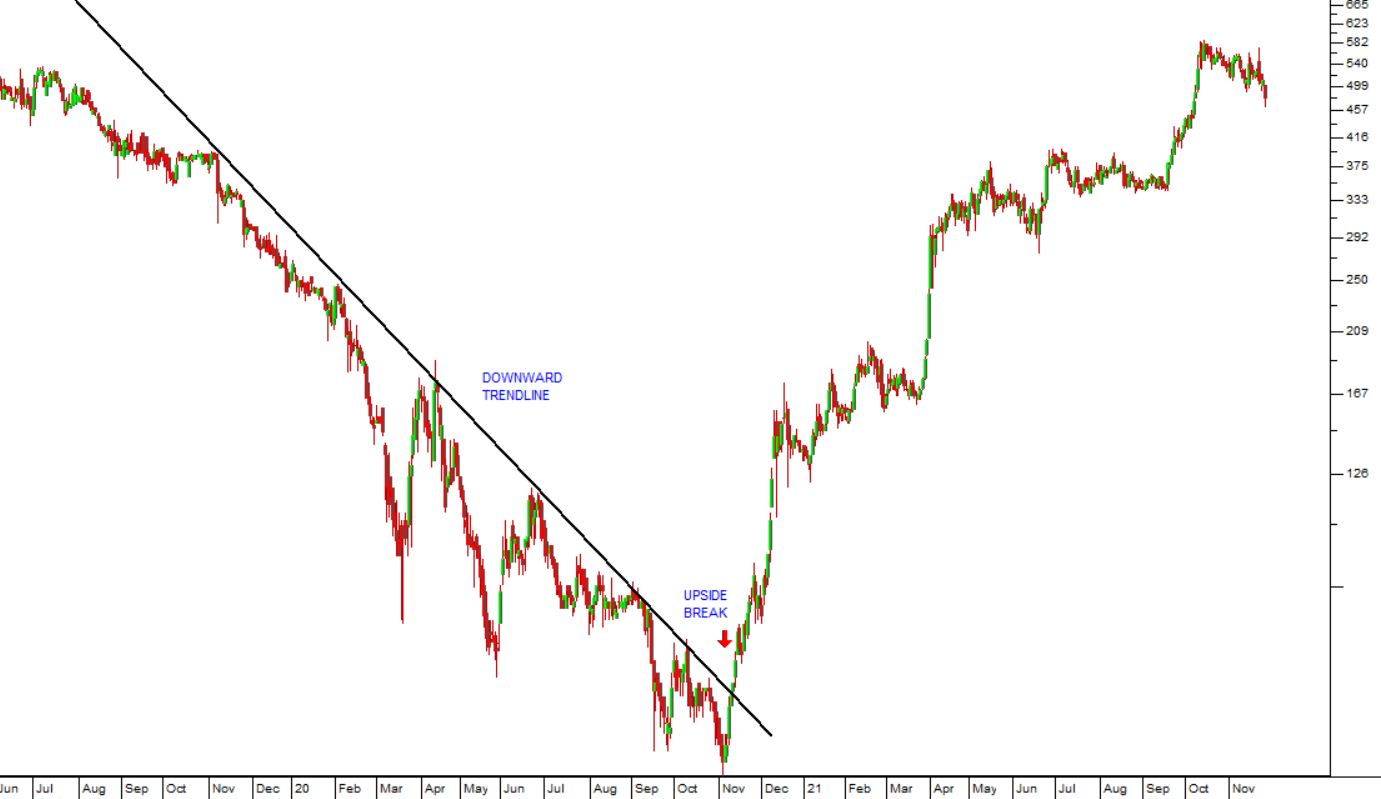 On behalf of the staff at PDSnet we wish you all the best for the Festive Season and the coming year.
There will be no Confidential Report in January 2022. The next Confidential Report will be delivered on 2nd February 2022.
DISCLAIMER
All information and data contained within the PDSnet Articles is for informational purposes only. PDSnet makes no representations as to the accuracy, completeness, suitability, or validity, of any information, and shall not be liable for any errors, omissions, or any losses, injuries, or damages arising from its display or use. Information in the PDSnet Articles are based on the author's opinion and experience and should not be considered professional financial investment advice. The ideas and strategies should never be used without first assessing your own personal and financial situation, or without consulting a financial professional. Thoughts and opinions will also change from time to time as more information is accumulated. PDSnet reserves the right to delete any comment or opinion for any reason.
Share this article: