5 December 2018
By PDSNET
America
The American economy continues to grow rapidly. A survey of fund managers by Bank of America in September 2018 showed that on average they currently expect the S&P500 index to rise at least 12% more before peaking. They are allocating a further 10% of their cash flows to US stocks than they did in October 2018 – especially into the [glossary_exclude]high[/glossary_exclude]-tech stocks like Facebook, Amazon, Apple, Netflix and Google (the "Faangs). On average they felt that the S&P would peak at 3056. On 4th December 2016, we predicted in an article, on the basis of a Point and Figure horizontal count, that the S&P would go to 3027. Now, finally, two years later, American fund managers are agreeing with us. In fact we believe that the S&P will go much higher than that before it turns.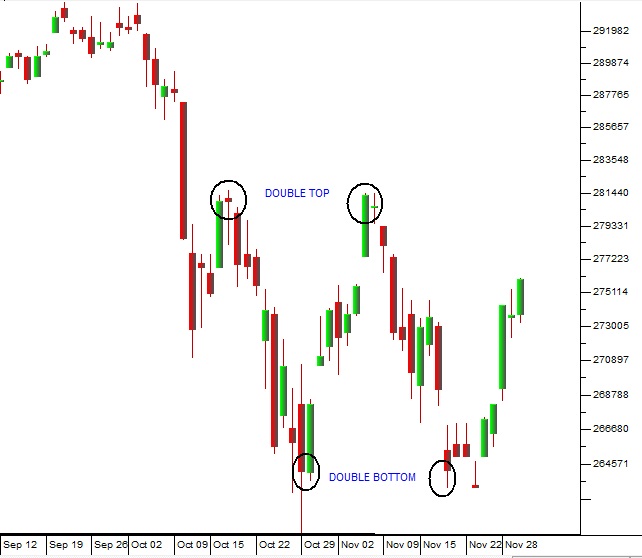 S&P500 Index September to November 2018 - Chart by ShareFriend Pro
Technically, you can see in the chart above that the S&P, having made a new all-time record closing high on 20th September 2018 at 2930, retraced into a new 10% correction which took it down to 2641. So now it has made a double top 2810 and a double bottom at 2641. The drop on Black Friday (23rd November) is something of an aberration and was quickly reversed when the market opened on the following Monday. Since then the S&P has been moving back up towards the resistance at 2810. If it moves convincingly above that level then the prospects of a new record high and resumption of the bull trend are good. It might fall back from that level for a third time which would set up a third test of the support at 2641. Our opinion, based on the strong quarterly results coming out of the S&P500 companies is that sooner or later it will move above 2810 and then go on to make another record high. This makes the current weakness a potential buying opportunity.
Political
In the analysis of the political situation that follows, we are completely uninterested in any form of political bias. We are simply interested only in assessing what will happen – and have no interest at all in wasting time with what should happen. From an investment perspective, it is only what will actually happen that ever matters – everything else is irrelevant.
The advent of President Ramaphosa at the end of 2017 set in motion a process of cleaning up the government and removing persons associated with state capture and the Gupta family. In this process, Ramaphosa has been impeded by the fact that he is not yet an elected president and his position as president is tenuous. He could be recalled by the 80-member ANC National Executive Committee (NEC) at any time. He was installed as president with a very small majority over his opponent (Dlamini-Zuma) and while his position has certainly improved since then, it is far from being strong.
Despite this, he has made some significant progress, especially with the cleaning up of state owned enterprises (SOEs), where Pravin Gordhan has made major inroads, replacing boards and eliminating corruption. The battles with Siyabonga Gaba of Transnet and Tom Moyane of SARS will probably drag on due to their stubbornness, but both entities are now under new management and their chances of being reappointed are rapidly fading. The problem is that Ramaphosa does not yet have sufficient support in the NEC to address the most important issues now facing the South African economy – which are:
The excessive power of the unions.

The excessive size and cost of the civil service.

The excessive government debt and exposure to SOE guarantees.
These problems are inter-related since any attempt to reduce the size of the civil service or begin a program of privatisation of state assets will certainly result in a strong union backlash. Obviously, Ramaphosa does not feel that he can risk that – at least until after the election.
To deal with these issues decisively Ramaphosa and the ANC will need to make a good showing in the May 2019 election. A good performance will show that he has popular support for his program of reforms. On the other hand, if the ANC gets less than 54% it won in the last election – or, worse still, drops below 50%, forcing it to make an alliance with another party, then Ramaphosa could be, to a large extent, politically emasculated.
In this context, the decision by Patricia De Lille to establish a new party to fight that election looks certain to weaken the DA in its strongest province and make the ANC's position stronger. At the same time, the EFF leaders are now embroiled in allegations of corruption and self-enrichment which will probably see them perform less well in the election. It appears therefore probable that the ANC will be returned with a majority in May 2019 – and may even increase its support.
South Africa has now seen its second resignation of a minister because of behavior which was considered unacceptable – Nhlanhla Nene gave way to Tito Mboweni and now Malusi Gigaba has yielded to pressure following the Constitutional Court's finding that he lied under oath. This appears to be establishing a new, more mature, pattern in our democracy where key government officials resign rather than having to be forced out. It is also apparent that Gigaba's resignation opened the way for Ramaphosa's recent cabinet re-shuffle. It should be remembered that Gigaba, although no longer a minister, remains on as a member of the ANC's NEC. Gigaba's resignation put the spotlight firmly on another NEC member, Bathabile Dlamini – who was also found to have lied under oath. The re-shuffle saw Dlamini staying on – probably because she is also the President of the ANC Women's League. But Ramaphosa used the re-shuffle to  combine two ministries (telecommunications and communications) into one under a strong ally – Stella Ndabeni-Abrahams. The clean-up and consolidation process continues and, as it gains momentum, it gives overseas investors more confidence and that is having a direct impact on the strength of the rand.
Economy
The situation at Eskom is rapidly spiraling out of control. Debt levels have reached crisis proportions with the annual interest bill reaching R45bn. The government's R350bn guarantee is now in direct danger – which puts the entire economy at risk. Obviously, the problem has its roots in state capture and corruption under Zuma's presidency, but that legacy is rapidly becoming difficult for President Ramaphosa to deal with. One way or another, it will have to be dealt with soon.
Part of the problem was the government's lack of support for the new CEO, Phakamani Hadebe, when he proposed that Eskom give zero percent pay increases this year. The government, concerned again about a protracted showdown with the unions, stepped in and arranged for Eskom to once again pay out salary increases which were above the inflation rate – just as they did with the civil service wage negotiations. Clearly, Ramaphosa did not yet feel strong enough to take on the unions.
Eskom CEO, Hadebe, and his board must be feeling completely demotivated by this intervention. And now having made the Eskom salary bill much larger, the government must find a solution to their funding problems. In our view, the only long-term solution is to systematically privatise the Eskom power station fleet. Eskom should focus on being a distributor of electricity and not a generator. Power generation should be left to the private sector. This means that, where possible, existing Eskom power stations should be sold off with a contract to supply electricity to Eskom as individual going concerns and the proceeds of those sales applied to bringing down the debt. Eskom should focus on buying electricity from the cheapest and most environmentally friendly sources and supplying it to consumers at cost. In other words, Eskom needs to get out of power generation completely. The precedent for buying power from independent private suppliers has already been established and it just needs to be extended to all power generation.
One of the battles going on in South Africa is the enormous bill owed by the municipalities to Eskom. The bill has reached R17bn and, obviously, Eskom really needs this money to pay down its debt. The issue which is being taken to court is whether Eskom has the right to sell electricity directly to businesses within municipal areas or whether it has to go through the municipality. Eskom believes that the National Energy Regulator of South Africa (NERSA) can license it to supply electricity directly and points out that municipal indebtedness is not really its problem. Unless this issue is resolved, dozens of businesses will be unable to operate as their power will be cut off pending the payment of the Eskom bill in their area. That in turn would lead to further unemployment and job losses.
The Monetary Policy Committee's (MPC) decision to increase interest rates by 0,25% in November was close, with arguments on both sides. In the end it was decided on the side of conservatism. At the same time the MPC adjusted their expectations for 2018 growth down to 0,6% - and their expectations for peak inflation in 2019 down to 5,6% in the third quarter. These days the MPC is intent on trying to bring the consumer price index (CPI) to 4,5% - the center point of the target range (from 3% to 6%). The immediate impact of the rate hike was that the rand strengthened to below R14 to the US dollar – and stayed there. That will impact on the petrol price which has come down by R1,84 a litre. The reduction of the petrol price will both boost the economy and improve the inflation outlook further.
Probably one of the strongest and most telling votes of confidence in the reforms which Cyril Ramaphosa has brought to South Africa, is the decision by two old and well-established Swiss banks to open offices locally. The banks are Julius Baer and Lombard Odier. Julius Baer is a 128-year old institution which has over $400bn under management, while Lombard Odier has been a private bank since 1796. These types of institutions only commit to a country if they perceive the future as positive. Both say that, while things are difficult right now in South Africa, they expect economic conditions to improve steadily as Ramaphosa's reforms take hold.
The sharp R1.84 drop in the petrol price is a direct result of the 22% collapse of the oil price, combined with the strengthening of the rand against the US dollar. This will afford consumers some relief before Christmas and it will help to keep inflation under control during the first half of 2019, making interest rate hikes less likely. However, we expect the relief may be short-lived, because we cannot see the oil price remaining in the $60 range for too long. The demand for oil is being driven by the general recovery in the world economy – which is showing no signs of slowing down. Of course, a major factor will be the strength of the rand. The rand has shown remarkable strength in recent weeks – probably because of the quarter percent rise in our interest rates and the perception that President Ramaphosa is steadily correcting the significant problems in the South African economy. 2019 will certainly have better growth than this year, but the election remains a major area of uncertainty.
The Rand
The rand has been moving in a curious sideways pattern since weakening to break out of its long-term channel on 10th August 2018. Consider the chart: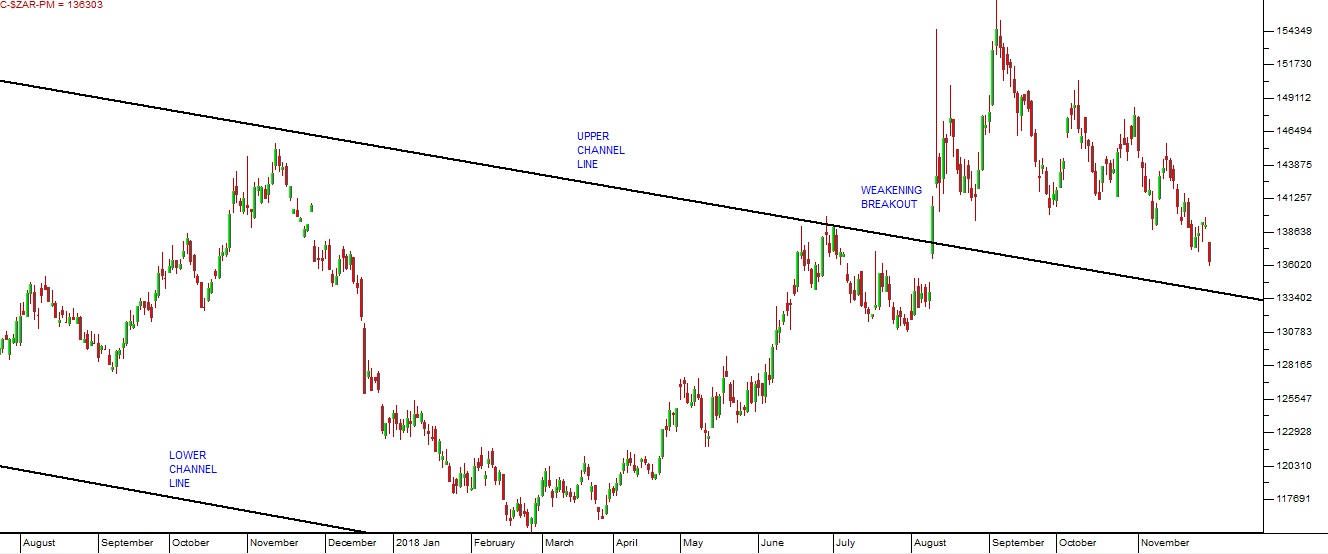 Rand Dollar Exchange August 2017 to November 2018 - Chart by ShareFriend Pro
The news has been blowing hot and cold, oscillating between positives of Ramaphosa's efforts to reform the economy and eliminate state capture, and the negatives of the land expropriation issue and the technical recession. However, the triangular sideways pattern in the rand is slowly strengthening, which indicates that the positives are gradually overcoming the negatives. There is still a considerable amount of uncertainty in the market - and markets hate uncertainty. Probably, this uncertainty will only be finally resolved after the election in May 2019 but the rand has become a very good indication of South Africa's progress back towards economic sanity.
Commodities
The gold mining industry in South Africa is in a dismal state with falling grades and rising costs. Most of the larger mining houses have abandoned the country and are investing elsewhere in the world. In the almost 25 years since the ANC took over political control, production of gold has collapsed from over 580 tons per annum to under 140 tons (this trend was underlined by the 19% fall in gold production in September 2019). During that same time, the number of people employed in the sector has fallen from over 400 000 to around 110 000. Union action has forced wages up steadily over the period leading to mine closures and a steady decline in employment numbers. Now Sibanye, the only mining house still in the talks, is once again facing union demands for above-inflation wage increases. Clearly, some sort of reasonable compromise must be reached or there will be more shaft closures. From an investment perspective, deep-level, labour-intensive operations should now be avoided in favour of shallow mechanised operations.
The oil price has fallen by 22% since 2nd October 2018 – taking it into an official bear trend (anything over 20%). This comes after it had made a cycle high on 2-10-18 of $84.80. The upward trend in oil up to that point had drawn American producers of shale gas back into business and supply from US sources has risen sharply – which is now causing oil to correct quite sharply. Consider the chart: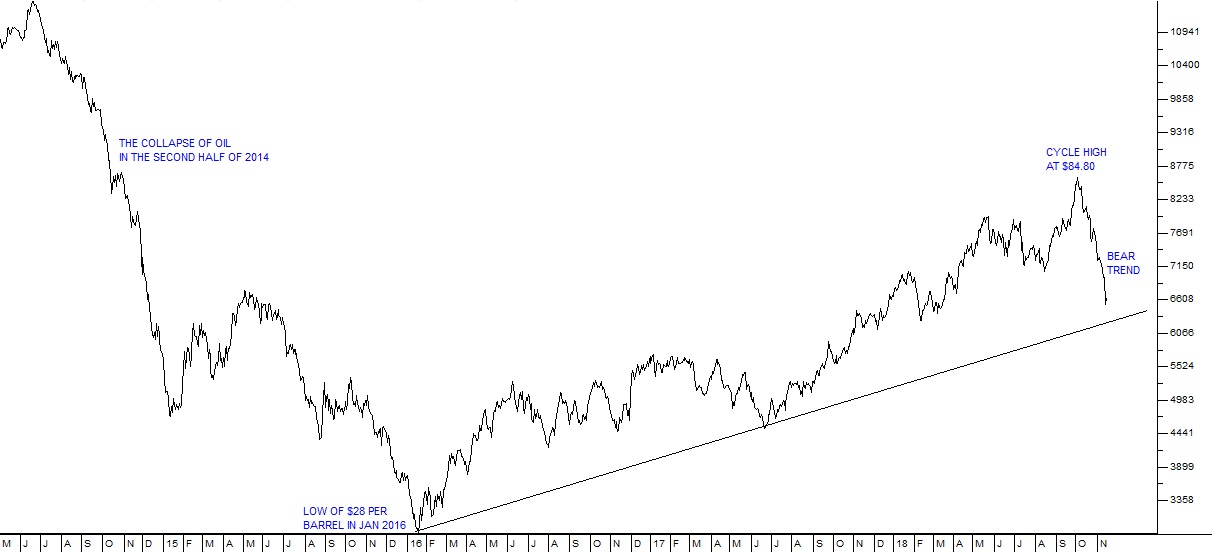 Brent Oil May 2014 to November 2018 - Chart by ShareFriend Pro
Here you can see the collapse of the oil price in the second half of 2014, its low point at $28 in January 2016 and then its subsequent recovery. The current downward trend will probably take the price down to the upward-sloping trendline – so we expect the downtrend to perhaps go a little further, but not much below $60. The recovery in the world economy and especially in America is creating a voracious demand for oil which we expect to overcome the current temporary over-supply sooner or later.
The platinum industry is beset by bad news and the price of the commodity continues to wallow at levels which make most platinum mines unprofitable or break-even. A new source of demand for the metal could be the use of fuel cells in China to power heavy vehicles using hydrogen. The Chinese government is subsidising the roll-out of hydrogen filling stations and stimulating the production and purchase of fuel cell vehicles. This could create a new demand for about 500 000 ounces of platinum per annum from 2020. From a global warming perspective, fuel cells have an advantage over standard electric vehicles because they do not use electricity which has usually been produced in a coal-fired power station, but rather create their own electricity and their only waste product is water.
Cobalt and to a lesser extent copper might be regarded as the important metals of the future. Cobalt, particularly, is a key component of modern batteries – and as such it underlies the shift to electric vehicles, which is currently gaining momentum world-wide. Cobalt could possibly even be regarded as the oil of the future. And half of the world's known supply of cobalt is from the DRC. There it is being extracted by a growing army of child labour. Attention has been drawn to this by the American group "Enough Project" – which strives to "counter genocide and crimes against humanity", especially in Africa. The story is similar to the "conflict diamonds" problem where it was shown that diamonds were often used to finance terrorist organisations in Africa. Pressure is now being brought to bear on the DRC to properly legislate and control their cobalt industry. The world of tomorrow is going to be increasingly reliant on cobalt and at the moment there is no way to determine whether the battery in your car, cell phone or laptop was produced using child labour.
General
The Nigerian Government decided to demand that MTN repatriate the R8,1bn of its profits that they had previously moved out of the country. They also decided to arbitrarily remove R75m from a bank's account without due process because that bank allegedly assisted MTN in illegally removing these profits. These decisions have effectively arrested the inflow of investment into the country by foreigners. In the first half of 2018, foreign direct investment (FDI) has fallen sharply. Beyond that, both HSBC and UBS have closed their offices in Nigeria. This is a salutary lesson in international finance. International investors will not bring their money into a country unless they believe that it will be safe from government pilfering. It is a lesson that South Africa would do well to pay attention to. How our government conducts itself in the international business world has direct and immediate consequences on FDI into this country. Overseas investors always have a range of countries where they could place their funds – they can easily choose to go elsewhere if they think that South Africa is not safe – just as they have done in Nigeria. No doubt Nigerian economic growth is already suffering directly as a result of these ill-advised decisions.
The JSE's main competitor, the A2X exchange has now acquired the listing of Standard Bank and the AVI group. Standard Bank is a particularly important listing because it will make other listed companies feel comfortable with considering a similar move. Standard Bank is one of the most heavily-traded shares on the JSE by value with roughly R500m worth of shares changing hands on average every day. Its decision to list on the A2X will probably be followed by other heavily-traded institutional shares and by the institutions and brokers. The listing of AVI and Standard Bank effectively doubled the market capitalisation of the shares listed there on the A2X which offers much cheaper rates than the JSE and is forcing the JSE to become competitive. This can only be good for private investors and investors generally.
MTN is partnering with China mobile to produce a $20 smart phone which it intends to distribute into its various markets in Africa. The phone will retail for just under R300 in South Africa – which is roughly half of what the next cheapest smart phone currently costs. MTN plans to sell as many as 10 million of these phones over the next three years. Obviously, this will have an immense impact on smart phone penetration, enabling many people who currently can't afford a smart phone to buy one. It will increase access to the internet significantly in South Africa and Africa generally. Millions of people will suddenly get access to the internet and all the other benefits of smart phones.
The cryptocurrency bubble has finally burst. The price of Bitcoin has fallen sharply since the middle of November 2018. Apparently, one of the causes is the fall-off in cryptocurrency mining. Another is the rise in frauds associated with cryptocurrency markets. A third is the banning of such instruments in various countries and a fourth is the fact the organised crime has been using these instruments to launder money. We published an article on 8th December 2017 when Bitcoin was over US$16500 per coin which advised investors to sell out and stay away from this bubble.  Consider the chart: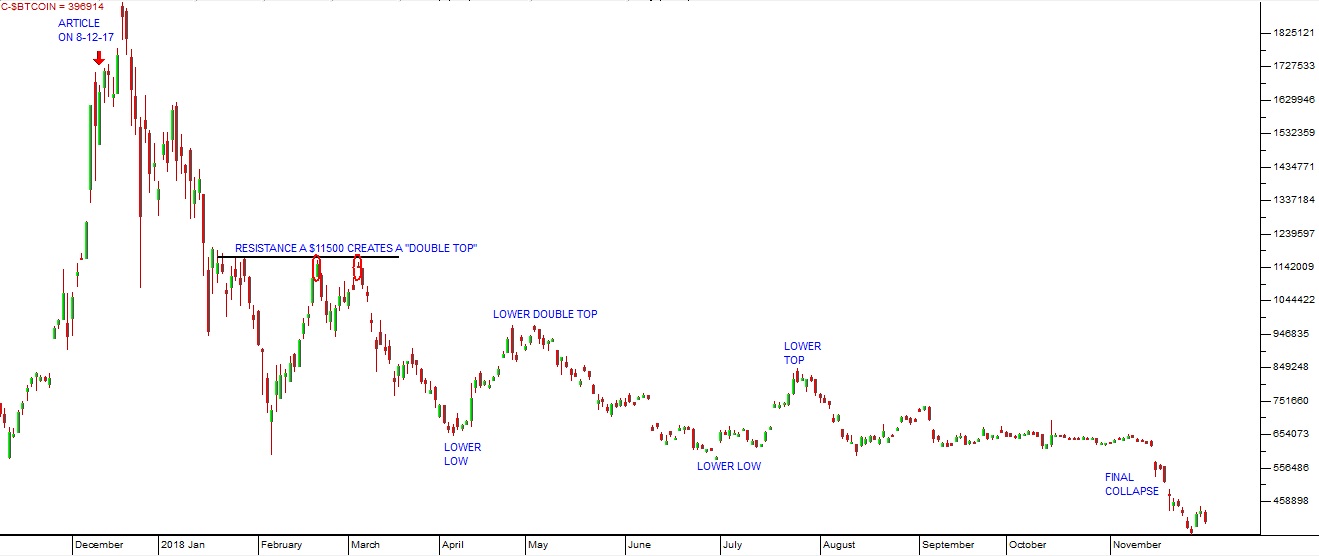 Bitcoin November 2017 to November 2018 - Chart by ShareFriend Pro
We hope that you took this advice and got out or at least stayed out of this market if you weren't in.
Companies
ONLINE SHOPPING
South Africa has generally lagged far behind the rest of the world in online shopping – but it appears to be catching up quickly. A recent study by the SA Council of Shopping Centers shows that online sales in South Africa have tripled in value over the past 5 years from under R6bn to just over R18bn and that about half of South Africans now shop online with an average spend of over R3000 per month. These figures show the trend, and must be of great concern to companies like Accelerate who are busy building the Fourways Mall extension which is now only due to be completed next year. Already, the vacancy rate in large shopping centers is about 6% and has also tripled in the last five years. Takealot, the Naspers subsidiary, is the leading online shopping platform in South Africa. The rapid spread of smart phones and the impending advent of 5G will accelerate the process. In our view it is therefore better to invest in logistics property companies, which support the trend towards online shopping, than those which own large retail outlets.
BLACK FRIDAY (AND CYBER MONDAY)
The concept of "Black Friday" is American – as the day after Thanksgiving and it is called "black" because that was the day when retailers there traditionally went "into the black" from having been "in the red" up to that point. It is also the day on which the Christmas retail sales period begins. Here in South Africa, Black Friday has only really gained traction in the last three years. It has become a day when consumers typically buy electronic and white goods at significant discounts – and also stock up on heavily-discounted consumables before Christmas. Black Friday now results in a sharp spike in sales volumes, but there is some evidence to suggest that it does not actually result in greater profits for retailers partly because of the discounts they have to offer to participate. Perhaps the greatest beneficiaries have been the online distributors like Takealot which said that it recorded almost R200m worth of sales on 23rd November 2018 – significantly up on 2017. There is some evidence that consumers save up for Black Friday and that it reduces retail spending both before and after the day itself. Retailers have also been forced to extend the day into a week and some are even now talking about "Black November". In any event, the real winner from Black Friday and Cyber Monday is clearly the consumer.
CAPITEC (CPI)
The break by Capitec above its pre-Viceroy high of around R1100 justifies our consistent confidence in it (expressed in our article of 19th February 2018). The Viceroy report was clearly misplaced and had a completely disproportionate impact on Capitec's share price. Our response, at the time, was to go back to the fundamentals and look at Capitec's Price:Earnings Growth Ratio (PEG). That indicated beyond much doubt that the share represented good value then – just as it does even now. The PEG ratio is based on a company's earnings track record – which is probably the most reliable and sound mechanism for determining its current value and future prospects. The lesson to take from what happened to Capitec is that, sometimes, things happen (like the Viceroy report) which upset the market and temporarily take the price of a high-quality share way down. These events can be a huge opportunity for the private investor. So whenever a high-quality, blue-chip falls heavily, you should be looking at it very closely. You should be asking why it has fallen so far and whether the fall is justified – because, like Capitec, it may represent a great investment opportunity – or, conversely, as in Steinhoff's case, the fall may be justified.
PAN AFRICAN RESOURCES (PAN)
Pan African Resources is a London- and JSE-listed re-treatment gold producer. It has shifted its operation from underground mining at the recently-closed Evander mine to surface operations which are obviously much cheaper. With its Elikhulu plant, it will be able to produce about 700 000 ounces of gold a year at a cost of about R326 000 per kilogram against a current gold price of close to R550 000. This means that over its life it will produce revenue of approximately R15bn of which R5,3bn will go back into the economy in the form of mine expenses creating a highly profitable entity with minimal risks. It will also employ 350 people. In US dollars the cost per ounce will be about $700 against a current price of just over $1200. In its financials for the year to 30th June 2018, the company took a R1,78bn impairment on the closure of Evander which put it into its first loss for 11 years - but this result was fully discounted and known. Even if the gold price falls further, Pan African will remain profitable. It also had very good results from its drilling exploration of the Royal Sheba mine in Mpumalanga. This could be developed into a mechanised open-cast mine with a grade of 3,8 grams per ton creating 500 jobs. The area appears to have considerable potential for gold mining, but there are notable bureaucratic difficulties with establishing a new mine in South Africa. The September quarter 2018 update shows that 37729 ounces of gold were produced in the quarter and the Elikulu mine is commissioned and operating. The Barbeton mine is ramping up to 100 000 ounces per annum and at the decommissioned Evander mine the company is taking out the pillars and remaining high-grade ore. Technically, the share has fallen from a high of 444c in July 2016 to current levels around 155c, but it now looks like good value with low risk. The gold price is probably passed its cycle low and will probably remain above $1200.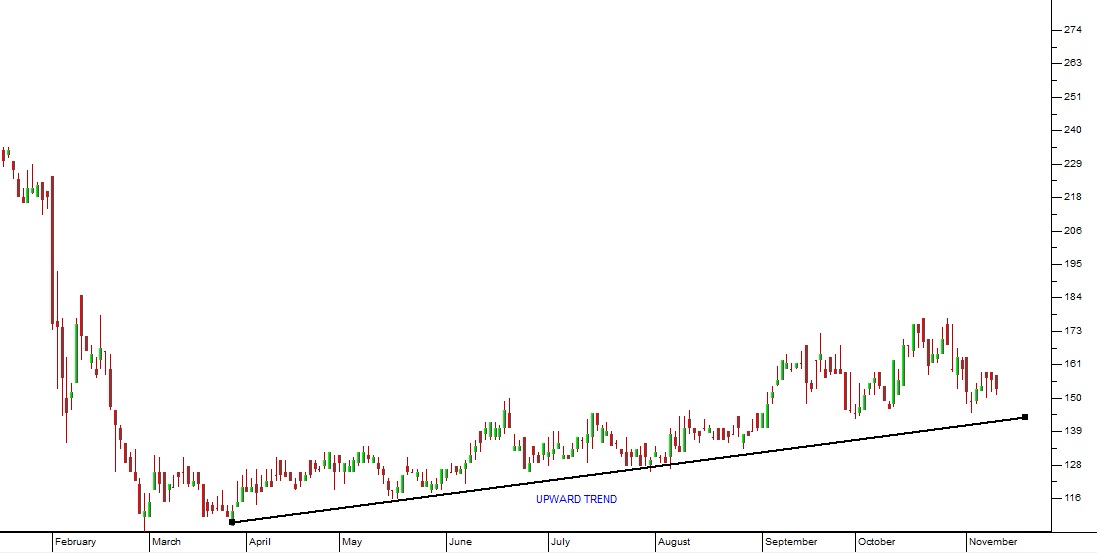 Pan African Resources (PAN) January to November 2018 - Chart by ShareFriend Pro
MOTUS
Motus is a recently listed spin-off from Imperial and contains its motor dealership business. That business is extensive and it has the exclusive Hyundai, Renault, Kia and Mitsubishi import agreements in South Africa. It recently bought the Hyundai dealership in Sandton and the Mercedes dealership in Rustenberg. Now the company is looking to expand overseas. It already has offices in Melbourne and Sydney in Australia with about 30 dealerships which it wants to increase to 50. In 2017 it acquired the Pentagon Motor Group in the UK and 75% of the SWT Group in Australia. It also runs a profitable financial services business as well as a maintenance and warranty business. In our view this company will probably be a good investment. It will certainly attract institutional investors and should do well as the South African economy improves. As with all new listings, it is probably wise to watch how the share settles down before getting involved.
DISCOVERY (DSY)
Discovery is what we call a "diagonal" share because its chart goes from the bottom right hand corner of your screen to the top right-hand corner over a period of 16 years. On 1st April 2003 you could have bought Discovery shares for 625c. Today they are trading for R164. Consider the semi-log chart: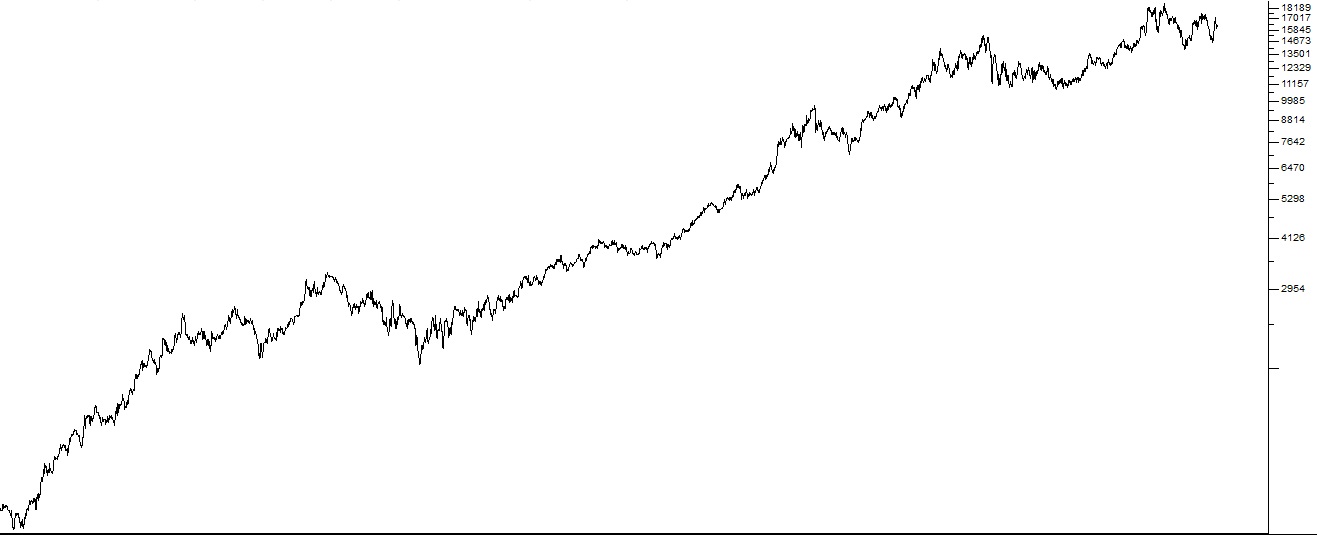 Discovery (DSY) 2003 to 2018 Semi-Log Chart -  Chart by ShareFriend Pro
And that period includes the infamous Zuma years, the 2008 sub-prime crisis and other market-shaking events. Yet the Discovery share has just kept going up. The reason for this is its excellent management and unique offering. It was developed and built by Adrian Gore over the past 25 years, offering A/B income group people a matrix of financial services which are inter-linked and cross-selling. Thus a customer can begin with his/her medical aid and then add to that a variety of insurance products and, now most recently, with effect from March 2019, personal banking products. Discovery's "Vitality" concept, which rewards clients for looking after their health in various ways, is extended to their driving record and a rewards system that ensures that there are attractive benefits for taking the full range of Discovery debit-order products. The vitality platform tracks over 1000 customer activities and 50 biometrics a minute by using the Apple watch in South Africa, the UK, China, Europe and the US to ensure a process of healthy aging and retirement planning. Discovery's Chinese company, Ping An Health, in which Discovery has a 25% stake, saw membership grow by 60% over the year, and written premiums increased by 87% to $753m. Ping An is rapidly developing into Discovery's "Tencent". In their results for the year to 30th June 2018, Discovery reported operating earnings of R8,2bn - a 17% increase on the previous year. Discovery's move into banking will offer existing clients a range of banking and credit card facilities from March 2019. The three top executives of Discovery - Adrian Gore, Barry Swartzberg and Herschel Mayers, who collectively own 13% of Discovery, have funded a piece of the buy-out of FNB's interest in the Discovery card. The banking license was approved in November 2017 and should significantly increase the profits being generated by the group. Discovery will attempt to convert its 300 000 credit card users and over 1 million vitality clients to Discovery Bank. This is a disruptive development which will seriously shift the banking of A/B income group consumers away from existing banks. Overall, Discovery is arguably the most exciting growth share on the JSE and it carries an earnings multiple of 22 with a dividend yield of less than 1%. This shows that it is exceptionally highly-rated by investment analysts. Despite the fact that it is expensive, we regard this as one of the best shares for a private investor to hold for long-term growth. CEO, Adrain Gore, says "I am a great believer that opportunities are not in good times" - indicating his belief that growth comes from investing during the difficult times such as South Africa is currently experiencing.
TRANSACTION CAPITAL (TCP)
Transaction Capital is a company which specialises in financing, repairing, insuring and selling minibus taxis in South Africa. It completely dominates the entire value chain associated with the minibus taxi industry. The company listed in June 2012 and since then has generated an annual compound growth in earnings per share of 20% with a 33% per annum average growth in dividends. This is an almost unique performance from a JSE-listed company. The share is shaping up to be a "diagonal" share. Its share price has risen from 470c in March 2014 to its current level of 1910c today.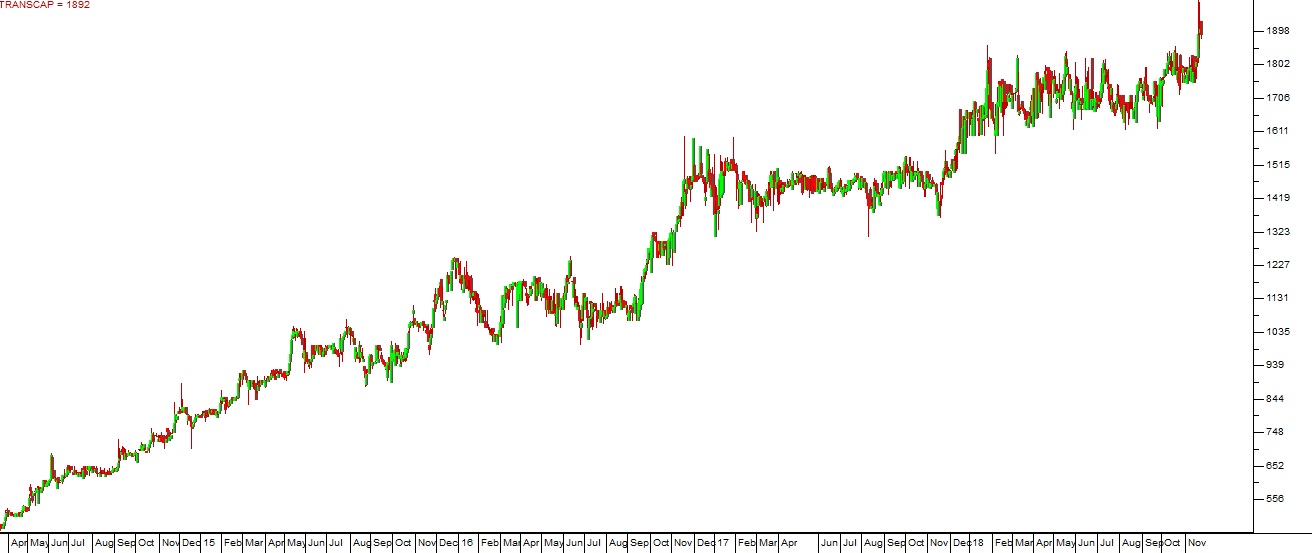 Transaction Capital (TCP) March 2014 to November 2018 - Chart by ShareFriend Pro
In its results for the year to 30th September 2018, the company reports headline earnings per share (HEPS) up 16%. The company divides itself into two operating divisions - SA Taxi which offers a vertically integrated platform for financial, insurance and related services to mini-bus taxi owners. The division can procure, sell, re-possess and refurbish vehicles. About 69% of South African households use taxis with more than 1,5m trips per day. Most of this is non-discretionary - which means that this industry is very defensive and not impacted by the state of the economy at large. SA Taxi and the South African Taxi Council (Santaco) have formed a relationship whereby Santaco acquires a 25% interest in SA Taxi. In our view this is a relatively low-risk investment which has an excellent track-record and offers strong growth potential. The share trades on a P:E of 17 with a dividend yield (DY) of 2% which indicates that it is already very highly-rated. We expect its growth to continue.
LEWIS (LEW)
Lewis is a retailer of furniture and electrical appliances operating through 779 stores under the Lewis (494 stores), Beares (119 stores), Best Home (133 stores), and most recently, United Furniture Outlets (33 stores) brands. Of these, 116 are in neighbouring countries. The company does 65,7% of its business on credit and offers customers credit insurance and other financial products. In the middle of 2015, the company's insurance business and credit business came under scrutiny and it was forced to repay customers for what were considered to be illegal insurance and other fees. This had a significant impact on the company's share price which fell from around R100 to as low as R25. In its results for the six months to 30th September 2018, the company reported headline earnings per share (HEPS) up 10,7% off a 25,9% increase in turnover. The company's balance sheet is ungeared and the business is strongly cash-generative. During the six months the company bought back 1,7m of its own shares at an average cost of R29,41 per share. At current levels, the share is trading on a P:E of 9,3 and a dividend yield (DY) of 5,5%. We believe that this share represents a bargain at current levels - especially if the South African economy is expected to improve in the next few years. It will benefit from any increase in consumer spending. It is an extremely tightly-managed company which has no debt and a huge store footprint. It is growing both organically and by acquisition. Obviously, as a retailer of furniture and white goods it is vulnerable to any economic downturn, but we see it as cheap right now and expect its share to rise as the economy improves.
BRITISH AMERICAN TOBACCO (BAT)
British American Tobacco (BTI) describes itself as a "leading consumer goods company" - which is a euphemistic way of saying that they produce and sell an enormous number of cigarettes and related products world-wide. It is also the second largest company on the JSE after Naspers. In recent decades, cigarette companies have become increasingly oppressed. Their ability to advertise their products and even package them has been severely curtailed in many countries. They are seen to be exploiting an addiction which is clearly anti-social, very bad for the individual's health and which regularly involves them in law suits for damages. BAT owns well-known brands like Camel, Peter Stuyvesant, Rothmans, Benson & Hedges, Dunhill, Pall Mall, Kent and Lucky Strike. In an effort to get away from the negative perceptions of cigarettes, the company has diversified into the vaping and electronic cigarette markets which it claims offer it a long-term prospect for growth. We do not agree. We think that the e-cigarette and vaping (tobacco heating product - THP) markets are limited and this can be seen from BAT's latest guidance where growth in Japan is expected to be flat and revenue is expected to be lower than previously estimated. As an investment the company offers some attractions. In the interim results to 30th June 2018, it reported turnover up 56.9% in constant currencies and the volume of cigarettes sold up 11%. The profit from operations was up 72,4% and the margin increased to 38%. What is even more interesting is that the share trades on a price:earnings (P:E) ratio of just 4,1 - which is very unusual for an international blue chip company, but reflects the perception that smoking generally has become a socially unacceptable activity. The company faces increasing regulatory restrictions across the world. Despite this, roughly 20% of the world's population still smoke - making a truly massive market. Setting aside our distaste for the business which BAT conducts, the share looks like very good value at current levels.
INTU (ITU)
Intu is a UK-based real estate investment trust (REIT) which is part of the FTSE 100 index. It specialises in retail shopping centres located around London and in Spain. It owns 17 of the UK's top shopping centres and 3 in Spain and the group employs about 120 000 people. In its results for the year to 30th June 2018, the company reported an occupancy rate of 97% and rental income up by 1,3%. They are in the process of opening the Intu Watford extension and the Lakeside Leisure extension. The company's shopping centres get about 400m visitors per annum with over half of the UK population visiting an Intu centre each year. This share has obviously taken a hit from the Brexit decision in the UK. The share price peaked at over R190 in December 2006, but has fallen to levels around R36. It has a net asset value (NAV) of R63 - which means that it was trading for around half of what it is worth on paper. Then, on 5th October 2018, a consortium of 3 companies, Peel Group (where British billionaire, John Whittaker, is CEO), Olayan (Saudi) and Brookfield were rumoured to be making a bid to buy Intu - which pushed the shares up about 23%. That bid has since fallen through and the share has fallen heavily, back to just over R20 per share. Consider the chart: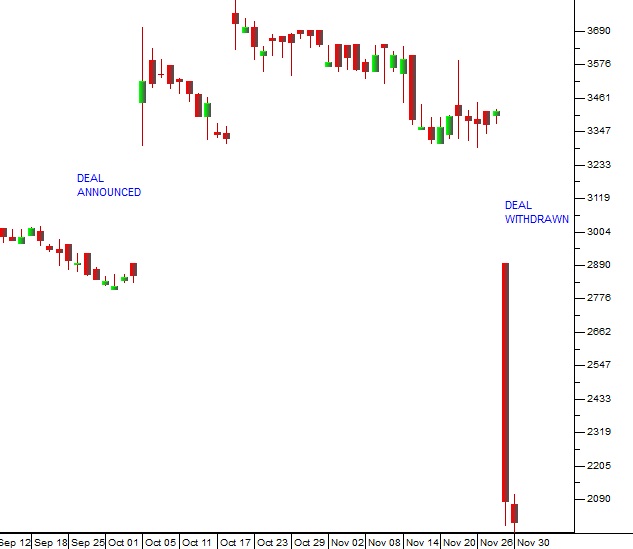 Intu (ITU) September to November 2018 - Chart by ShareFriend Pro
In a trading update for the period from 1st July to 23rd October 2018, the company reported that it had concluded 84 long-term leases at rentals 8% above the previous levels and that it had an occupancy rate of 97%. During September month they opened the retail and leisure extension of their Watford Mall. The quarter saw the company having difficulties with its tenants, House of Fraser and the clothing retailer Coast, which caused write-downs of about 250m pounds. They are also impacted by the trend towards online shopping in the UK. We remain bullish about this share which now offers very high quality assets at less than one third of their net asset value (NAV). It is a rand-hedge with no interests in South Africa and offers a very stable, long-term investment for private investors. When and if the UK economy recovers from Brexit, this will be an excellent share to hold.
You can view a visual presentation of this report
here
. To be added to our mailing list for the next webinar,
click here
.
DISCLAIMER
All information and data contained within the PDSnet Articles is for informational purposes only. PDSnet makes no representations as to the accuracy, completeness, suitability, or validity, of any information, and shall not be liable for any errors, omissions, or any losses, injuries, or damages arising from its display or use. Information in the PDSnet Articles are based on the author's opinion and experience and should not be considered professional financial investment advice. The ideas and strategies should never be used without first assessing your own personal and financial situation, or without consulting a financial professional.  Thoughts and opinions will also change from time to time as more information is accumulated. PDSnet reserves the right to delete any comment or opinion for any reason.
Share this article: