6 April 2022
By PDSNET
Central Europe
The crisis in Ukraine has taken center stage in the markets of the world, pushing aside the lingering impact of COVID-19 and the growing specter of rising world inflation. In our assessment, the war in Ukraine is the final kick in the death of the erstwhile USSR. That superpower was reduced to modern-day Russia following its disastrous retreat from Afghanistan and the subsequent fall of the Berlin Wall. Many elements of the USSR became capitalist countries in their own right and joined NATO, much to the disgust of Russia's self-appointed dictator, Putin. It was always his ambition to re-establish the USSR and his annexation of Crimea in 2014 was the first step in that direction. Ukraine was the next logical step, but there he is facing a country that has experienced 31 years of capitalism and democracy, which it is not willing to forgo.
It is now clear that Putin made a variety of bad mistakes in Ukraine:


He signaled his intention to invade at least three weeks in advance, giving both the Ukrainians and NATO time to make extensive preparations and gain the upper hand in the media battle.


When he finally launched his campaign, he used outdated World War II "blitzkrieg" tactics and equipment which proved hopeless in the face of modern hand-held technologies like Javelin and Stinger missiles.


He completely underestimated the response of both NATO and Ukraine.


He now faces an impossible situation where the Russian economy is crumbling under enormous sanctions and run-away inflation. At the same time he is losing ground in the war to an increasingly confident and competent Ukrainian army. He has made himself a world pariah while making Zelensky into an international hero.
In our view, Putin will not survive this debacle. Over time there must be a leadership change in Russia and following that Russia will eventually become just another European capitalist democratic country. The process will take some time and no doubt there will be bumps along the road, but that is where we believe that Russia will end up.
For our purposes, however, the impact of the Ukraine invasion on world markets is fading fairly rapidly. The oil price is falling back, and financial markets are turning their attention elsewhere.
Of course, some of the shares listed on the JSE have been variously impacted by Ukraine, especially those which have direct interests there or business in Russia, but our view is that those impacts will be short-term, and relatively insignificant.
Again, we stress the benefit of taking the opportunity to buy high quality blue chip shares at a discount.
The decision by the South African government to abstain from condemning Russia's invasion of Ukraine makes no sense from an economic point of view. Only 0,4% of our exports and less than 1% of our imports are conducted with Russia. Our largest trading partners are America, Europe and China. Perhaps our government was thinking of the time when the Russian government assisted it with its fight against the Apartheid regime – but if they were they may pay a very high price for that loyalty. Efforts have been made to suggest that somehow the invasion of Ukraine is equivalent to American incursions into various other countries (such as Iran, Cuba, Iraq or Yemen) and is therefore excusable. The difference is that America has never annexed those countries as Russia has annexed Crimea and intends to annex Ukraine. It is no longer a secret that Putin's goal is to restore Russia to its old boundaries prior to the fall of the Berlin wall. This type of expansion has never been a goal of America's. There is no doubt that South Africa's abstention has been noticed and it will impact on our relations with America and Europe in the future.
America
The US monetary policy committee raised rates by 25 basis points on 16th March 2022, despite the Ukraine crisis, in a move which signals the start of a cycle of interest rate hikes aimed at controlling inflation and "normalizing" the economy. US consumer price index (CPI) in February 2022 reached 7,9% - its highest level in 40 years and it is apparent that more inflation is coming given the recent jump in oil prices to above $100. Petrol prices were up 38% in February compared to a 40% hike in January 2022.
The Personal consumption expenditures (PCE) index, which is used by the US monetary policy committee (MPC) in their deliberations, rose by 6,4% on an annualized basis or 0,6% over the month.
There are two important points about these inflation figures:
Both these measures of inflation reflect a period mostly before Russia invaded Ukraine and the spike in the oil price.


The

Federal Reserve Bank

's current projection for the PCE is that it will come down to 0,41% per month by the end of 2022. This means that the average monthly increases for the rest of the year must be around 0,35% - and every month that is above that increases the likelihood of a 50-basis point hike in interest rates.


In our view, it is now almost certain that the MPC will increase rates by 50 basis points at least once before year-end and probably at its next meeting. That may have a temporary negative impact on the S&P500. We do not think that this effect will last long, however.
During March 2022 the US economy created 431 000 new jobs – which shows that it is still growing rapidly. The unemployment rate fell to 3,6% - which shows that it is at or close to "full employment". As is normal when there is such low unemployment, more and more people are "quitting" to look for better job opportunities, mostly for a higher rate of pay. The average hourly rate of pay rose by 5,6% - which is still below the inflation rate, but increasing steadily.
Economists often use the yield curve as an indicator of impending recession in America. The yield curve is the gap between the yield on the 10-year and the 2-year US treasury bills. Right now, they are at virtually the same level, but at the height of the Ukraine crisis, the yield curve dipped briefly into negative territory. This type of "yield inversion", if sustained, would indicate that the economy was heading for recession in about 18 months to two years.
Right now, we see the US economy as being in a strong boom phase which has not been significantly impacted by the recent developments in Central Europe or the prospect of rising interest rates. We see the Ukraine crisis as a relatively short-term economic event which is mostly expressing itself through a spike in oil prices and, to a lesser extent, grain prices. And those increases have simply been adding to world inflation, which was already rising before the Ukraine crisis began.
The major correction on the S&P500 index has almost certainly seen its lowest point and is now in its recovery phase. Consider the chart: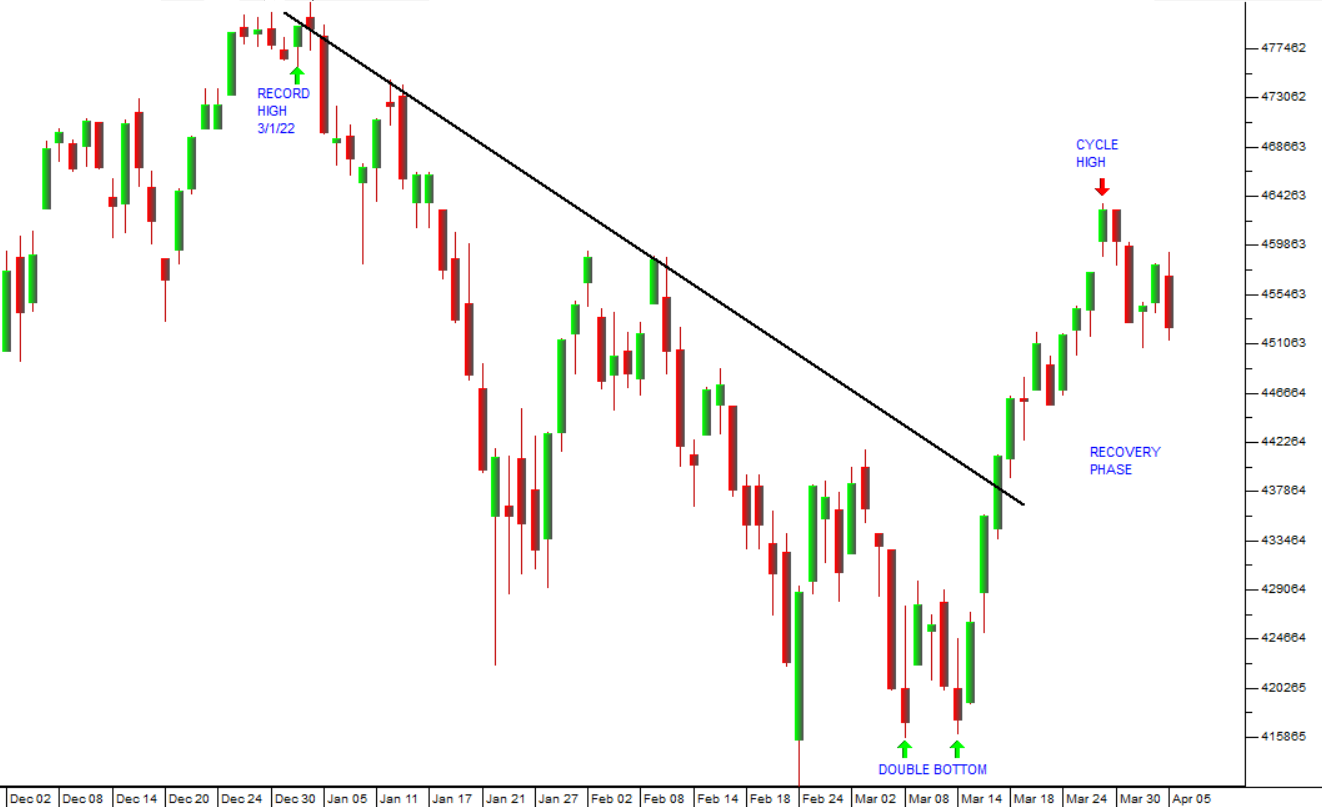 You can see here the correction's progression from its record high point of 4796.56 made on 3rd January 2022 to its low at 4170.7 made on 8th March 2022 – a fall of 13%. You should note that the correction ended with a classic "double bottom" formation.
It has been characterized by an unusual level of underlying bullishness with two "dead cat bounces", a very short period of sideways movement at the bottom and then a very sharp initial recovery. The cycle high which was made on the 29th of March, 2022 at 4631,6 is just 3,4% below the all-time record high - a further bullish indication. We have said in previous articles and Confidential Reports that we expected the S&P to make a new all-time record high before the end of this year. We now believe that to be conservative and believe that the new record high will come much sooner – probably before mid-year.
What is clear, however, is that inflation worldwide and especially in America is rising rapidly. As expected, central banks are responding by initiating cycles of rising interest rates. It is apparent that the Ukraine crisis has been a factor in their decisions, but not a significant one.
We have been watching the effect of interest rate patterns on stock market bull trends throughout the last 50 years or so. Rising interest rates tend to cause short-term waves of fear-based selling which give way to increased optimism as the economy continues to produce very bullish numbers. The creation of 431 000 new jobs in the US economy in March this year is a classic case. The negativity of rising interest rates is forgotten as the economy is clearly in top gear. The wave of impending share splits in the US (e.g. Tesla) is a further sign of the growing excitement.
Of course, eventually the pattern of rising interest rates will get to the point where it begins to significantly impact on the profits of S&P500 companies and on consumer spending, but history teaches us that this point is not imminent. In our view, rising rates in the US will only begin to slow consumption expenditure significantly in the second half of 2024 – at the earliest. So, this bull market has probably got at least two more years to run – and maybe more.
Nobody can really evaluate the long-term effects of the massive and unprecedented monetary policy stimulation of the world economy over the last 13 years. The current situation is unique in human history and hence unpredictable. Our attitude is that investors should "make hay while the sun shines" but be increasingly ready to quickly abandon equity markets and move into cash as the signs of the top of the market become more evident.
Political
The Social Relief of Distress grant (SRD) which has been extended to March next year will cost R44bn – but it is seen as politically expedient for President Ramaphosa's efforts to avoid recall at the ANC's elective conference in December, and for the ANC to retain voter support in the 2024 elections. Ramaphosa has been under pressure to increase the grant to roughly twice the R350 a month which it is now and to make it permanent in the form of a Basic Income Grant (BIG). Obviously, such a move would require further tax increases which would be bad for job creation and growth. The current SRD has been financed by the bonanza that South Africa has reaped from the commodity boom which is unlikely to continue indefinitely. The recent decision by the NEC to support Ramaphosa's position as president will take some of the pressure off him at the December elective conference, but the deeper problem of the ANC's loss of voter support remains. In our view, it seems almost certain that the ANC will get less than 50% of the vote in 2024 – which means that they will have to rely on support from other parties (most notably the Democratic Party) to pass key legislation through parliament. It also makes Ramaphosa more vulnerable to periodic votes of no confidence.
In 2018, when Cyril Ramaphosa became president of South Africa, one of his first actions was to establish an annual investment conference at which he stated his goal of getting R1,2 trillion in foreign direct investment (FDI) into the country. At the 4th of these conferences the 1000 attendees from all over the world pledged a further R333bn to bring the total to about 95% of that goal. Obviously, overseas investors are encouraged by the relative political stability of South Africa and the management of its fiscal and monetary policy under the Ramaphosa administration. The inflow of capital from abroad has led to a steady strengthening of the rand, despite the shocks of COVID-19, the civil unrest of July 2021 and the Ukraine crisis. This must be seen as a major achievement by Ramaphosa, but it is unlikely to help the ANC much in the 2024 election.
Economy
There can be little doubt that the Reserve Bank is doing an excellent job of managing the South African economy. Throughout the two years of the COVID-19 period they have not over-reacted by dropping rates too low, despite the further shocks of the civil unrest in July 2021 and the Ukraine crisis. Their decision to hike rates again for the third time by 25 basis points was a close call with two members of the monetary policy committee (MPC) voting for a 50-basis point hike. Obviously, they are mindful of the need to stay ahead of inflationary expectations and to maintain the gap between rates in South Africa and those of first world countries. This gap keeps South African fixed interest investments highly attractive to foreign investors. The Reserve Bank also increased their expectation for GDP growth this year to 2% from 1,7% and adjusted their inflationary expectations to 5,8% for the year - falling to 4,6% in 2023 and 2024.
Gross domestic product (GDP) grew by 1,2% in the final quarter of last year, taking the growth for the whole year to 4,9%. Obviously, this high level of growth is a recovery from the low 2020 base which was impacted by the pandemic, but the December quarter growth figure was much better than expected. One of the characteristics of this recovery in GDP is that it has not been accompanied by an equivalent improvement in the unemployment rate partly because of the disappointing performance from the construction sector which is traditionally a big employer.
The impact of the Ukraine crisis on South African inflation will be noticeable in the coming months. The price of wheat has doubled from last year and the price of fuel has risen rapidly. South Africa imports about 40% of its wheat so the price of bread can be expected to rise. This, in turn, will force poorer families to consume more maize meal. The petrol price has risen sharply and may rise further to compensate for the under-recovery on the fuel levy. In recent days, the oil price has come down and the rand has strengthened as the possibility of successful negotiations to resolve the Ukraine crisis appear to be gathering momentum.
The monetary policy committee (MPC) raised rates by a further 25 basis points in its third hike in this cycle. The MPC is trying to stay ahead of inflation and rising rates in first world countries, especially in the US where rates were increased by 25 basis points at their recent MPC meeting. The rising cost of oil is a major factor which is impacting inflationary expectations. Most economists are expecting inflation in South Africa to be between 5,5% and 6% this year as a result.
The jump in fuel prices to R21.63 per liter for 93-octane fuel on the Highveld will certainly hurt consumers and push up the inflation rate. The hike is partly due to the increase in oil prices as a result of the Ukraine conflict as well as the pressure on the rand/US dollar exchange rate. In our opinion, the fuel price will probably come down from here as we expect the rand to strengthen and the oil price to moderate – however it seems that fuel prices above R20 per liter are here to stay, especially if the Ukrainian situation proves to be a "new normal". These higher prices will gradually feed through to the inflation rate over the coming months, but inflation in South Africa is relatively low thanks to Reserve Bank discipline over a number of years. Interest rates are in a rising trend already and inflation looks to remain under control for the foreseeable future.
The official unemployment rate in South Africa is a major problem. In the 4th quarter it rose to 35,3% - a new record high. If discouraged workers are included, then the rate is 46,2% - which means that almost half of the workforce is currently unemployed. Obviously, the measures taken to contain COVID-19 have been a factor, but we have two important points to make about this record unemployment rate:
The mechanism used to determine unemployment in South Africa almost certainly underestimates employment in the

informal sector

of the economy. South African streets are full of people engaged in running small businesses on the side of the road. Every traffic light has its regular array of salesmen offering a variety of products from fruit to head gear. The entire mini-bus taxi industry is part of the informal sector as are thousands of other small businesses in every part of the country. Of course, the informal sector is really just a euphemism for tax evasion, but it has been growing rapidly and serves the function of providing the majority of South Africans with some sort of monthly income.


The primary cause of unemployment is a political hot potato. It is the excessive labour legislation which is heavily skewed in favour of employees and against employers. The procedures necessary to fire an employee are draconian, making it very difficult for an employer to get rid of unwanted staff. This, in turn, has the direct effect of making employers very reluctant to employ people. In fact, it is an amazing absurdity that businesses in South Africa will do everything possible to avoid employing more people, especially mechanization. The various government efforts to reduce unemployment under the ANC have been consummately ineffective – because they refuse to even talk about reducing or eliminating the labour legislation which is the root cause of the problem.


The yield on South Africa's long bond, the R2030 has risen in response to the crisis in Ukraine reaching almost 10,3%. This reflects the rising oil price where North Sea Brent oil has risen to $123 and there has been a sharp rise in the price of grains, especially maize and wheat. These price increases will flow through to inflation and result in a more rapid increase in interest rates. To this must be added the return of load-shedding which obviously slows the economy.
The civil service union's loss in their Constitutional Court case against the government is surprising. We really thought they would win. In any event, it is good news because it saves the Treasury around R30bn – and is a step towards controlling and reducing the government wage bill which currently costs R665bn a year and is expected to increase to R702bn in 2024/2025. Finance Minister Godongwana has been intent on getting the government wage bill under control because it is a major cost to the fiscus. The savings can help to reduce our deficit which will please the ratings agencies and help to keep the rand strong against first world currencies. Furthermore, the decision definitely weakens the union movement in South Africa going forward.
The level of new vehicle sales in February and this year so far is more than 18% up on last year. Obviously, the low level of interest rates has made it easier for consumers to get vehicle finance, but it is also an indication that the economy is recovering rapidly from the pandemic. The sharp rise in the fuel price in March will probably dampen enthusiasm, but it is evident that the economy is in a strong recovery phase. The effect of the Ukraine crisis on vehicle sales is not clear, but we do not expect it to be significant. In the short term it has caused the rand to weaken slightly, and it has certainly pushed the oil price above $100 per barrel. However, further increased commodity prices and a rising price of maize could well boost the economy.
The resumption of loadshedding by Eskom in March 2022 will have a negative impact on the economy. Eskom first went to stage 2 and then to stage 4 loadshedding. At this time, the company was using about 9 million liters of diesel per day to keep the lights on. Eskom's open cycle gas turbines can deliver as much as 5,7 gigawatts of power to the grid, but they do so at a much higher cost than its coal-fired power stations. This comes at a time when the Ukraine crisis has caused Brent oil prices to record highs of over $100 per barrel – so the cost to Eskom is very high. No doubt Eskom will seek to recover that from consumers at its next price determination.
The licence granted by the National Energy Regulator of South Africa (NERSA) to Enpower Trading to generate power from renewable sources, distribute it to customers using the national grid, and charge rates below the current Eskom rates is very significant. It represents the first real competition which Eskom has had and it shows recognition of the need to have a competitive electricity generation and distribution system. Enpower Trading will source power from multiple suppliers, mostly small in size and renewable. In terms of the Electricity Regulation Act power can be traded between consumers and suppliers at rates which are not set by NERSA. Essentially, this means that Eskom's long-held monopoly in the electricity market is over.
The Rand
The sharp strengthening of the rand since the Confidential Report of 2nd March 2022 shows that, as we have said, it is undervalued against hard currencies and especially the US dollar. Its relative strength during the Ukraine crisis has been notable and, now that that crisis appears to be abating, it is gaining ground rapidly. This is obviously good news for South African's because it will help to counter the rapid increase in the oil price resulting in less price shocks at the petrol pump. We expect the rand to continue strengthening against the US dollar and to ultimately break the cycle low made on 4th June 2021 when it reached R13,43 to the US dollar. This will be negative for rand-hedge shares, but highly beneficial to the economy as a whole. The strength of the rand is a direct reflection of excellent and conservative management of the South African monetary policy by the Reserve Bank.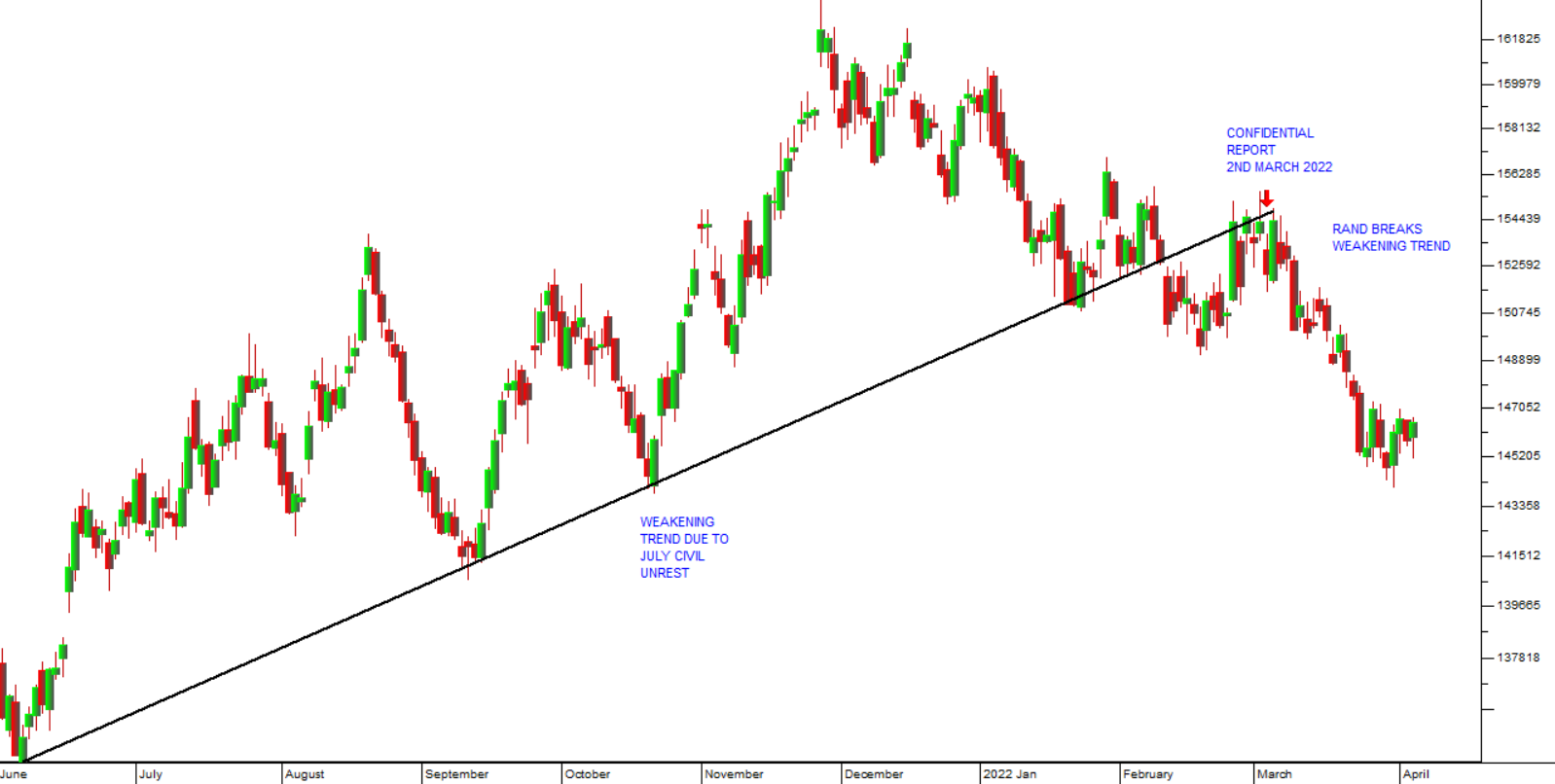 You can see here that over the last month the rand has extended its winning streak against the US dollar and is well on its way to the previous cycle low at R13,43. As the local economy strengthens and international sentiment moves towards "risk-on" we expect further gains in the rand. This will, combined with the temporary reduction in the fuel levy, help to cushion consumers from the spike in oil prices.
Commodities
The impact of the Ukraine crisis on commodities has been short and sharp, but now appears to be giving way to more predictable factors of supply and demand. Oil spiked up to above $120 per barrel but has fallen back towards $100. Consider the chart: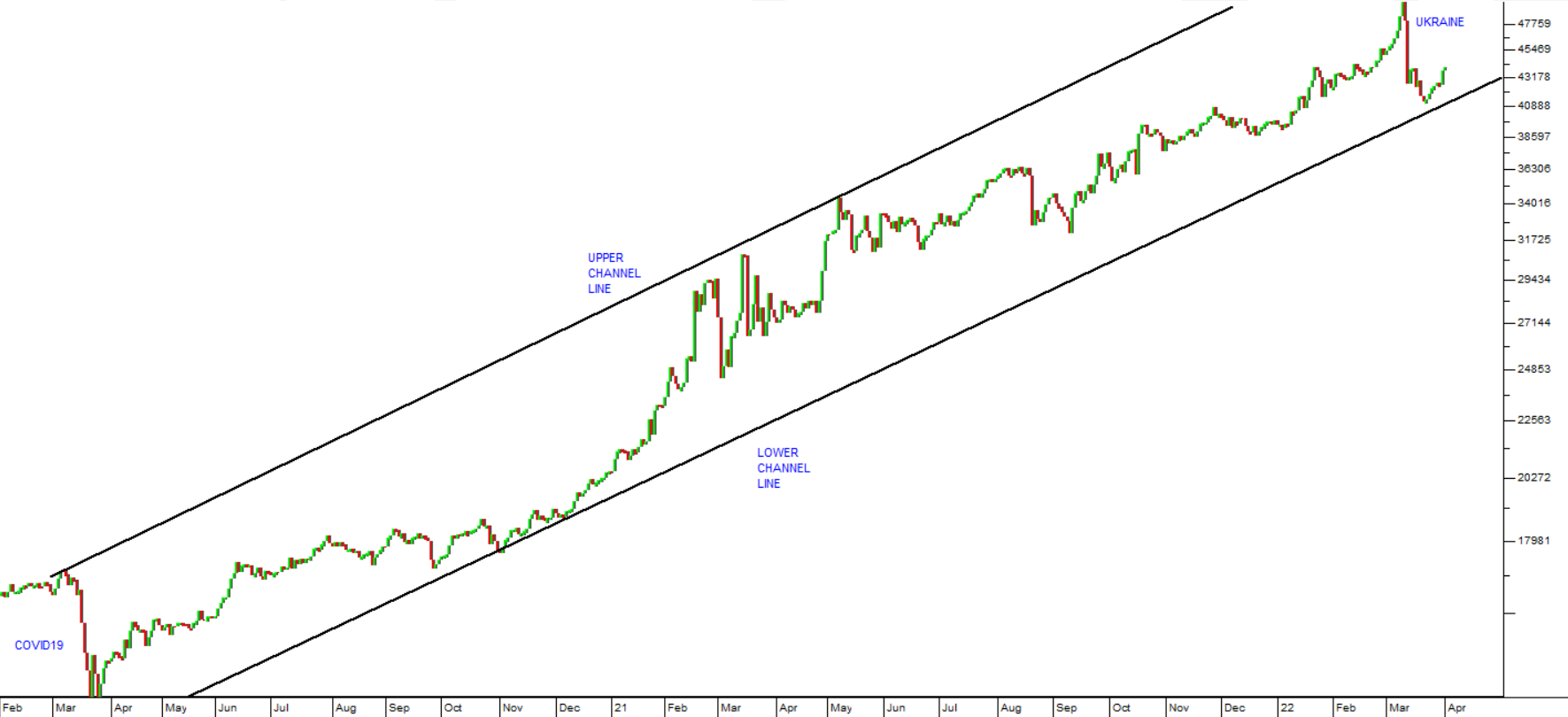 As this chart of the North Sea Brent price shows, the general pattern of rising oil prices has been in play since March 2020 and the downward spike caused by COVID-19. As the world economy recovered from the pandemic, oil prices have risen steadily.
Gold and platinum both rose sharply but are now falling back. Base metals such as copper and tin have also risen and then fallen back to their upward channels. The underlying demand from a booming world economy is once again the primary driving force for all commodities. European countries have to move quickly to find alternatives to Russian oil and gas.
We believe that the current boom conditions in 1st world countries will persist for at least the rest of this year and next. This means that commodities will continue to be in strong demand and South Africa will benefit accordingly.


Climate Change - The Next Big Thing?
The attention of the world's financial markets is always focused on the next major event or threat that is likely to impact on corporate profits. We have substantially progressed through the sub-prime crisis, the COVID-19 pandemic and we are in the process of digesting the Ukraine crisis. It is worth spending a little time to consider exactly where the next crisis might come from.
Of course, we are all by now aware that rising inflation is causing central banks to raise interest rates – and that ultimately that must impact on share prices. But what else could impact on markets in the near term? In our view, climate change is rapidly becoming the next major crisis which the world will have to deal with, and which will impact on markets.
Investors typically think of climate change as something that their children and grandchildren will have to contend with, but the United Nations warns that the world is about 18 years away from the average temperature rising 1,5 degrees Celsius above pre-industrial levels. To limit the average temperature, rise to 1,5 degrees the world would have to cut emissions by 45% by the year 2030. Current estimates are that by 2030 emissions will be 14% higher than they are today.
So, the real threat is that world temperatures will rise considerably further than 1,5 degrees. Already it is apparent that the incidence of exceptional weather patterns is becoming the norm. Record storms, hurricanes and floods are becoming far more common place. At 1,5 degrees, there will begin to be significant sea level rise threatening most cities around the world as well.
Add to this the surprise rise in measured temperatures in the Antarctic this year. Scientists have been amazed at the 40 degree increase in temperatures in Antarctica in March 2022. The temperature remains below zero – so the rise may not immediately result in any melting of the ice, but it shows that the climate is changing faster and more drastically than anyone predicted.
On 15th March 2022 the Conger ice shelf with a surface area of 1200 square kilometers broke off and fell into the sea. Conger is in East Antarctica – which was, until now, thought to be far more stable than the West. If East Antarctica is melting the impact on sea levels will be dramatic and it could happen far more quickly than anyone is expecting.
But perhaps the most imminent threat from climate change is food shortages in the next few years. The traditional crop producing areas are likely to suffer flooding and droughts which could substantially reduce food output, leading to starvation. This could be mitigated to some extent by hydroponics, but those facilities are insufficient at the moment to meet world demand.
In our view, climate change is going to become a major factor in equity markets and much sooner than most people realise. Of course, our esteemed minister of Minerals and Energy (Gwede Mantashe) says that South Africa (one of the 15th largest emitters of climate change gases in the world) has no plans to phase out burning coal for energy any time soon…
Perhaps it is time to begin reviewing your portfolio and considering the impact of climate change factors on what you hold.
Companies
NEW LISTINGS
The listing of Coca-Cola Bottling Africa (CCBA) on the JSE and the Euronext in Amsterdam later this year will give investors a beverage counter to invest in. The company is 67% owned by Coca Cola. It will be aiming to spread throughout Africa. At this time CCBA has about 40% of the market for soft drinks in Africa with South Africa accounting for almost two-thirds of that. 84% of CCBA's sales are from carbonated soft drinks and the balance from still drinks. The company's turnover is just under R50bn. We expect this to be a high-quality blue-chip share which is patronized by big institutional fund managers.
Telkom has decided to delay the separate listing of its tower and property division to be called "Swiftnet" because of the volatility in world markets caused by the Ukraine crisis. The company has 1300 properties and more than 6000 cell phone towers. Telkom intends to keep 80% of Swiftnet and float the remaining 20% in order to release shareholder value. A successful listing would enable Telkom to raise capital to continue with its expansion plans.
The Reserve Bank has revealed plans to list African Bank on the JSE after being dissatisfied with the bids it received. The Reserve Bank owns half of African Bank. No date has yet been given for the listing.
MASTER DRILLING
Master Drilling (MDI) is a South African company that specialises in drilling exploration and other excavations for the mining industry, and has diversified into drilling for hydro-electrical projects and construction. The company has moved away from the South African mining industry and now provides services in North and South America, Europe and elsewhere. It has developed a new horizontal drilling technology, or tunnel boring machine, which could revolutionise the mining industry world-wide. This technology enables the drilling of horizontal tunnels or tunnels which are inclined up or down by 12 degrees. It is much quicker and cheaper than the traditional blast and clear methods currently in use. In its results for the year to 31st December 2021 the company reported revenue up by 40% and earnings per share (EPS) up 5-fold in US dollars.
We regard the company's horizontal drilling technology as a potentially disruptive technology in the mining industry which extends the life of some mines and makes others viable again. So, while this is a risky share, because it is linked to the commodities markets, it has the potential to offer strong growth because of the new technologies which it has that have the ability to revolutionise the mining industry. That potential is now being realised. In our view, this is an interesting company which could perform well as its new horizontal boring machine gains traction.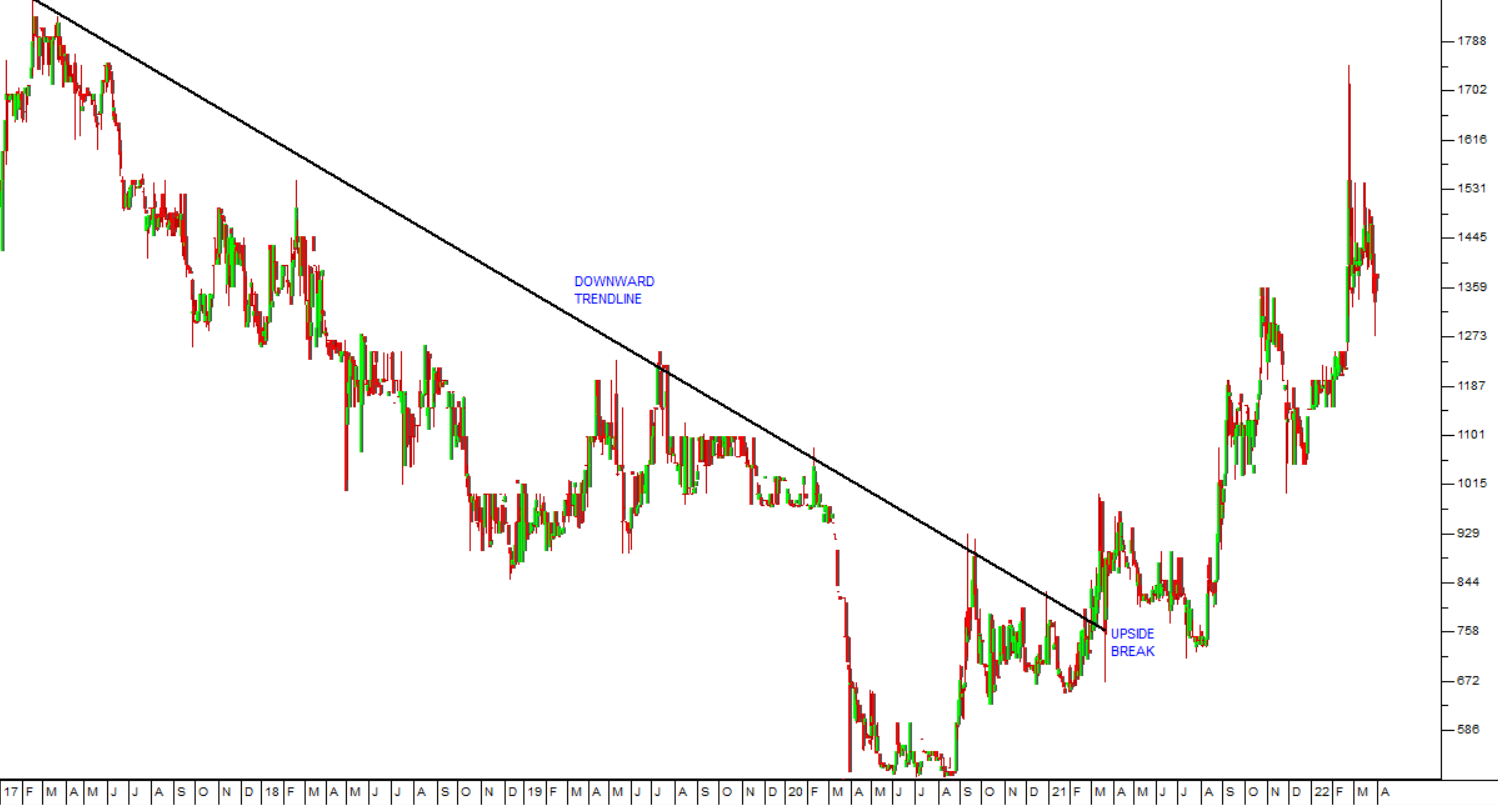 Technically, the share has been in a steady downward trend since February 2017, and we have advised waiting for a clear upside break before investing. That break through its long-term downward trendline came in March 2021 at 806c. Since then, it has moved up to 1380c. It is now trading at about 90% of its net asset value (NAV) and on a price:earnings (P:E) multiple of 7,23 – which makes it cheap in our opinion.
REMGRO
Remgro (REM) is a diversified international investment holding company started by Johan Rupert. Like most investment holding companies its shares trade at a significant discount to the market value of the assets which it owns. This gives the opportunity to unbundle key subsidiaries into the hands of shareholders, thus releasing considerable value. Remgro is already quite far down the road with this process having sold its 25,75% stake in Unilever and with the sale of its 31,8% stake in Distell. The company also owns 44,6% of Mediclinic, an international healthcare company with divisions in Switzerland, Southern Africa and United Arab Emirates.
It owns a number of other investments including a 25,8% stake in Grindrod and a 30% stake in Seacom. The Competition Tribunal has approved the acquisition by Community Investment Ventures Holdings (CIVH), a Remgro subsidiary, of Vumatel. Vumatel is a "last mile" fibre infrastructure company. In terms of the approval, Vumatel must supply free uncapped fibre services to schools near where it's networks pass for the next 10 years.
On 10th November 2021 the company announced a transaction with Vodacom to form "Infraco" in which Remgro will retain a 70% stake, potentially falling to 60%. Infraco will include Dark Fiber Africa and Vumatel and Vodacom will inject R9bn in cash. It will focus on dominating the provision of fibre on South Africa. In its results for the six months to 31st December 2021 the company reported headline earnings per share (HEPS) up 139,4% and intrinsic net asset value (INAV) up 14,2% at R202.47 per share.
The company may consider unbundling some of its remaining investments, particularly Mediclinic, which would release shareholder value. Consider the chart: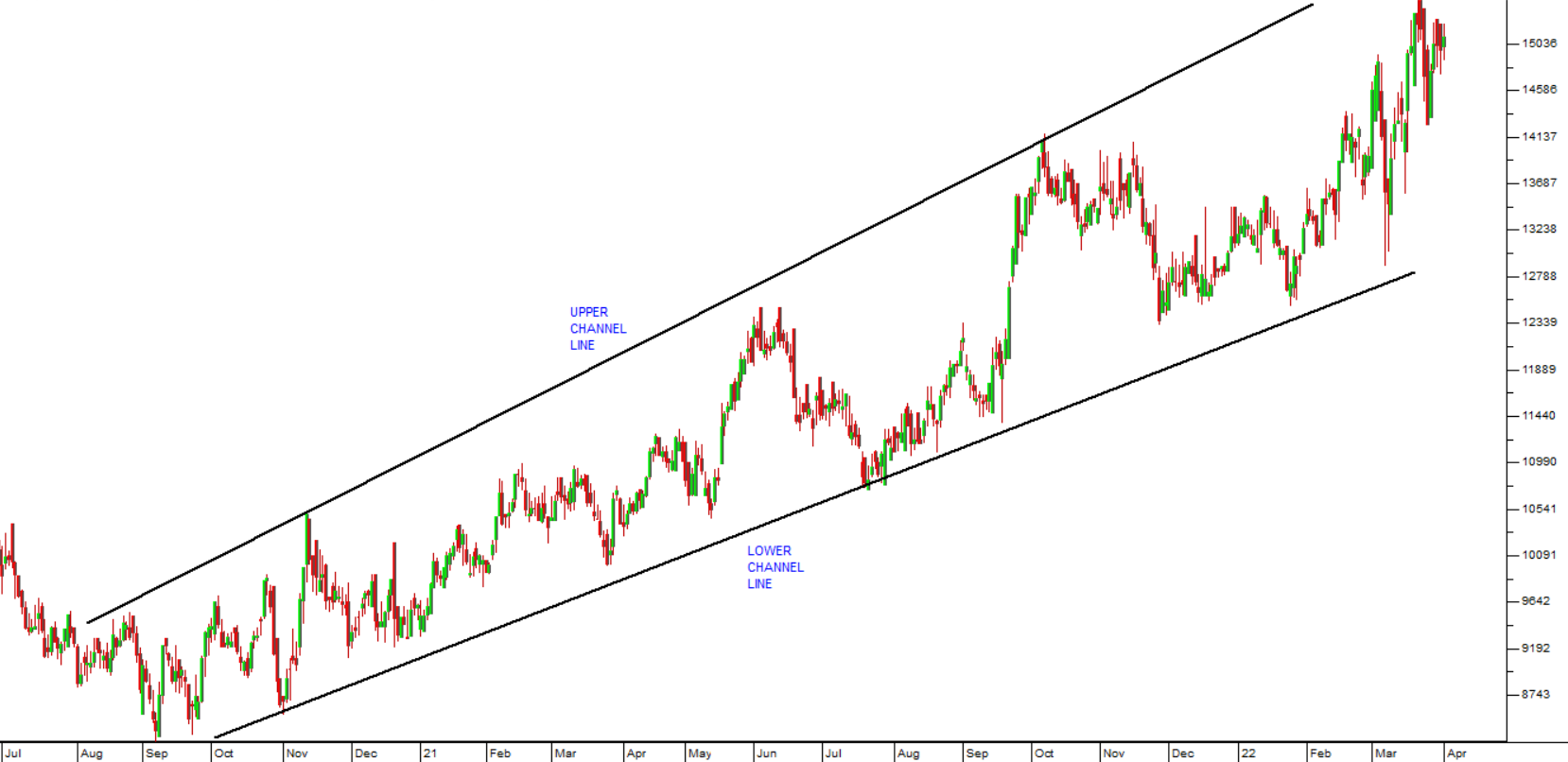 Technically, the share made a low at 8388c on 7th September 2020 and has been rising in an upward channel since then. It is currently trading at R151.39 against a NAV of R202.47 and on a P:E of 17,7. We think it remains good value at current levels.
CLICKS
Clicks is a business which everyone knows and patronises. It is continuously growing by adding new stores and new products. It describes itself as a retail-led healthcare group. It incorporates Clicks, GNC and The Body Shop. Clicks has over 740 stores of which 585 include pharmacies - which makes Clicks the largest pharmacy chain in Southern Africa. On 10th May 2021 the company announced that it had acquired the pharmacy business of Pick 'n Pay - which consists of twenty-five pharmacies located inside Pick 'n Pay stores. These will now be re-branded to Clicks stores.
At year-end the group held cash resources of R2.2 billion. Capital investment of R846 million is planned for the new financial year. This will include 25 to 30 new stores and 30 to 35 new pharmacies, in addition to the acquisition of 25 Pick n Pay pharmacies.
In a trading update for the 26 weeks to 16th January 2022 the company reported, "Retail health and beauty sales up 14.4% - sales in comparable stores increased by 11.1% (2021: 4.4%), with selling price inflation averaging 3.3%..." In a trading statement for the six months to 28th February 2022 the company estimated that HEPS from continuing operations would rise by between 17% and 22%.
As a result of its high rating, the share trades on a P:E of 39,88 - but we believe that it remains an excellent medium-term investment which should find a place in every private investor's portfolio. It is what we refer to as a "diagonal" share because over the past 15 years its chart goes from the bottom left-hand corner of your screen to the top right-hand corner. Recently the share has been bumping along its lower trendline – which to us is an indication that there is considerable upside potential. This is a share which all private investors should accumulate on weakness. Consider the chart: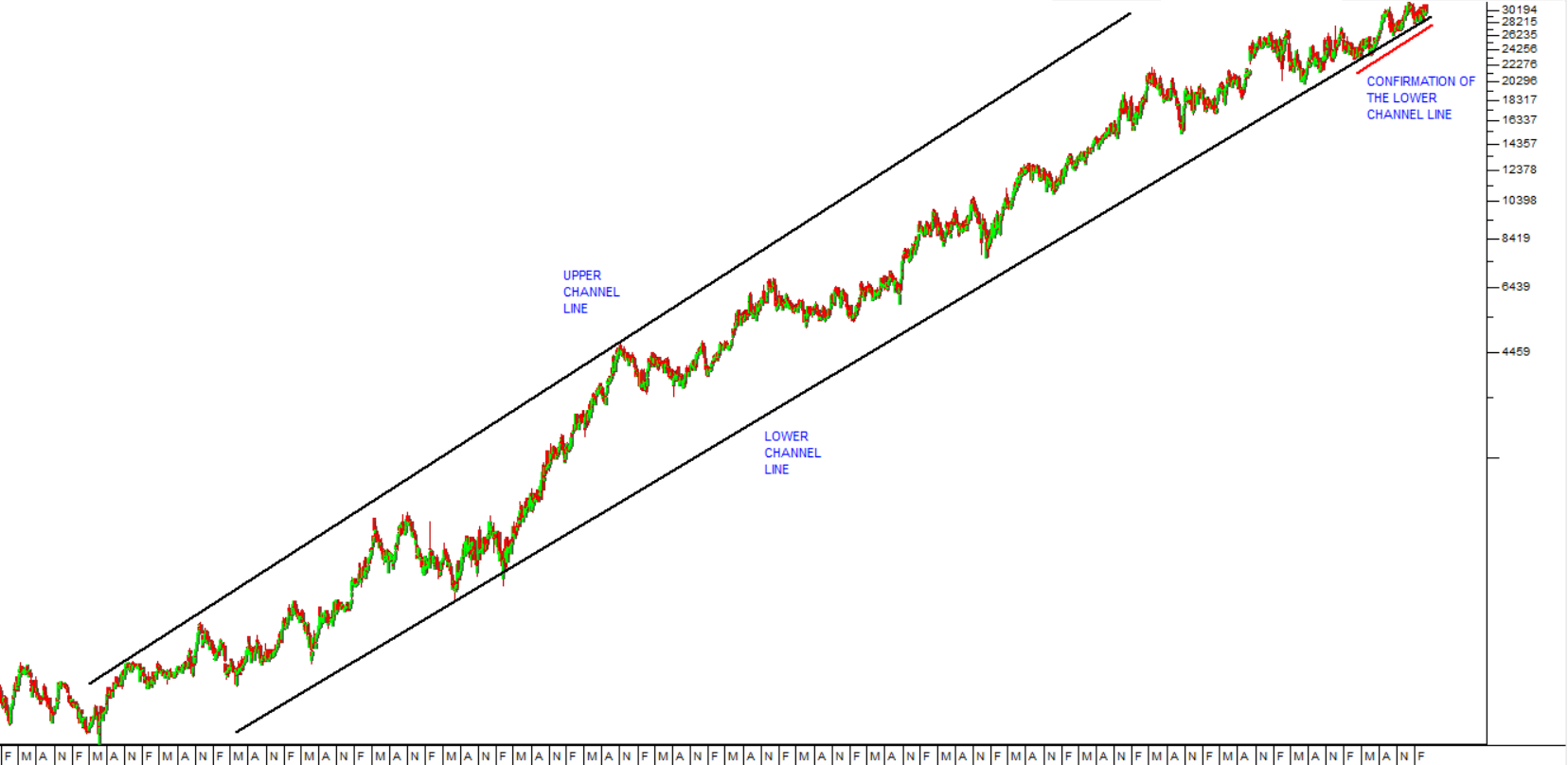 COMBINED MOTOR HOLDINGS (CMH)
Combined Motor Holdings (CMH) runs car dealerships in Nissan, Volvo, Toyota, Opel, Subaru, Lexus, Mazda, Isuzu and Ford - selling both new and used vehicles. In its results for the six months to 31st August 2021 the company reported revenue up 55% and headline earnings per share (HEPS) of 200c compared with a loss of 14c in the previous period (because of COVID-19). The company said, "The 54% increase in revenue, improved trading margin, slashed operating expenses, and lower interest rate have driven the segment's return from a pre-tax loss last year, to its best-ever first six months results". The car hire business has been recovering steadily. In an updated trading statement for the year to 28th February 2022 the company estimated that HEPS would increase by between 110% and 120% compared to the previous period. Consider the chart: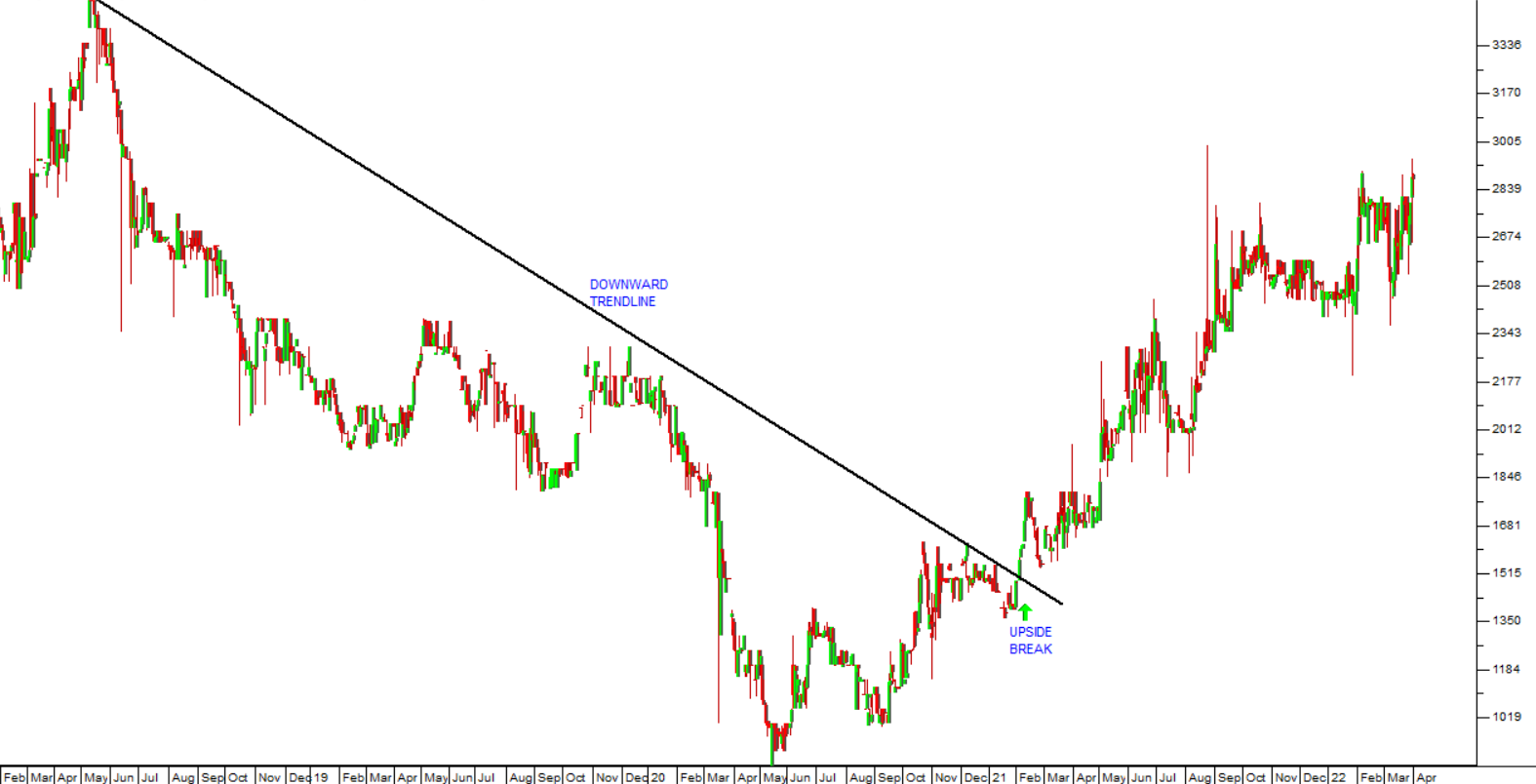 This share made a "V-top" at 3350c on 10th May 2018 and then fell heavily to around 950c in May 2020 as a result of COVID-19. Since then, it has found solid support and is moving upwards. At current levels around 2852c, the share is on a very undemanding P:E of 6,42. In our view, it still represents very good value at these levels despite its strong rise over the past year.
EOH
EOH used to be the darling of the JSE and a favourite of institutional fund managers. It was an IT company involved in almost every aspect of computers and software. Its shares rose steadily until August 2015 when they reached a peak at R178. After that it faced a series of unfortunate developments. It was accused of being involved in state capture and it was seen to have allowed itself to become too diversified and lacking in focus with heavy debts. Then Asher Bohbot resigned as CEO and after a time Stephen van Coller took over. He has been steadily cleaning up the company, consolidating its multitude of subsidiaries into 3 operating divisions, paying off debt and dealing with the various allegations against it. While the share was falling, we advised clients to wait for a break up through its long-term moving average. That happened in December 2020, but the share has been moving sideways since then until its most recent trading update for the six months to 31st January 2022. The company estimated that headline earnings per share (HEPS) would be between 38c and 44c per share – compared with the previous period's loss of 36c. Suddenly the share came to life, and we believe that it may be entering a new upward trend. Consider the chart: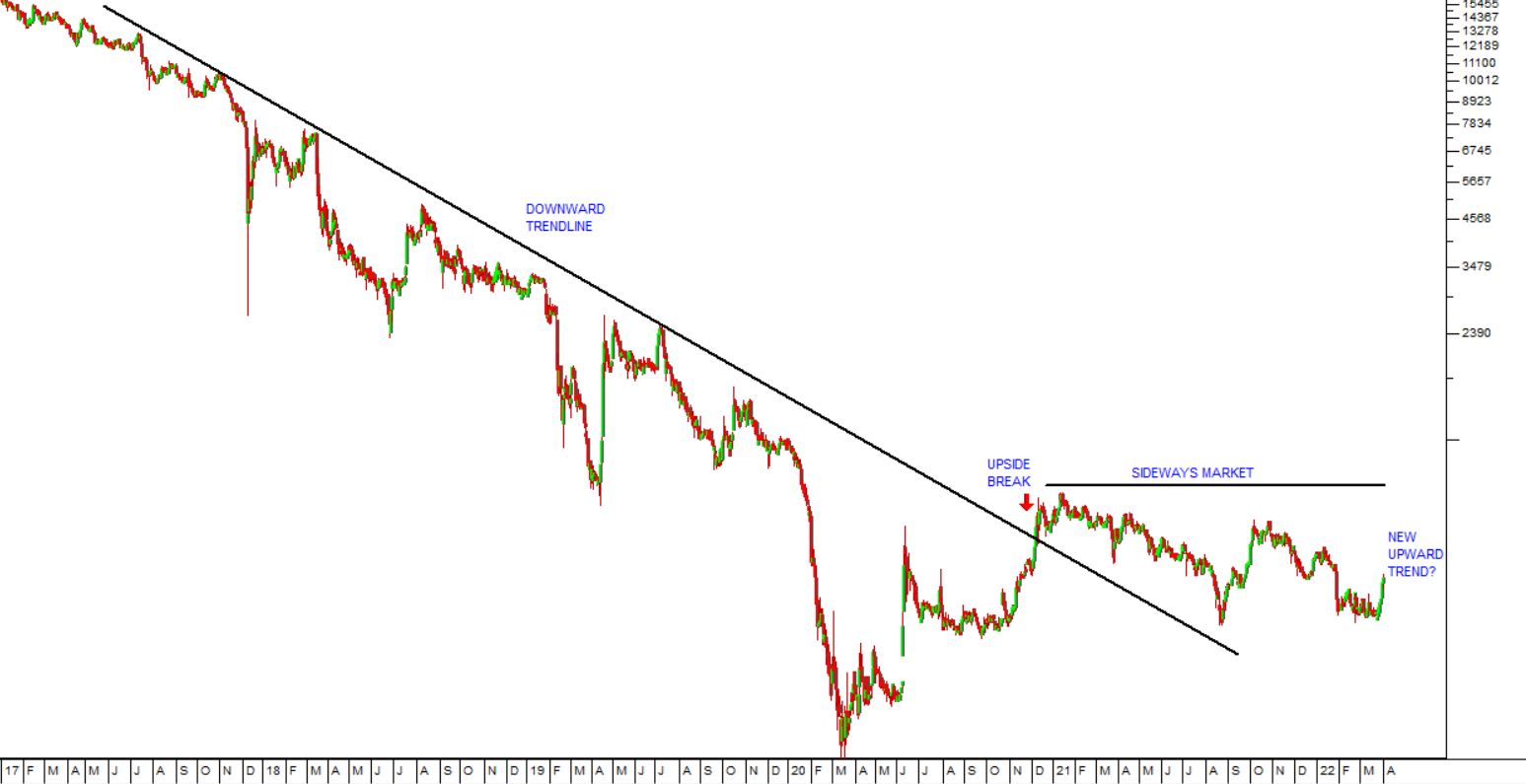 ADVTECH
Advtech (ADH) is one of three listed commercial educational companies on the JSE (the others are Curro and its separately listed sister company, Stadio). Advtech has two divisions - a schools division (including Crawford, Trinity House and Abbots) and a tertiary division (including Varsity College, Rosebank College and a variety of specialist tertiary offerings). The group includes 109 schools and thirty-two campuses with over 80 000 students. In the past, the company was supported mainly by its schools division, but in the last few years the schools division has faced increasing competition, which has squeezed margins. At the same time the tertiary division has become the company's primary source of profits.
In its results for the year to 31st December 2021 the company reported revenue up by 8% and headline earnings per share (HEPS) up by 33%. Total group enrolments were up 6% to 84341. This is a company which exploits the general decline in government primary and tertiary education over the past 25 years – which gives it almost unlimited "blue sky" potential. Parents are always willing to pay for their children's education – and education is almost always paid for in advance which means that the company has almost no working capital. Consider the chart: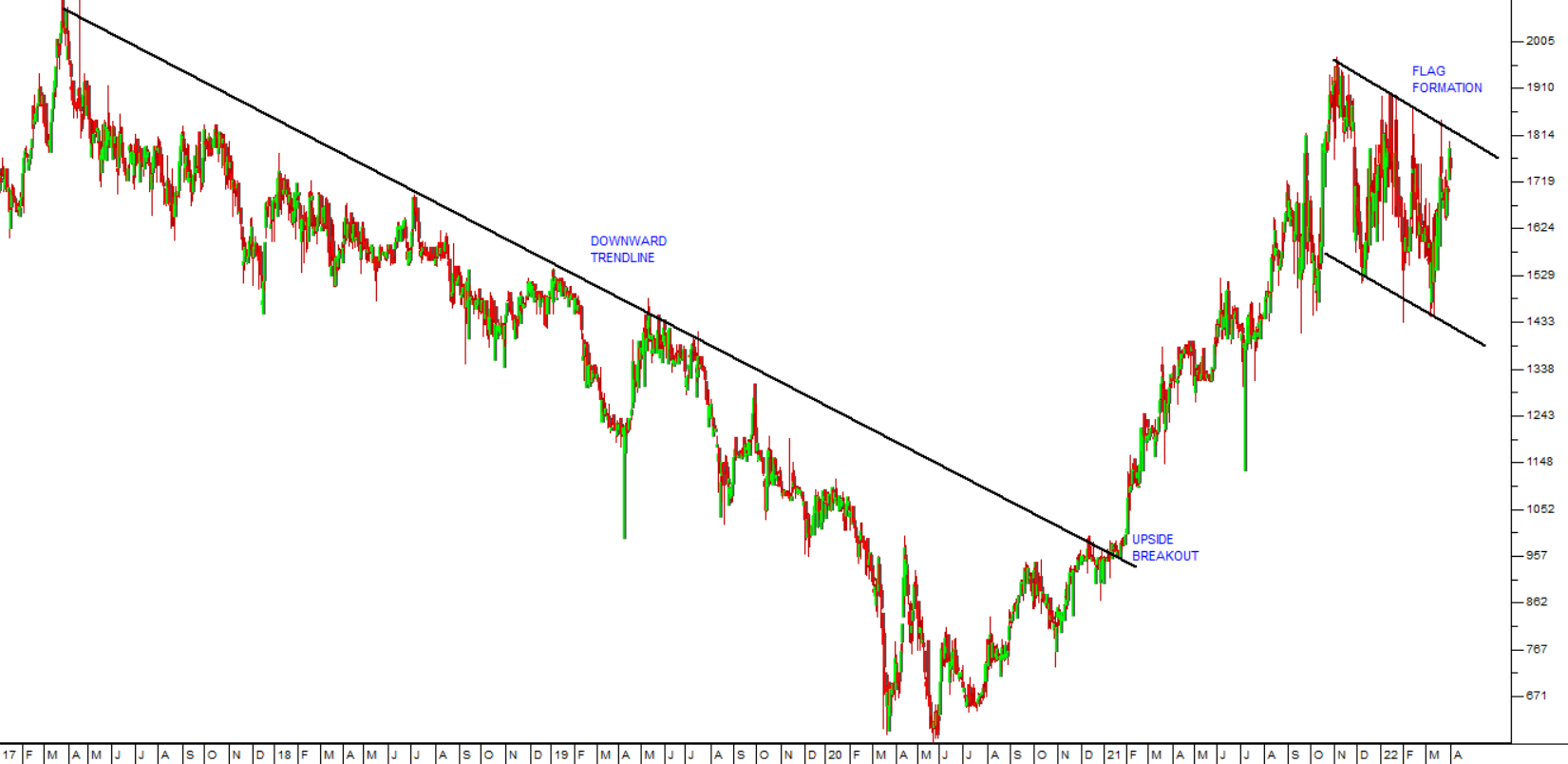 Technically, the share peaked at around R20 in March 2017 and then drifted downwards to a low of 591c at the end of May 2020. Since then, it has been tracking up again and has broken up through its long-term downward trendline - signaling a strong new upward trend. In the past few months, with the major correction on world markets and the crisis in Ukraine, the share has been in a "flag formation", moving sideways and slightly downwards. We expect it to break up out of this formation in the near future.
It is now on a multiple (P:E) of around 14,47 which looks like good value to us. In our view, this is a solid, blue-chip company with good medium-term prospects, and it is relatively cheap. Any significant improvement in the South African economy will benefit this company directly.
HULAMIN

Hulamin (HLM) is a producer and supplier of aluminum products in South Africa and trades in more than fifty countries internationally. It supplies foil, heat-treated plate as well as standard coils and flat sheet which represents 22% of Hulamin sales. Like any commodity share, Hulamin is subject to rapid changes in the price of its commodity, which are generally outside of its control.
In its results for the year to 31st December 2021 the company reported group sales volume up by 34% and revenue up by 52%. Headline earnings per share (HEPS) was 182c compared with a loss of 71c in the previous period (due to COVID19 and hedging losses). On 14th October 2021 the company published a cautionary which was accompanied by a spike in the volumes traded. Consider the chart: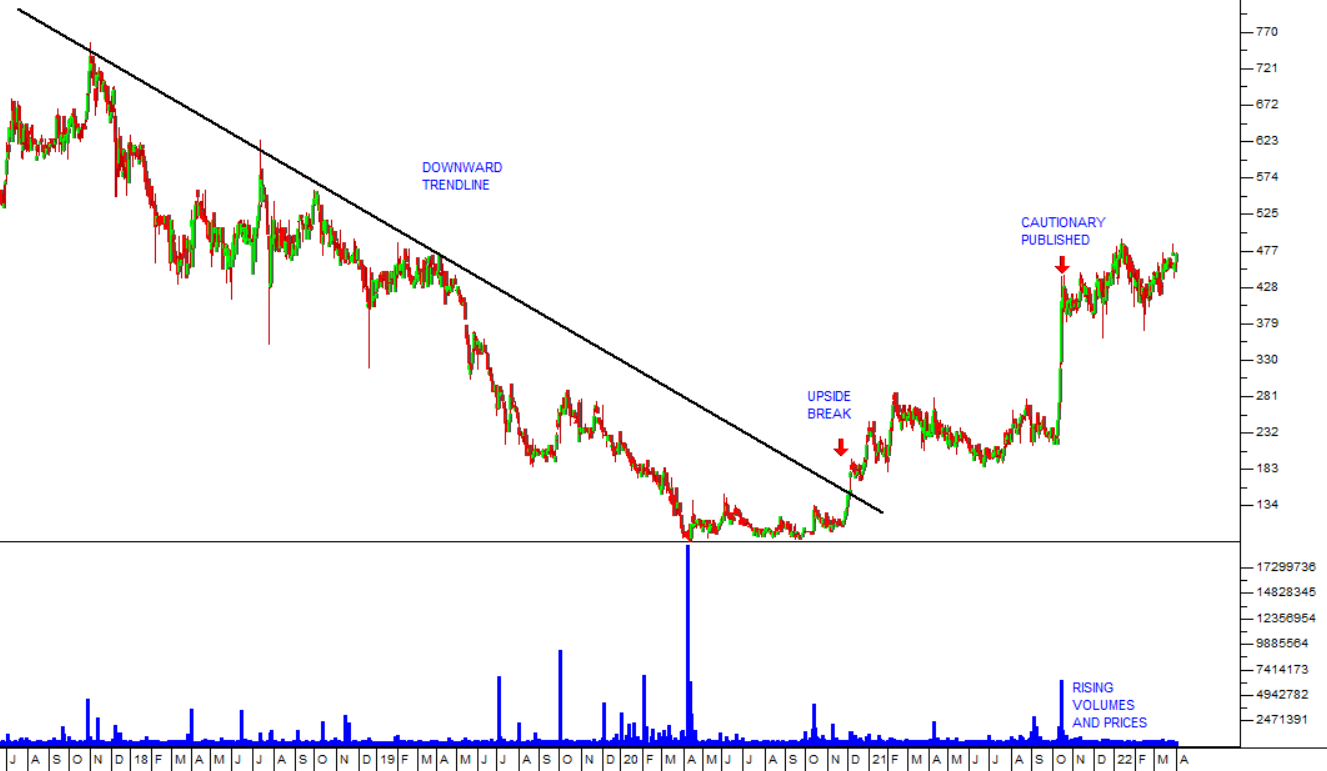 Since its listing in 2007, Hulamin saw a constant decrease in its share price from 3200c to as low as 86c a share in April 2020. We advised waiting for an upside break through its downward trendline. That break came on 2nd December 2020 at a price of 150c. Since then, the share has moved up to 469c - a gain of 213% in 15 months. The average daily value traded is around R1m which makes it a sufficiently liquid stock for most private investors. Russia supplies about 6% of the world's aluminum and so the current crisis in Ukraine could impact prices positively. The share looks like good value to us now.
DISCLAIMER
All information and data contained within the PDSnet Articles is for informational purposes only. PDSnet makes no representations as to the accuracy, completeness, suitability, or validity, of any information, and shall not be liable for any errors, omissions, or any losses, injuries, or damages arising from its display or use. Information in the PDSnet Articles are based on the author's opinion and experience and should not be considered professional financial investment advice. The ideas and strategies should never be used without first assessing your own personal and financial situation, or without consulting a financial professional. Thoughts and opinions will also change from time to time as more information is accumulated. PDSnet reserves the right to delete any comment or opinion for any reason.
Share this article: