04
Apr
---
Political
Mr Ramaphosa has said that the land issue of expropriation without compensation will not be resolved by a process of "smash and grab" – but rather through a process which will ensure that the food security of South Africa is sustained. However, the events taking place in Gauteng, which have been aided and abetted by the EFF cannot be described as anything but "smash and grab". The illegal occupation of land in the Kanana Park area is a case in point. Here a new squatter camp has been and is being erected while the authorities just look on. In Olievenhoutbosch, near Midrand, the owners of land have resorted to the courts to remove illegal settlements. In Pretoria, officials apparently dealt with 4400 complaints of illegal occupation in 2017. Clearly, this is not about land which was taken from various tribes prior to 1994. Rather it is about the influx of illegal immigrants into South Africa from neighboring countries because of our relative prosperity. Most squatter camps have a high proportion of illegal immigrants – and surely it must be obvious that, while we have land enough and can probably build houses for our own citizens, we certainly cannot accomodate Africa at large.
Economy
The unexpectedly high growth rate of the 4th quarter of last year, which was 3,1%, shows that the growth figures included with the budget in February were low and will definitely be revised upwards. This, of course, means that the assumed tax collections in the budget will also come in somewhat higher and "fiscal consolidation" (which basically means the repaying of government debt) will proceed more quickly. The overall growth for the whole of 2017 came in at 1,3% – well above the 1% which was expected. All of this was mainly due to an improved agricultural performance and to a lesser extent, manufacturing and retail. Now the forecasts for 2018 and 2019 can be revised upwards – and this means that there is a good chance of a ratings upgrade in due course. The optimism which has greeted Ramaphosa's election to the presidency and his actions since taking office are a powerful force which will cause both increased spending and investment. The biggest problem which he faces is undoubtedly the size and cost of the civil service. Dawie Roodt, a well-known economist in South Africa, says that in its broadest definition (i.e. including parastatals), the civil service probably now employs about 3 million people.
Our new finance minister's overseas road show had the desired effect. He met with all three international ratings agencies in London and they all said they were happy with the recent budget. Some expressed concerns about the land expropriation issue and saw it as a negative – but then, clearly, it will depend on how exactly land is to be expropriated and under what circumstances. After London, the finance minister took his team to Boston where they talked with American investors. Generally he has had a credible story to tell of reform and the elimination of corruption. It is interesting that foreign investors believe that SA will have a growth rate of between 3% and 4% in 2018 – much higher than local economists' projections and that of the SA Reserve Bank. We believe that the foreigners might be right this time. It is interesting that in the weeks following Ramaphosa's election, $5bn flowed into South Africa from abroad. The Reserve Bank continues to estimate growth very conservatively at 1,7% for 2018, 1,4% for 2019 and 2% in 2020.
Manufacturing production rose by 2,5% in January month compared with the previous year – which follows on from a 1,8% rise in December. The Purchasing Managers Index (PMI), which also measures manufacturing activity, was 49,9 in January and rose to over 50 in February, showing that manufacturing is now beginning to expand. The sector is keen to create one million jobs but indicates that it will require support from government. The new optimism sweeping the SA economy is being felt at all levels and promises to improve everything from crime statistics to tax collections.
Obviously, any economy that wants to succeed must have well-organised, fair and strict tax collection. Without this, it would be impossible for any government to function properly. Under Pravin Gordhan, SARS acquired a reputation among tax-payers for being strict and it was difficult to evade tax. Under Tom Moyane the opposite was true. The tax ethics of South Africans definitely slipped on his watch – resulting in a R48,2bn shortfall in the February budget – which necessitated a 1% hike in VAT. Added to this is his handling of the Makwakwa affair and there is good reason to replace him. But Mr. Moyane is refusing to go – saying he has done nothing wrong. Fortunately, he has been suspended by President Ramaphosa – so he is no longer directly involved in running SARS.
The cut in interest rates at the March Monetary Policy Committee (MPC) meeting may be the last for a while. Apparently it was a close call with three of the seven committee members voting against a cut. The inflation rate dropped to just 4% per annum in February and looks to stay at these levels for some time. This is substantially due to the strengthening of the rand against hard currencies. That strength has also helped the country to absorb the new higher fuel levy. Further rate cuts later in the year seem unlikely and many economists say that this is the end of the cutting cycle. They expect the economy to improve quickly, leading in time to a rate increase. As the attitude of the ratings agencies continues to improve together with the state of government finances, we can expect the committee to become more hawkish.
The R186 is the South African government's bench-mark bond. The yield on that bond reflects what international investors think about this country. If the yield falls it indicates directly that overseas investors are positive about the future of our economy and the stability of our government. Consider the following chart of the yield on the R186 since January 2015.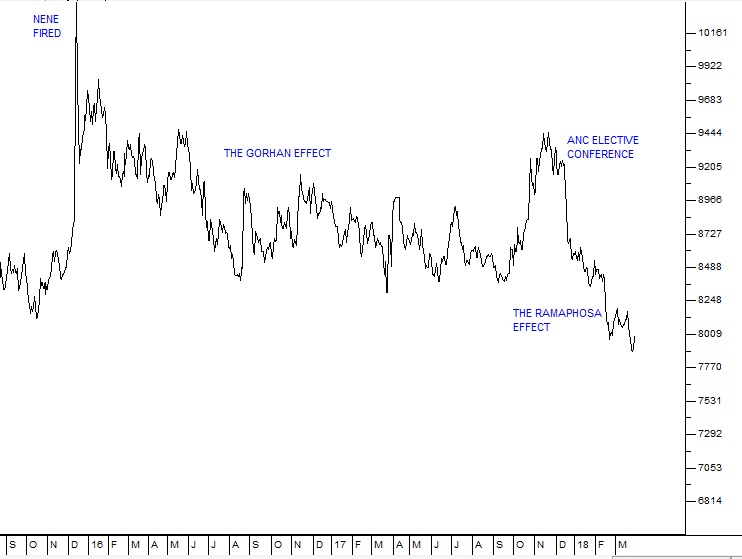 R186 Government Bond September 2015 to March 2018 – Chart by ShareFriend Pro
Here you can see the devastating impact of the firing of Nene as minister of finance in December 2015. That is followed by a long period of consolidation under Pravin Gordhan. Then there is a spike in the yields which shows the uncertainty which surrounded the ANC's elective conference in December 2017. That is followed by what we call the "Ramaphosa effect" where yields have declined steadily, indicating that the international financial community approves of what he has been doing. Yields have now dropped to 7,9% and look to fall further. Moody's surprise decision to keep our sovereign rating at investment grade and at the same time to upgrade us from a negative outlook to a stable outlook is a welcome boost to the South African economy. Now Standard and Poors (S&P) have increased their projection for growth in the SA economy this year from 1% to 2%. They have not improved our rating – but they are clearly much more optimistic. We believe that S&P will upgrade us later this year or early next year. These developments mean that South Africa will have to pay far less interest on its debts – probably about R3bn per annum – which will have a significant and cumulative impact on government finances going forward.
Wall Street
The decision by Donald Trump to impose $50bn worth of tariffs on imports has triggered fears of a trade war between the US and China, the two largest economies in the world. To justify his position, Trump says that the US is running a $375bn trade deficit with China every year. But imposing tariffs flies directly in the face of the free-market capitalism that America has always championed. Put simply, if America cannot produce steel as cheaply as the Chinese (or other countries) then they should not be producing it. Tariff barriers simply increase the cost of steel for all Americans – just as increased tariffs on chicken imports to South Africa increase the cost of our primary protein source for all South African consumers. The real answer to trade deficits is to improve local productivity and efficiency. Of course, the Chinese have and will retaliate possibly leading to a "tit-for-tat" trade war which will benefit no one. The stock market has felt the brunt of this new development and the correction has been extended – although the S&P500 has held on to what appears to be strong support at around 2581 (the previous cycle low made on 8-2-18). Consider the chart: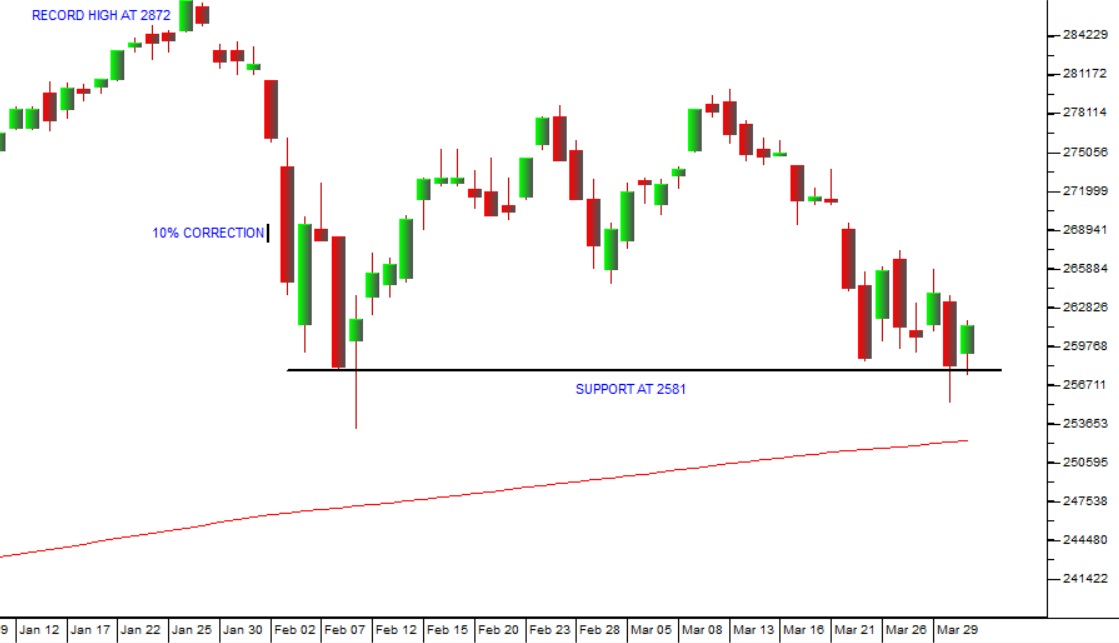 S&P500 Index January 2018 to April 2018 – Chart by ShareFriend Pro
This correction is now more than two months old and has come down 10% – which compares with the 14% fall over 6 months of the previous correction between August 2015 and February 2016. A break below 2581 on the S&P would signal a continuation and deepening of the correction. We believe that better-than-expected corporate earnings in the US, especially those of companies in the S&P500, will bring this correction to an end in the next few months – so it remains a buying opportunity. You will also notice that the long-term 300-day simple moving average is still trending up which indicates that the bull trend remains in place.
The Rand
Since the last Confidential Report on 7th March, the rand has moved mostly sideways. The Moody's decision not to downgrade SA had a marginal effect – but this was widely expected and discounted. The rand appears to be consolidating below R12 to the US dollar as investors become more confident of the "Ramaphosa effect". Further strength seems relatively unlikely at this stage. The strength so far has enabled the government to put through a VAT increase and an increase in the fuel levy without significantly disturbing the South African consumer. Consider the chart: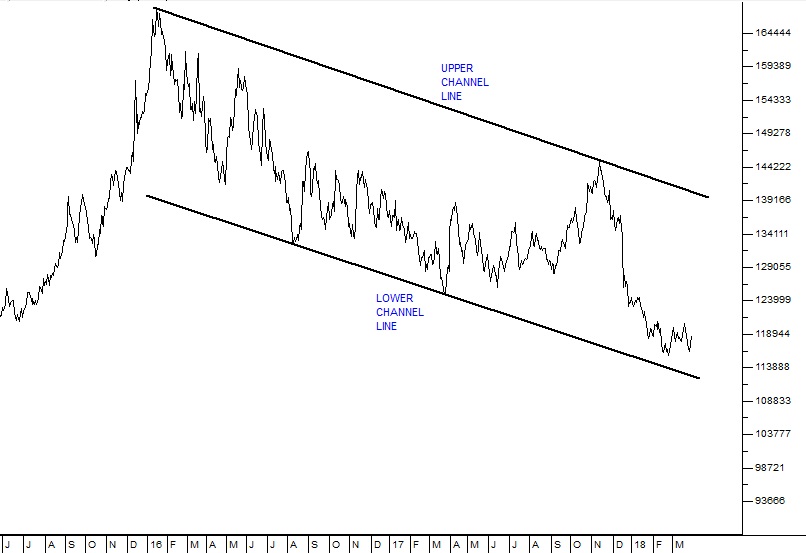 Rand Dollar June 2015 to March 2018 – Chart by ShareFriend Pro
You can see that the rand continues to operate within its long-term channel. We expect that over time it will gradually strengthen as economic reforms take hold. As an investor, you should be avoiding rand hedges and concentrating on local shares.
General
The new board at Eskom are going to have to cut their coat according to their cloth. The National Energy Regulator of South Africa (NERSA) has indicated that the steep tariff increases of the past would not happen again. The most recent increase of 5,2% for the 2018-2019 year was given when Eskom asked for 20%. Clearly, NERSA is no longer interested in getting the public to pay for corruption and inefficiency within the utility. This means that Hadebe (Eskom CEO) and his team will have to cut back on expenses and probably close a number of the older loss-making, coal-fired power plants. Up until this point, Eskom has been steadily pricing itself out of the market – charging higher and higher prices to a more and more reluctant customer base. Many of those customers have taken steps to find substitutes for Eskom by installing renewable energy systems of their own. It is clear that the rot at Eskom has gone far further than realised. Unfortunately, the same can be said of many government departments (like Water Affairs) and other parastatals like Transnet and SAA. The first issue has got to be to stop the bleeding – and then to get the organisation onto a positive cash flow footing – mainly by cutting run-away staff levels and irrational and wasteful expenditure. Some capex will also have to wait. Eskom, for example, is looking at cutting R10bn a year off its projected capex expenditure. In time the situation will certainly improve, reducing the strain on the fiscus.
It is ironical and a little scary that the Department of Labour's division called "Productivity SA", which is supposed to "enhance the productive capacity of South Africa through promoting a culture of productivity in workplaces…", is cash-strapped and looking to retrench staff. Normally, its funding comes from the Unemployment Insurance Fund (UIF), but the UIF is not paying the money across because Productivity SA has not accounted for R36m which it received in 2015. Of course, productivity is probably the single most important concept in South Africa – because, without it, we will not generate the surpluses that we need to fund our growth plans and we will be unable to compete with other countries with our exports. Without productivity we are doomed to a future of excessive unemployment, crime, poverty and general degradation. And the problem of misappropriated funds or unaccounted for monies is rife in government and quasi-government institutions.
Every year we have 1,4m children enrolling in grade 1 and of those only about 120 000 will get a university degree – which means that only a tiny fraction will have a reasonable chance of being employed. So, we have 27% unemployment which means that about 6 million people are out of work. Clearly, that situation cannot and should not persist. Many of them exist on piece work or run a small spaza shop, but the vast majority have to rely on family to support them. Many are illegal immigrants. High unemployment means a high crime rate and the grinding poverty of the squatter camp. Redefine Chairman, Marc Wainer, talking to Business Day, says that business should get involved in training people for jobs which are in demand. He says every company of size should undertake to employ 5% more people – even if it drops their earnings per share – because it is an investment in the future. Obviously, something must be done to correct the extreme imbalances in our economy.
Dow Jones S&P Indices produces the Spiva Scorecard which measures the performance of actively-managed investment funds against their benchmark indexes over one, three and five years. In their most recent report on South Africa (mid-year 2016) the Spiva Scorecard shows that over one year 76% of actively-managed investment funds in South Africa underperformed their benchmark index, over three years 85% underperformed and over five years 86,3% underperformed. Spiva produces these statistics for the US, Canada, Europe, Japan, India, Australia, Latin America and South Africa (https://www.spindices.com/documents/spiva/spiva-south-africa-scorecard-mid-year-2016.pdf). What is interesting about this scorecard is that it clearly demonstrates that you are far better off managing your own money over any time period than handing it to a fund manager in a unit trust, insurance policy or pension fund. After all, why should you pay someone to have an 86% probability of under-performing an average (the benchmark index) over 5 years?
Commodities
The failure of the new minister of mineral resources to scrap Zwane's third mining charter was a blow to the Chamber of Mines' hope of establishing a new relationship between the government and the mining industry. It appears that the minister wants to negotiate around the third charter rather than begin again. Perhaps an opportunity has been missed to put the mining industry onto a sound financial footing that overseas investors can accept. Most local and foreign mining houses say they will not invest further into South Africa until clarity is achieved. The political reality of the ANC and President Ramaphosa is that they are still towing a populist line – at least to some extent. But mining is competitive. Whether they are aware of it or not, we are up against other mining opportunities – even in Southern Africa. For example, Zimbabwe, under President Mnangagwa is moving quickly to make its mining laws more investor-friendly. Mantashe needs to watch closely what they are doing lest they steal the march on us.
The rand is hammering the mining industry which exports most of its production. This is especially true for the precious metals mines. They are getting at least R2.50 less for each US dollar's worth of metal that they sell. This means a substantial drop in the level of earnings. For example, the average gold price is now just R510 000 per kilogram and at that level some mines are simply unprofitable. The Evander gold mine belonging to Pan African Resources produces gold at over R673 000 per kilo and even Sibanye is now close to break-even on its South African mines (Beatrix has a cost of R500 000 per kilo). The effect of this is to cause the mines to retrench staff. If Evander closes 1400 people will lose their jobs. The strong rand will partially negate any good work that Ramaphosa does to produce an investor-friendly mining charter.
Cobalt has suddenly become the most sought after metal in the world. This is because of its role in battery manufacture and the rapid shift of the world to electric cars. By 2030 about 315 000 tons of cobalt will be needed to supply demand – and at the moment there is less than half of that – most of which comes from the Democratic Republic of Congo (DRC). The DRC produced 80 000 tons in 2017 and there are plans to increase that dramatically over the next few years. Glencore owns Katanda Mining which is being ramped up to 34 000 tons per annum – making it the largest cobalt mine in the world. There are other producers, but clearly, if you want to get into cobalt, Glencore is the easiest route.
Companies
CAPITEC (CPI)
The Capitec results for the year to February 2018 were excellent. By the end of the period they were very close to 10m active clients – which means that they are close to Standard Bank. This provides them with a massive client base into which they can launch further products – like the new funeral policy which they will offer in May this year. These results clearly show that they are very far from the "reckless lending" which the Viceroy report claimed and they are now getting 41% of their revenue from account fees. Headline earnings per share (HEPS) was up 18% as was the dividend. In our view it will not be long before this share is back at the levels it reached before the Viceroy report came out. There is definite support at R800 per share. Consider the chart:

Capitec (CPI) November 2017 to April 2018 – Chart by ShareFriend Pro
LIBERTY (LBH)
The Liberty Holdings group of companies is part of Standard Bank's "bancassurance" model. This idea couples a bank with an insurance company with the idea that they can cross-market their products to each other's customers. In practice this has not worked well for Liberty. Operating profit has fallen to half of what it was 2 years ago. A new CEO (David Munro) has been brought in from Standard Bank to try to turn things around and there are some early signs that he may be successful. But the real problem may be that consumers no longer want investment insurance products like annuities and endowment policies. These investment policies have huge disadvantages over other types of collective investment. The returns have been dismal and they are very illiquid (ever tried to get out of an insurance policy?). Most private investors prefer ETF's within a tax free savings account (TFSA) these days.
STEINHOF (SNH)
The Steinhof saga continues with new revelations that the company's cash position might be worse than expected and that further write downs may be necessary. This and other news has caused the share to fall to a new low of 285c. The new board members may be some source of comfort, especially Peter Wakkie, who rescued the Dutch company Royal Ahold in 2003/4. Steinhof is currently on a market capitalisation of just R14,2bn. And this is extraordinary, because its 76%-held subsidiary Star (SRR) has a market capitalisation of R72,3bn. How can that be? Surely Steihof's 76% of Star must be worth about R54bn – aside from whatever other assets it has. True – but then it may well be that Steinhof has other debts or liabilities (like the impending class action against it) which may partially or fully negate those assets. We just don't know. Nothing significant will come from the various investigations before the end of this year. From a private investor's perspective there is still much uncertainty and risk. So the best policy is to watch and wait. Eventually, the company will either go into liquidation or the share price will break up through its 65-day exponentially smoothed moving average. The 65-day E is already down below R10 a share and falling fast. If the share price continues to fall, there is nothing to be done. If it turns up and breaks the 65-day E, then you can consider whether it is worth a speculative investment with a strict stop level. So far it has fallen from R59 to less than R10. The people in the know, the insiders, are busy figuring it out – and while they do the 65-day E continues to fall making your ultimate buying price lower and lower each day. Consider the chart: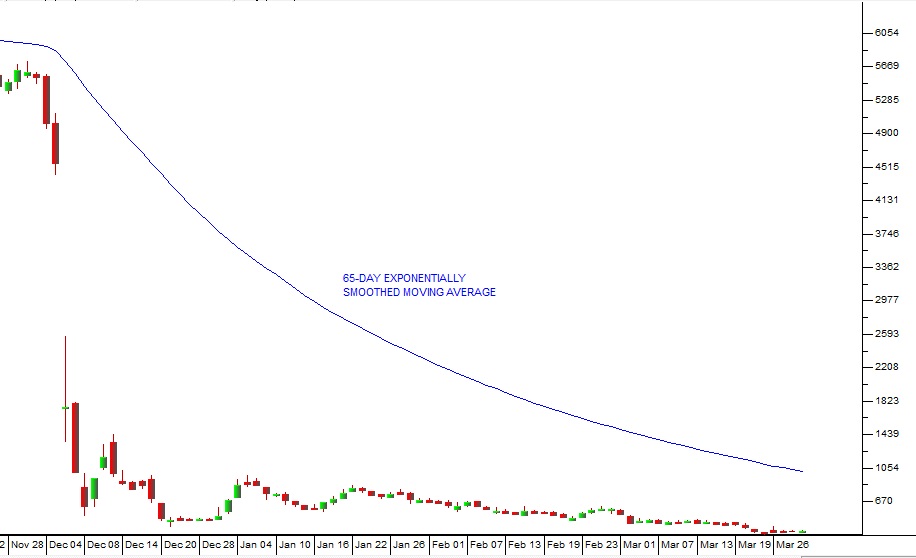 Steinhof (SNH) November 2017 to March 2018 – Chart by ShareFriend Pro
MMI HOLDINGS (MMI)
It is always interesting when a large blue chip share falls significantly. It creates the opportunity for private investors to pick it up at much lower levels and on a good dividend yield. MMI may be just such a share. It is clear that over the last 4 years – really since April of 2015, the company has lost direction. In an effort to stem the bleeding, a new CEO has been appointed, Hillie Meyer, who used to be CEO of Momentum before the merger. His first move has been to cut the dividend policy from 60% of profits to 40% – and then to pay that out in the form of a share buy-back. Institutional investors were not pleased and the share fell on the news – but it was always going to be painful turning the ship around and it appears that Meyer is not afraid to be unpopular. In our opinion, the share might fall a little further, but sooner or later it is going to represent good value.
STADIO (SDO)
Stadio listed on 5/10/17 and has been moving sideways in the six months since then. It appears to have technical support at around 585c. The company is led by Chris van der Merwe who was responsible for building Curro up into such a powerful company. His plan for Stadio is to open faculties for engineering and medicine. The company's maiden results show that at the end of the year to end-December 2017, they had almost 13000 students (up 16%) on 9 campuses and 26 accredited courses. Headline earnings per share (HEPS) was just 0,6c – but then this is a rapidly growing company. Investors will have to trust van der Merwe to produce another Curro. The high rating does make the company vulnerable to any bad news – and of course to anything like the resignation of van der Merwe for some reason. But it is a PSG group operation and we think that it will perform well over time.
EOH
The steady fall of EOH's shares since it made a massive double top formation in 2015 and 2016 must attract the attention of any private investor. How far down will the share go? And does it yet represent good value at current levels. In this situation, where you have a share which was previously regarded as one of the JSE's best shares, falling steadily, we advise that you use a long-dated moving average and then just wait for a traditional buy-signal. In the case of EOH, we suggest that a 120-day simple moving average is probably correct. Consider the chart: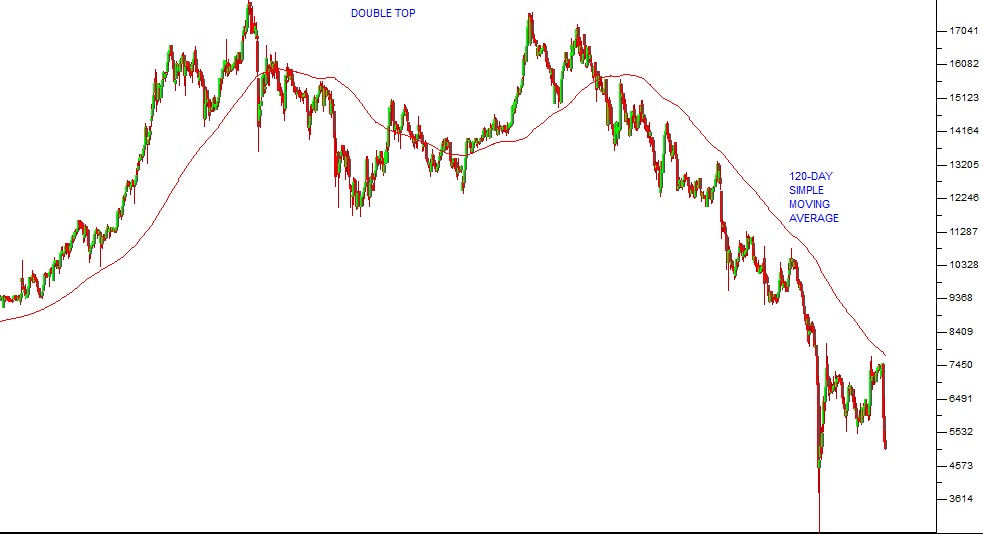 EOH August 2014 to April 2018 – Chart by ShareFriend Pro
You can see here that the 120-day simple moving average, since the double top has clearly identified the steady downward trend while avoiding the major rallies in the share. When a blue chip share like this falls, there will inevitably be rallies and the trick is avoid getting caught up in them. So we suggest that you now wait until the share's price breaks up through the 120-day simple MA and then consider buying. Another approach would be to use a trendline connecting the significant tops in this downward trend.
OLD MUTUAL (OML)
Old Mutual is a part of the South African landscape. It is planning to break up into four separate businesses now – thus releasing shareholder value. Its final set of financials before it breaks up were very good with operating profit up 22%. The board has promised that Nedbank will be unbundled into the hands of existing Old Mutual shareholders and the other listings will take place before the end of 2018. We believe that the total value of the four resulting companies will be higher than the current value of Old Mutual on the JSE – and therefore this represents an almost risk-free way to make a capital gain of, probably, 15% or 20%. Peter Moyo will be the CEO of the new Old Mutual and he has indicated that he will cut a further R1bn from its costs. Consider the chart: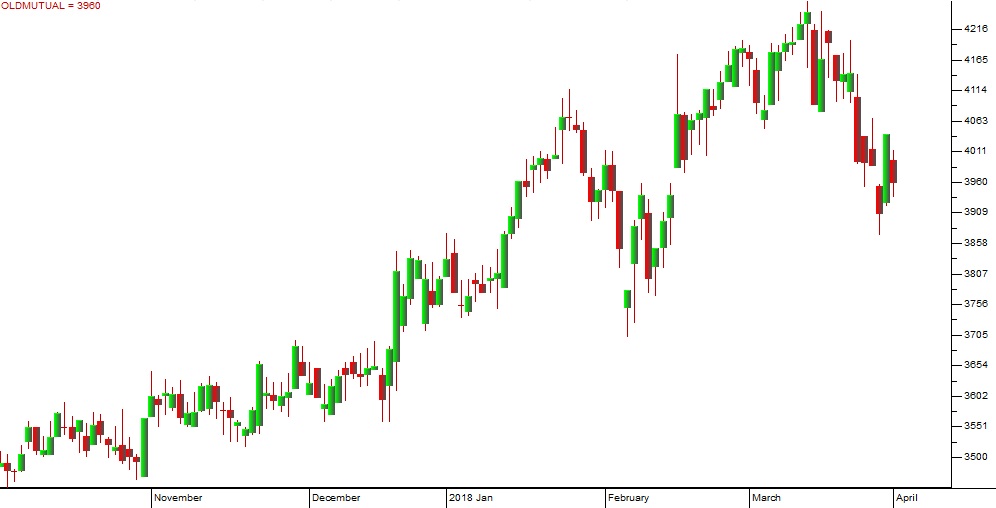 Old Mutual (OML) October 2017 to April 2018 – Chart by ShareFriend Pro
COMAIR (COM)
One of the most remarkable companies listed on the JSE is Comair. The company has been in business for 71 years and has always made a profit every year. When you consider that it has done this in one of the toughest industries and against the unfair competition of SAA, Mango and SA Airlink – all of which have been government subsidised. The secret of its success according to its CEO, Erik Venter, is the constant renewal of its fleet of aircraft. This has the benefit of reducing fuel costs and increasing the number of passengers per flight. New aircrafts also have the advantage of less maintenance and so spend more time in the air. Its latest acquisition of 8 Boeing 737-8 Max aircraft means it will use 14% less fuel while carrying more passengers.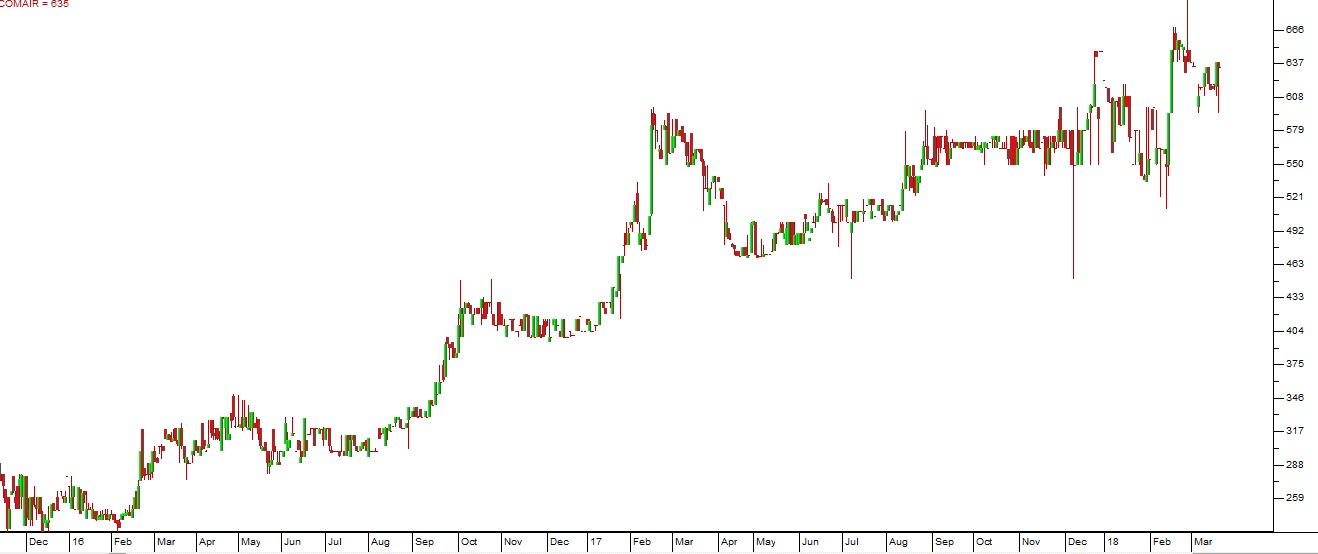 Comair (COM) November 2015 to March 2018 – Chart by ShareFriend Pro
NOVUS (NVS)
This company is a leading printing company in South Africa. It listed on the JSE in 2015 at R16 and it has subsequently fallen to just R3.70. It is currently on a dividend yield of over 10%. Consider the chart:

Novus (NVS) April 2015 to March 2018 – Chart by ShareFriend Pro
Here you can see the steady decline in the share since listing. One of the causes of its recent decline has been the loss of most of the Media 24 contract – but that has now been very fully discounted into the price. The company estimates the cost of that at between R520m and R560m. So basically you have a share which has a net asset value (NAV) of 902c trading for 458c – and its dividend last year was 56c on earnings of over 110c. This looks like it may well be worth investigating, especially if the SA economy is going to start performing again.
STELLAR (SCP)
Stellar is an investment holding company in which Christo Wiese (of Steinhof fame) has a significant holding. Its main assets are a 57% stake in Torre and 49% of Tellumat, but it also has 49% of Prescient, an asset management company with R91bn and administering R268m. Its sum-of-the-parts valuation is around 112c while its share price is 70c – which indicates that there is significant value to be unlocked in this company. In August 2015 its share price reached as high as 315c. We believe that this share certainly offers value in the medium term. Consider the chart: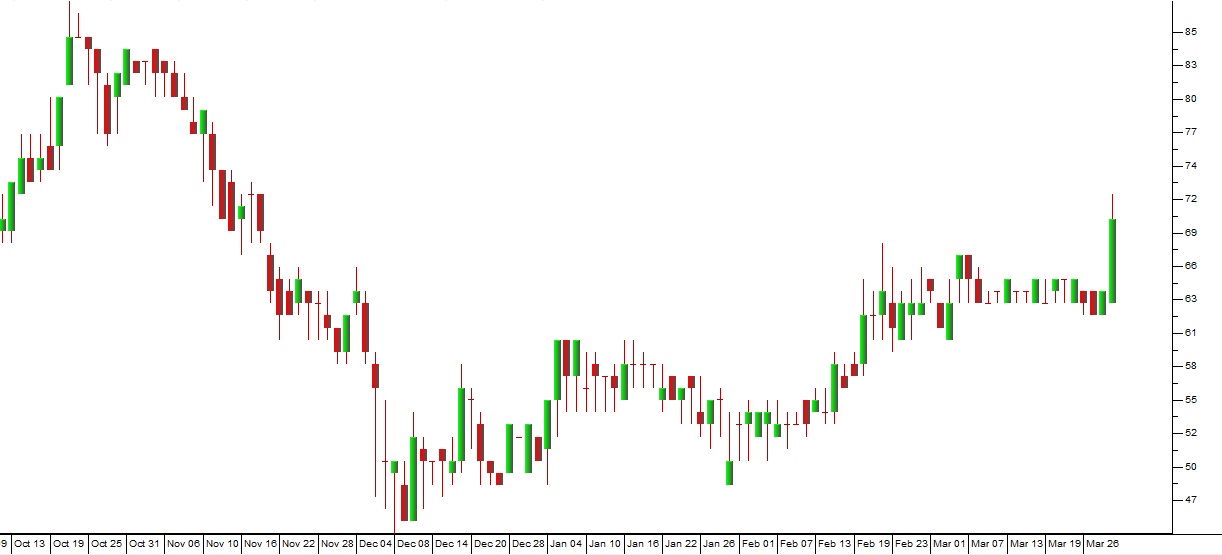 Stellar (SCP) September 2017 to March 2018 – Chart by ShareFriend Pro
To view a the visual presentation of this report, click here.
To be put on our mailing list for the next report, click here.
DISCLAIMER
All information and data contained within the PDSnet Articles is for informational purposes only. PDSnet makes no representations as to the accuracy, completeness, suitability, or validity, of any information, and shall not be liable for any errors, omissions, or any losses, injuries, or damages arising from its display or use. Information in the PDSnet Articles are based on the author's opinion and experience and should not be considered professional financial investment advice. The ideas and strategies should never be used without first assessing your own personal and financial situation, or without consulting a financial professional. Thoughts and opinions will also change from time to time as more information is accumulated. PDSnet reserves the right to delete any comment or opinion for any reason.
---