19 February 2020
By PDSNET
An article by one of our customers, Koot Jordaan:
At the moment, the JSE is not a good place to be, despite all the bargains. Nobody is bargain hunting in ANC country lately. The only sectors that are booming are gold and PGM's, due to the extraordinary performance of palladium. These are out of the starting blocks already, but silver, another precious metal, is just getting ready for the race, to eventually outperform the rest, if history is a good guide.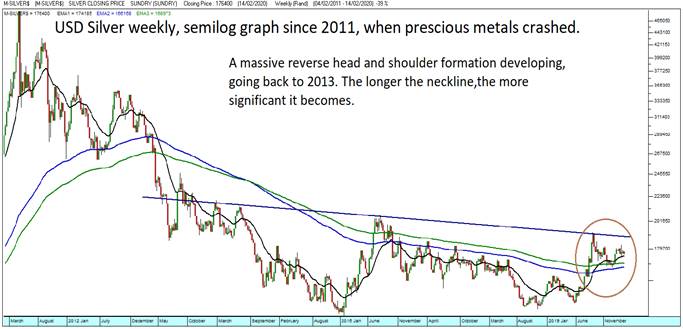 In the above semi-log chart a massive reverse head and shoulders formation is developing going back to 2013. I have used a 150 and 200 day exponential moving average. As can be seen, the price has already broken above these moving averages creating a buy signal. The bull is on it's way, but still has to break through the resistance of the neckline at about US$18.50.
In previous precious metal bull markets, silver was the out-performer every time. This is an excellent technical setup. For more info about silver's potential, use Kitco and the SRSrocco Report.
The price of silver corrected more than and is lagging behind gold. But, if history is a guideline, usually overtakes gold when the precious metal bull market gets serious.
In the bull market of 2001 to 2011, gold did 600%, while silver did 900%. Gold made the way for silver. The silver graph is almost an exact replica of the USD Gold chart. It is just a few months behind.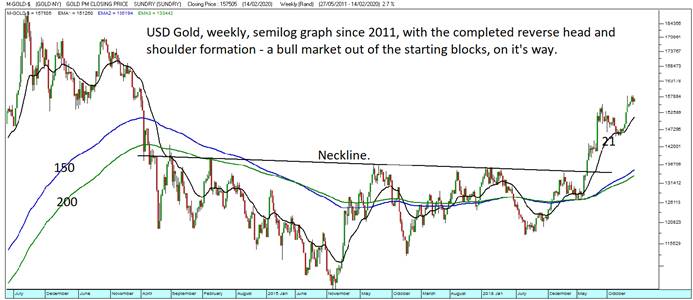 In the above semi-log chart of gold, you can see the reverse head and shoulders formation which took place and the break above the neckline last year. So how can you profit from this potential bull market in silver?
There are ETF's like Newsilver, as well as a silver future available. Another possibility is CFD's. Unfortunately we do not have any listed silver mines in South Africa – which would be the preferred way to profit from a silver bull market.
DISCLAIMER
All information and data contained within the PDSnet Articles is for informational purposes only. PDSnet makes no representations as to the accuracy, completeness, suitability, or validity, of any information, and shall not be liable for any errors, omissions, or any losses, injuries, or damages arising from its display or use. Information in the PDSnet Articles are based on the author's opinion and experience and should not be considered professional financial investment advice. The ideas and strategies should never be used without first assessing your own personal and financial situation, or without consulting a financial professional. Thoughts and opinions will also change from time to time as more information is accumulated. PDSnet reserves the right to delete any comment or opinion for any reason.
Share this article: