26 August 2019
By PDSNET
The price of Shoprite shares on the JSE has now tumbled to far less than half of its peak value of R275.50 achieved on 7th March 2018. Consider the chart: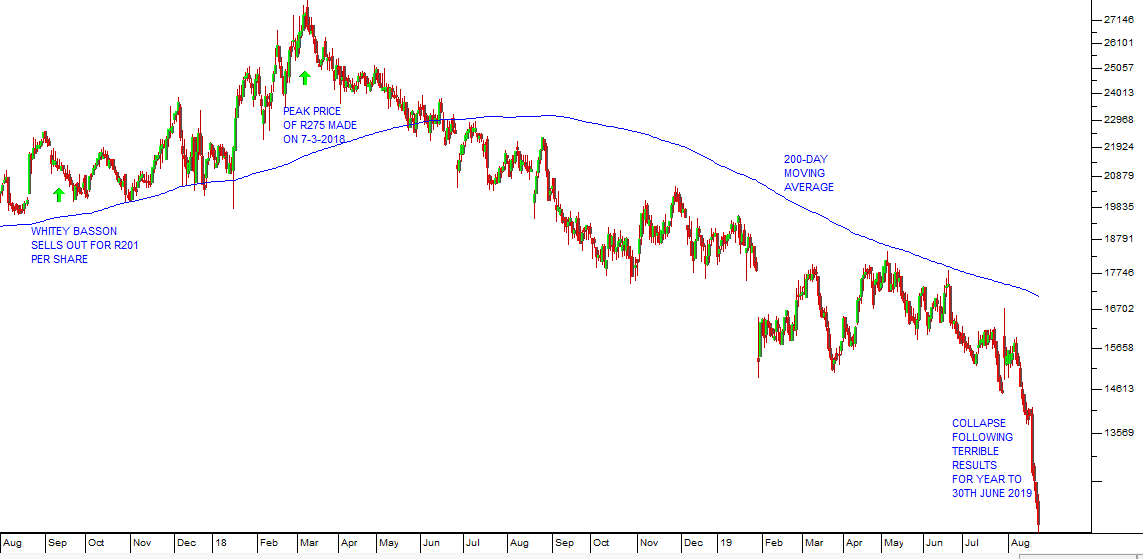 There are many reasons that could be advanced for this downward trend, from the bad economic environment to the difficulties with hyperinflation in Angola (where Shoprite has 60 stores). But none of these reasons is particularly convincing in the face of the excellent results recently announced by Pick 'n Pay for the 53 weeks to 3rd March 2019 where headline earnings per share (HEPS) climbed by 18,8%. The simple fact of the matter is that Shoprite has over-extended itself at exactly the moment when it lost its most valuable asset – Whitey Basson. Whitey Basson sold out his shares in September 2017 and received R201 per share or a total of around R1,7bn – a very astute move. Shoprite's collapse shows the importance of charismatic leadership to the private investor. It is quite common for a JSE-listed blue chip share to fall substantially when it loses a strong leader, especially one who has been there for years and is maybe a founding member (consider EOH or Coronation). Pick 'n Pay went through a similar downtrend where it under-performed Shoprite for years after losing its founder, Raymond Ackerman. To see the relationship between Shoprite and Pick 'n Pay clearly, you need to look at a comparative relative strength chart (CRSI) of Pick 'n Pay divided by Shoprite: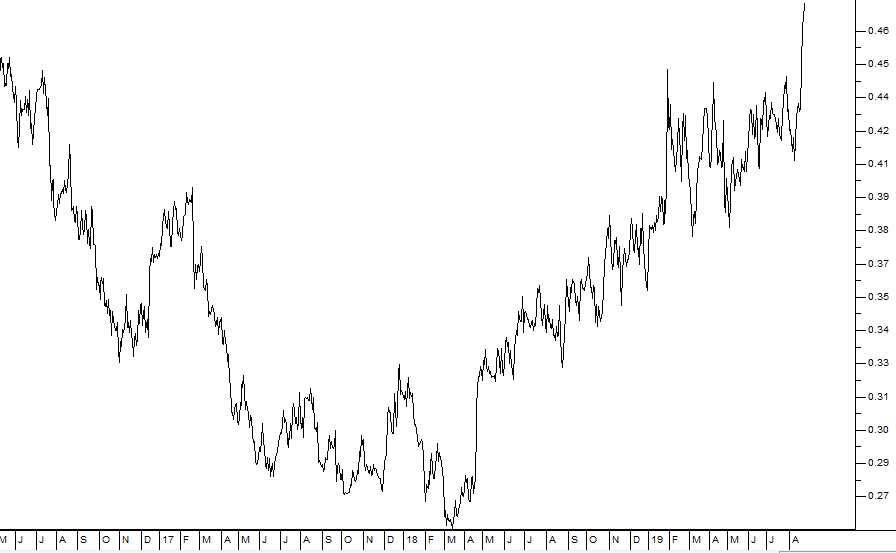 Here you can see that from the start of 2016 until March 2018, Pick 'n Pay's shares under-performed Shoprite's consistently. Then with the impact of Richard Brasher, the new Pick 'n Pay CEO, and the resignation of Whitey Basson from Shoprite the tables were turned. Pick 'n Pay's shares began to out-perform Shoprite's and they have ever since. So what should the private investor do? We suggest that you apply a 200-day moving average to the chart of Shoprite and wait for a convincing buy signal. Nobody seriously expects Shoprite's shares to fall for ever – the company is not going into liquidation. That means that sooner or later it will turn and probably give a great buying opportunity – to those who are watching.
DISCLAIMER
All information and data contained within the PDSnet Articles is for informational purposes only. PDSnet makes no representations as to the accuracy, completeness, suitability, or validity, of any information, and shall not be liable for any errors, omissions, or any losses, injuries, or damages arising from its display or use. Information in the PDSnet Articles are based on the author's opinion and experience and should not be considered professional financial investment advice. The ideas and strategies should never be used without first assessing your own personal and financial situation, or without consulting a financial professional. Thoughts and opinions will also change from time to time as more information is accumulated. PDSnet reserves the right to delete any comment or opinion for any reason.
Share this article: