10
Sep
---
Suid-Afrikaanse Nasionale Trust en Assuransie Maatskappy Beperk (Santam) is the largest short-term insurer in Southern Africa. The company has been in existence for 100 years and has developed and grown with the South African economy. Santam does not get involved in any kind of investment insurance. Basically, it insures you against risks which you cannot afford to (or do not want to) take yourself. So you cannot get an annuity endowment policy from Santam – but you can insure anything else. It is instructive to look at a long-term logarithmic chart of the Santam share (SNT) price going back to 1985: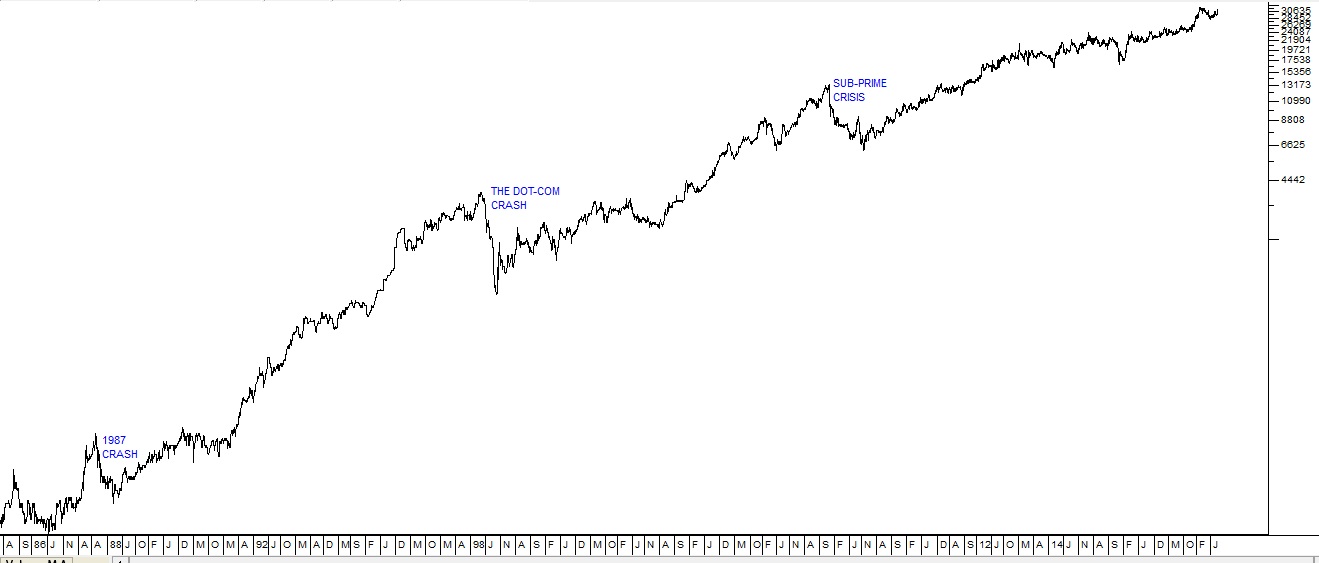 Santam (SNT) Semi-Log Chart August 1985 to September 2018 – Chart by ShareFriend Pro (Click to Enlarge Image)
You can see here that Santam, in February 1985, was trading for just 82c. Today it trades for R320 and we think it is under-priced at current levels. On the chart above you can see what happened to Santam during the 1987 crash, the 1998 "dot-com" crash and the 2008 "sub-prime crisis". But what stands out is the fact that throughout South Africa's erratic and volatile political history and all the turmoil, Santam has performed very well. There are no other shares which we know of on the JSE which have been as steady and consistent. In other words, it is the ultimate long-term investment which every private investor should have and accumulate on weakness.
Santam's most recent results for the 30th June 2018 are typical. Premium income was up 13% on an underwriting margin of 8,4%. This gave shareholders a 30,3% return on their funds with headline earnings per share (HEPS) up a whopping 72%.
The company has the following five divisions:
Santam Personal – which is your life against accidental death or disability, your car, your home, your boat, your furniture and personal possessions
Santam Commercial – Santam will cover almost any business risk from those associated with start-ups to those associated with specific industries like medical and dental practices, tourism, guest houses, the wine industry and everything in between.
Santam Specialist – this covers specialised insurance needs of business from crop insurance to aviation insurance.
MiWay – a mechanism for consumers to customise an insurance policy which is customised to their particular needs.
Santam Re – This is Santam's reinsurance business, established in 2010. Reinsurance is where a company insures insurance companies. So Santam Re will reinsure aggregated risks in any one of property, engineering, motor, liability, accident, credit & bonds, aviation, marine, alternate risk transfer arrangements.
So the share is on a dividend yield of 2,38% and a price:earnings ratio (P:E) of 22,5. This is slightly above the average P:E of the JSE as a whole – but then, with a long-term steady performance like Santam's, you would expect the share to be highly-rated.
We strongly recommend that you begin patronising Santam shares as part of your long-term pension plan.
DISCLAIMER
All information and data contained within the PDSnet Articles is for informational purposes only. PDSnet makes no representations as to the accuracy, completeness, suitability, or validity, of any information, and shall not be liable for any errors, omissions, or any losses, injuries, or damages arising from its display or use. Information in the PDSnet Articles are based on the author's opinion and experience and should not be considered professional financial investment advice. The ideas and strategies should never be used without first assessing your own personal and financial situation, or without consulting a financial professional. Thoughts and opinions will also change from time to time as more information is accumulated. PDSnet reserves the right to delete any comment or opinion for any reason.
---