16 August 2021
By PDSNET
Following the impact of COVID-19 and the recent civil unrest, the hunt is on for high quality listed shares which have the potential to rise as the South African economy recovers. Obviously, service companies, which do not require significant working capital (i.e., stock levels or debtors' books), tend to be more highly rated than manufacturers and retailers. But high quality management combined with a strong balance sheet can sometimes make a manufacturer or retailer very attractive despite its working capital exposure.
Italtile is both a manufacturer and retailer of tiles, "bathroom ware" and related products. Over the years the company has become "vertically integrated" which means that it either manufactures or imports a large proportion of the tiles that it sells through its 203 stores. This has great advantages beyond the additional profits which are kept in house because it means that supply lines are always kept open. Consider the chart: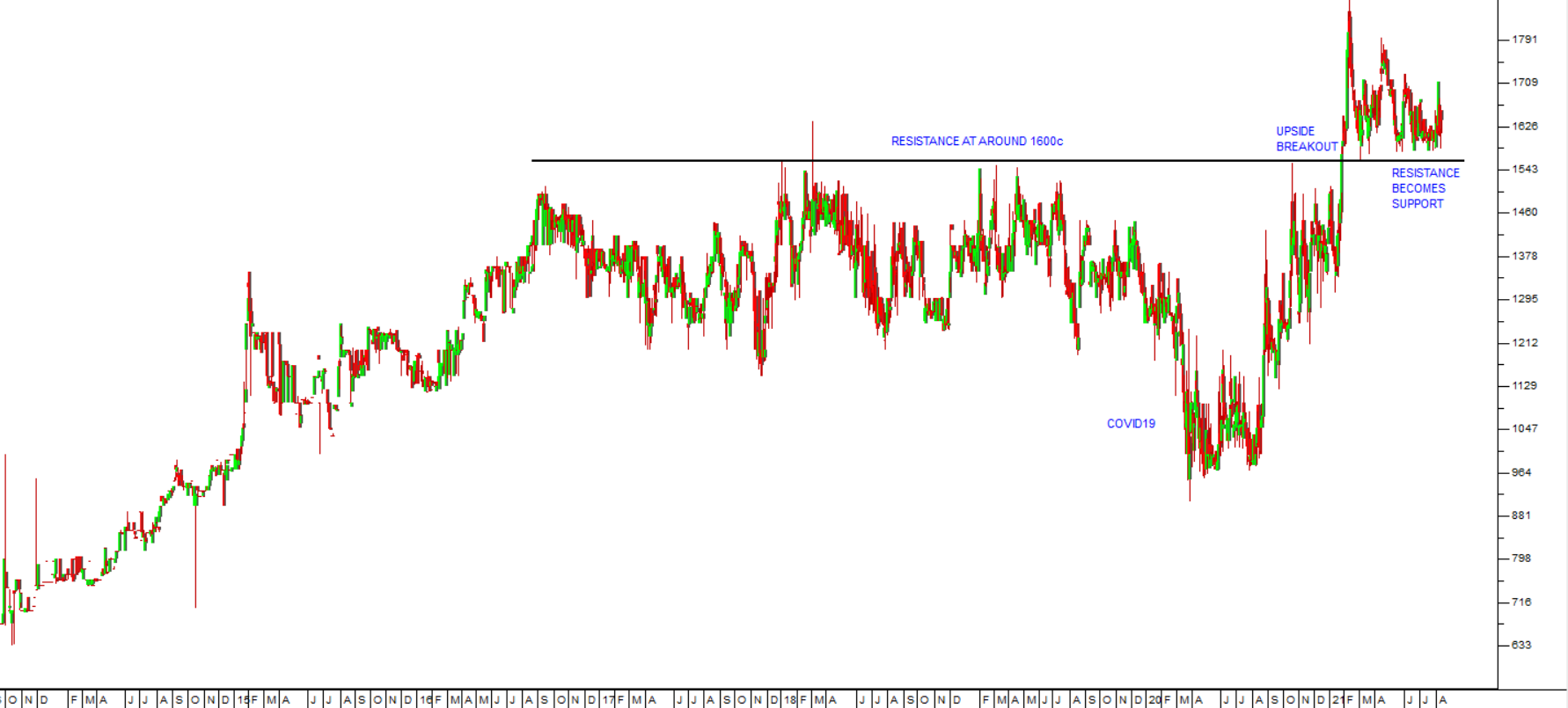 The company felt the effects of the Zuma years on consumer spending and the economy in general. That accounts for its sideways pattern from 2016 to 2020 below the 1500c resistance line. Then, of course, it was hit by the effects of the lockdowns. But the pandemic brought with it a substantial move towards "work-from-home" which has benefited this company as thousands of people upgraded their homes and equipped them as a place of work. The resistance was finally broken on 27th January this year. Since then, resistance has become support as the share consolidates for a new upward trend.
The Italtile balance sheet as at the 31st of December 2020 shows current assets (stock, debtors and cash) of R3,2bn against current liabilities of R1,35bn – which is an extremely strong position. This is further backed up by the fact that the company paid just R7m in interest in six months out of an after-tax profit of over R1bn. In effect this is a company which has no debt and plenty of cash.
In its trading statement for the year to 30th June 2021 the company says that headline earnings per share (HEPS) are expected to rise by between 74% and 81% from the year before.
So, despite, its large stock and debtor positions (more than R1bn each) this company's management of its working capital has been tight. Its stock turn ratio is 4,8 – in other words it turned its stock over 4,8 times in the six months to 31st December 2020 and its average debtors days outstanding is 39 (Debtors/turnover X 365/2). These management ratios are not precise, but they give a good indication of the management of stock and debtors.
On a multiple of 16,24 and riding a wave of home improvement, Italtile looks poised to benefit from any sustained recovery in the South African economy.
DISCLAIMER
All information and data contained within the PDSnet Articles is for informational purposes only. PDSnet makes no representations as to the accuracy, completeness, suitability, or validity, of any information, and shall not be liable for any errors, omissions, or any losses, injuries, or damages arising from its display or use. Information in the PDSnet Articles are based on the author's opinion and experience and should not be considered professional financial investment advice. The ideas and strategies should never be used without first assessing your own personal and financial situation, or without consulting a financial professional. Thoughts and opinions will also change from time to time as more information is accumulated. PDSnet reserves the right to delete any comment or opinion for any reason.
Share this article: