16
Apr
---
One of the outstanding achievements of the ANC since it took office in 1994 has been to maintain the relative integrity of the currency. The currency of a country is like the shares of a listed company. If a listed company is well-managed and expected to be profitable then its shares will rise in the market. If a country is perceived to be well-managed and to have an economy that is growing, its currency will strengthen against the currencies of other countries. So the rand has always been the best barometer of overseas perceptions of how well this country is being run from an economic point of view.
The rand has certainly fallen against first world currencies since 1994, but it has not descended into hyper-inflation. In most of the rest of Africa, once independence and democracy were achieved there followed a period of relative opulence, especially among the ruling class. Government jobs were given out freely and salaries increased above the inflation rate. The size of the government ballooned as private enterprise shrank. This was usually accompanied by a declining in tax collections due to a combination of economic stagnation, corruption and a steady fall in the ability of the government to collect taxes. With burgeoning expenses, the government then inevitably fell into the trap of printing money. In Zimbabwe this ultimately reached record levels leading to the collapse of the currency.
So one of the most important signals of deterioration and collapse in an economy has always been the relative strength of its currency and the country's inflation rate. In South Africa, the inflation rate has been kept well under control and, even through the Zuma years, the temptation to slip into printing money has been resisted. This is largely due to the fact that the Reserve Bank has been kept strictly a-political and independent.
It adopted a 3% to 6% range for the inflation rate in 2000. Since then there have been some brief sojourns outside that range, but generally, that target has been maintained. Now the Reserve Bank is aiming to peg inflation at roughly the mid-point of that range – around 4,5%. For the last two years, the Reserve Bank has been trying to adjust perceptions so that inflation hovers around the mid-point. This is a massive achievement given the relentless pressure to abandon monetary controls and descend into hyper-inflation.
The situation which Zimbabwe found itself in after the collapse of its currency was terrible. Overseas investors wanted nothing to do with it. It faced a continuous shortage of foreign currency which strangled its economy. It will take decades for investors' trust to be restored. But foreign investors harbour no such concerns about South Africa. Our long track record of relative currency stability and low inflation is an example to all emerging economies. It forms the foundation of whatever economic recovery is possible under President Ramaphosa and it has made possible his energetic efforts to bring in foreign direct investment (FDI).
It is apparent that foreign investors believe in Ramaphosa's economic redforms and the return of the South African economy to prosperity. This can be seen by the fact that despite the uncertainties surrounding the election, the rand has continued to perform well against first world currencies. Consider the chart: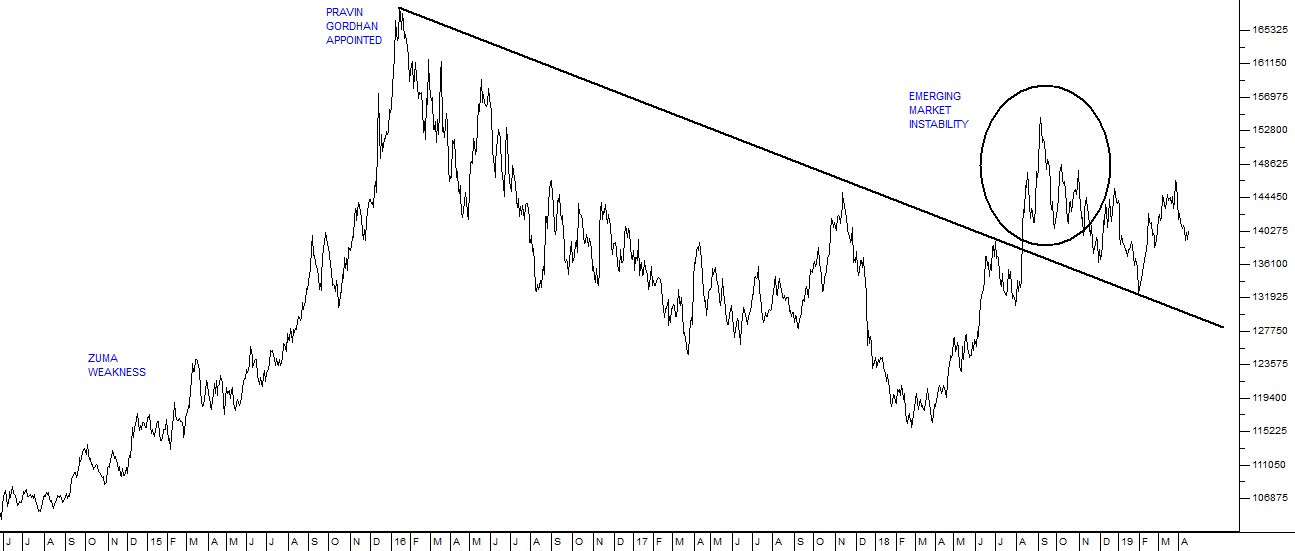 Rand Dollar Exchange Rate June 2014 to April 2019 – Chart by ShareFriend Pro (Click to Enlarge Image)
You can see here that the rand weakened against the US dollar during the Zuma years until Zuma was forced to appoint Pravin Gordhan as Minister of Finance. From that point the rand began to claw its way back. In August last year Turkey got into difficulties with Donald Trump threatening them with sanctions and Brazil also had some problems. Those combined with the uncertainty being generated by the land reform process in South Africa and on-going concerns about Ramaphosa's security in his position as president caused the rand to fall back to R15.50 to the US$. Since then it has been either stable or strengthening – an indication that foreign investors believe that we are on the right path and that there will be material reforms to our economy.
DISCLAIMER
All information and data contained within the PDSnet Articles is for informational purposes only. PDSnet makes no representations as to the accuracy, completeness, suitability, or validity, of any information, and shall not be liable for any errors, omissions, or any losses, injuries, or damages arising from its display or use. Information in the PDSnet Articles are based on the author's opinion and experience and should not be considered professional financial investment advice. The ideas and strategies should never be used without first assessing your own personal and financial situation, or without consulting a financial professional. Thoughts and opinions will also change from time to time as more information is accumulated. PDSnet reserves the right to delete any comment or opinion for any reason.
---