23 March 2020
By PDSNET
Amidst the bloodbath on the JSE, there have been some winners among the losers. Consider this market carpet of the JSE sectors for the week ending 20th March 2020: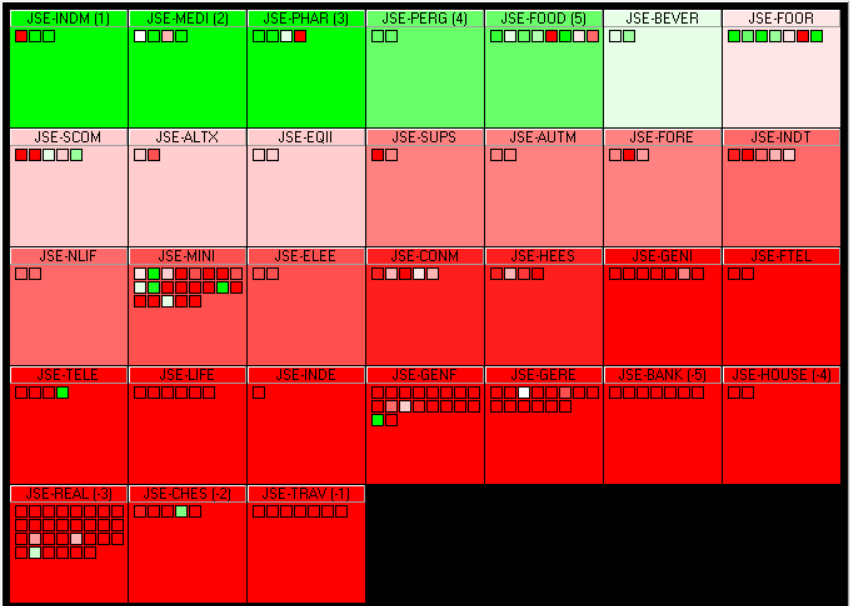 Amazingly, five sectors showed positive growth during that most horrendous of weeks – and they can give us some pointers as to where we should be looking in the crisis for potential investment opportunities.
In the Steel and Other Metals Index, Kumba stands out. It was clearly over-sold and bounced 23,7% in the week.
In the Media index, the Multichoice group jumped 21,9% - probably on the idea that self-isolation is inevitably going to increase the demand for entertainment at home.
In the Pharmaceutical industry, Aspen's shares rose by 20,5% - most probably because it is the best equipped to take advantage of the demand for treatments for coronavirus when they become available.
Then Richemont saw its shares rise by 6,2% - probably because of the sharp fall in the rand over the past week.
In the food production sector, Tiger Brands and A-V-I both bounced back from heavily over-sold positions, rising 10,3% and 8,4% respectively. People have to eat, even in isolation. And AB Inbev rose by 4,5% because of its rand hedge status and because the consumption of beer is likely to increase with so much of the world's population confined to their homes.
Other companies in the retail sector that did well last week were Spar (up 15,9%), Pick 'n Pay (up 20%) and Shoprite (up 4,8%). Dischem and Clicks also did well – up 16,4% and 6,5% respectively – showing that people are stock-piling food and other essentials.
After that there were a sprinkling of rand-hedge and mining companies that managed a positive showing.
By studying the Market Carpets feature of the ShareFriend software (under the Scans menu), you can begin to see where you should place your funds to capitalize on this sell-off.
DISCLAIMER
All information and data contained within the PDSnet Articles is for informational purposes only. PDSnet makes no representations as to the accuracy, completeness, suitability, or validity, of any information, and shall not be liable for any errors, omissions, or any losses, injuries, or damages arising from its display or use. Information in the PDSnet Articles are based on the author's opinion and experience and should not be considered professional financial investment advice. The ideas and strategies should never be used without first assessing your own personal and financial situation, or without consulting a financial professional. Thoughts and opinions will also change from time to time as more information is accumulated. PDSnet reserves the right to delete any comment or opinion for any reason.
Share this article: