13
Aug
---
Six weeks ago, on 24th June 2019, we ran an article about gold under the heading "New Gold Bull". In that article we drew attention to the fact that gold in US dollars had broken convincingly up out of a long-term wedge formation and we suggested that it was probably entering a new bull trend. Since then the dollar price of gold has risen by a further 7,8% to reach $1506. Consider the chart: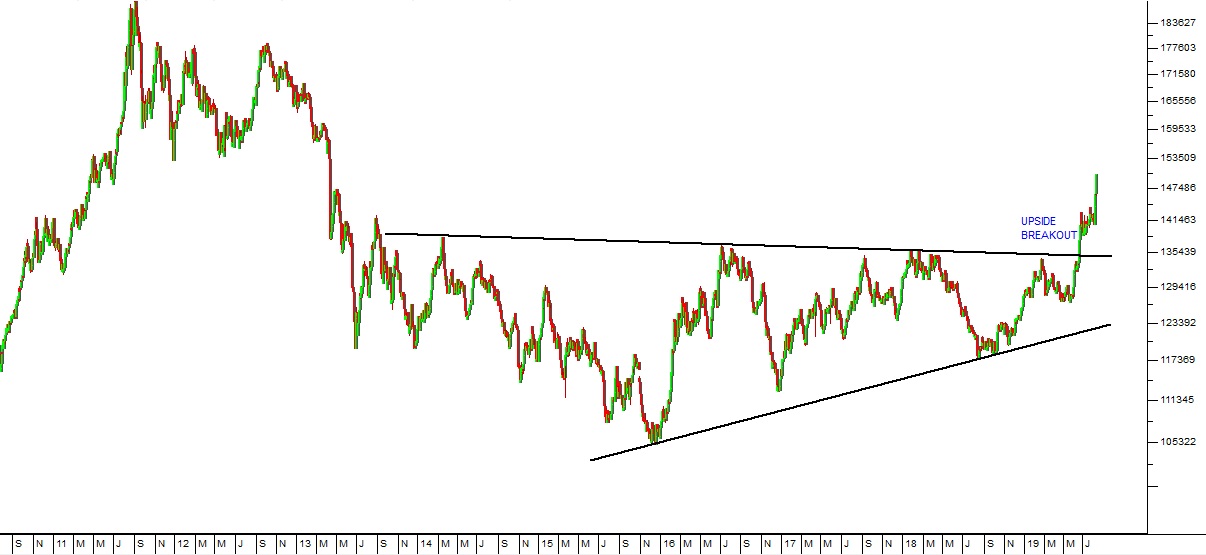 US Dollar Gold Price October 2010 to August 2019 – Chart by ShareFriend Pro
For South African investors, however, an investment in gold or gold shares on 24th June 2019 would have been significantly enhanced by the recent collapse of the rand to levels above R15 to the US$. The rand price of gold has surged from R20052 to R22596 – a gain of 12,7%.
Gold always has been and remains the world's best defense against the weakness of paper currencies. It is the ultimate store of value. Unfortunately, it does not pay any dividends rent or interest, but it holds its value through thick and thin.
The collapse of the rand began with the multiple attacks on President Ramaphosa's administration and serious attempts to unseat him, but it has continued with a general shift in world investment sentiment from risk-on to risk-off. This is a direct result of Donald Trump's further tariffs on $300bn worth of Chinese goods and the Chinese retaliation of allowing the Yuan to fall sharply against the dollar.
Clearly the trade war between America and China is outside of our control, but much of the weakness stems from internal political instability. Overseas investors have definitely been taking money out of the country in anticipation of serious problems, arising mainly from the difficulty of financing Eskom's overwhelming debt, and, to a lesser extent, the ongoing legal attacks by the public protector on Ramaphosa and his retinue.
We see gold as continuing to rise in US dollars for the foreseeable future, but we think that the furor surrounding President Ramaphosa will die down in due course. The net result may be a more stable rand price of gold at higher levels. Of course, the stronger rand price of gold is very positive for our gold mines.
We also believe that every South African should always carry about 10% of his/her wealth in krugerrands. This is because of the inherent political risk of living in a third world country. Your krugerrands are recognised and saleable all over the world at much the same prices as you paid for them here in South Africa. They are the ultimate store of value – the final hedge.
DISCLAIMER
All information and data contained within the PDSnet Articles is for informational purposes only. PDSnet makes no representations as to the accuracy, completeness, suitability, or validity, of any information, and shall not be liable for any errors, omissions, or any losses, injuries, or damages arising from its display or use. Information in the PDSnet Articles are based on the author's opinion and experience and should not be considered professional financial investment advice. The ideas and strategies should never be used without first assessing your own personal and financial situation, or without consulting a financial professional. Thoughts and opinions will also change from time to time as more information is accumulated. PDSnet reserves the right to delete any comment or opinion for any reason.
---