22 March 2022
By PDSNET
Throughout history, in times of war or major crisis, investors have always sought a safe haven for their wealth. And that safe haven has inevitably been gold. The various assets available for investment can be arranged in order from the highest return and most risky to the lowest return and least risky. On that scale, gold is on the one extreme – it has no return at all and is almost completely risk-free.
Gold has retained its purchasing power throughout human history. One ounce of gold would buy you roughly the same number of chickens today as it would have bought you in Egypt 5000 years ago. And doubtless, after the third world war, when all currencies have collapsed, it will still buy the same number of chickens – albeit mutated. So, when the announcer on television says that the gold price went up, what he really means is that the US dollar fell. Paper currencies, like the US dollar, go up and down against gold, not the other way around.
And, of course, that is the great disadvantage of gold as an investment – it has no return. Gold does not pay interest, dividends or rent - nor does it add 10% to its weight every year. It is simply a store of value. So, when the financial world feels secure, investors move away from gold and into assets which generate a return, but when there is a crisis, like the war in Ukraine, they return to gold.
And among the various ways to hold gold, the South African Krugerrand has always been the best for a number of reasons. Firstly, it contains exactly one ounce of gold mixed with a small amount of copper which makes it extremely durable. Secondly, Krugerrands are an internationally recognized currency. They can be bought and sold in any major city. Thirdly, they do not carry the name of the person who holds them – so they are almost completely anonymous. This means that they can be bought and sold and are accepted anywhere in the world. And, finally, of course, they are very easily transportable.
Consider the long-term chart of the Krugerrand: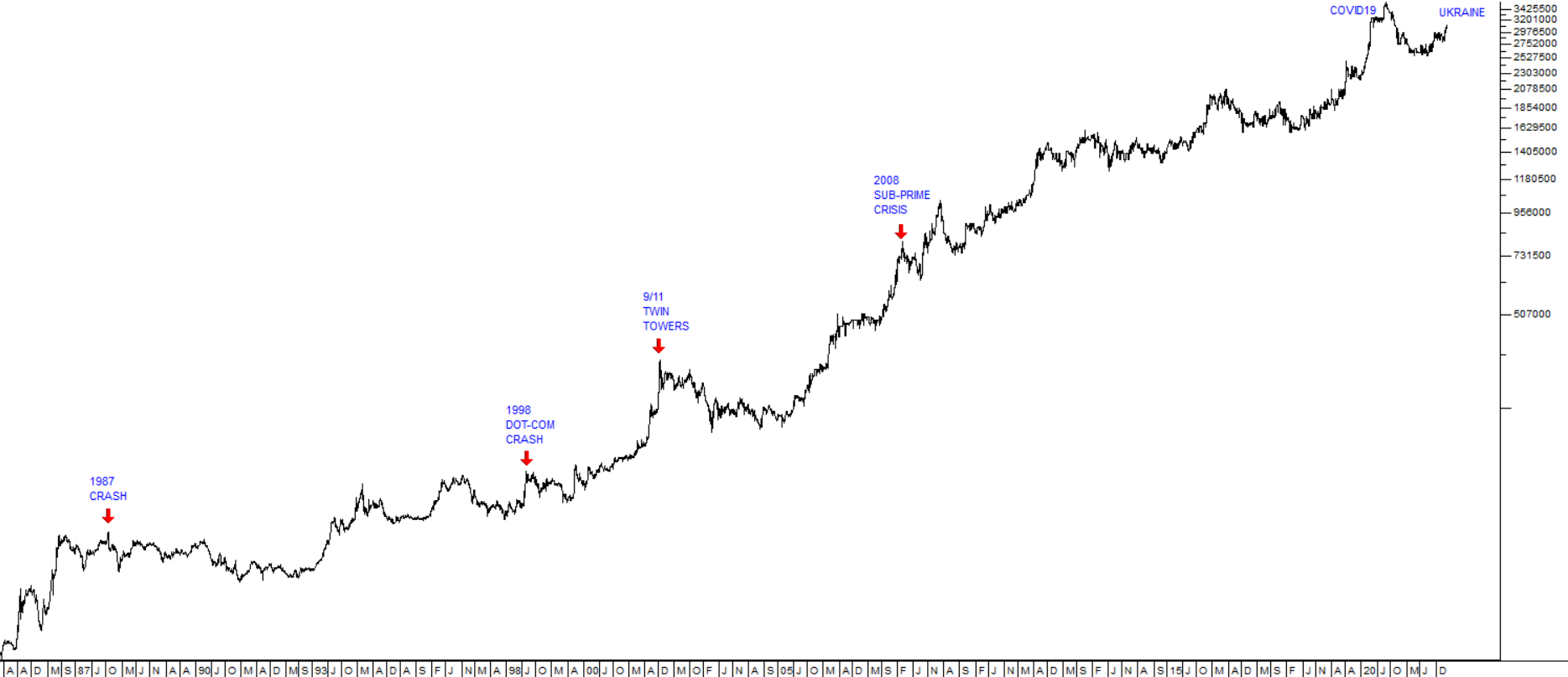 This chart goes back to 1985. On 28th February 1985 you could have bought a one-ounce Krugerrand for just R595. On 18th March 2022 they were trading for R29602.50 each. That shows exactly how much the purchasing power of the rand has fallen in the last 37 years. In fact, over that time period, the JSE Overall index itself has under-performed the Krugerrand by about 33% - but then, of course, Krugerrands do not pay dividends whereas the dividend yield of the JSE has averaged about 2,5% per annum and is currently 3,99%.
You will also note that while the price of Krugerrands goes up over the long term, it spikes at times of crisis when investors are fearful. The 1987 crash, the 1998 dot-com crash, the attack on the World Trade center in New York, the 2008 sub-prime crisis, the COVID-19 pandemic and now the war in Ukraine are all examples of this.
So, as a private investor living in South Africa how should you incorporate these ideas into your portfolio? Because the South African environment is generally riskier than living in a first world country, we have always recommended that you keep about 10% of your wealth in Krugerrands. As indicated, these coins are easily transportable and can be sold anywhere from New York to Hong Kong for slightly more than whatever the current price of gold is at the time.
Why only 10%? Well, that is because there is no return on Krugerrands. The other 90% of your portfolio should be in assets which can yield both an annual income and a capital gain – like equity shares and property.
Finally, the gold price is a particularly good barometer of international crises. So, the fall in the gold price over the past eight days is a reliable indication that the peace talks between the Russians and the Ukrainians are going well.
DISCLAIMER
All information and data contained within the PDSnet Articles is for informational purposes only. PDSnet makes no representations as to the accuracy, completeness, suitability, or validity, of any information, and shall not be liable for any errors, omissions, or any losses, injuries, or damages arising from its display or use. Information in the PDSnet Articles are based on the author's opinion and experience and should not be considered professional financial investment advice. The ideas and strategies should never be used without first assessing your own personal and financial situation, or without consulting a financial professional. Thoughts and opinions will also change from time to time as more information is accumulated. PDSnet reserves the right to delete any comment or opinion for any reason.
Share this article: