03
Aug
---
The steel industry in South Africa is a very important industry because its production supports so many downstream industries and businesses. For this reason, the government has been sympathetic to ArcelorMittal's call for tariffs on certain steel products which have been systematically dumped on the South African economy by the Chinese.
China is the largest steel manufacturer in the world and has traditionally consumed all of the steel it produced and even imported steel. But with the sub-prime crisis in 2008, the demand for Chinese products fell substantially and this led to a glut of steel in the country. The solution was for China to sell their surplus steel to other countries – and they were prepared to take very low prices. South Africa is not the only country to have suffered from this. For example, the Americans have just implemented heavy tariffs on Chinese steel and so have other countries. South Africa was slow to react and this has damaged our local steel industry.
ArcelorMittal is South Africa's largest steel producing company and it has survived where companies like Highveld Steel have disappeared. Because of the Chinese dumping, ArcelorMittal probably felt the impact of the sub-prime crisis more than any other listed South African company and has fallen from its high of R260 in June 2008 to as low as 215c at the end of May this year.
It has had to deal with the collapse of the concurrent construction industry locally, which was a major consumer of steel.
Fortunately, Chinese imports of steel into South Africa have slowed down somewhat, partly because ArcelorMittal was eventually successful in getting certain tariffs to discourage imports approved, but mainly because of the strong recovery of the US and other world economies which increased the demand for Chinese products containing steel.
In its most recent results for the six months to 30 June 2018, ArcelorMittal shows a considerably improved business. The operating loss of just under R1bn in the previous period was turned into a profit of R1,22bn and the headline loss of R1673m was turned into a profit of R54m.
This turnaround has been achieved on the back of improved exports (which are up 26%) and better international prices for steel. The group has also managed to implement significant cost-cutting and debt levels have been reduced substantially from R3,3bn to R1,9bn and that is before the sale of their 50% interest in Macsteel for $220m (R3bn). So we expect that their balance sheet will become very strong once this deal is complete.
Now let us consider the chart: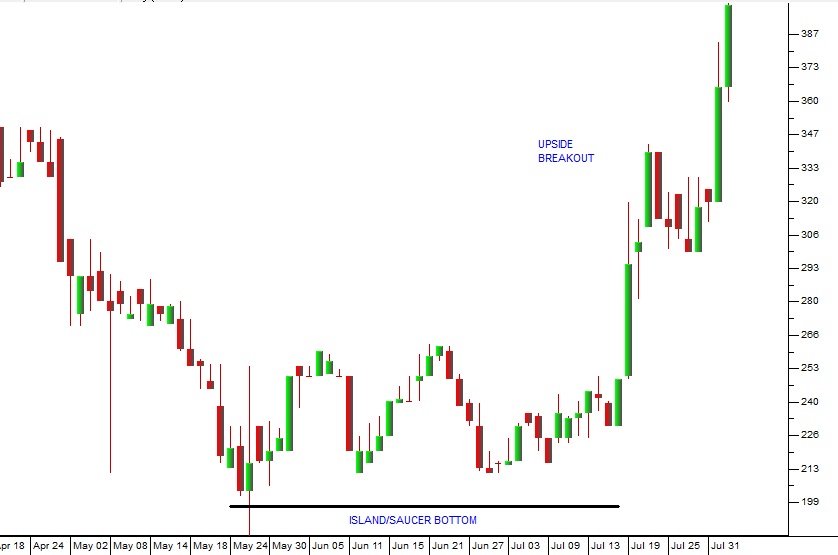 ArcelorMittal (ACL) May 2018 to July 2018 – Chart by ShareFriend Pro
Technically, the share is showing definite signs of turning up with a clear "saucer bottom" or "island" formation in May, June and July followed by an upside breakout.
We believe that this share will benefit from any significant improvement in the local economy while at the same time benefiting directly from improvements in the international economic recovery. But we stress that it remains a commodity share and subject to the risks of international commodity prices.
DISCLAIMER
All information and data contained within the PDSnet Articles is for informational purposes only. PDSnet makes no representations as to the accuracy, completeness, suitability, or validity, of any information, and shall not be liable for any errors, omissions, or any losses, injuries, or damages arising from its display or use. Information in the PDSnet Articles are based on the author's opinion and experience and should not be considered professional financial investment advice. The ideas and strategies should never be used without first assessing your own personal and financial situation, or without consulting a financial professional. Thoughts and opinions will also change from time to time as more information is accumulated. PDSnet reserves the right to delete any comment or opinion for any reason.
---