29
Jul
---
Anheuser-Bausch, or AB-Inbev (ANH), is the world's largest brewer of beer, operating in both first world countries and emerging markets. On 10th October 2016, AB-Inbev bought out SABMillar for $107bn. This massive acquisition (a world record) left ANH with over $104bn in debt – a burden which it is only now beginning to eliminate. It expects to bring that debt down in the second half of 2019.
AB Inbev trades on the JSE as ANH, the Brussels Stock Exchange as ABI and the New York Stock Exchange (NYSE) as BUD. It announced its intention to list its Asia-Pacific arm on the Hong Kong stock exchange to raise approximately $10bn. The cash will be used to reduce its debt.
The company has brands like Budwieser, Stella Artois, Castle, Beck's and Corona. After the acquisition of SA Breweries, AB Inbev is four times the size of the next largest brewer – Heineken – so there is very limited potential for further meaningful acquisitions. Growth from here on must be organic.
Because of its American exposure, the company reports quarterly. In its results for the year to 31st December 2018, the company reported turnover up by 4,8%. Sales volumes were up 0,3% with beer volumes up by 0,8% and non-beer volumes down by 3,6%. The company has three global brands – Budweiser, Stella Artois and Corona – and together their sales were up by 9%. Cost of sales increased by 4,7% and earnings before interest, taxation, depreciation and amortisation (EBITDA) by 7,9%. In the first quarter of 2019, the company reported turnover up 5,9% and volumes up 1,3%. EBITDA was up 8,2% in the quarter.
From a private investor's perspective, this is a massive international blue chip share which is clearly a good rand-hedge. After listing on the JSE in 2016, the share price fell from above R2000 to below R1000. Since then it has been staging a recovery and is now trading for R1428. At this level it was trading on a P:E of 26,4 and a dividend yield (DY) of around 1,3%. Consider the chart: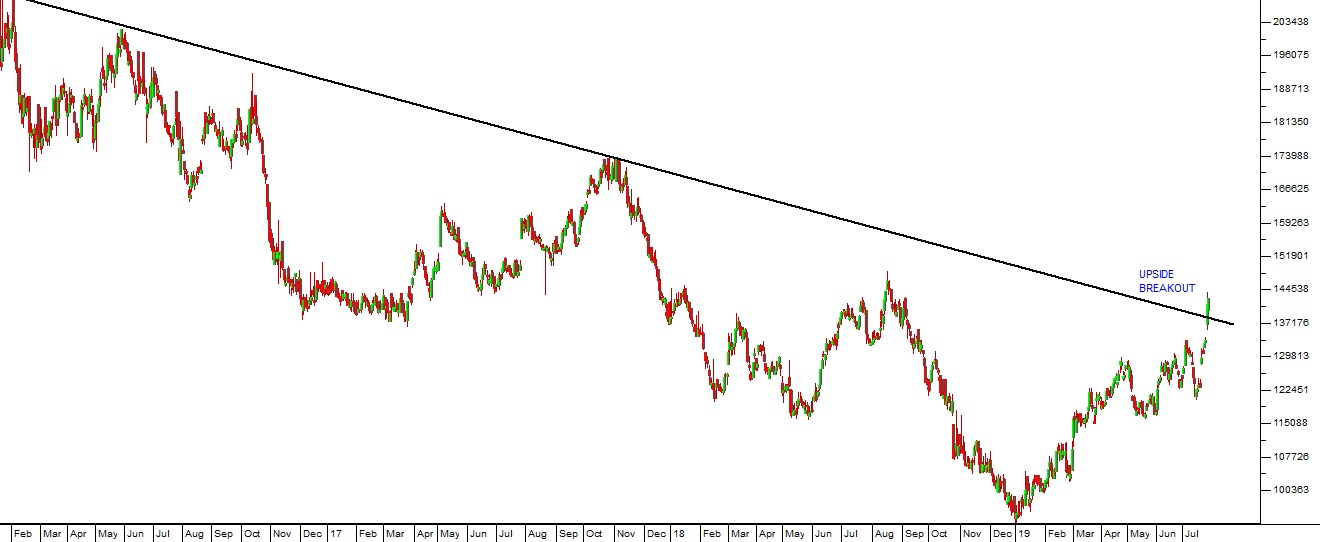 Anheuser Bausch (ANH) January 2016 to July 2019 – Chart by ShareFriend Pro
Its latest results for the second quarter of the year (to 30th June 2019) really impressed the market. It reported the best volume performance in five years with growth of 2,1% and good performances from many major markets, including South Africa. Top-line growth (turnover) was 6,2% and EBITDA was up by 9,4%. Their top three brands globally – Budweiser, Stella Artois and Corona grew by 8% globally and 11,3% outside their home markets.
We added ANH to our Shares List on 23rd July 2019 at R1327.92. It has already climbed 7,5% to R1428.22 in just 3 days. We suggest that this is a solid long-term investment. We also suggest that you pay close attention to our Shares List which is published daily on our web site.
DISCLAIMER
All information and data contained within the PDSnet Articles is for informational purposes only. PDSnet makes no representations as to the accuracy, completeness, suitability, or validity, of any information, and shall not be liable for any errors, omissions, or any losses, injuries, or damages arising from its display or use. Information in the PDSnet Articles are based on the author's opinion and experience and should not be considered professional financial investment advice. The ideas and strategies should never be used without first assessing your own personal and financial situation, or without consulting a financial professional. Thoughts and opinions will also change from time to time as more information is accumulated. PDSnet reserves the right to delete any comment or opinion for any reason.
---