15 October 2019
By PDSNET
On 31 October 2017, we published our usual monthly Confidential Report and in it we drew your attention to Altron. What we said was:
"For the two years between 2014 and 2016, Altron did badly, but since then the share has executed a long slow "saucer bottom" and now appears to be mounting something of a comeback. The newly appointed CEO, Mteto Nyati, is at the front of this new optimism.
Consider the chart: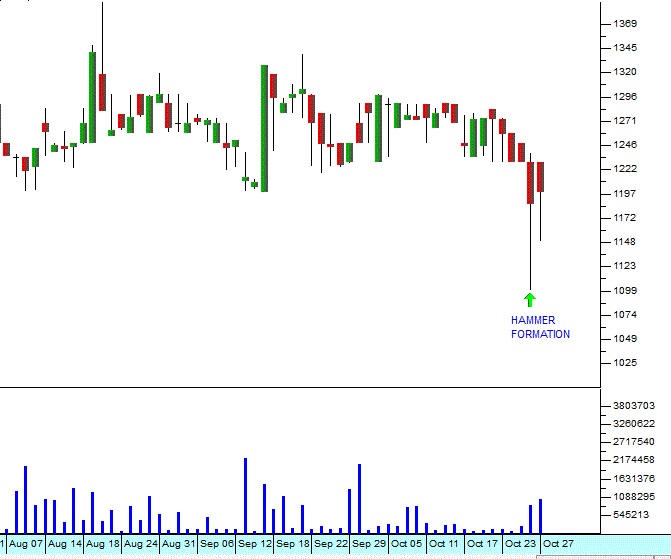 Altron (AEL) August to October 2017 - Chart by ShareFriend Pro
Here you can see the hammer formation. This is a trading day (in this case, the 26th October 2017) where the bears make a supreme effort to drive the share price down, but cannot sustain the effort and are met with bullish sentiment. The result is a candle with a "tail" which is twice as long as the body of the candle. In general, a hammer formation is considered to be a bullish signal. You will also note that the hammer has been accompanied by increased volume traded."
It is interesting to consider the chart of Altron as it is today:

Altron (AEL) March 2014 to October 2019 - Chart by ShareFriend Pro (Click to Enlarge Image)
Here you can see that following the "saucer bottom" or "island" formation and the "hammer", the share has been moving up strongly. On the day that the report was published, on the 31st of October 2017, Altron closed at 1230c. Today it is trading for 2618c – a gain of 114% in two years!
A little more about the share:
Altron (AEL) is an information and communications technology company which was started by Bill Venter in 1965. It has recently been re-focusing on its core business and has sold its 80% stake in Powertech and its 100% subsidiary, Altech UEC (a developer of set-top boxes). Powertech was sold to a BEE consortium. Altron is also in the process of selling CBI Telecom Cables. Altron operates in six African countries as well as the UK and Australia. In its results for the year to 28th February 2019, the company reported turnover from continuing operations up 7% and headline earnings per share (HEPS) up 50%. The company said it had "secured key wins in both the public and the private sector", including the Gauteng Broad Band Network phase 2 contract and FNB's data and analytics contract. Netstar won the Ethekwini 3-year contract for vehicle tracking for 7000 vehicles. Bytes in the UK won a 5-year contract for Windows 10 from the NHS there. The company aims to re-structure its debt so as to reduce its interest bill, and has resumed paying dividends. They acquired Phoenix Software in the UK for R698m. On 17th July the company reported that a judgement handed down by the High Court in Pretoria had set aside a tender which it had been working on for the City of Tshwane through a special purpose vehicle (SPV). Altron said it was considering appealing this R1,2bn contract. Business Day reported on 8th October 2019, that Altron had won the licence to sell Microsoft products and support their clients in South Africa - after EOH lost it. They already have a good relationship with Microsoft in the UK. Technically, the share fell from a high of over R28 in mid-2014 to a low of under R5 in November of 2015. Since then it has been rising steadily and this trend looks set to continue. On an earnings multiple of 13,68 it looks like good value.
We don't get them all right, but sometimes it is definitely worth studying our monthly Confidential Reports or listening to the webinars which are on our website on the first Wednesday of each month.
DISCLAIMER
All information and data contained within the PDSnet Articles is for informational purposes only. PDSnet makes no representations as to the accuracy, completeness, suitability, or validity, of any information, and shall not be liable for any errors, omissions, or any losses, injuries, or damages arising from its display or use. Information in the PDSnet Articles are based on the author's opinion and experience and should not be considered professional financial investment advice. The ideas and strategies should never be used without first assessing your own personal and financial situation, or without consulting a financial professional. Thoughts and opinions will also change from time to time as more information is accumulated. PDSnet reserves the right to delete any comment or opinion for any reason.
Share this article: