7 February 2020
By PDSNET
The sale of CNA by Edcon, as part of its rationalisation and re-focus, is long overdue. There has really never been a good reason for Edcon to own CNA because there are no synergies between the two businesses. Edcon is in the clothing and fashion business – what has that got to do with what CNA does?
CNA itself seems to us to be completely defocused. What business is it in? Do they sell stationary? Because, if they do, then they do a bad job. Waltons sell stationary and that is all that they do – they have every stationary product and great expertise in that product range. Does CNA sell music? Because they have a lousy selection and their staff has no real expertise in music. If you want to buy music, go online or go to the CD warehouse in Sandton – they have every music CD that has ever been made and a staff that has enormous expertise in music. And the questions go on – Is CNA selling computer products or sweets or cell phones? What are they trying to do? They don't seem to know - and the result is a business limping along with very poor profits for years.
Probably the most important rule in business is to remain focused. The key is to do one thing - and then do it exceptionally well; to become an absolute expert in your business. When companies become de-focused, they lose their way, management's attention is diluted and sooner or later profits decline. Consider this instructive story about a JSE-listed company, told by an experienced investor:
"Many years ago, the company "Health and Racquet Club" (H&RC) listed on the JSE at 100c. After six months, the share had fallen to 60c and this intrigued me. I approached the CEO of the company and suggested to him that either the share had been over-valued at the initial public offer (IPO) 6 months ago, or the market just did not understand what he was doing. He said that he thought the company was worth 200c – twice the price that it had listed for and he explained why.
I then visited 8 different H&RCs. I spoke to the management; I spoke to the staff and I spoke to the customers. When I was done, I came to the conclusion that the CEO was right – the business was an absolute cash-cow. So, I bought a large parcel of the shares at 60c and waited for the market to come to the same conclusion and bid the share up. After a while that is exactly what happened. 18 months later the share was trading for 240c and I had made a tidy 300% profit on my investment.
Then, one day, I was reading my newspaper and I read that H&RC was buying Crawford College. This did not make any sense to me because Crawford was in the education business, but I had made a good profit out of the shares, so I continued to hold them. Then a few months later, I read that H&RC was buying Foodcorp – which was in the business of making various foods, including hamburger patties. Now I was trying to picture the student coming out of Crawford College, eating a hamburger and on his way to the Health and Racquet Club – and it wasn't working for me. The company had clearly become de-focused so I sold my shares.
The shares continued to go up for a while, but finally collapsed. Eventually, they were rescued by the British company, Virgin - and became Virgin Active."
You can see from this story the extreme importance of being focused in business. The education business is a complex business and it takes many years to learn exactly how it works. The food business is equally complicated. If a company starts to buy businesses in which it has no existing expertise, and where there is no conceivable synergy or economies with its existing businesses, then as a potential shareholder you have to question their reasoning.
Another current example of this is the Clicks ownership of Musica. Musica sells music CDs and music equipment like headphones. It is very difficult to see the connection between this and their business of pharmaceuticals, health and beauty products. Consider the Clicks chart: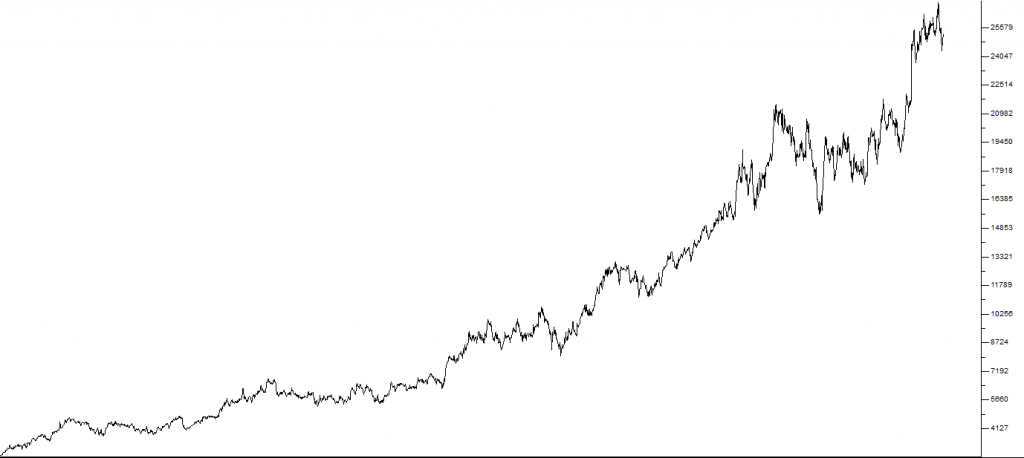 This shows the Clicks share price going back to 2010 – and, as you can see it is a "diagonal" (a share which goes from the bottom left-hand corner of your screen to the top right-hand corner) – but none of this superb performance is because of Musica. This growth has occurred despite Musica which is miniscule in the Clicks group – so it remains a great mystery why the board of Clicks hangs onto this small, non-core business which is in a dying industry.
As the great management consultant Phillip Kotler famously said, the most important question a company can ask itself is "What business are we in?" – and then, by subtraction, "What business are we not in?"
It is always very tempting, if you have a successful business, to think that you could be successful in other businesses. But every business is complicated and your ability to run it successfully depends on years of accumulated experience and wisdom about the industry that it is in. So, the only justification for an acquisition must be that it is a good fit with your existing business. If it is not, then it should be considered non-core and sold.
DISCLAIMER
All information and data contained within the PDSnet Articles is for informational purposes only. PDSnet makes no representations as to the accuracy, completeness, suitability, or validity, of any information, and shall not be liable for any errors, omissions, or any losses, injuries, or damages arising from its display or use. Information in the PDSnet Articles are based on the author's opinion and experience and should not be considered professional financial investment advice. The ideas and strategies should never be used without first assessing your own personal and financial situation, or without consulting a financial professional. Thoughts and opinions will also change from time to time as more information is accumulated. PDSnet reserves the right to delete any comment or opinion for any reason.
Share this article: