06
Sep
---
The JSE Overall index's recent new record high shows that our market is at last catching up with first-world markets overseas which have been making new record highs for some time.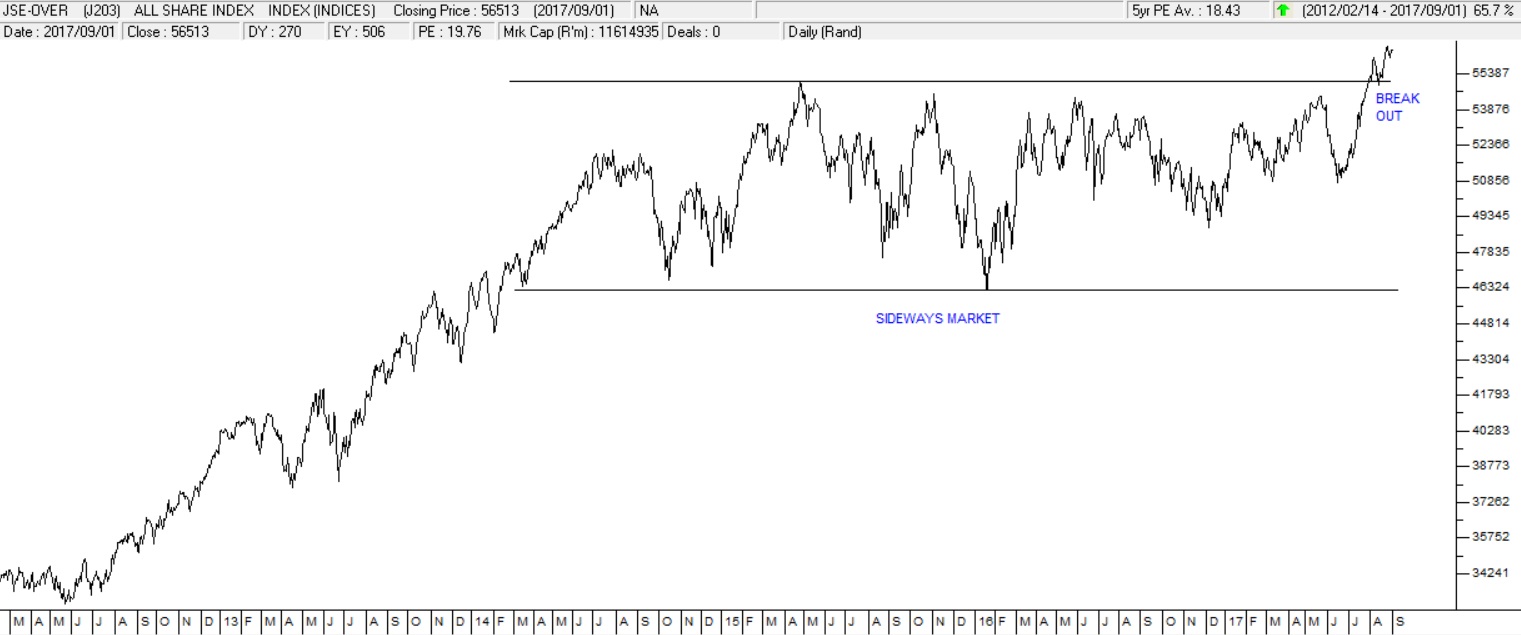 And this is surprising since our economy is apparently on the back foot with the firing of Pravin Gordhan, the recent downgrades, a technical recession and daily newspaper reports of rampant state capture. Why is the stock market making new highs? It doesn't appear to make sense. The answer is that investors are anticipating the effect of the increasing strength of the world economy – especially America. This new pattern of growth will inevitably impact on South Africa sooner or later – mainly through increased prices and volumes in our raw materials exports. So, investors are anticipating this new benefit and saying that the current depressed conditions are transient and will not last.
The result of the motion of no confidence has been that about 40 ANC MP's either voted against Zuma or abstained. Undoubtedly, the rest feared that they would lose their jobs if they voted against him. What must be clear, even to the ANC, is that Zuma's days in power are surely numbered. And the ANC itself is in jeopardy. We have said previously that the SA economy will probably improve despite the current administration, because of the general recovery in the world economy. However, any hope that Zuma might take an early exit is now viewed by international investors as positive. This can be seen from the 13c improvement in the rand/US dollar exchange rate when the secret ballot was announced – consider the chart below: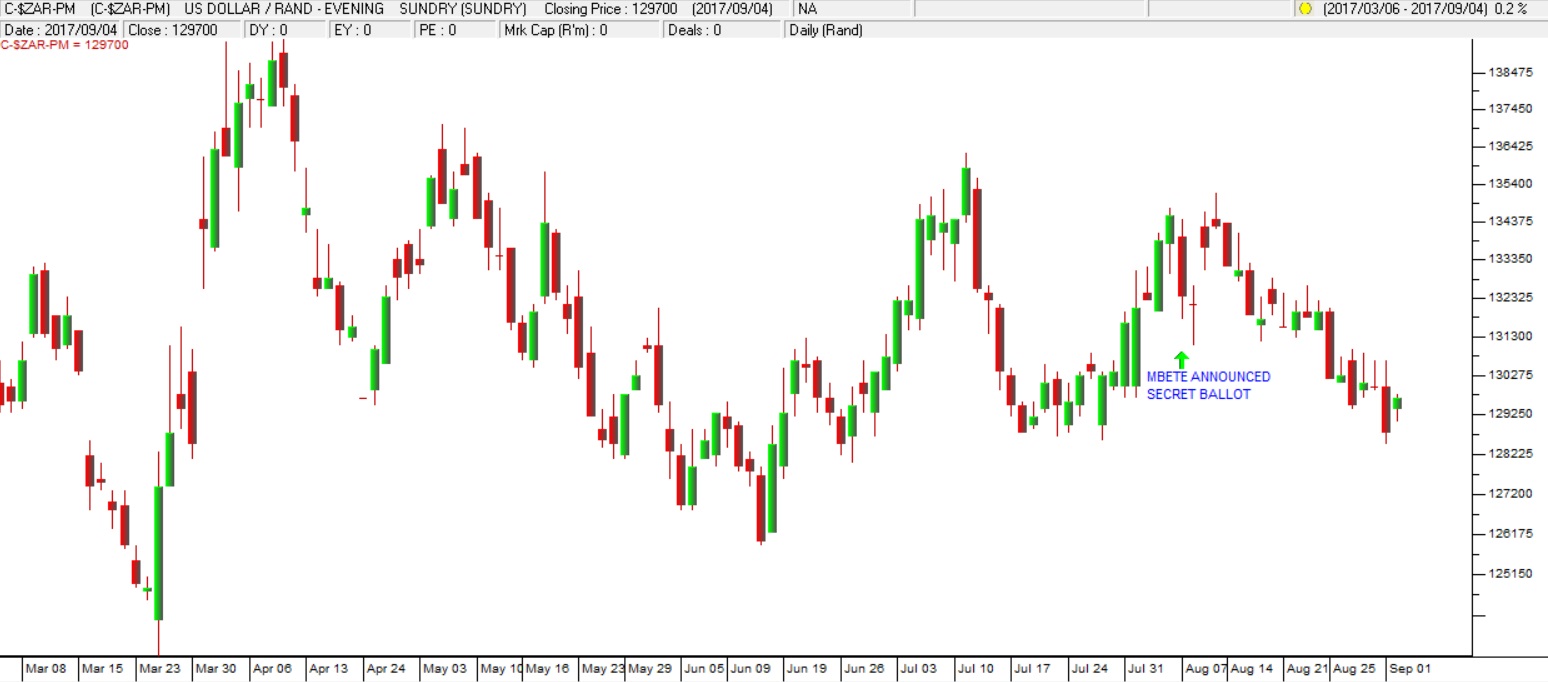 Rand Dollar Exchange – Chart by ShareFriend Pro
Investors perceive South Africa as a democracy that is maturing. Its electorate is becoming steadily more pragmatic and aware and less idealistic. As a country, we are not simply voting in favour of the ruling party as a knee-jerk reaction. Most are now considering the impact of putting a bad president into power and thinking they will do better in the 2019 election.
Almost every day these days, the business news is dominated by stories of the Guptas and related parties and their various dirty dealings and efforts to get their ill-gotten gains out of the country. The old saying about "rats leaving a drowning ship" comes to mind. Probably they have made the assessment that their prospects in South Africa are irreparably damaged and that their best course of action is to sell up and leave with whatever they can. This will make honest South Africans angry because they will probably not be around to take responsibility for what they have done – and they will escape with a substantial profit in hard cash. But it also means that they will not be around to support and assist their Zuma-centred state capture efforts. Clearly, the party is nearly over and it is time to get out while the going is good. Ultimately, that must be good news for South Africa as some degree of sanity can now return.
Wall Street
The S&P500 index reached its highest intra-day level ever on 8th August 2017 at 2490. This was what might be called a "key reversal day" because there was an abnormally large range of trade between the high and the low of the day. Key reversal days indicate a high degree of uncertainty in the market and often mark the peak of an upward trend. Consider the chart:

Of course, two days later, Donald Trump gave his "fire and fury" speech and the S&P nose-dived as investors were suddenly afraid of exactly what he and North Korea might do. We had suggested in one of our earlier articles that the S&P was almost certainly overdue for some sort of correction and that this might see the market come down by as much as 10%.
And this is the real reason for the fall in the market – not so much Trump's sabre rattling as the fact that it is overdue. We need a healthy correction within the strong bull trend. In fact, Trump appears to be more or less irrelevant to the movement of the major markets now. It may be true that some of the current bull trend was caused by expectations of Trump's tax reforms and that investors are becoming less certain of those as his chaotic term proceeds – but we do not see this as a major factor, more of an excuse.
The bull trend (like most bull trends) is being driven by strong corporate profits – and the expectation of further increases in corporate profits, which, in turn, are a result of the excessive monetary stimulation of the US economy over the past eight years.
The S&P500 companies have just finished reporting on their second quarter of 2017 and their earnings are up an impressive 10,8% – making this the second consecutive quarter of double-digit growth in earnings. At this point the average growth over the two quarters is 11,1%. That hasn't happened to the S&P for six years – so of course, investors are feeling bullish. It also seems probable that the strong earnings are going to continue for the next few quarters.
So, we are firmly of the view that any downward move on the S&P will be simply a healthy correction within a bull trend – and hence a buying opportunity. This is not the start of a bear trend. Indeed, we believe that this bull market, far from being "mature", "old" or "nearing its end" is just getting going. In an article in December last year based on the horizontal count method in point and figure we predicted that the S&P would reach at least 3027. And the force driving it is largely independent on Donald Trump and his various antics. It is a function of the rapid recovery of the largest economy in the world.
The key factor sustaining this great bull market and driving it higher is the perception of rising profitability among high-tech shares with Apple leading the way. It seems that various technologies are and will be coming together to produce higher-than-expected profits over the next year and beyond. Consider the following forecasts for profit growth in the technology sector:
Q2 2018: +11.5%
Q1 2018: +12.3%
Q4 2017: +11.3%
Q3 2017: + 9.7%
Q2 2017: +16.7% (actual)
Clearly, there are much-improved business efficiencies flowing from various technologies which are being enhanced by the continuing Federal Reserve Bank policy of easy money in America. And these efficiencies, which are expected to impact on tech company profits, will also, inevitably, flow through to the entire business world over time. On top of this the oil price remains at less than half the level it was in the middle of 2014.
The ISM manufacturing index in America has reached its highest level since 2010 (58,8) indicating that the US economy is growing strongly. The ISM is derived from a survey of 300 purchasing managers in the US. It is one of the earliest indications of what is happening in the economy each month and a very good predictor of stock market trends.
Economy
South African companies have stopped investing in South Africa. Collectively, the top 50 companies on the JSE are sitting on about R1,4 trillion in cash and near cash. This means that they are choosing not to risk their surplus cash by investing in the economy for a variety of reasons. Chief among these reasons is the generally bad management of the economy – uncertainty, deliberate obstruction, corruption, incompetence and state capture have combined to make businessmen and women wary of investing heavily in this country right now. They are adopting a wait-and-see attitude and hoarding their cash in case things get worse.
There are two metrics which clearly show the state of the South African economy. They are the strength of the rand against the US dollar and the unemployment rate. The ANC government has consistently made reducing the unemployment rate its primary economic goal – and has consistently failed in achieving it. Unemployment now sits at an unacceptably high 27,7% with more than 6 million people out of work. High unemployment results in a higher crime rate and more protest action. Ultimately, it must threaten the very fabric of our society. The situation looks to get worse before it gets better with many companies issuing section 189 notices of intention to retrench further staff. The mining industry in particular has shed more than 70 000 jobs in the past five years and is looking to close more unprofitable shafts. High unemployment is also a result of aggressive union action combined with a government that has made this economy appear hostile to potential investors – both local and foreign.
The last quarter of 2016 and the first quarter of 2017 saw negative growth in GDP which put South Africa into a technical recession, as declining retail sales more than off-set improved mining and manufacturing. Now in the second quarter, retail sales have grown by 2,2%. Mining and manufacturing are expected to continue improving while in this quarter consumer spending should improve, if the retail sales numbers are anything to go by. This could result in an overall annualised 2,5% improvement in GDP, taking the economy out of recession. Growth will be subdued, but positive and yet totally insufficient to absorb the annual expansion of the labour force.
The Receiver of Revenue is expecting revenue collection for the mid-term budget in October this year to be as much as R50bn below budget. The fall-off in revenue is a direct result of the declining growth of the economy and rising job-losses. The budget was based on an expectation that the economy would grow by 1,3%. The reality is closer to 0,5% and even that may be optimistic. The shortfall poses a significant problem for Finance Minister Gigaba. In February 2017, under Pravin Gordhan, there was a R30bn shortfall which was mostly filled by increasing the marginal tax rate to 45% for people earning R1,5m per annum or more. In the October Budget, Gigaba will not be able to rely on further increases in personal tax and will have to consider other options. The obvious answer would be raise Value Added Tax (VAT) from 14% to, say, 17%. South Africa has a relatively low VAT rate compared to other countries in Africa and overseas. Clearly, raising VAT will be negative for the economy and growth – but the money will have to come from somewhere. Recently Gigaba has shown a willingness to sell government assets to prop up loss-making state-owned enterprises like SAA and Eskom. This, however, can only be a once-off solution. At some point a serious effort will have to be made to improve economic growth, otherwise the government will continually find itself trying to get more and more cash out of a smaller and smaller pool of high income-earners.
The half percent fall in headline inflation in June month to 4,6% is a clear indication of the fall-off in demand in the economy – due to consumer stress and the high and rising unemployment rate. There will probably be another 0,25% interest rate cut in September as a result, but the Reserve Bank will be keenly aware of the fact that any cut in interest rates will make South African investments less attractive to overseas investors, especially given the possibility of a further downgrade by ratings agencies and the ANC's elective conference in December. Nonetheless, the pattern of declining interest rates is a positive for South Africa and should mildly stimulate economic activity and employment levels in the medium term.
Traditionally, the South African economy has always run a significant trade deficit which has been financed by capital inflows on the capital account. Recently, however, the deficit has given way to a surplus. By this time in 2016, South Africa had a R5bn trade surplus and this year that has widened to R27,7bn. The Balance of Payments is a combination of both the capital and current account and the trade account is part of the current account. It measures imports less exports. In a sense it shows whether South Africa Inc. is running at a profit or a loss. The trade surplus indicates that imports are down – probably because of a sharp reduction in consumer spending. At the same time, exports are up – probably due to the general recovery in the world economy. In any event, we are spending less on imports than we are generating in exports and that is helping to keep the rand stable despite all the political uncertainty.
State Owned Enterprises
ESKOM
Arguably, the biggest threat to the South African economy is Eskom. This State Owned Enterprise (SOE) has R218bn of government-guaranteed debt out of a total debt of R355bn. It has by far the largest government commitment out of all the SOE's and almost half of the government's total SOE guarantees of around R467bn. The recent financial accounts produced by Eskom show R3bn of irregular expenditure and there are a number of "reportable irregularities". The recent report that Eskom paid Trillion and McKinsey a total of R1,7 billion under very dubious circumstances (Trillion was owned by Gupta associate Salim Essa) now makes it absurd for Eskom to be looking for a 20% hike in their rates. If these facts are combined with the recent reports of Gupta skimming through Tegeta and other anomalies like the R30m payout earmarked for departed CEO Molefe are considered, the situation is not good. The Development Bank of South Africa (DBSA) is owed R15bn by Eskom and is upset by the latest audit report. Eskom's Financial Director Anoj Singh is clearly a Gupta man, having been flown to Dubai at least 5 times in the last year-and-a-half. The problem is that if all Eskom's creditors decide to call in their loans, the government will have to cough up the R218bn that they have guaranteed and this will have a dramatic impact on the SA economy. After all, South Africa's total borrowing need for this year is only R254bn – but our total debt as a country in around R2,7 trillion. Our current junk status is fully justified with this incubus hanging over us.
SAA
Second to Eskom comes SAA, which is burning between R500m and R1bn each month at the moment. In July, it had a net outflow of R570m and is expecting a R930m outflow in August and R920m in September. And this is aside from the R6,8bn which it is due to repay to creditors in September. Clearly SAA is not sustainable. It has had innumerable plans to "aggressively" restructure to become profitable and none has worked. So, it continues to plough through cash which the South African taxpayer must stump up. And all of this is because the government for some reason believes that we must have a national airline. The reality is that SAA does nothing that private enterprise could not do far better.
Commodities
From the point of view of natural resources, South Africa is one of the richest countries in the world – sitting on enormous underground reserves of gold, platinum, chrome, coal and many other minerals. Usually, the exploitation of minerals requires an investor to put in billions of rands to develop or extend a mine sometimes years before any return can be expected. Mining is a highly risky business. The mining charter proposed by our esteemed Mineral Resources Minister, Zwane, requires that, to obtain a mining licence, more than 30% of the operation must be BEE-owned. The investor is expected to invest heavily in an operation and take all the risks but without the certainty of long-term ownership and control. This is the view of the CEO of Debeers, Bruce Cleaver, who has indicated that he would like to explore further in South Africa for new diamond deposits, but cannot consider it because the mining licences may not be easy to obtain or retain. So, the diamonds which could provide thousands of jobs will remain in the ground. Potential investors are being discouraged in every aspect of mining.
GOLD
The price of gold is set overseas, specifically by the two London fixings each day and the international spot markets. In South Africa, our gold shares have to contend with a volatile gold price as well as all the problems of mining in this country. The combination makes them extremely volatile and risky. It is very difficult to know or find out what the important factors are for any particular mining group, especially if you have little or no expertise in mining. For these reasons, the best strategy is to focus on technical analysis and look for specific signals which may indicate that gold shares generally or a specific gold share is oversold. In our opinion, the best mechanism is the Overbought/Oversold (OB/OS) indicator in your software. This indicator shows the extent to which shareholders have over-reacted historically both on the upside and the downside. Consider the following chart: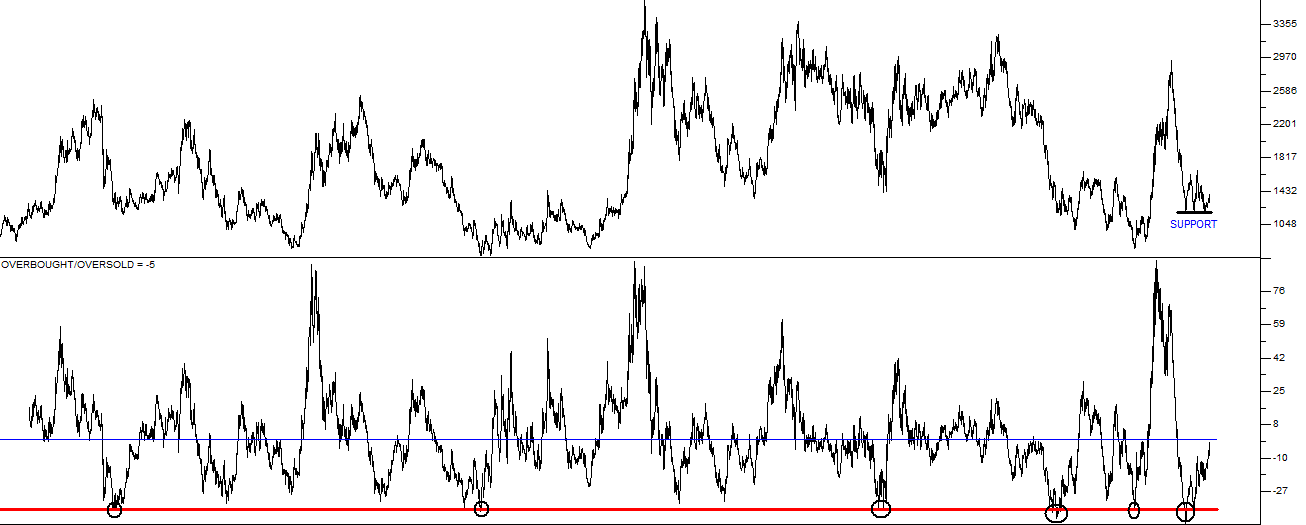 Gold Index Overbought Oversold – Chart by ShareFriend Pro
Here you can see that we have divided the screen into two charts. The upper chart shows the JSE gold index over the past 32 years. Recently, in the past nine months, the gold index has made three bottoms at around 1180, indicating clear support at that level.
The lower chart shows a 200-day OB/OS. This indicator is interesting because it enables the technical analyst to determine a share/index's propensity to over-react. In the case of the JSE gold index, the propensity of investors to over-react is more – probably because of the volatile and unpredictable nature of the market. Studying the history of the OB/OS on the JSE gold index, you can see that it occasionally reaches an oversold level of minus 35 (the horizontal red line). In fact, it has touched or gone below this level on just six occasions (the black circles) over the past 32 years – and on each of those occasions, the JSE gold index represented a very good buying opportunity. The index is still close to the level it reached at the most recent of these signals and so, statistically, it seems probable that it is still over-sold and due for some upward move.
You may also notice, looking at the lower chart, that the OB/OS very seldom goes up to a peak level above plus 65. In fact, it has done that only on 3 occasions during the last 32 years. Looking at this chart it might seem insane to think that someone actually was a buyer for gold shares at that extremely overbought level. But that must have been the case because otherwise the chart would not go to that level.
The conclusion must be that if you buy gold shares at an oversold level of -35 or lower your probability of being wrong is extremely low and you will at least have the satisfaction of knowing that you did a lot better that the guy who bought at above +65!
You must see that studying this long-term chart of the OB/OS on the gold index (and other data streams) significantly improves your probability of making money in the volatile and unpredictable gold market.
SILVER KRUGERRAND
Rand Refinery is going to produce a silver krugerrand in 2018 – which will obviously be far cheaper than the one-ounce gold coin. The gold krugerrand is worth anything from R17500 to R20000, whereas a one-ounce silver coin would sell for about R225 to R250. This will add an interesting new dimension to investment assets in South Africa (and world-wide). The great benefit of krugerrands is that they are protected against inflation and they are anonymous. In other words, you can take krugerrands anywhere in the world and sell them for what you paid for them and they are generally well-insulated against any decline in the value of paper currencies. A much cheaper krugerrand would be much more accessible to private individuals as an anonymous, inflation-proof store of value.
Companies
MEDICAL
In South Africa, about 12% of consumers have a medical aid or medical insurance of some sort. The balance rely on government-provided health care. The ANC has always been aware that 1st-world medical attention is available only to those who could afford it – the top 12% of earners in the country – and they have aspired to provide 1st world health care to the entire population. This is what the National Health Insurance (NHI) aims to do. The problem is that South Africa just can't afford to provide such a service to its entire population. As it is, medical aids are coming under pressure. Community Medical Scheme (Commed), a small, 28-year old medical scheme, has just been put into liquidation. There has been a decline in the number of people electing to buy medical aid, in line with the recession in the economy and the rising unemployment. In 2015, the number of people using medical aids fell by 0,6% while the cost of providing medical attention at private hospitals rose by almost 10%. Clearly, it is idealistic to think that anytime soon all South Africans will be able to enjoy the same high-quality medical benefits irrespective of their earning capability.
BANKS
Buying shares in the banking sector is like buying a share of the future performance of the SA economy. Right now, because of the all the negative developments like the firing of Pravin Gordhan, the downgrades, the technical recession etc., banking shares are trading at very low levels. From a price:earnings (P:E) point of view, they are trading at half the value of the JSE Overall index. This seems a bit crazy because banks are service companies and must rank as among the most stable and best of companies on the JSE. The banking index has recovered well from its low following Gordhan's firing and yet it is still on an average dividend yield (DY) of around 4,8%. Historically, that is definitely on the high side – implying that banking stocks are relatively cheap. Among those cheap shares, Barclays Africa Group (BGA) is surely the cheapest. It is on a DY of 5,6%. It is also now completely separated from Barclays International and is a stand-alone bank with no "shareholder of reference". We believe that banking shares generally and BGA in particular are cheap and represent a good buy.
PICK 'N PAY (PIK)
Moving off support at a low of around R54, the Pick 'n Pay share has been moving up steadily. It has executed an almost perfect "V-bottom" which is a relatively unusual charting formation.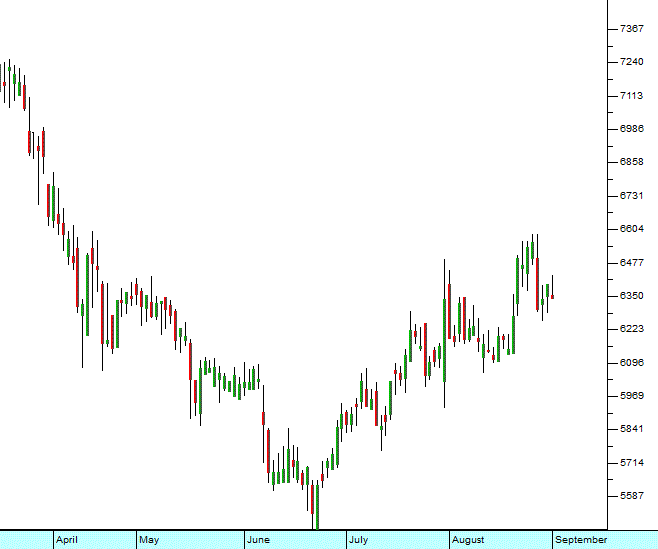 In very tough conditions for retailers, the company has been improving efficiencies and becoming leaner and more efficient. This recently culminated in a reduction of about 10% of its work force, mainly through its Voluntary Severance Program – which allows employees to terminate their employment on favourable terms with generous severance packages – and obviates the need for expensive retrenchment packages. In the short-term, this can be expensive and may have the effect of reducing Pick 'n Pay's profits, but in the medium-term costs will come down making the company more competitive and profitable. The approach of Richard Brasher, the new CEO, has differed markedly from that adopted by the Ackerman family. Of course, this must be seen against the results of Shoprite which recently announced a 10,6% increase in turnover for the year to 2nd July 2017 to R141bn and the amazing fact that they were able to create 4000 new jobs during the year.
HULAMIN (HLM)
It is unusual to find a manufacturing company in South Africa that is doing well these days. Most are battling just to survive. One exception is Hulamin which manufactures high-quality aluminium products for both the local and the overseas market. It supplies electric car maker, Tesla, in America with specific high-quality products and it supplies African markets with aluminium beverage cans for the carbonated soft-drink market. In its most recent set of interim financial results to June 2017, it increased headline earnings per share by 17% – and that was against a rising rand which saw the currency improve by 14% against first-world currencies. If the rand had been static or had fallen, Hulamin would have performed even better. In our opinion, this is a well-managed company that will benefit from both local and international growth trends.
MONDI (MND)
Mondi is one of South Africa's two packaging giants (the other being Sappi). About 75% of its profits come from packaging, not just in South Africa but also in Europe. With the European economy beginning to show definite signs of growth, Mondi has been benefiting from stronger packaging prices. It is an extremely well-run company that has implemented effective cost-cutting. Turnover is up 8% in the six months to end-June and there are prospects of strong growth going forward. We believe that this share will prove to be a solid investment as the European economy recovers.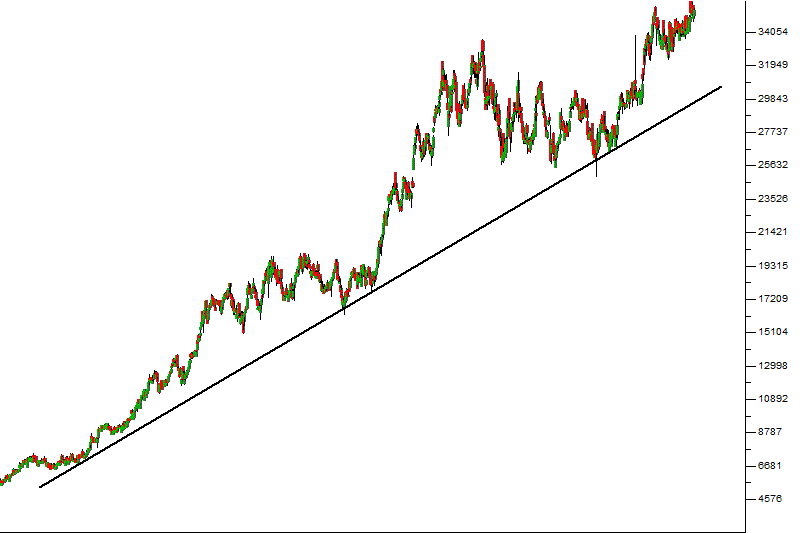 Technically, it shows a steadily rising pattern of growth.
LONG 4 LIFE (L4L)
L4L has now given notice that it is engaged in a new set of negotiations which are unrelated to its earlier acquisitions (Sorbet and Holdsport). Clearly, Brian Joffe and his second-in-command, Kevin Hedderwick, are wasting no time. They are busy building a new retail giant at a time when the retail industry is under enormous pressure and presumably retail assets are going cheap. As an investor, you cannot really evaluate this share either fundamentally or technically because it has not yet produced a set of financial statements and its chart is barely 4 months old. All you can do is trust that Joffe and Hedderwick know what they are doing and go along for the ride. In this you will not be alone. Investors who are excited by the past experience and talent of these two businessmen have bid L4L up at least 20% above the direct value of the cash which they were able to raise. All you have to decide is whether that combined reputation is worth the premium.
DISCHEM (DCP)
Some time ago, shortly after its listing, we recommended an investment in Dischem. Our reasons for this recommendation have not really changed. Dischem has 108 stores in South Africa – against Clicks' 600 stores. Where ever there is a Clicks store, we figure, there can be a Dischem store – which means that Dischem should grow to five times its pre-listing size. It has a strong reputation and a loyal following throughout the country. We see no reason to believe that its new stores will be any less popular than its existing stores. Profits should rise steadily. So, this is as safe an investment as you are likely to see on the JSE. The share has already risen from around R22 to nearly R30 and we expect it to continue going up.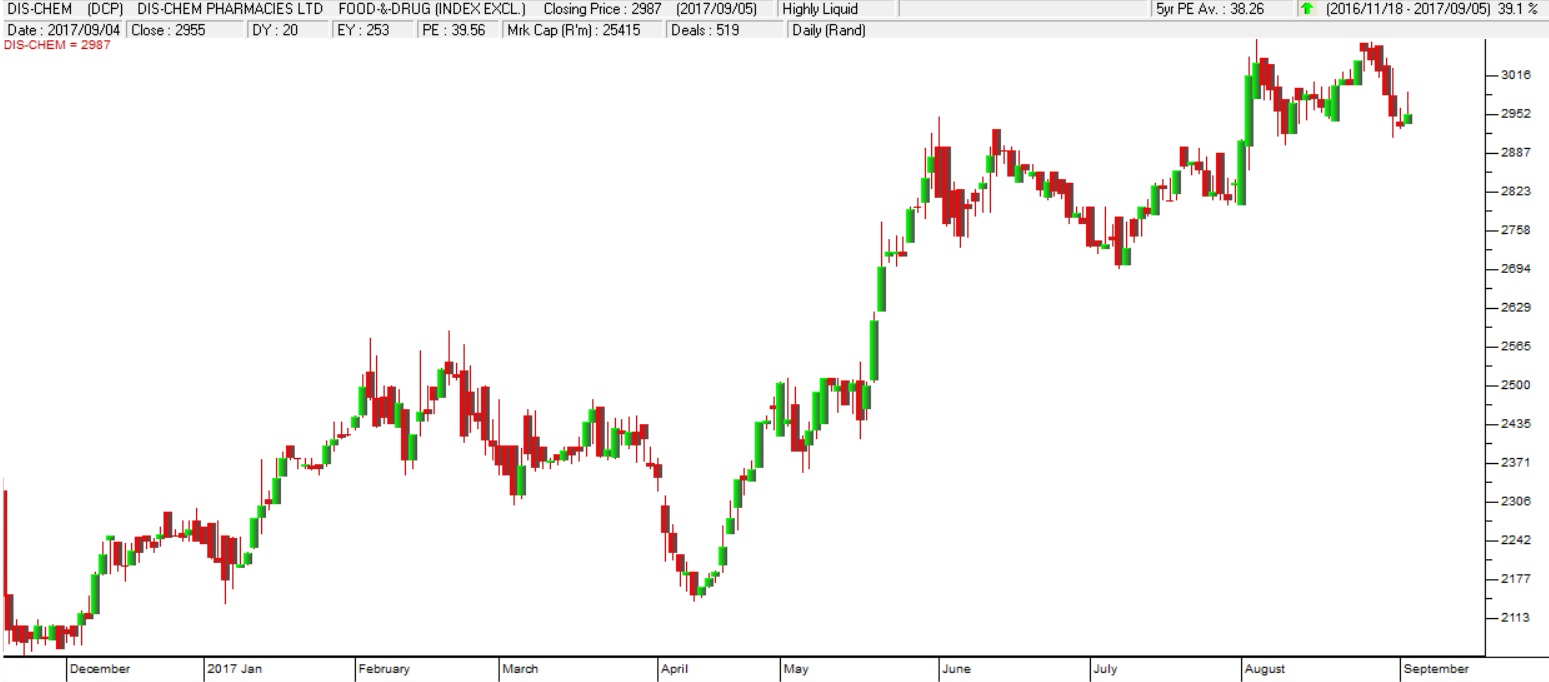 Dischem Pharmacies (DCP) – Chart by ShareFriend Pro
KUMBA (KIO)
The iron ore market has been very volatile as Chinese demand for the metal tapered off at exactly the same time that major producers increased their output. The Kumba share price has reflected this volatility since 2008. This is one of those charts where trendlines, always a useful tool, would have served you particularly well. Consider the chart: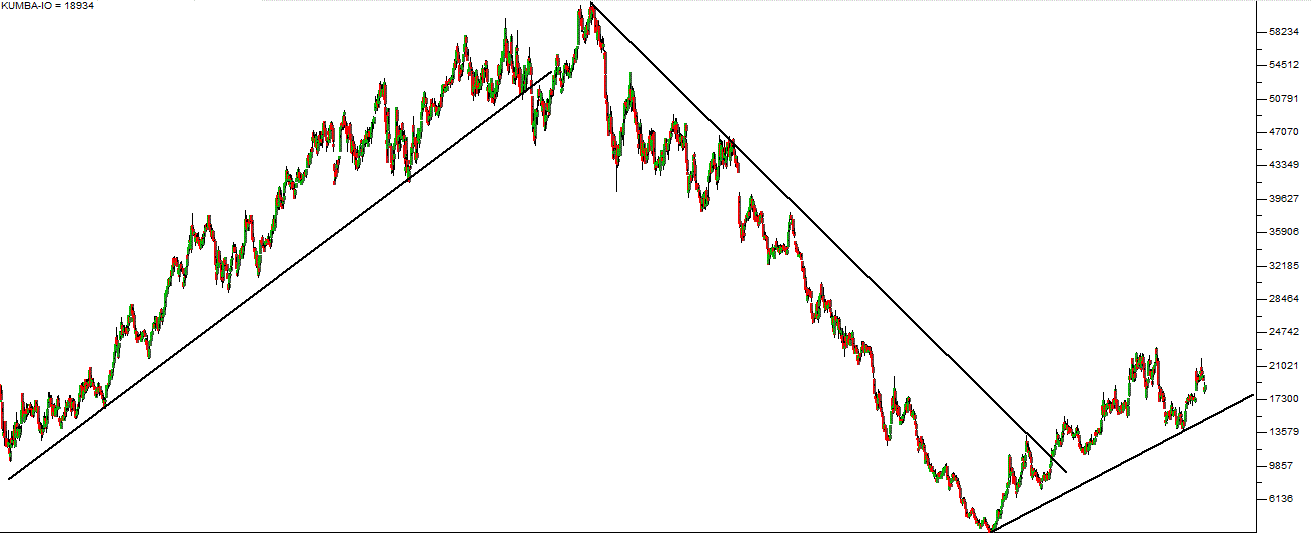 Kumba Iron Ore (KIO) – Chart by ShareFriend Pro
Kumba reached a high point of R610 per share in February 2013 before collapsing to just R25 three years later in January 2016. The recovery in the iron ore price since then has seen the share climb back to around R190. If you can get your timing right, then this share offers the opportunity to make impressive capital gains.
NASPERS (NPN)
On 25th March 2002, Naspers shares closed at 1200c. On 25th August 2017 they closed at 301000c. That must rank them as the best investment on the JSE by far over that 15 year period. Almost all of that is due to a "lucky" decision by Koos Bekker to buy into what was at the time a little-known Chinese technology company called "Tencent". Tencent has grown to be one of the major social media, gaming and entertainment companies in China, and the country itself has been growing exponentially. The result is that Naspers, which owns 34% of Tencent, but has no management input into the company, is completely dominated by this single investment. Its efforts to diversify its income streams have been relatively unsuccessful and questions are being asked about the justification of its very generous director remuneration policy. After all, its directors have not been instrumental in the creation or management of Tencent.
To add insult to injury, Naspers has always used N shares to ensure that control remains with a few privileged shareholders who hold the high-voting shares. An "N" share has a very low "par value" and, since the voting capability of a share is dependent on its par value, this enables control to vest in a small group who have contributed relatively little to the company's capital. So Naspers has 907000 "A" ordinary shares and 438 million "N" shares. The "A" ordinaries each have 1000 votes while the "N" shares have only 1 vote each – but rank in all other respects the same as the "A" shares. Thus the "A" shares, which are only 0,2% of the total number of shares in issue have 67,5% of the vote.
And now Naspers is trading on a P:E ratio of around 120 – which means that at its current earning level it would take roughly 120 years for investors to recover from earnings what they are currently being asked to pay for the shares. This is clearly unsustainable and our advice to holders of Naspers "N" shares is to take profits and get out while the going is good. Remember, nobody ever went bust by taking a profit – and the age-old wisdom is that, "A professional is a person who sells too soon". In other words, you should always leave the high-risk money on the table for someone else and be happy when you take a profit. Some analysts are suggesting that Naspers could go to R4000 or even R5000 (Petri Redlinghuys of Herenya Capital Advisors) but it is definitely high risk.
AFRICAN RAINBOW CAPITAL (ARC)
This is a unique listing on the JSE. It will comprise R4,5bn from the Patrice Motsepe family trust and R4bn which will be raised on the listing on 7th September. The idea is to invest in companies that will benefit significantly from having a major black empowerment partner. ARC already has investments in EOH, Santam, Afrocentric Health, Alexander Forbes and Rain. ARC guarantees to always remain at least 51% black-owned. The joint CEOs are Johan van Zyl and Johan van der Merwe both previously of Sanlam. They will use the capital in ARC to buy up a range of companies with the ultimate goal of listing them separately or selling them. We believe that ARC will be in an enviable position to make deals and should do very well as a blue-chip investment. The problem is that investment holding companies like this generally trade at a discount to their net asset value – and it is difficult to assess exactly what discount will apply to ARC. For this reason, we advise that you should allow it to list and watch the share, at least until all stagging has taken place. This will enable you to better assess the discount. ARC already has commitment from the Public Investment Corporation (PIC) and Sanlam Private Wealth. As a private investor you should seriously consider buying some of these shares in due course.
SIBANYE (SGL)
Sibanye is a controversial company. Led by Neil Froneman, this company has extended itself to the limit to buy up platinum and gold assets both inside and outside South Africa in the belief that precious metals prices are cheap and that they will go up in the future. The purchase of palladium producer, Stillwater, in America cost a massive $2,2bn which added considerably more debt to the Sibanye balance sheet. As an investor what you have to decide is whether it was worth taking the risk of buying all the assets at or close to the bottom of the commodity and precious metals cycle. If precious metals prices do not perform, then Sibanye will sink into ignominy and Froneman will look like an idiot, but if they do go up then he will be seen as perspicacious – the man who had the foresight to see what was coming and take advantage.
So what makes precious metals move? Basically, a strong recovery in the world economy which increases the demand for auto-catalysts and hence metals like palladium – and which ultimately causes a rise in jewellery demand and rising inflation. In the ultimate analysis, gold is a hedge against the weakness of paper currencies and so it will really begin to perform when inflation picks up – especially in the US dollar.
But you can see how this share is totally geared to Froneman's ability to read the future of precious metals accurately. He has managed to buy the precious metals assets cheaply. Now all that remains is for prices to begin rising – which they may already be doing judging by the steady rise in the palladium price over the last 18 months: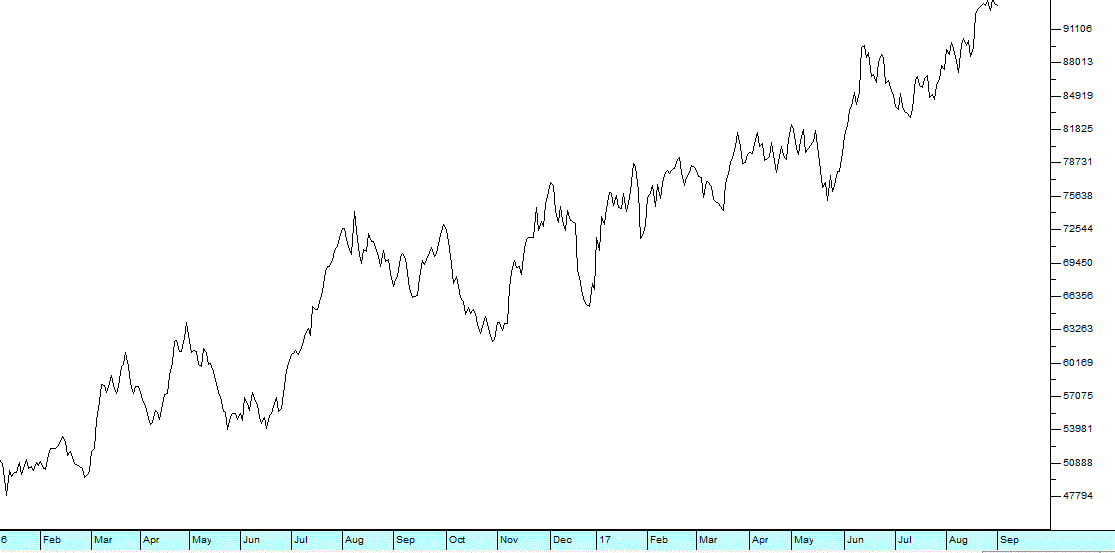 The Confidential Report Webinars are hosted on the first Wednesday evening of the month and include a single comprehensive report covering the month and providing an overview of factors impacting the JSE including political developments, international markets, the local economy, commodities, currencies, individual JSE-listed stocks, and much more.
The next Confidential Report webinar will be on the 4th of October at 18:30. To register, click here.
---